Hello beautiful sustainable shoppers!
This post is a recap of the event I proposed and created along with Carolyn Becker of Petite Punk, FYG, Goodwill of Greater Washington and my community.
The event, Summer Style Exchange was inspired by a similar event held within the Nashville area Goodwill and roughly titled, Style with a Purpose.
After viewing their event preparation, concept and execution on Instagram it was safe to say that I had serious FOMO (Fear of Missing Out) and I wanted so badly to have that experience for myself in my community. After pitching the event, working with Carolyn (Goodwill's Social Media Manager) and proposing the idea to the Marketing Director of DC Goodwill, we were a GO. What's better is that this event was held on National Thrift Shop Day on August 17th, perfect timing!
Summer Style Exchange's main goal was to gather a select few of Washington D.C.'s thrifty and sustainable fashion bloggers for the opportunity to curate a collection by hand picking their own garment racks for customers to shop from. Each collection will then be displayed on a garment rack for customers to learn their individual style, thrifting tips and to get a personal look into the style of their favorite bloggers! In addition, shoppers have the opportunity to experience styling tips from various body types, tailoring tips, enjoy refreshments and music!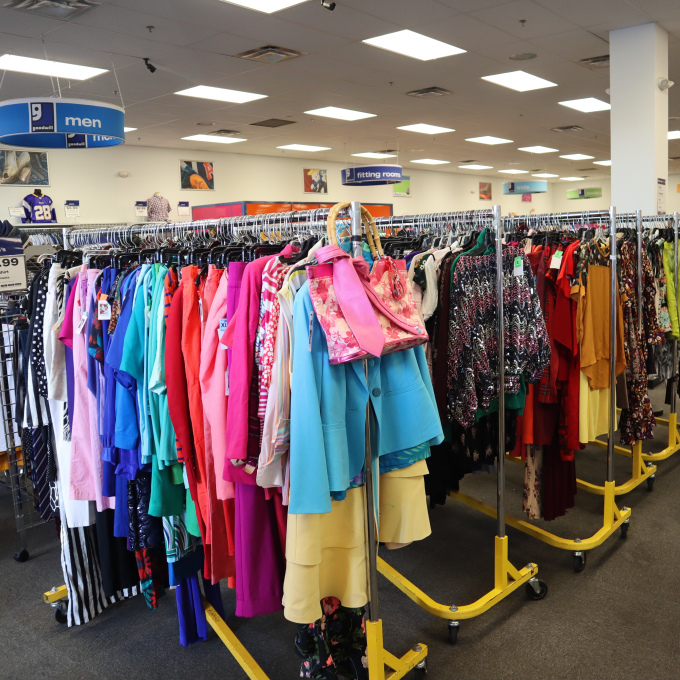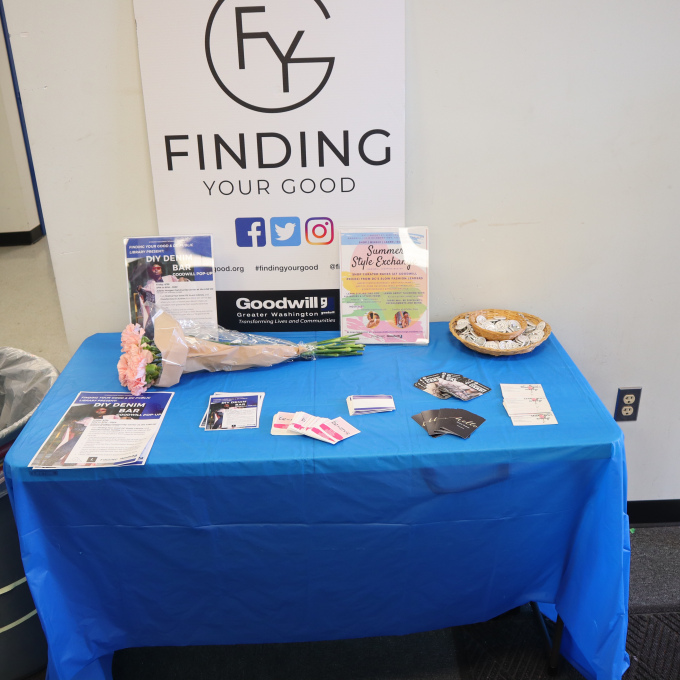 Having individual collections from bloggers would aid in building relationships between bloggers & followers by taking away the barrier that social media builds by allowing each party to get to know each other through a mutual enjoyable activity. There is no better way to get to know someone on the fly than to appreciate how they choose the clothes they wear!
Leading up to the event, I had the opportunity to curate my own rack, and let me tell you, it was liberating!
For events like these, anything goes. You don't have the pressure to pull together the perfect thrifted outfit to impress others on the gram because, you are simply choosing items that bring you joy, that spark pleasure FOR YOU.
In just under 2 hours I curated my perfect rack consisting of my primary moods including, athleisure, graphic tees, skinny jeans, printed dresses and masculine outerwear.
Needless to say, I am satisfied about how my items came together. My friend and co-host, Carolyn even said "I can tell this is your rack just by looking at it".
Event Recap:
7AM comes quickly but even more so when it's a Saturday morning lol.
Despite my grogginess, I was excited for the next few hours to come! I got dressed, make-up, hair black tea in hand & headed to Goodwill.
Once there, Carolyn and I set up a marketing table, food table, and the DJ arrived shortly after to set up his table for the tunes.
As we got closer to the start time, bloggers began to trickle in and attendees started to outline the outside of the building; things began to become a bit more real. I think anyone can relate to that feeling you get just before something great is about to happen. It's like a 6th sense that is indescribable but, it FEELS good.
That's what I had as the bloggers greeted our guest just before opening the doors. And let me tell you, once those doors were open, it was a race! It for a moment reminded me of my retail career on Black Friday or the day before Christmas but, in a much more wholesome harmonious way.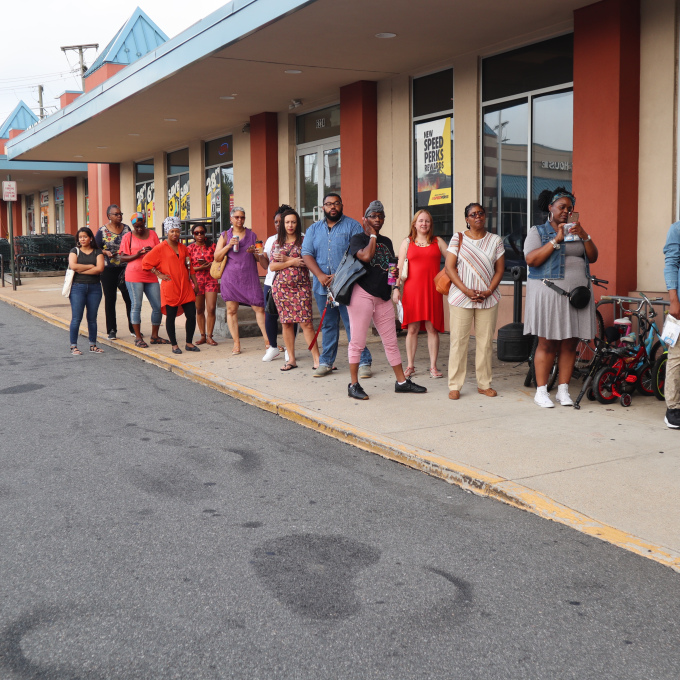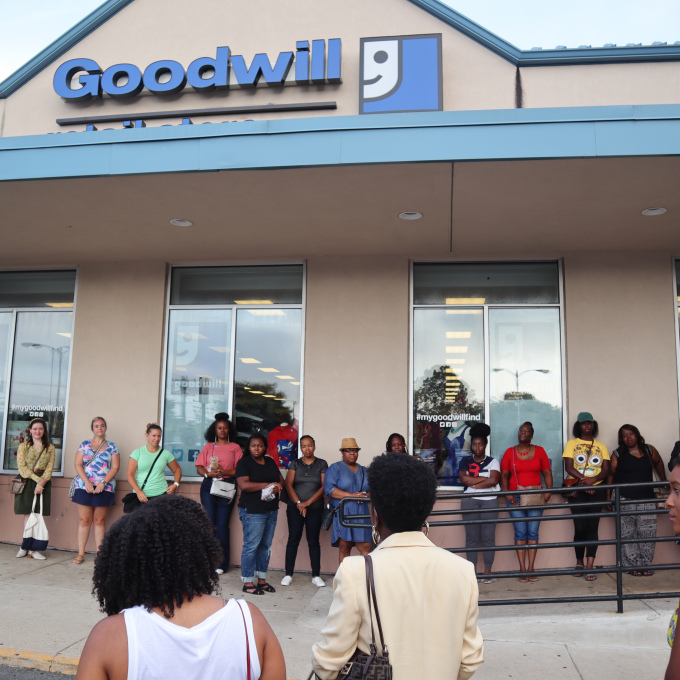 During the event, I took time to focus on witnessing our customers experience, their behaviors, identifying any inconveniences and looking for room for improvement.
I also took this time to just relax.
After planning and organizing, it's nice just to live in the moment of your event and live vicariously through each attendee. I documented majority of the event on Instagram stories and in feed posts as it was happening. However, I still have a ton of photos to file through but, these photos speak to the volume of this event's success.
I'm already eager to plan the second iteration of this event before the year ends. STAY TUNED!