Being on the petite side, dear readers, I sometimes find clothing that I LOVE, but are too big and baggy on my figure. Even if it's labeled as my size, it can just be too big. BUT that still doesn't prevent me from bringing it home with me. I mean how can I pass up an inexpensive and beautiful piece?
Sometimes I think I'm crazy, but a lot of the time, I know there's a way to fix the situation and make the item wearable. I'm just too determined so…my solution: just belt it.
Honestly, I can say, the belt has saved my life. It's allowed me to purchase dresses that are way too long, shirts that are a tad too baggy, or shorts that are a smidgen too big. My all time favorite uses of the belt is to:
Make a shirt fit my body, and add an hourglass-type shape

Belts make a shirt fit my body in all of the right ways — especially shirts that are oversized and look a little too baggy. I found this Free People tunic that I could not pass up. The embroidered flowers on the shoulders reminded me of a piece you could find in the South Americas. It was just too unique. Also, Free People is expensive when brand new, so I really undoubtedly had to snag this!
It was a size medium and at first looked a bit baggy when I put it on. It even fell off my shoulders a bit. This is where the elastic-waisted belt came to the rescue.
The belt shortened the tunic a bit when I put it on, which was good. It also allowed it to stay on my body, as opposed to falling right off. Unfortunately this top was too short to wear as a dress, and looked off with jeans, so I decided to put a simple black skirt under it. I think it worked out perfectly in that way as it added another level of dimension to my outfit.
Shorten a dress
A big question you might ask is: how do you shorten a dress with a belt? My answer is: well, it's quite easy (depending on the type of the material and shape of the dress).
First, the dress has to be on the simpler side and not too extravagant. It should have a straight cut, and have the ability to be altered. Nothing that sits really tight on the body. Then, I take a belt that fits around the waistline and I put it on. From there, I drape the top of the dress over the belt to make the dress shorter — I basically pull the dress fabric up over to hide the belt. Beware though, if the dress is just too long and there is a ridiculous amount of fabric, it might look super silly. Also, when you do drape the dress over the belt, know that you're transforming the style of the dress -know that as well! I honestly do not have a problem with this new style — it actually makes the dress a bit more airy at the top, which is great on a summer day. Below is a picture of a before and after of one of my dress from fiasco to victory.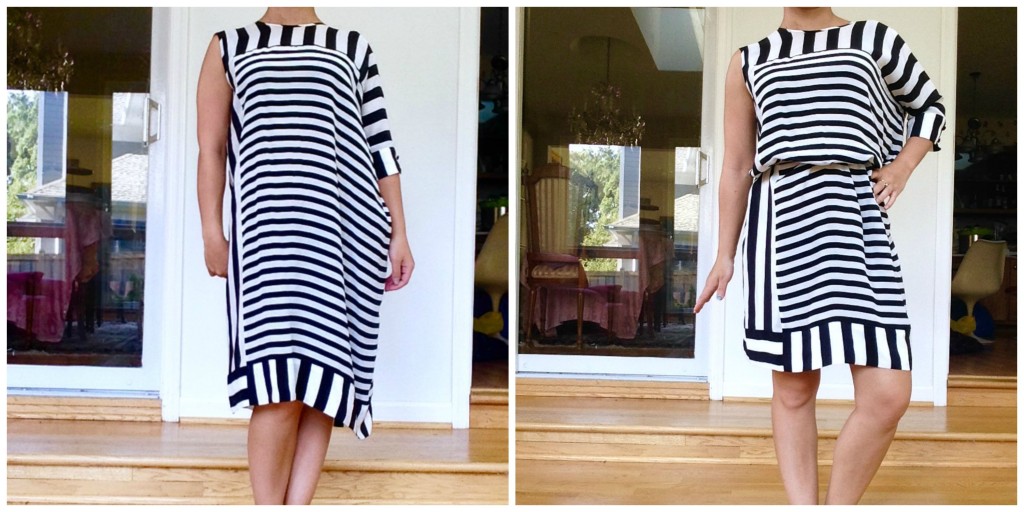 What is your your method to alter clothing that is too big on you? Are belts something you would use to transform your pieces that don't fit quite right?