Simple Do's & Don'ts to Make Your Zoom Calls Bloom
Just a few months ago, many of us hadn't heard of Zoom. Now it has become a vital and often-used tool to keep us connected with family, friends and work. Truly, one of the gifts of our requested stay-at home time has allowed us to use this technology as a way to work remotely and to see those we care about in a whole new way.
To make the most of your Zoom calls and to show care and respect to your fellow Zoomers, here are some simple things you can do to leave a good impression.
This is my list of Zoom Do's and Don'ts—what will you add to the lists to make your Zooms bloom? As an artist and leadership coach, I am very intentional with my set-up, so consider these simple tweaks to put your best foot (or face!) forward!
Tim's Top 5 Zoom Do's/Tips:
1. Stage the Room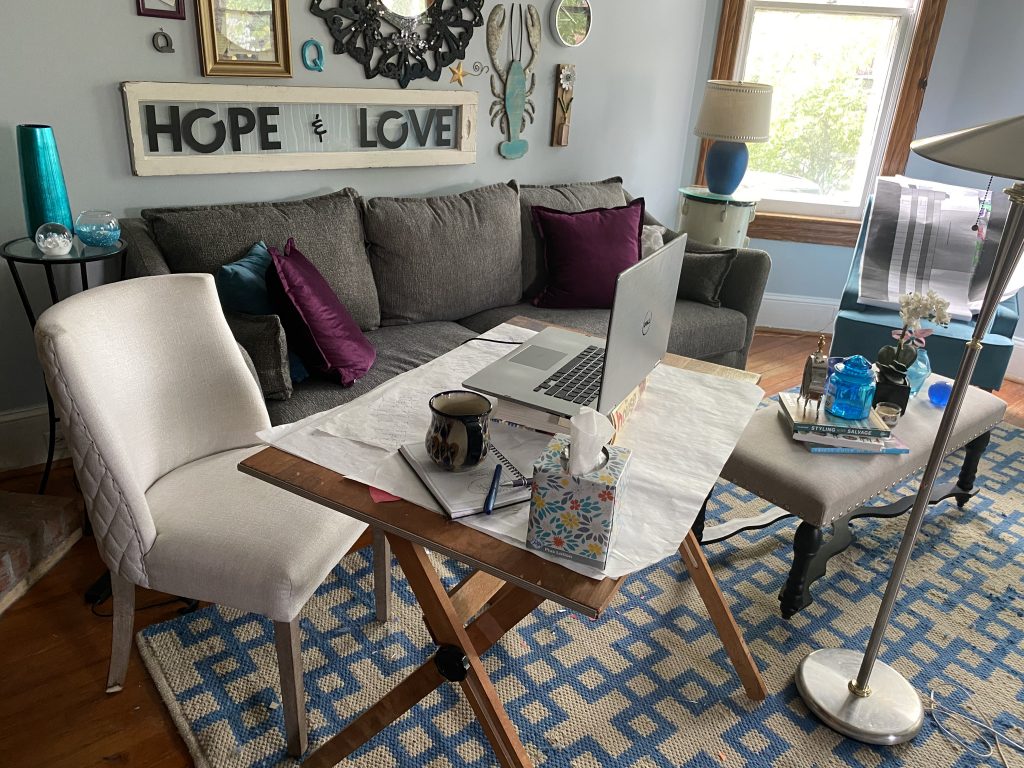 Take a moment to look at your space. No matter if you live in a small studio or spacious house, you can find a good spot to make a "Communications Station" for your Zoom calls. I am sure you have experienced this on Zoom: people have a desk or kitchen table that they have made their place for calls. This is great BUT be mindful of what the people will see.
Consider being creative and set up a temporary spot that has a nice background. For my calls, I moved an old drafting table from a dark corner into the center of my living room. It is not in the way since I am not having company during this period.
What place can you set up with nice pictures, decorative items and plants in the background to make it inviting for those you are welcoming into your virtual space?
2. Lighting
An easy way to enhance any video call and to make you look good, too, is lighting. Often, rooms in our places have lights attached to the ceiling which isn't the most flattering light for video chats. Sometimes, Zoomers take their calls in front of windows or have back lighting so they are just a silhouette. This prevents you from seeing their eyes or facial expressions.
Sometimes simply shifting your seating position so the light shines on your face will make a big difference. A suggestion: move a lamp or two so one is on each side and in front of you. This will allow the light to highlight your face and make looking at you (which is what all your zoom callers are doing) more enjoyable.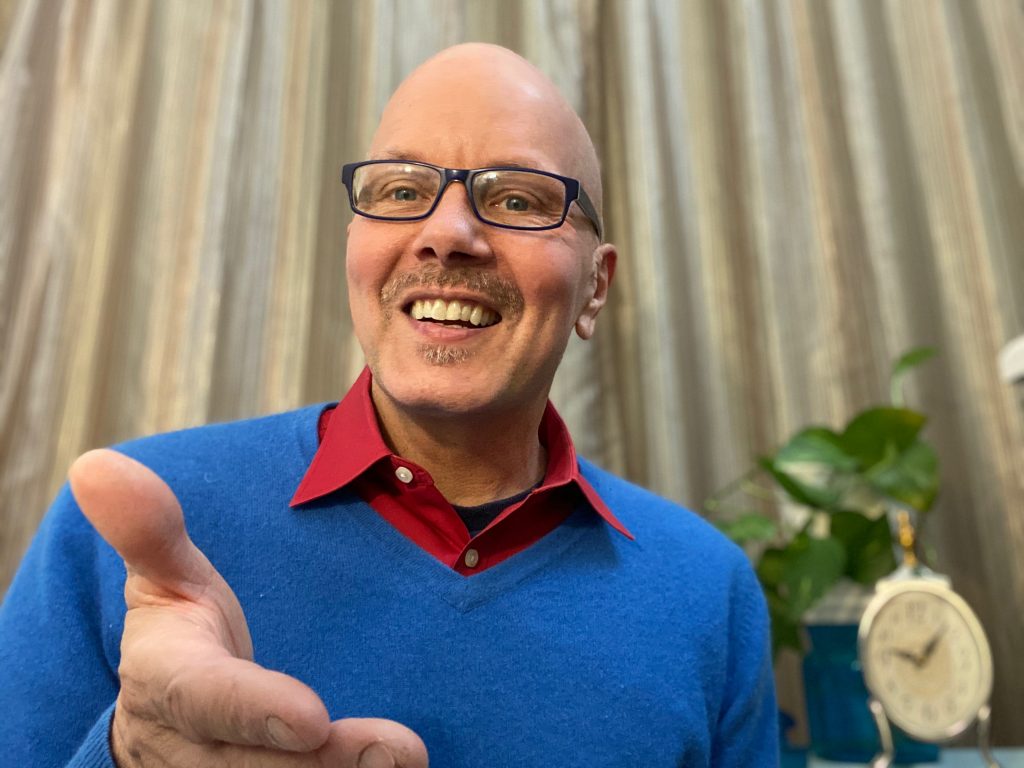 3. Positioning Your Device
As humans, we love to make eye contact when talking to others and want to do so eye-to-eye, at the same level, if possible.
Our devices were designed to make it comfortable and productive for typing. When seated in this position, the camera is not eye to eye so people just push their screen back. In doing so, it makes the ceiling visible and the shot look like it is up your nose. Not cute! A very easy solution is to ensure your device is at eye-level is by placing it on stack of books, box or other sturdy item to raise it up. You could be creative and empty out a drawer and flip it over to put it in the right position. This very simple step makes such a big difference!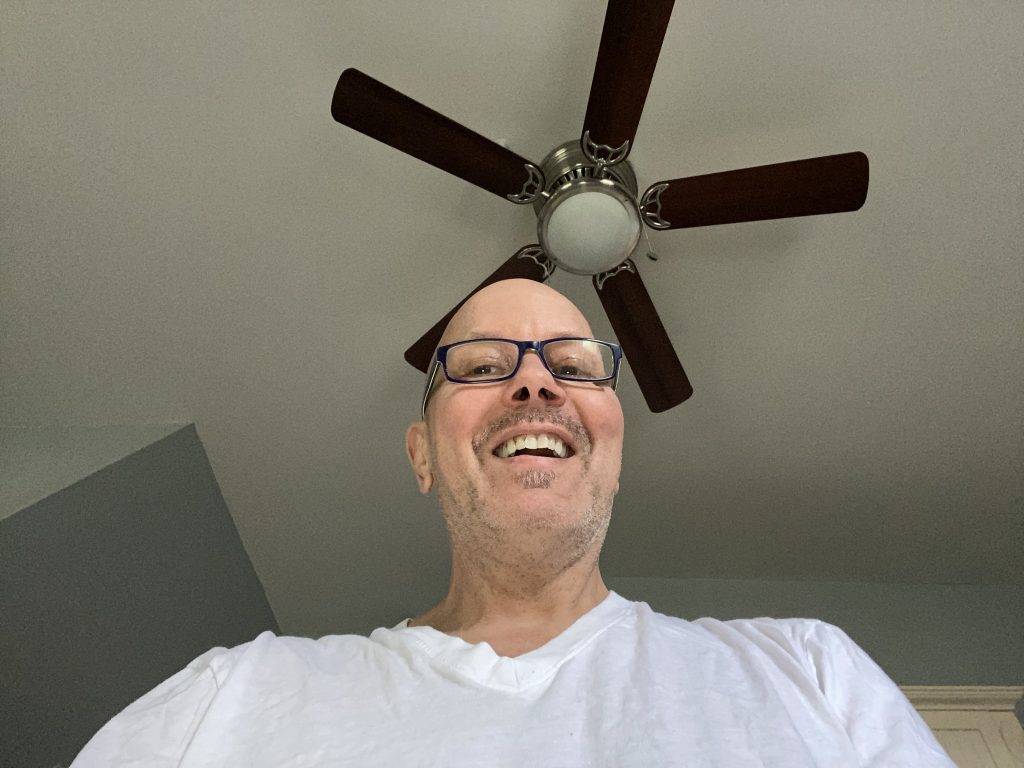 4. Seating
Find a comfortable yet firm chair for your Zoom calls. Enlist a dining room or kitchen chair, then add a pillow or cushion to it.
Again, if you have a desk or a home office, you might have an office-type chair that has wheels, swivels and rocks. This might be great for doing office or home work but, isn't be best for Zoom calls. In a chair like that, we have a tendency to move while talking and it can get your callers sea sick to watch you rocking and rolling. One friend's office chair had a high neck rest, so it looked like she was calling in from her dentist's office! If possible, stay away from sitting on the couch with your device in hand or on your lap.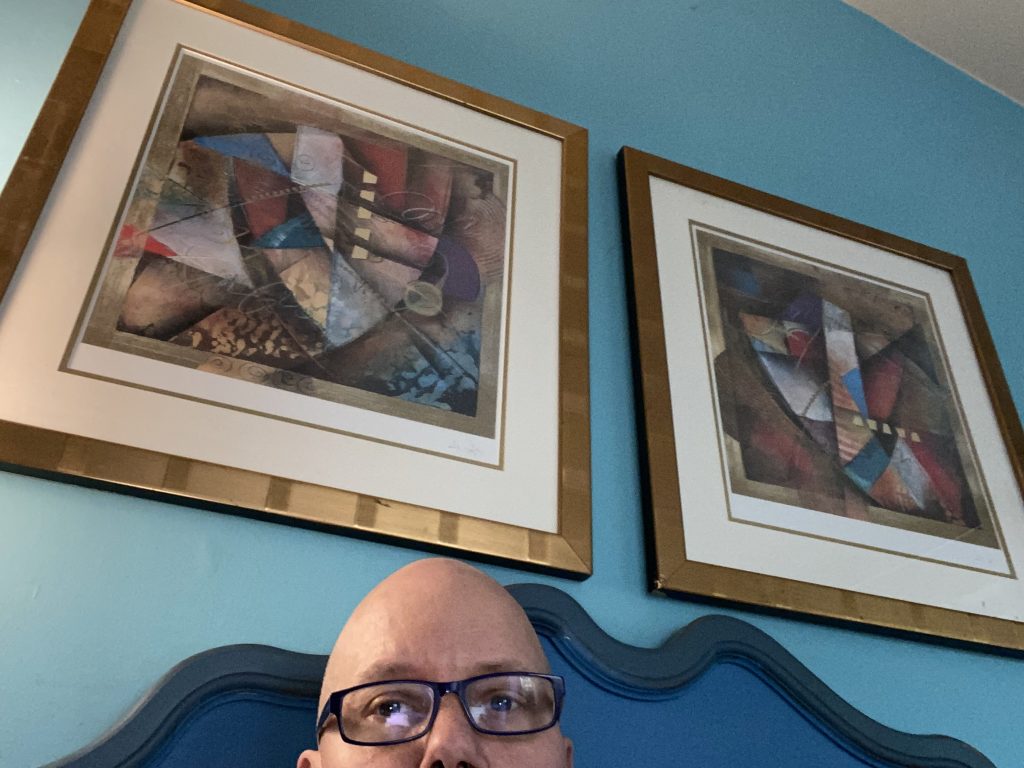 This will surely provide odd angles and views. Also, you might be tempted to get comfortable and lay back or recline too much – which will have your Zoom buddies wondering what's up with you!
5. Groom for Zoom
To be honest, during this extended experience of being homebound has been a nice break from business attire which requires more buttoning up, wearing stiff shoes and getting our hair done. For me, I went several days without showering or shaving since I wasn't meeting anyone in person.
Well, we all want this time to be a time of growth and expansion, too and it is important to get ourselves looking good so we feel good. What we wear can help us be more productive and positive. Here is a recent blog from Carolyn Becker that underscores that belief: https://findingyourgood.org/heres-why-you-should-still-dress-up-even-though-youre-stuck-at-home/ Put on a nice shirt or blouse that is colorful. Get out of those PJ's and old sweatpants and ratty but comfy T-shirts.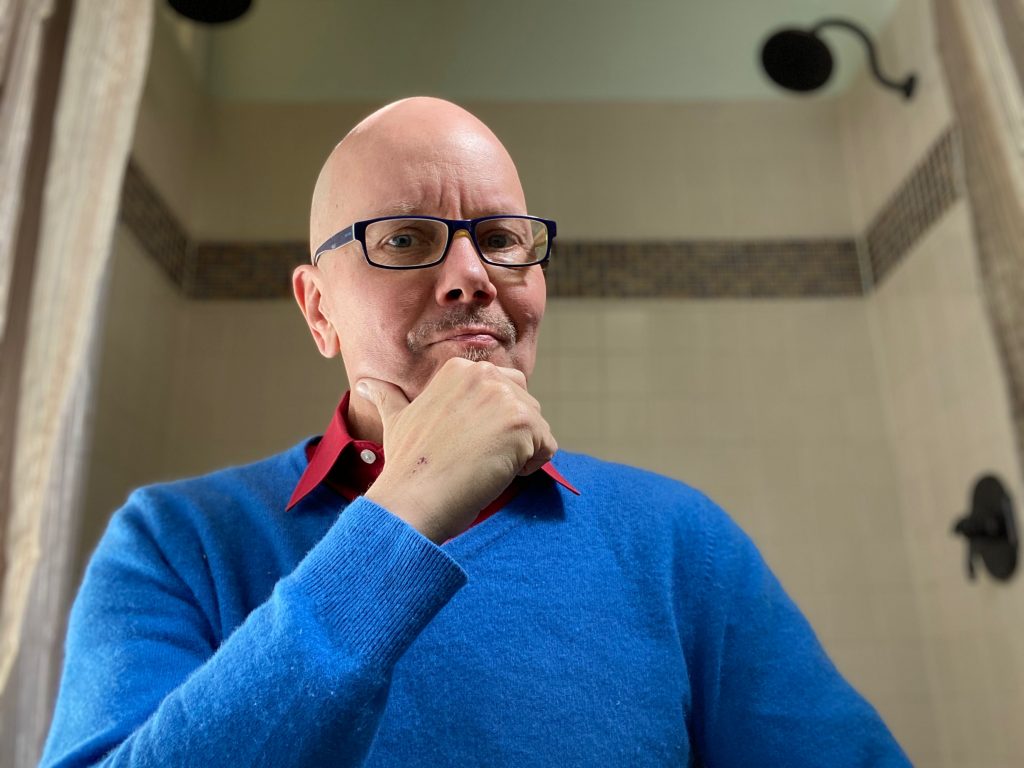 Think outside the tub—bathrooms work, too! Given our tight quarters we might be sharing with other family members, friends and pets, your only alternative for a private space might be your bathroom. However, you can make this work when you take staging in mind and consider the steps above. Can you close your shower curtains to create a simple backdrop? What about moving in a small table for your device and a small stool or chair? You could even sit on the floor with your laptop on a chair ensuring it is at eye-level. Place a lamp on the john so it lights your face and space nicely. Add a plant and other small decorative items behind you. No one needs to know where you are!
Tim's Top 5 Zoom Don'ts:
1. Hold off eating
While you might be considering having a dinner party or lunch meeting by Zoom, I encourage you to focus on the time together and the conversation or discussion. Eat before or after the call.
We are creatures that like to follow the shining object, so to speak, and while someone else is talking, we are going to follow anything that moves.  This means we will watch you eat and not focus as much on the person speaking.  Having something to drink is different as it is easy to take a sip and we are not cutting food, using silverware and chewing.  Frankly, eating during a Zoom call is very distracting.  There, I said it!
2. Don't move. Stay in place!
In alignment with the eating being distracting during Zoom calls, so is someone moving in and out of the frame or walking around with their device in hand during the call. Sit in your firm chair with the cushion and don't move around if possible. I am not referring to gesturing or taking notes. I am amazed at during a Zoom call when someone gets up and walks away and we can see them in the kitchen or doing something else in the background. Hey friend, we can see you!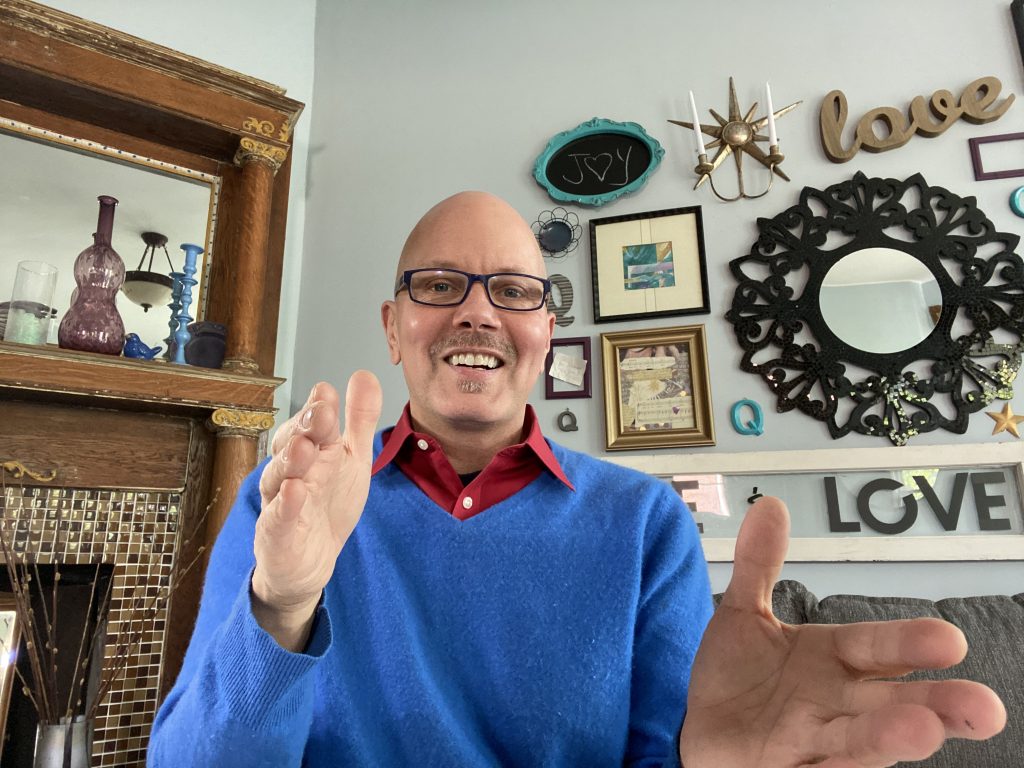 I imagine you, too, have experienced a Zoom participant getting up to go to another room and taking their device with them—this means we go on a ride with them too. So please folks, take your seat and give your attention to your fellow Zoomers.
3. Remove your bottles
While beverages of any kind are fine, be sure to remove any from the background. Your Zoomers don't need to see your latest collection of adult beverages. Take them away for the call and return them when you get off. You might also want to consider your adult beverage consumption during calls.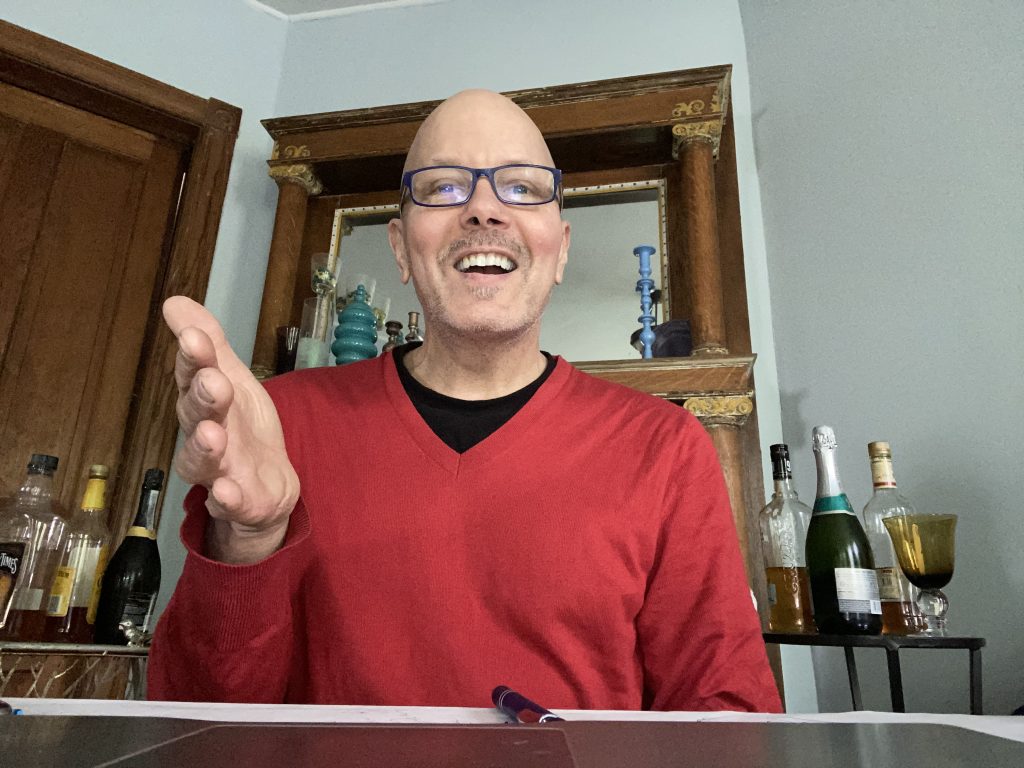 4. Time out for pets & cute kids
We all love little children and furry family members of all kinds. However, most Zoom calls are not the place for these cute creatures. While a check-in call with Grandma is appropriate, leave the little ones out as they will distract from the conversation. During a recent Zoom call, as someone was sharing important information, another caller brought in her cat which walked about in front of her screen. All eyes went to the cute kitty and suddenly everyone missed several critical points. If possible, close the door to the room you are in so that you may give respect to all those on the call.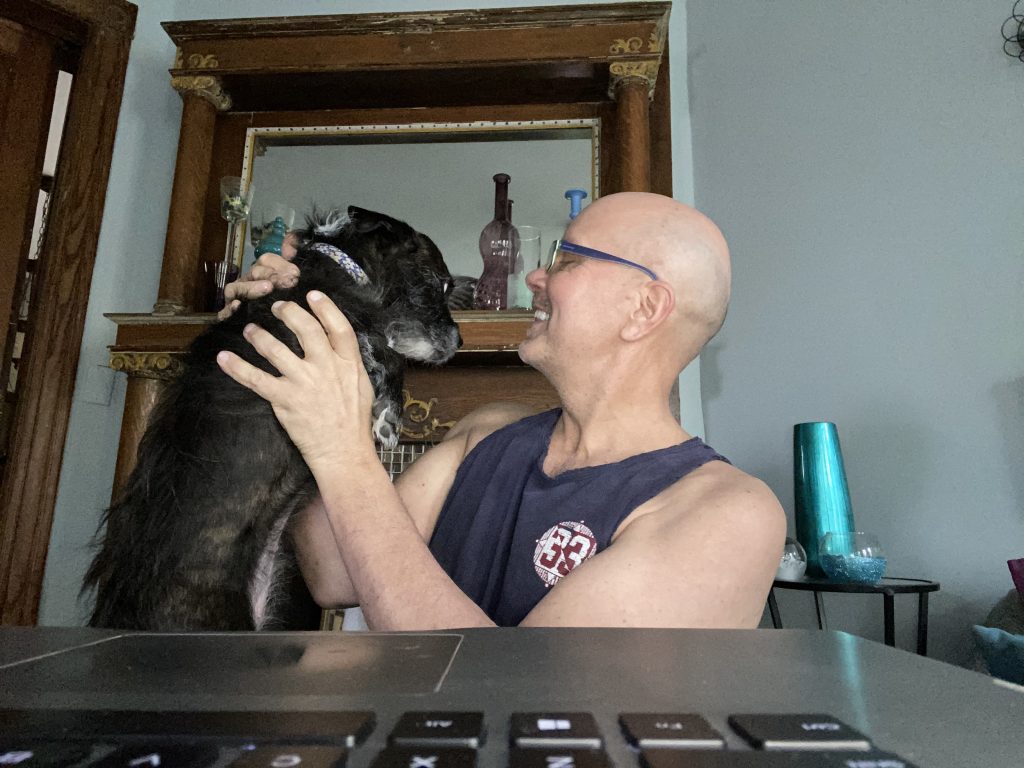 5. Texting
While taking quick look at a text during a regular meeting or conversation might be okay to some (it drives me crazy!), I suggest you turn off your phone or leave it in another room. Given that we can all see each caller's eyes, it is easy to see when someone looks away and their head or gaze is down for a period of time. Even if you can't see their device, most of us know they are checking their phones. And what we want to respond to during a Zoom call usually isn't an emergency and can wait. Again, show care and respect to those with you by Zoom by giving them your attention and time.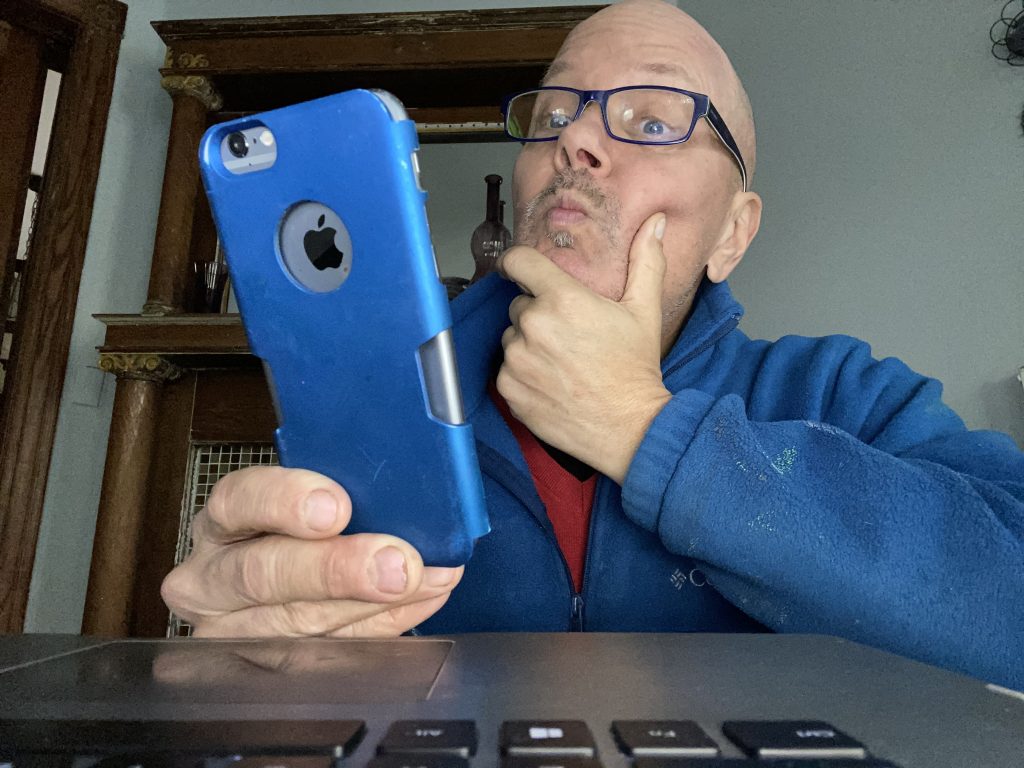 Zoom will likely be a part of our lifestyles and work life for the foreseeable future because we have seen the benefit of skipping traffic, saving travel expense and maximizing meeting time. Consider these simple steps to make the most of your Zoom time. It is so simple and will make you show up really well to all you are connecting through technology. Fun and easy…what's not to love? We may never go back to some of the old ways and maybe that is one of the gifts of this unusual time.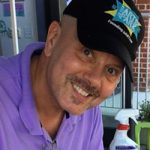 Tim Kime
Artist, Motivational Speaker, Life Coach
Tim Kime is an artist, life coach, connector. He is President of Kime Leadership Associates offering executive coaching, meeting facilitating and motivational speaking. He is also Chief Creative Force of Transformation Junkies which upcycles furniture and other household items into functional works of art. He combined his two passions—unleashing the potential in people and transforming items with the launch of the Art of Possibilities Workshops. These workshops are part upcycling, part dreaming, part goal setting.