A lot of us are spending a lot more time at home these days. It can get a little tedious looking at the same four walls all day, every day.
Maybe it is time to give your home a spring refresh.
With a little re-arranging—and thinking outside of "normal" decorating rules—you can decorate your home in a way that is functional for your family and perfectly reflects your style.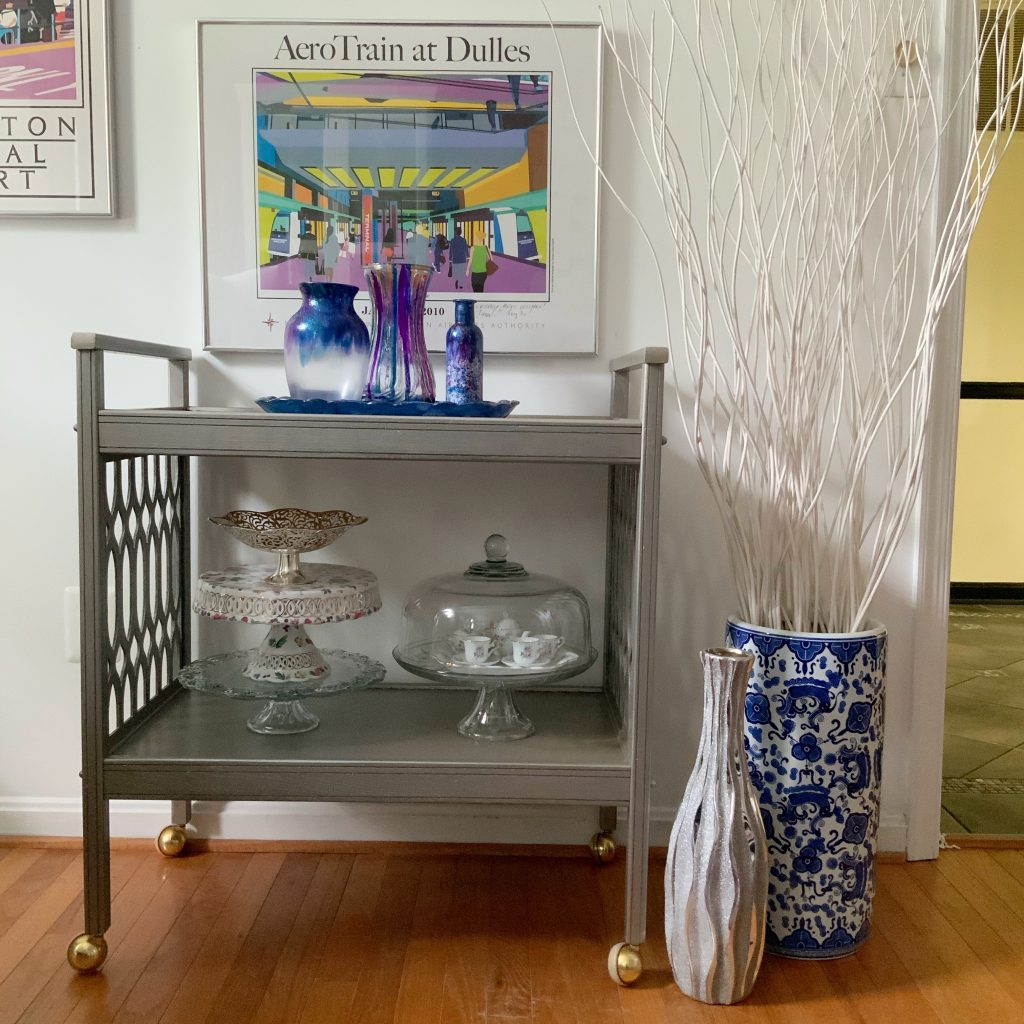 The first thing you need to do is look at your space with fresh eyes.
Here's a Spring Home Refresh Checklist with questions to consider.
Are there any piles of clutter? (Look closely. I bet you hardly even notice them anymore!)
What activities do you and your family like to do at home? 
Does your home support those activities?
If not, what can you change with items you already have?
The size of your living quarters doesn't matter. It's how you use your space and enjoy it that makes it feel like home.
I recently looked at my living room with fresh eyes. It's a bright, colorfully eclectic room filled with furniture I painted, my son's artwork, home décor items from Goodwill and souvenirs my husband and I have collected in our travels over the years. I realize won't suit everybody's style. But that's OK. It's mine!
I love my living room, but it needed a spring refresh.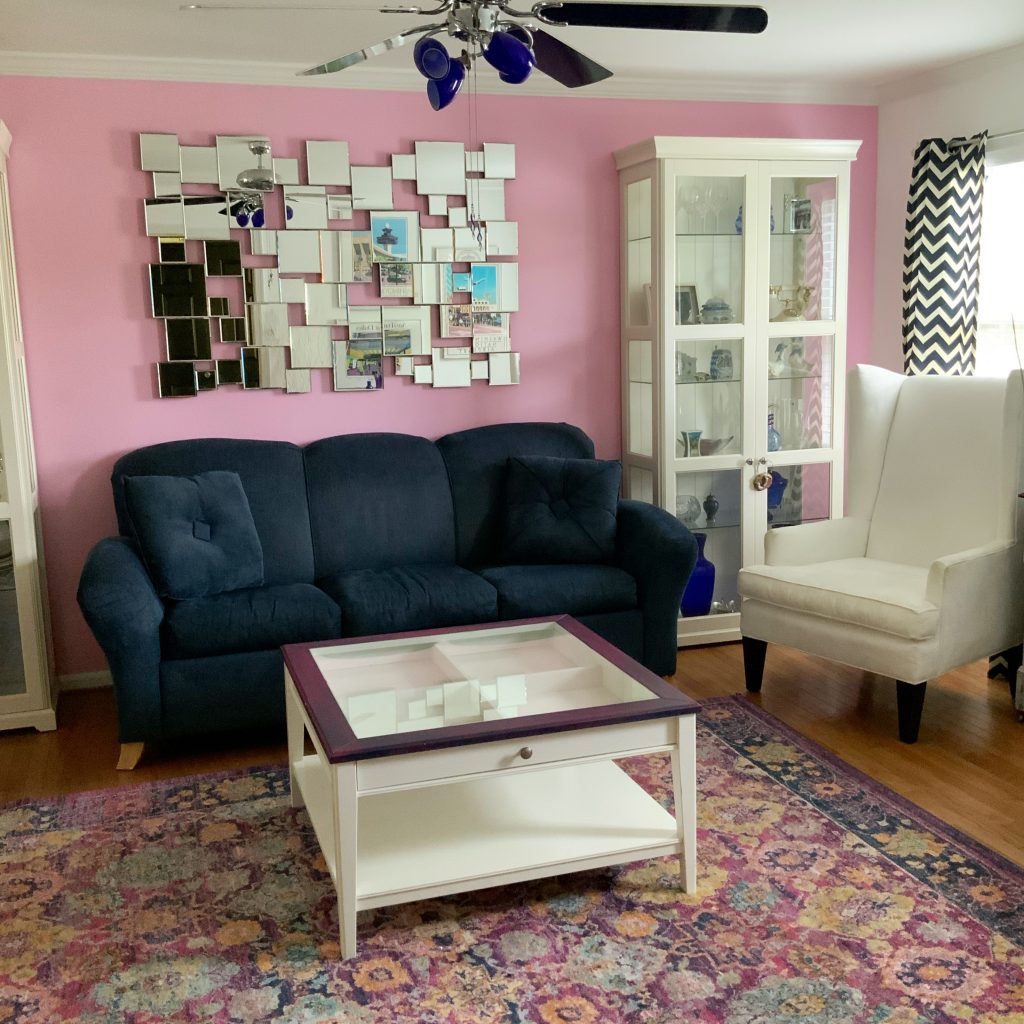 I followed my Spring Home Refresh Checklist and realized a few things.
For starters, there was clutter. (It seems there is always clutter!) I cleaned that up and boxed up a bunch of items to donate to Goodwill when they re-open. Check!
Then I thought about the activities my family and I like to do.
I like to read.
I had a comfy chair and good light, but it seems like my books always pile up on the little table that was next to my chair. And I can never seem to find my glasses.
I decided to break some rules and think differently about this space. I swapped out the table for a small dresser I had painted. Sure, dressers usually "belong" in the bedroom, but why couldn't I use one in my living room?
The dresser is pretty. It matches the room. And it gives me drawers to store my books and glasses out-of-sight when I'm not reading. I love it!
Now the space is more functional to support an activity I enjoy. It just took a little re-arranging and thinking about my furniture differently.
I also like to play games.
We started a new family tradition during the COVID-19 stay-at-home order. We adapted a few of our favorite games to play over video chat with my dad and my sister's family every night. Even though we live in three different counties, we can all come together, play games and have fun.
But the game stuff was piling up on the coffee table. And we always seemed to be running around looking for a pencil when my sister called to play.
I looked around my living room and realized I had the perfect solution right here all along. This decorative box with the sparkly M on it was a Christmas present. I really like it, but it didn't really "do" anything. It seemed like a waste to have a box with nothing in it.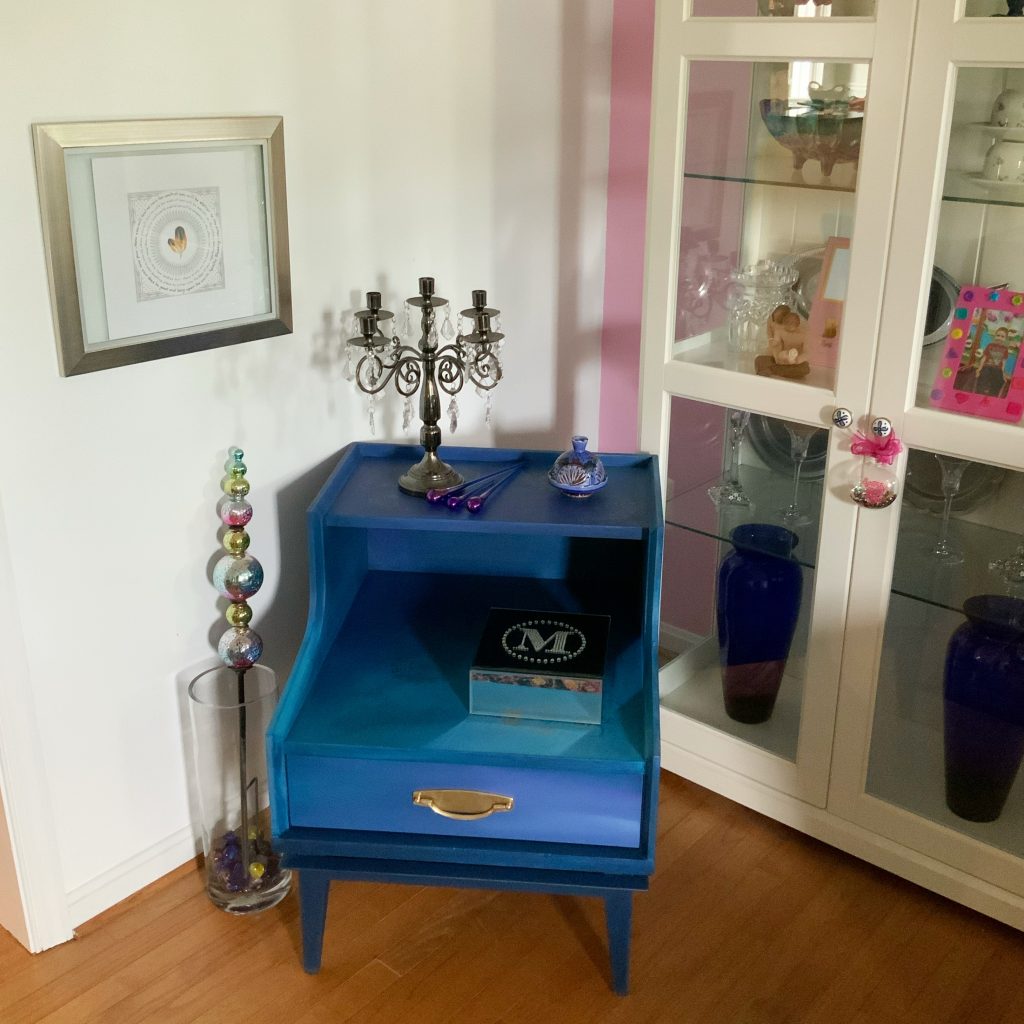 Now the fancy box holds our games, paper and pencils so we have our Virtual Game Night items all in one spot — out of sight and ready to go. Problem solved. And we used an item we already have in a better way.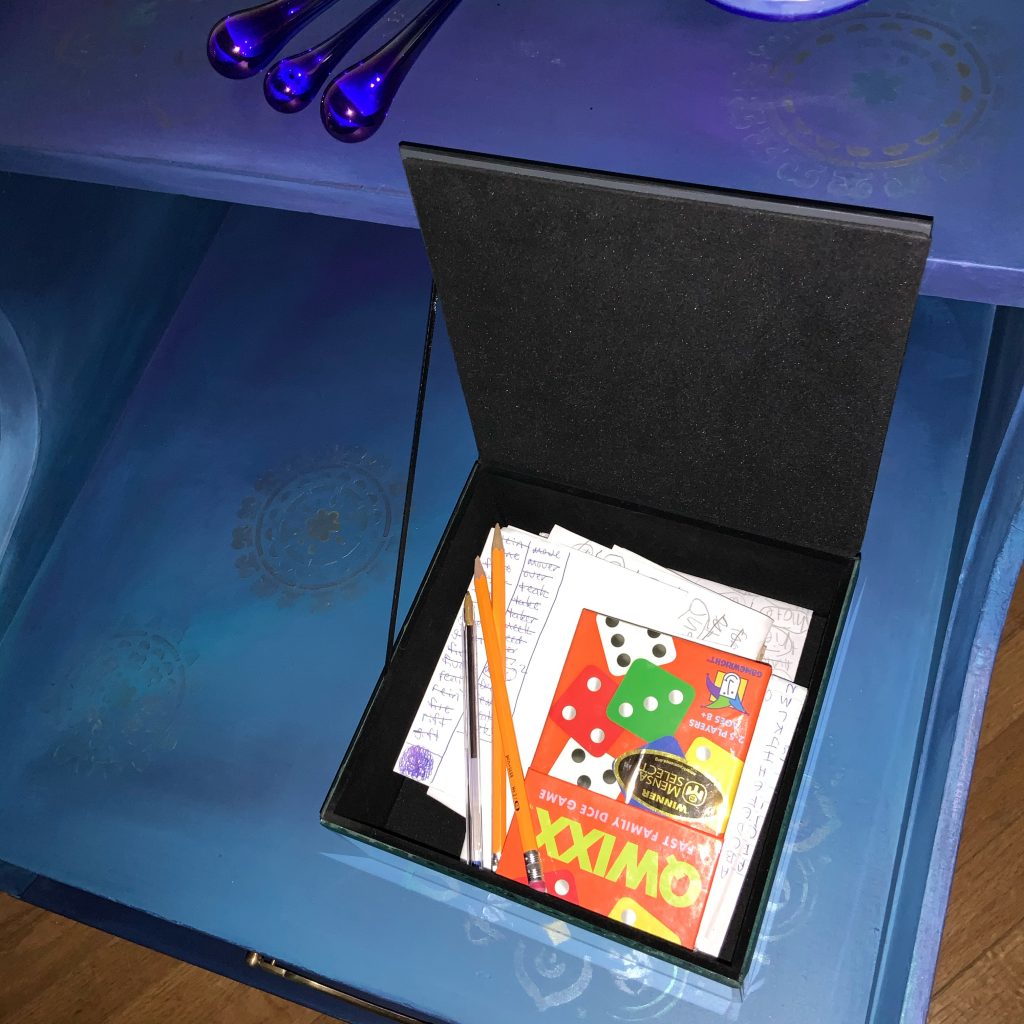 Look around your home. See if you can apply the Spring Home Refresh Checklist. With a little creativity and thinking differently about items you already have, I bet you can find little ways to make your home more functional for you.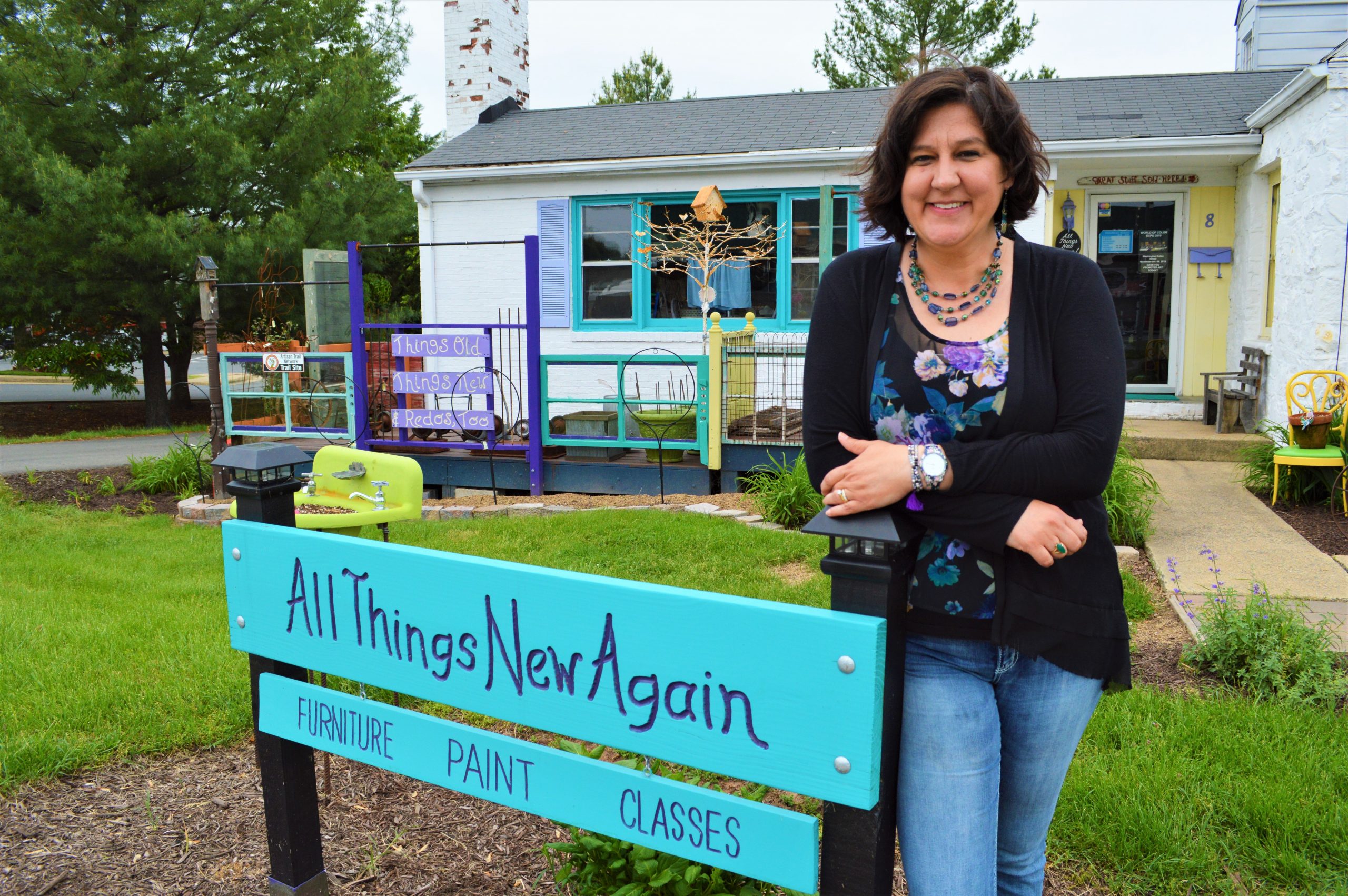 Courtney Mickalonis
Artist/Teacher/Blogger at All Things New Again
Courtney Mickalonis is an artist, teacher, and treasure hunter at All Things New Again, a furniture and paint boutique in Leesburg, VA. She finds old furniture that nobody loves anymore and makes it beautiful—and useful—again. Courtney teaches a monthly Learn How to Paint Furniture class at their Leesburg studio and hosts The Furniture Painting Friday Show every Friday at 12 noon on the All Things New Again Facebook page.