Let's get all the cliches out of the way: everyone is different. Our storage options are different. The weather and activities we dress for are different. What we like to wear is different. Closet organization isn't one-size-fits-all. This is a good thing.
Closets are deeply personal, giving each of us a chance to figure out a system that works best for us…and keep adjusting that system as needs and preferences evolve. In the last 10+ years that I've intentionally organized my closet, I've learned to treat it as a living thing.
But all that doesn't mean starting from scratch! I arrived at my current closet methodology by absorbing recommendations from countless hours of YouTube, blogs, Pinterest, you name it. Along the way, I picked up some tips, let others go, and found my own solutions. I encourage you to do the same. Below I've outlined elements of my system that make getting dressed easier and help me keep things tidy.
MY SYSTEM
1. Define clear sections
While deceptively basic, this is actually the most important principle of my system! Each type of item has a home, which makes finding specific pieces a cinch. Even better, if it's a day when I'm debating what to wear, this structure helps me craft an outfit — I can differentiate and quickly assess what types of items are at my disposal. On the rail, I have my capsule wardrobe at the front, offset by a hanging jewelry organizer that holds some earrings. Next are trousers, followed by skirts and tops. Behind the tops are dresses, then cardigans/blazers. A hanging shelf creates space for items I prefer to store folded. One level is for knits, another for jeans/casual pants, and another for workout gear. The floor holds a shoe rack with a selection of seasonal shoes, along with fabric storage bins for folded tees and sweatshirts. Inside the closet doors are hooks to hang some of my bags, plus a scarf organizer. Everything is clearly defined!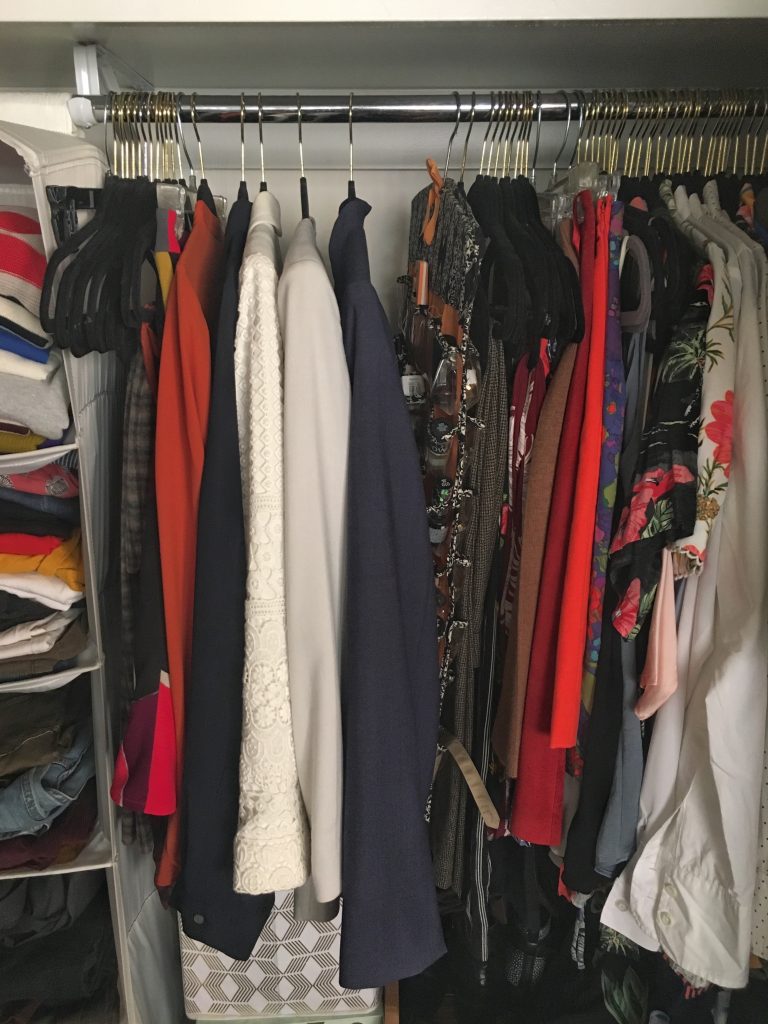 2. Create sections within sections
Because I like categories and sorting, I create sections within sections. For example, the "tops" region of the rack is further organized by sleeve length – spaghetti strap tops, then short sleeve, then long sleeve. My socks are also organized by length within my drawer. My undergarments are stored by style. You get the picture.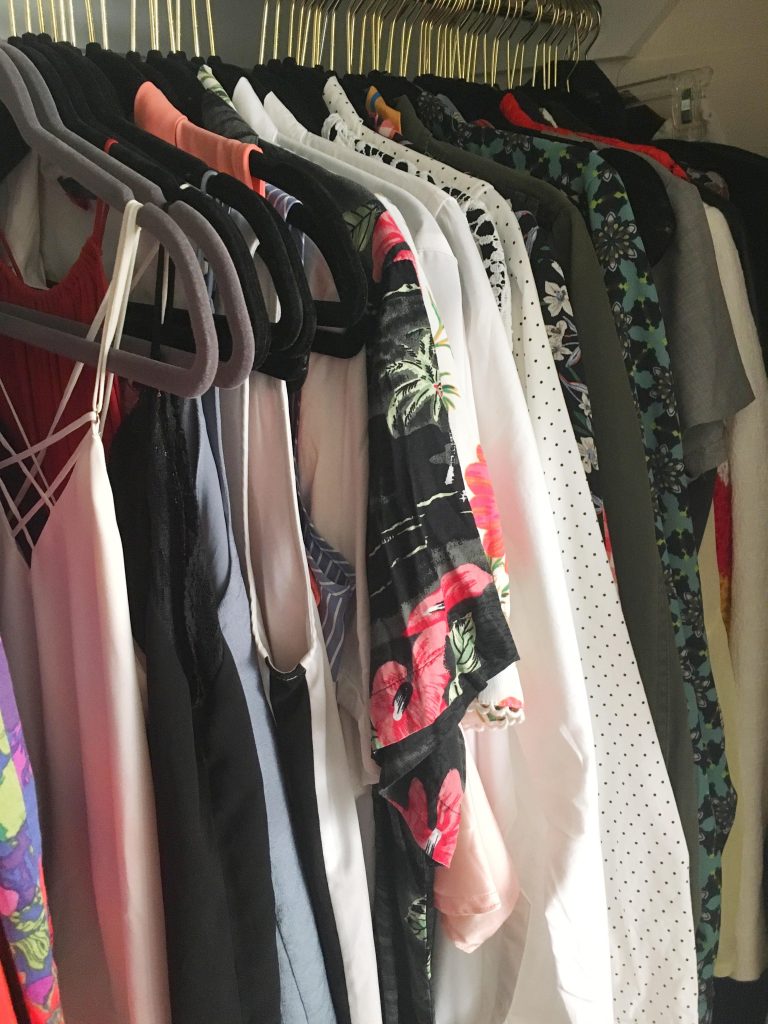 3. Sort by color
Did I mention I like order and sorting? I do. A lot. Each subsection on my rack is further organized by color. Neutrals (white/black/etc.) live in the front, and the rest is organized by ROYGBIV, of course (it works!). Sometimes it's hard to decide where a print belongs, but just squint a little and decide what the overall feel of the top is.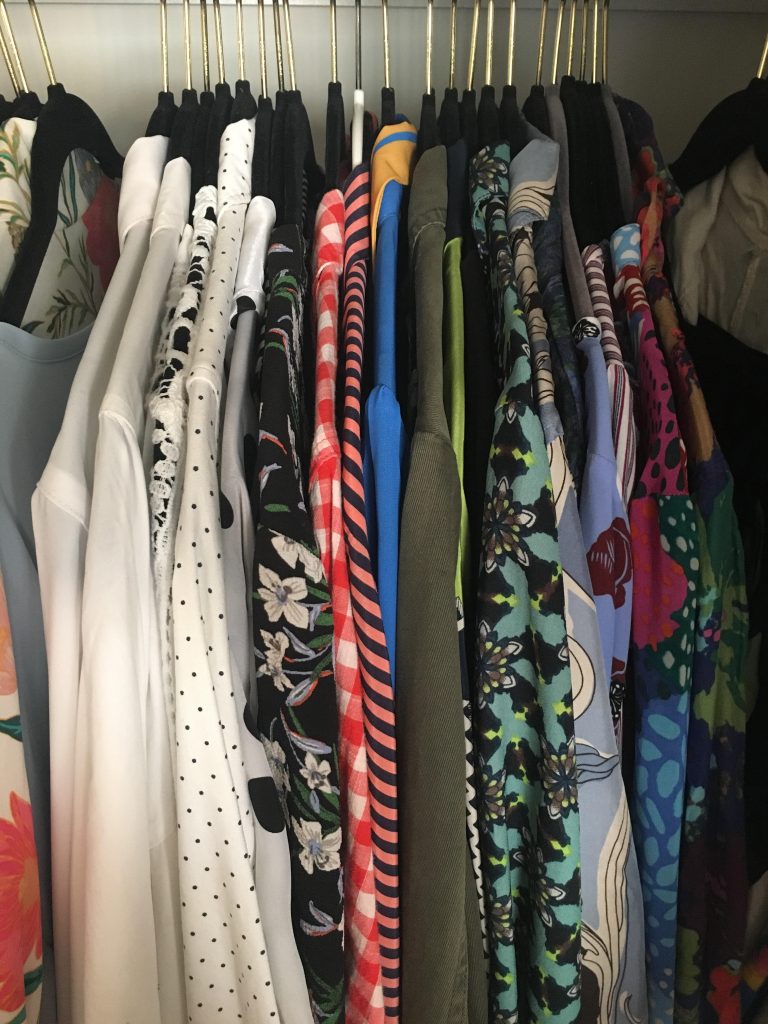 4. Standardize storage methods
Marie Kondo and her peers discuss this ad nauseum. The more standardized your hanging, folding, and storage systems are, the neater they look, and ease of access improves drastically. In my closet that means using the same style of velvet hanger for all of my tops, and folding my pants the same way before they hit the shelf.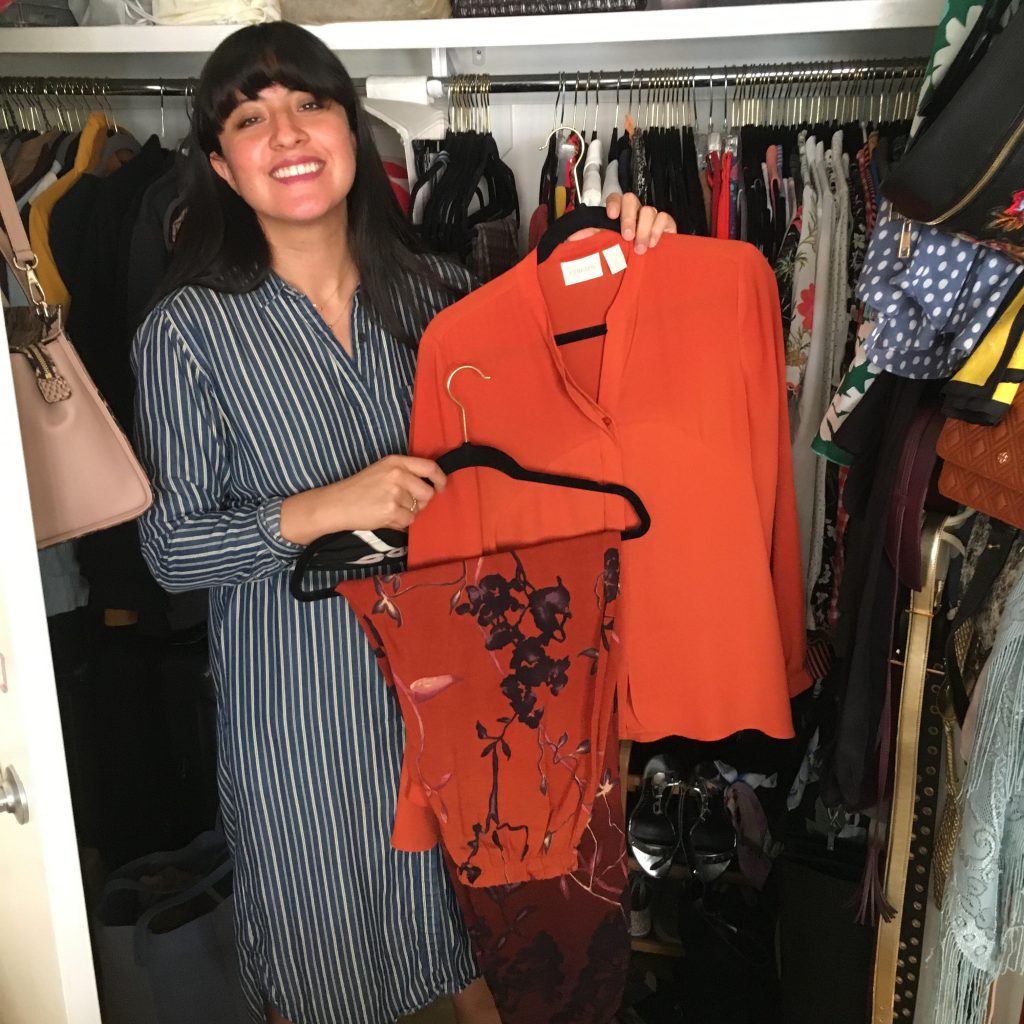 5. Think beyond the closet
It might not be clear from these pics, but I live in a studio with a relatively small closet, so storage space is at a premium. In addition to the closet, a couple of other places house my clothing and accessories. A bedside dresser holds undergarments, socks, loungewear, and some everyday jewelry. I positioned a rolling rack near my door for hanging outerwear, and I keep the season's most-used shoes in a low wooden rack in the entryway.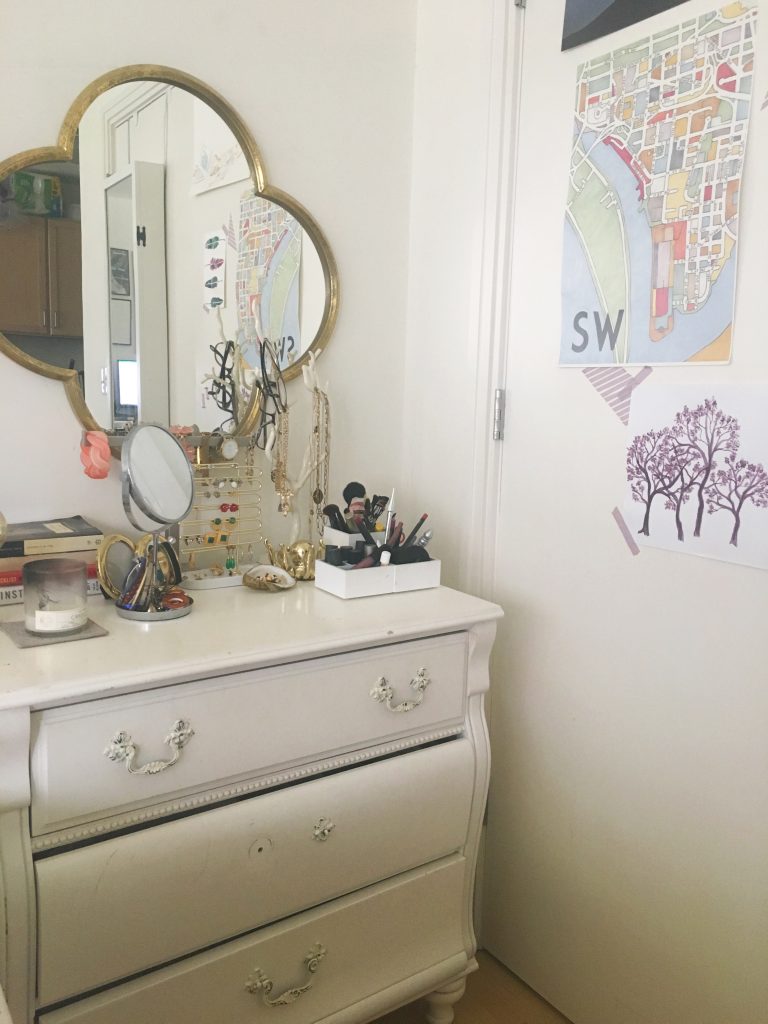 6. Add storage space
As a tenant, I can't make any major modifications to the apartment, but I've found lots of over-the-door hanging options that expand my storage space without damaging any walls. My favorite is this hanging jewelry wardrobe, which also has a long mirror on the front (dual purpose!). Opening the door and choosing accessories from the velvet interior makes a normal part of my morning feel intentional and special.
7. Use a few gadgets
There are a lot of useless "organizers" out there. It took some trial and error for me to figure out what works best, but in the end, these gadgets can be worth it when they help create specific homes for specific items. I've already mentioned the scarf organizer, a hanging jewelry organizer, and some fabric storage bins. One of my other favorites is this stud earring organizer and metal branch where I hang more delicate necklaces.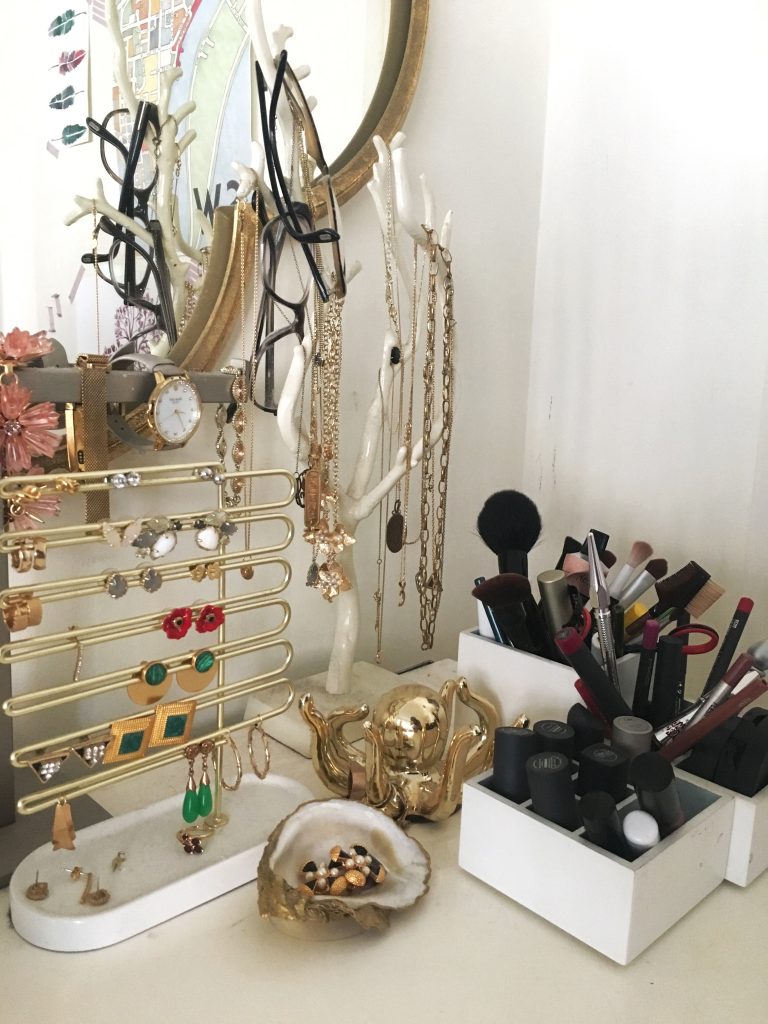 8. Hide off-season clothes
You may have noticed an absence of any fall/winter items in my pictures, because they're stored away! I use a shelf at the top of my closet to store off-season shoes and clothes in bins, and I also keep some under the bed. Out of sight, out of mind: whenever I pick an outfit, I know I won't be distracted by things I won't wear.
I hope you feel some brainwaves and fresh ideas, and Happy Organizing!
P.S. If you got my Radiohead reference, we'd probably get along well 🙂
——–
About our fabulous guest blogger: