This summer will be filled with beach trips and I'm absolutely ready to rock my ever-growing collection of funky swimsuits.
DC Goodwill stores are one of the best places to find all of the best modern and vintage looks to turn heads this season, for under $5 a look.
The Bowie and Clinton stores have treated me especially well. My collection has grown from 5 to almost 20 swimsuits in less than a month, based on their offerings. 🙂
At these locations, I've been able to find one-piece, two-piece, and single item swimwear for $5 and under. Typically, swimsuits cost upwards of $100, so you know I've been ecstatic to grow my collection so quickly and inexpensively.
Each piece I've found has been unique and something you wouldn't have been able to purchase at the mall – take a look at 5+ items I've scored!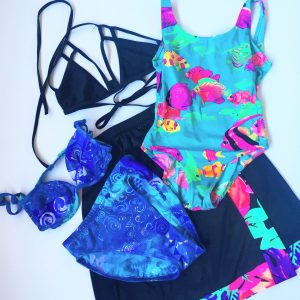 As you can see, I've scored everything from high-waisted, 90's, pastel, two-piece bathing suits to single tops.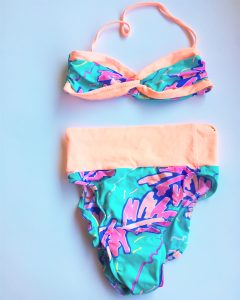 I REALLY love this pastel Saved by the Bell style gem I got for under $5. I can't wait to wear it with my vintage, gold, dangly earrings and jelly flats!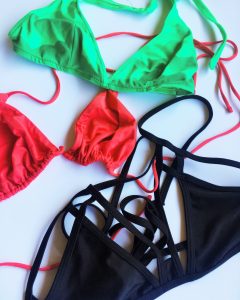 I also love picking up single tops at Goodwills for about a buck each. With these, I can mix and match and really assemble looks no one else has. These 3 tops: the strappy modern black one, the vintage green one, and the red top will have me set for multiple pool occasions!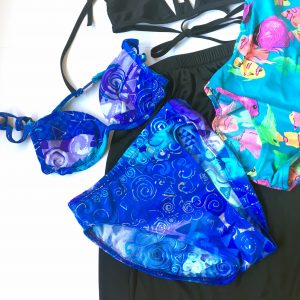 4.) This blue 90's two-piece is a fun number as well. It's high-waisted, but the top has straps. With some jean shorts and a crop top, I'll be set for the DC pool!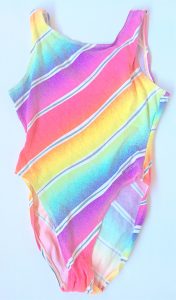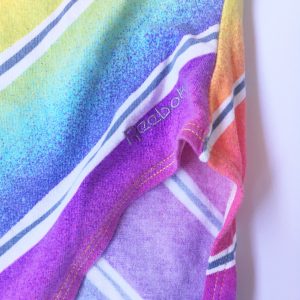 Finally, I love a good one-piece or bodysuit to wear to the beach for family outings. During a general hot summer day, sometimes I enjoy rocking one-piece swimsuits as leotards. They soak up sweat and look funky vintage fresh! This $4 Reebok gem is a big personal favorite.
Have you found any bathing suits you love at Goodwill, fashionistas? The racks are STOCKED! <3