Fellow frugal fashionistas, I feel as if I have truly hit a milestone in my Goodwill shopping career. After more than a decade of searching, I finally found my favorite designer, Tory Burch, in my size! I have come across probably close to twenty pairs of Tory Burch flats, heels and sandals during my thrifting adventures but I have never found a suitable style in my size.
A few weeks back, I attended the Kings Highway Goodwill meet up and if you caught Carolyn's post about the event, you are well aware that it was a fantastic location to shop for shoes. It is not unusual that my first stop upon entering this store is to check out the goods behind the glass cases at the checkout. I've seen some fantastic designer bags and shoes here so as I entered the Meetup – I made a beeline for the case.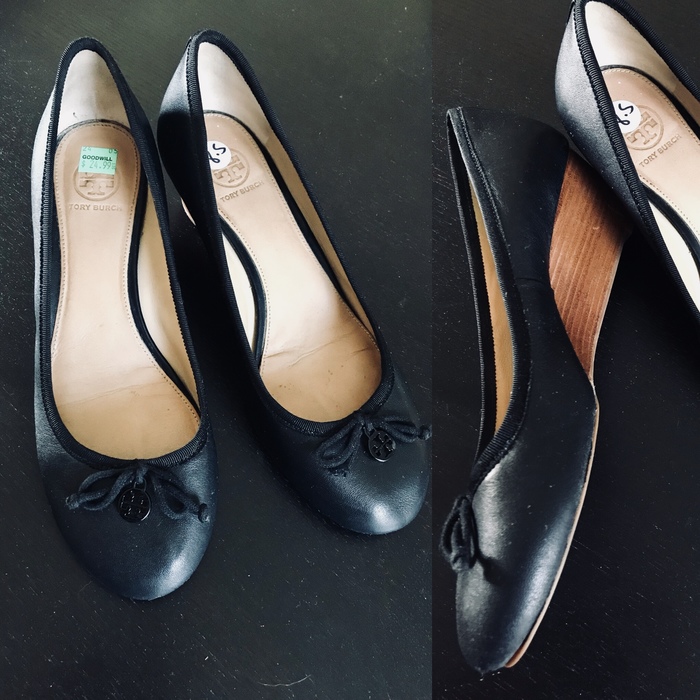 I almost couldn't believe my eyes, dear readers! A pair of black wedges, complete with a subtle Tory Burch iconic logo charm and sweet ballet style bow in a size 8.5. Elated, I rushed to the nearest Goodwill Sales Associate to unlock the magical shoe case. I truly had a Cinderella moment as I slipped my foot into the shoe. A perfect fit!
This style will be fantastic for both the office and casual wear. The style of this particular Tory is essentially a classic ballet flat but with a 2" wedge. The low wedge makes it a great option for a commuter shoe, too. I am headed back to DC to work on M Street and these will be the perfect shoe to run out for lunch or walk down the block to happy hour.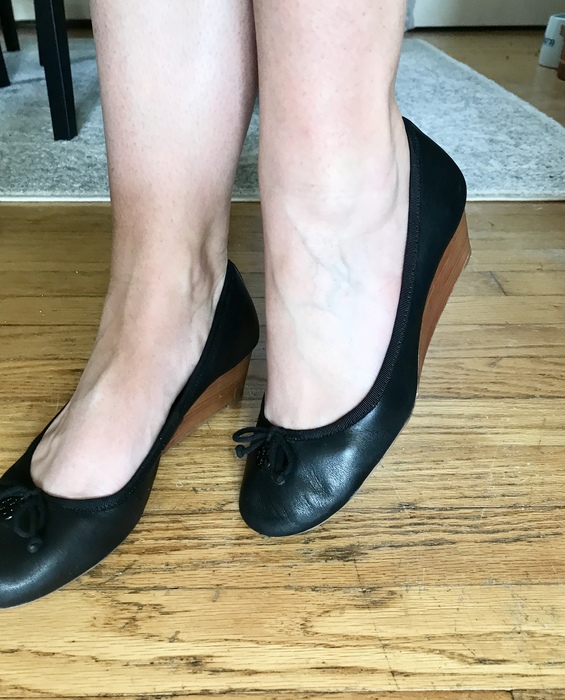 The most remarkable part about #MyGoodwillFind? I paid only $12.00 for these babies! Typically this style and designer would retail for about $250.00 brand new. Mine cost a fraction of that – and they came broken-in. I'd call that a win-win.
I think it will be hard to top this new Favorite thing from Goodwill! What do you think?
Karen Wathen is a young professional and self-proclaimed "thriftanista." Her passion for fashion and her savvy spending habits make shopping second-hand one of her favorite hobbies. Wearing many (frugal and fashionable!) hats, Karen is a highly caffeinated Special Olympics coach, passionate community volunteer, amateur foodie, farm dweller, newlywed, and cheap wine connoisseur. When she isn't scavenging the racks at DC Goodwill stores, you can find her barefoot in her kitchen, blasting country music and cooking up locally sourced foods from her Southern Maryland community. Follow her on Instagram (@k_wattt) for a peek into her savvy life!