For Mother's Day, Make Your Mom's Door–and Heart—Bloom
While fresh-cut flowers are always a winner with any Mom and at any time, here's a way to keep her spirits up all season long and well past this weekend's Mother's Day celebrations. How? By making her front door bloom!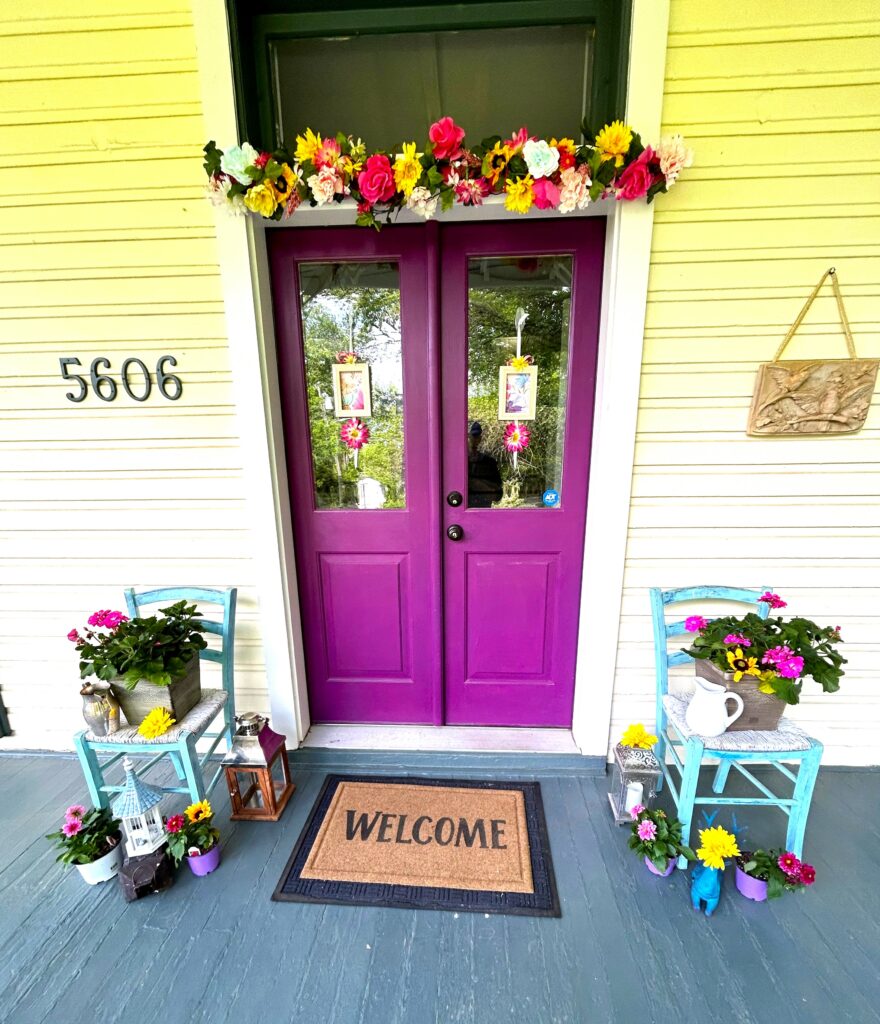 Use thrift store items, repurposed silk flowers, and other inexpensive and reused materials to make her door the talk of the garden club and family gatherings.  Rethink items so she feels your love while you ensure it doesn't fade.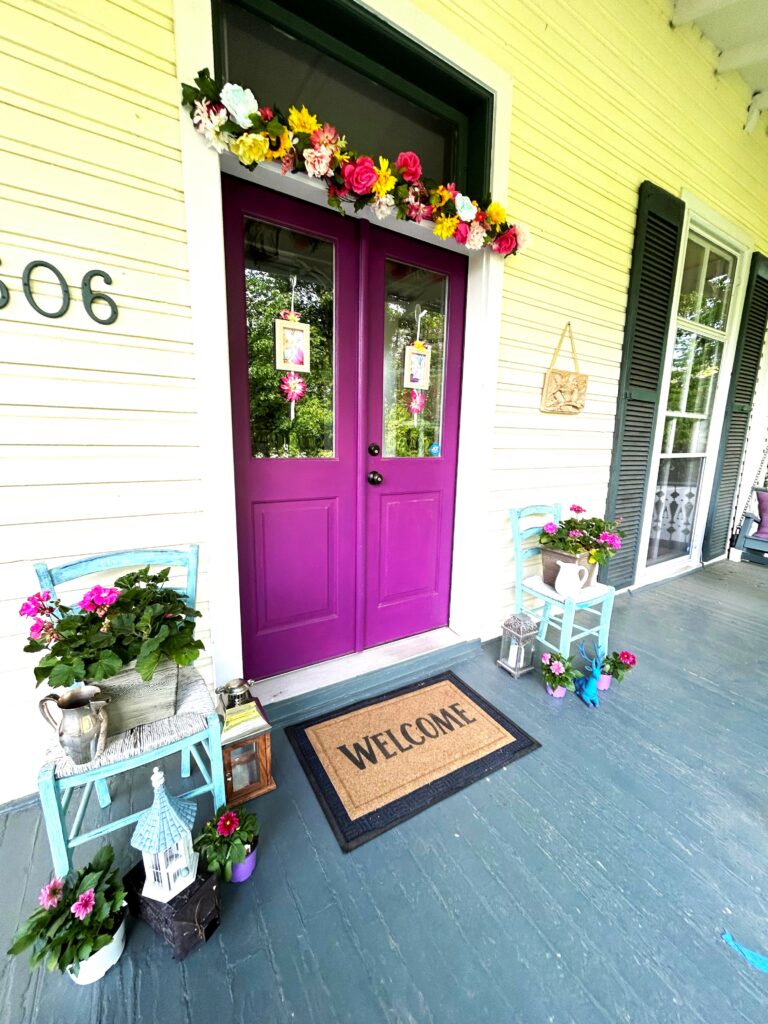 Items needed:
· Silk flowers
· Pool noodles
· Glue gun & glue sticks
· Scissors
·        Old gift bags, cards, or calendars
· Eye-catching accessories
· Potted flowering plants
· Pipe cleaners
· Commando hooks
1.      Find your goods & items for Mom at Goodwill
Part of the fun of shopping at Goodwill is you always come across lovely items and low-low prices.  And picking up items there will make your Mother proud, knowing she raised a budget-conscious and earth-loving kid! 
While this front door transformation focuses on flowers and outdoor accessories, there are rows and rows and aisles and aisles of unique, one-of-a-kind items that will make your Mom smile on Mother's Day.  And you will smile, too, knowing you got her gifts for just a few dollars.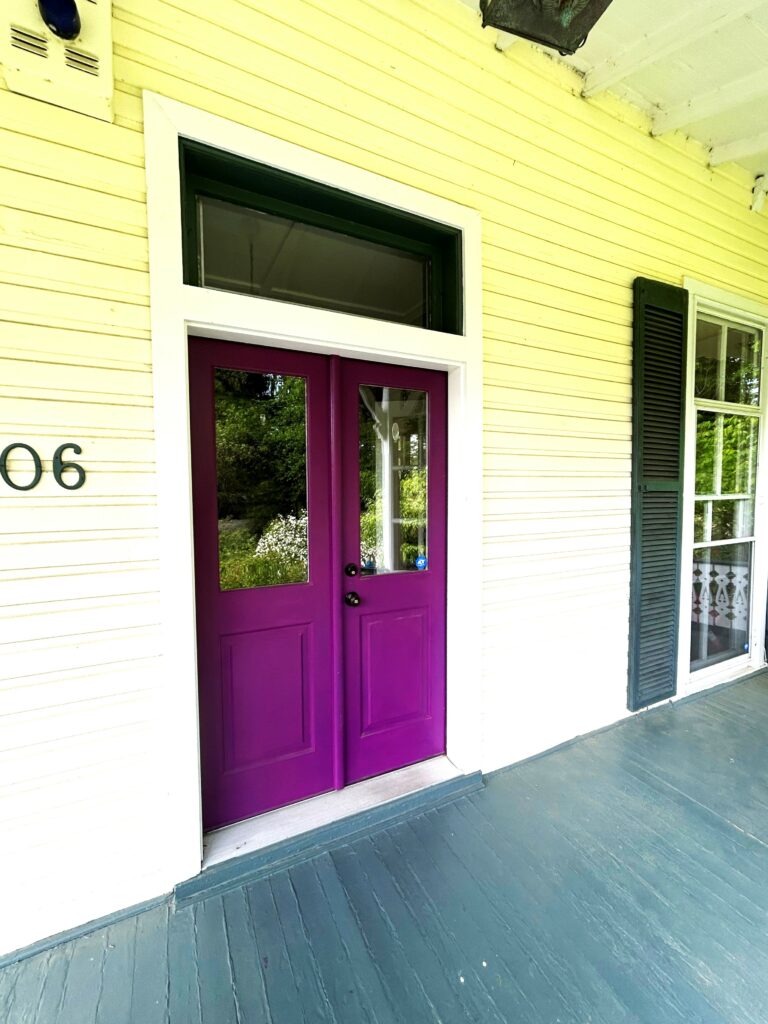 Look for silk flower arrangements to deconstruct for this project.  Also, be on the hunt for items like outdoor lanterns, planters, figurines, and other items to add some welcoming whimsy to her front stoop.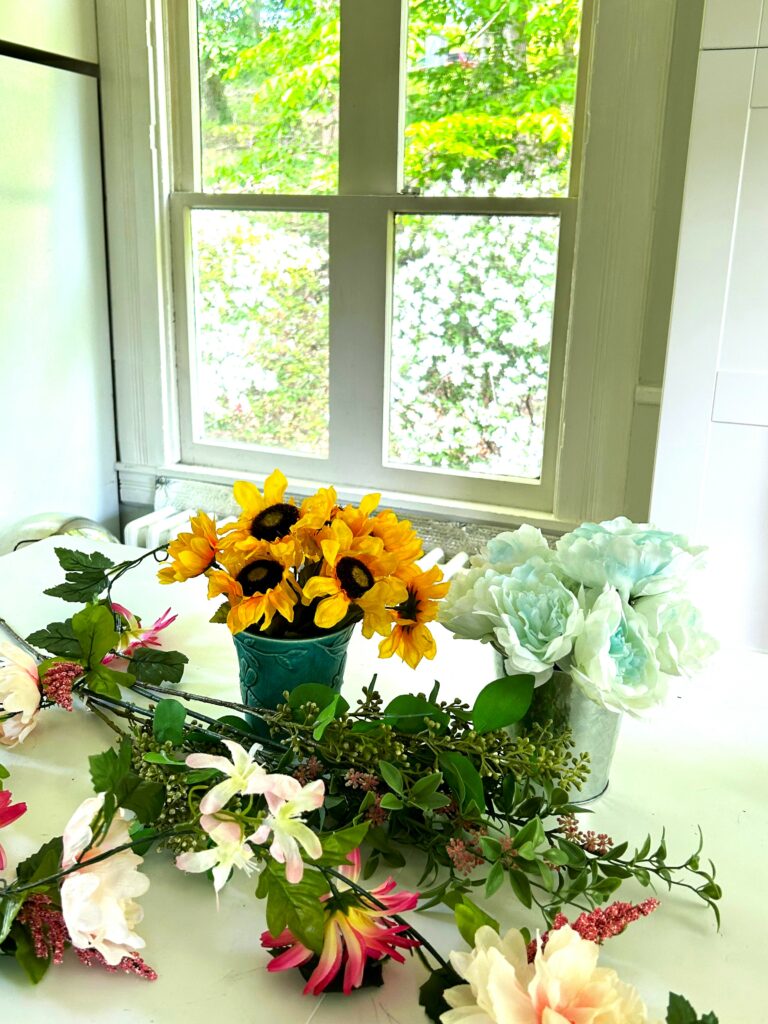 Be sure to check out the section housing frames and pick up one or two, based on your Mom's front door, to repurpose.  And since we are on a roll, check out the section with paper products and school supplies to see if you might score and find a colorful gift bag to enlist, too, for this happy DIY project.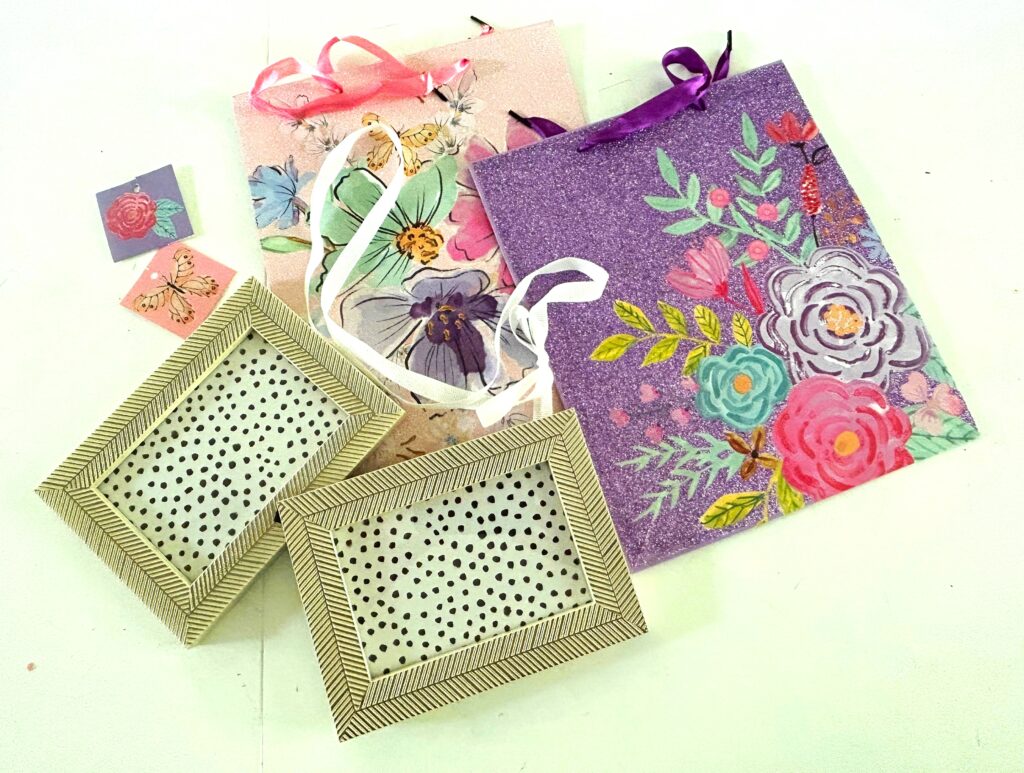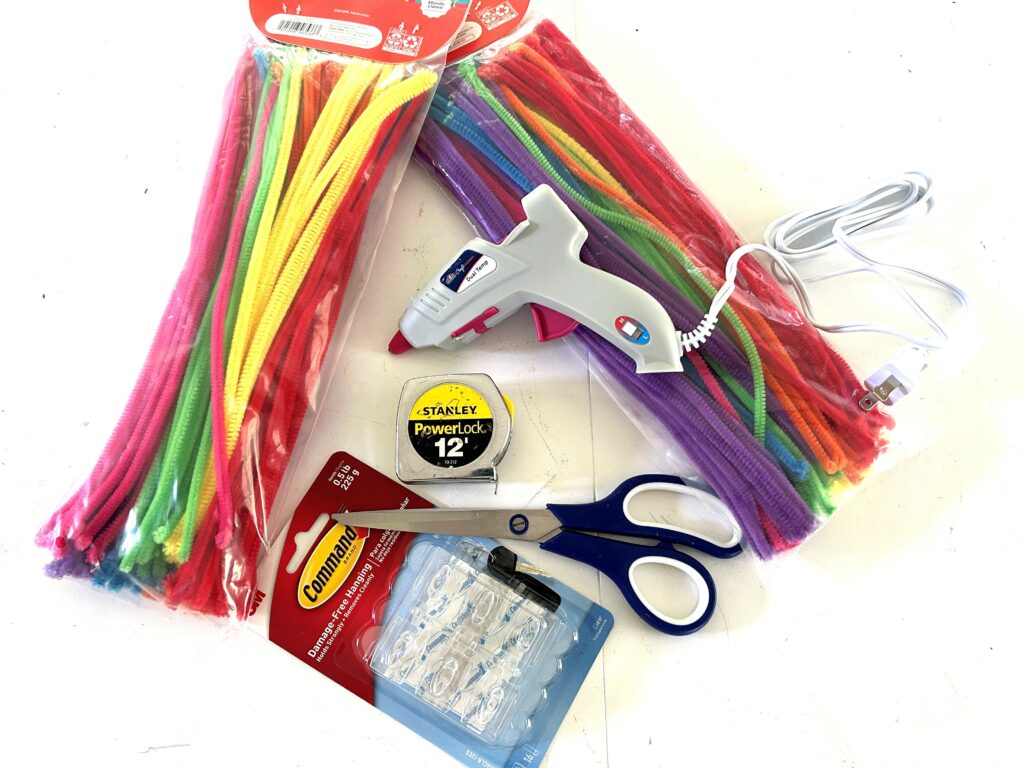 2. Use your noodle by repurposing a pool noodle
This colorful project was inspired by a recent adventure to Paris, France, where many stores and cafes decorated their facades with silk flowers.  Following their lead, start with a pool noodle as your base on which to build.  Pool noodles are made of lightweight, durable foam and come in all sorts of fun colors.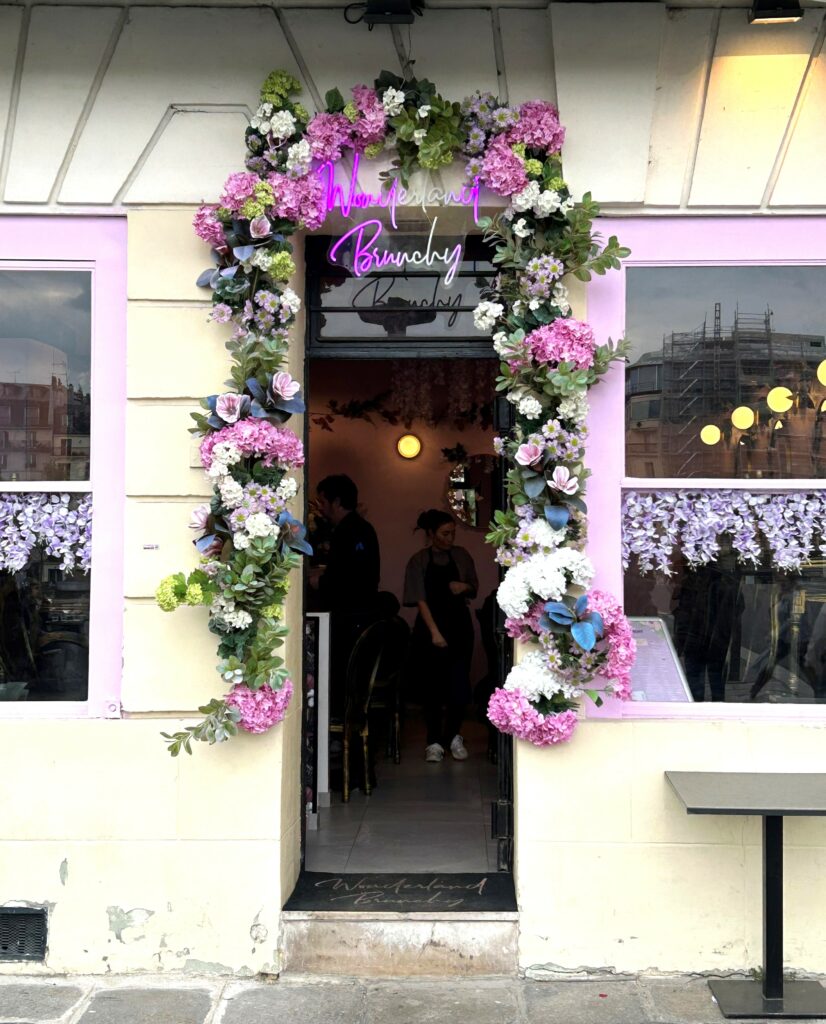 Measure the doorway over which it will hang and, if necessary, trim or cut your pool noodle to size. 
To attach the silk flowers and leaves, consider using pipe cleaners, floral wire, and/or your glue gun. 
For my project, I wrapped the long strand of flowers around the pool noodle and then secured it in place with several pipe cleaners.  
My glue gun was enlisted to secure various blooms in place.  This is really such a fun and easy project and can be even more enjoyable if you do it with other family members or a friend or two.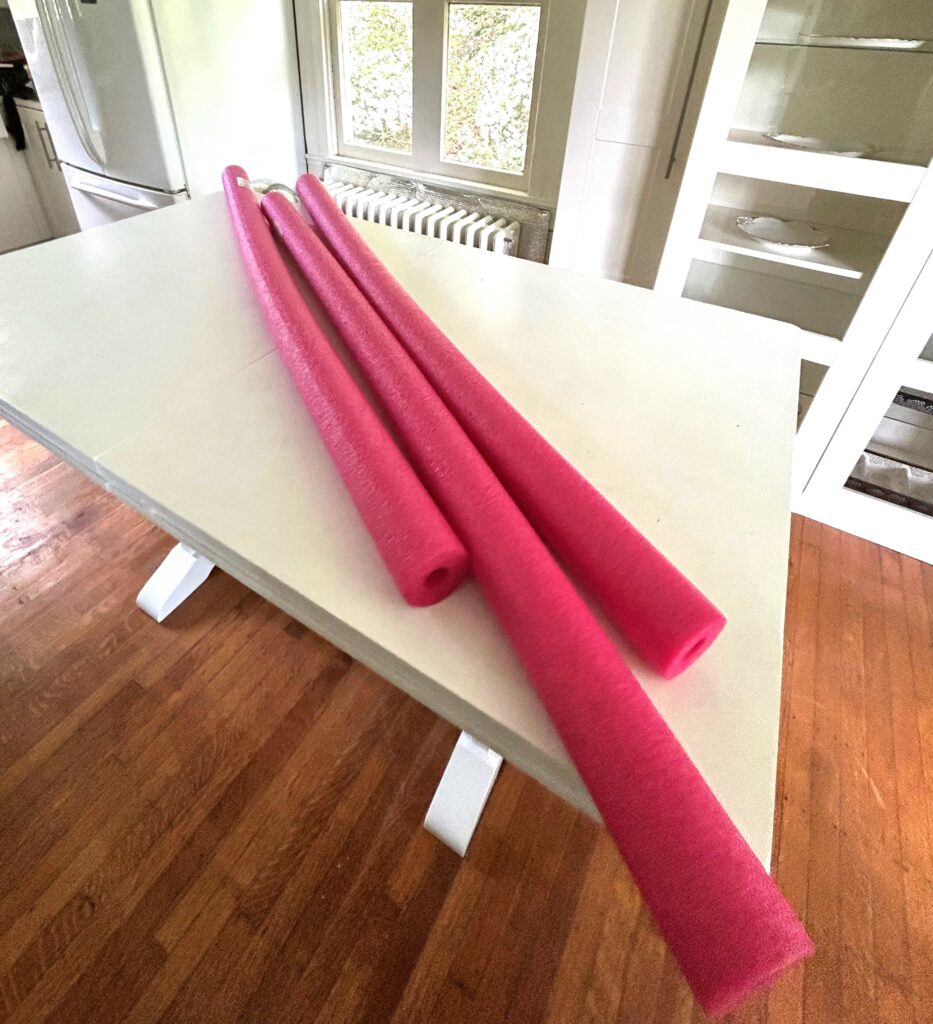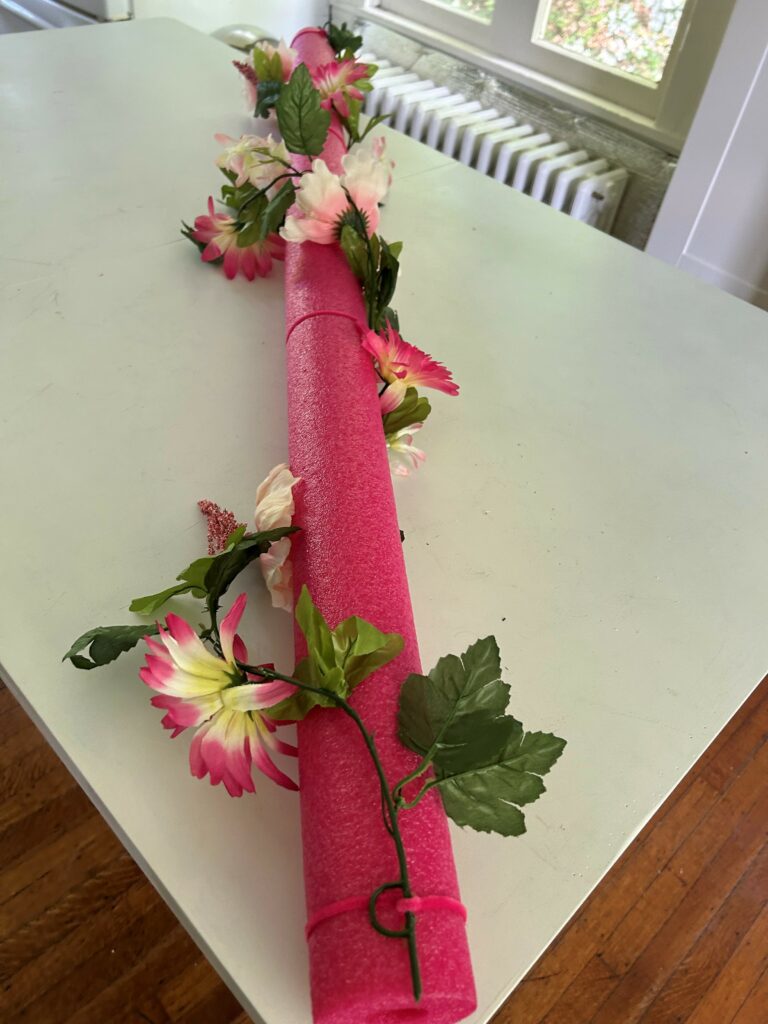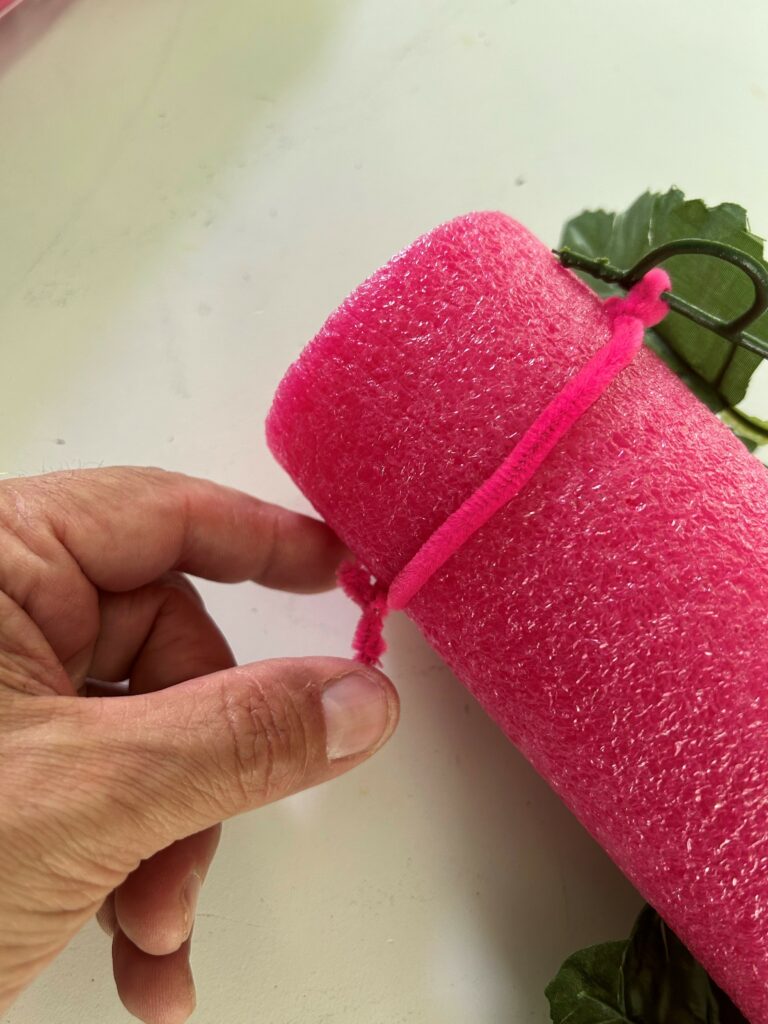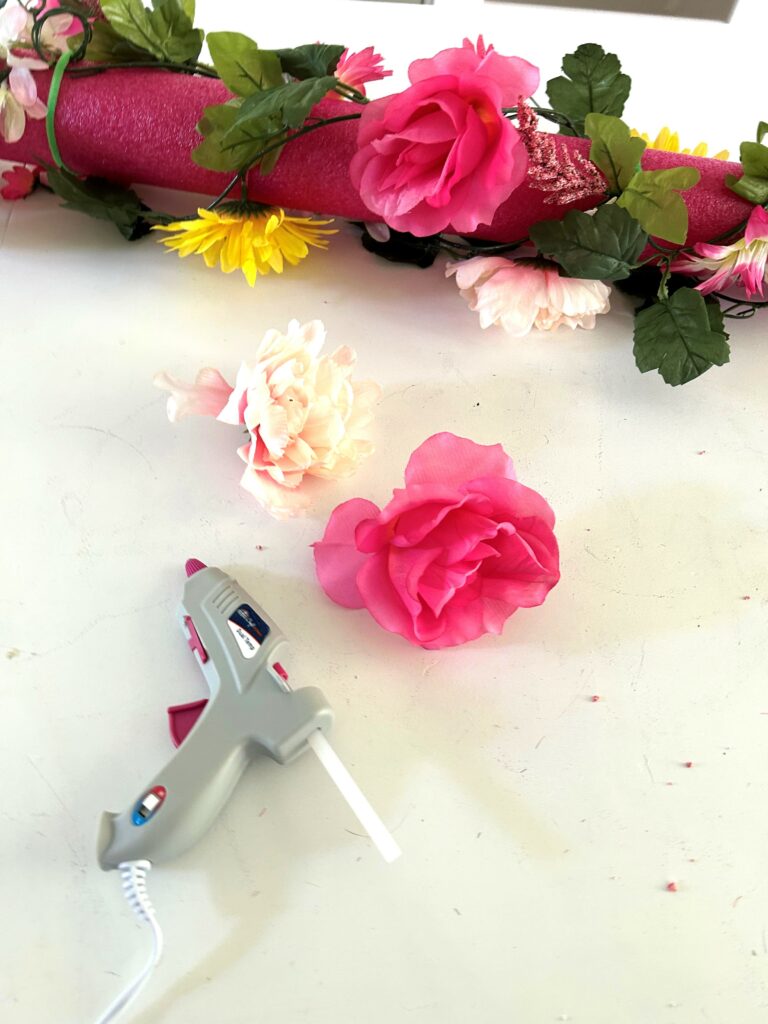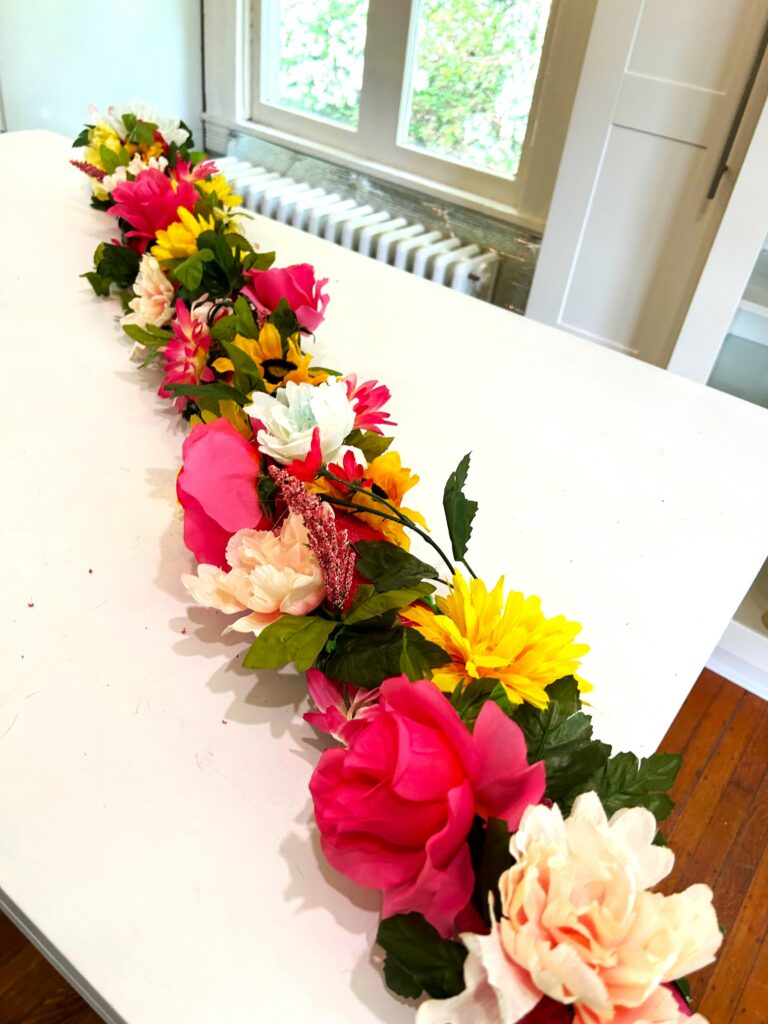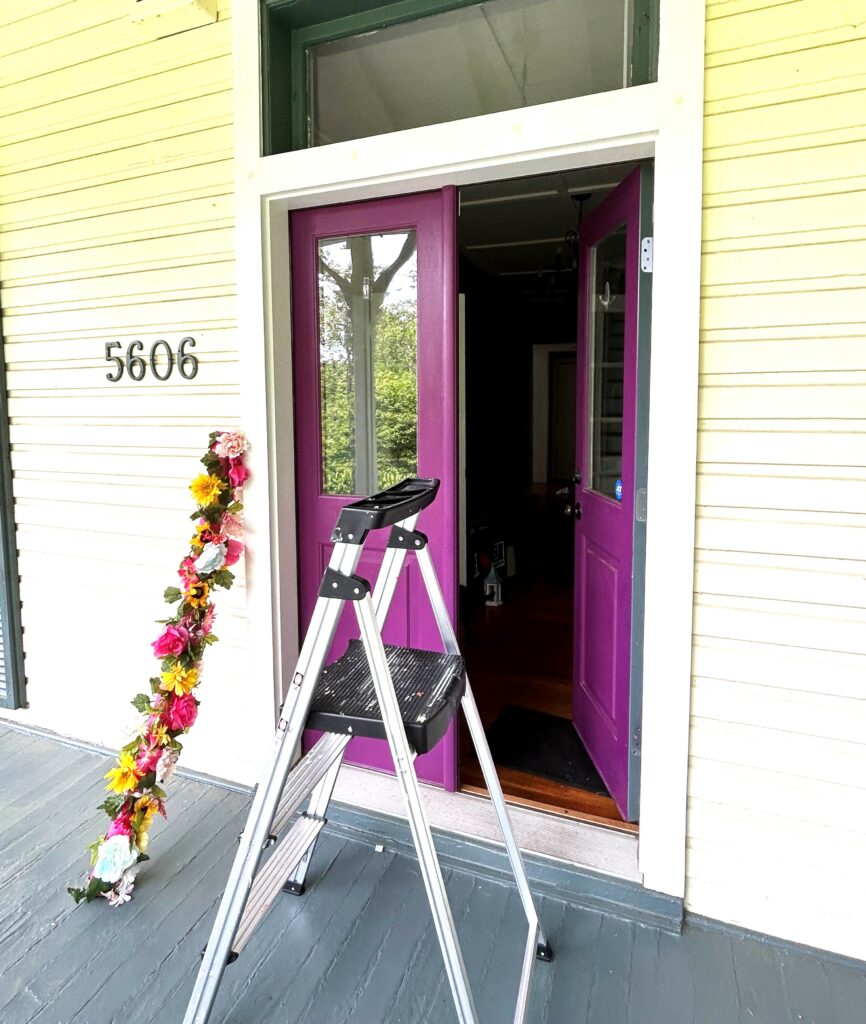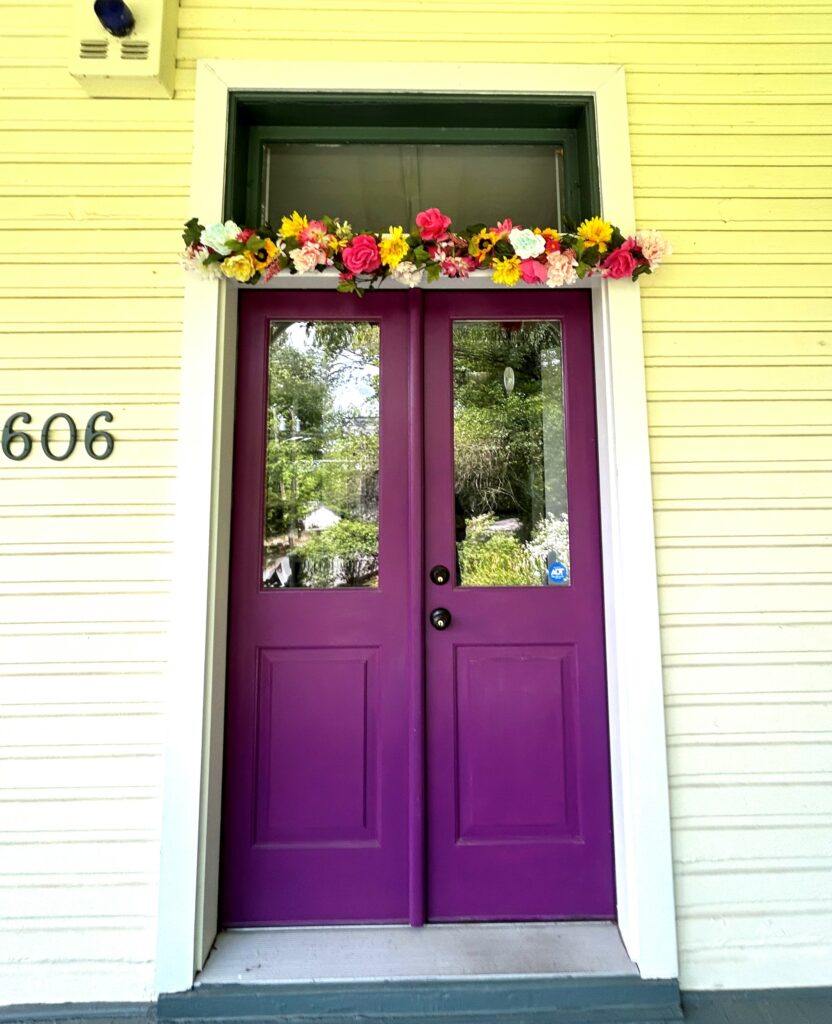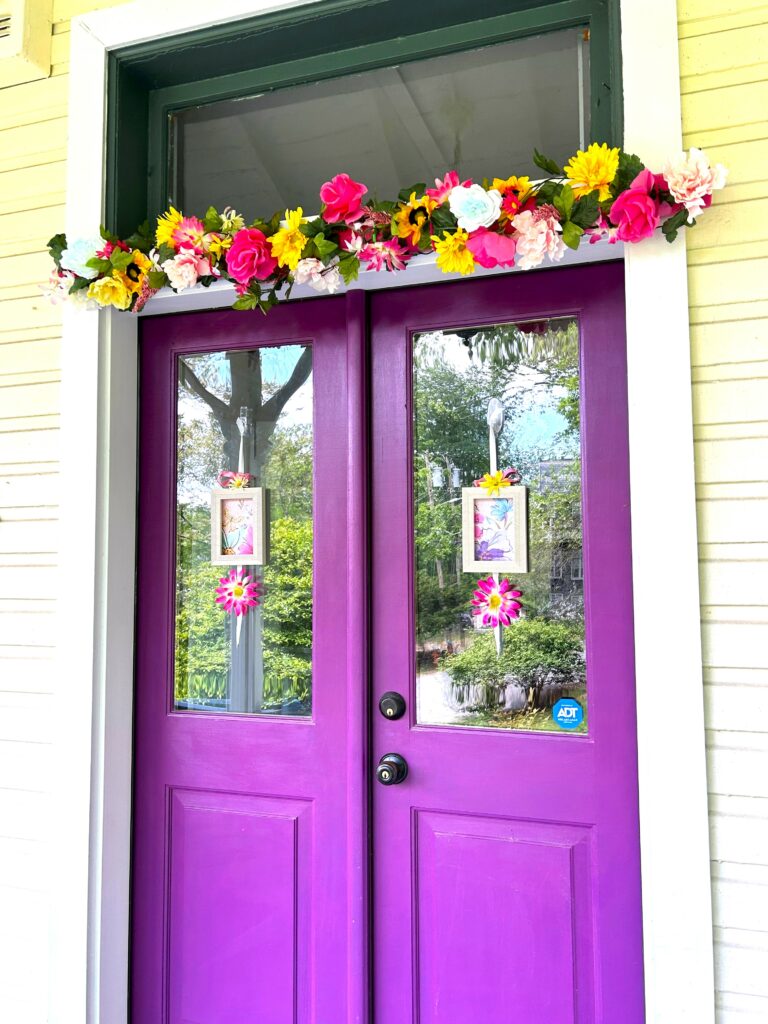 3. Upcycle frames as front door décor
A pair of pretty, matching wooden frames became the centerpiece of this project when they were made into front door decorations. 
Remove the backing and glass to leave just the wooden frame. 
Trace around your old gift bag (or greeting card or calendar image), cut away the access paper, then glue it in place. 
Use ribbon as a hanger by securing it to the back of your frame.  If you have extras, adhere silk flowers to the frame's top and/or bottom for more visual happiness.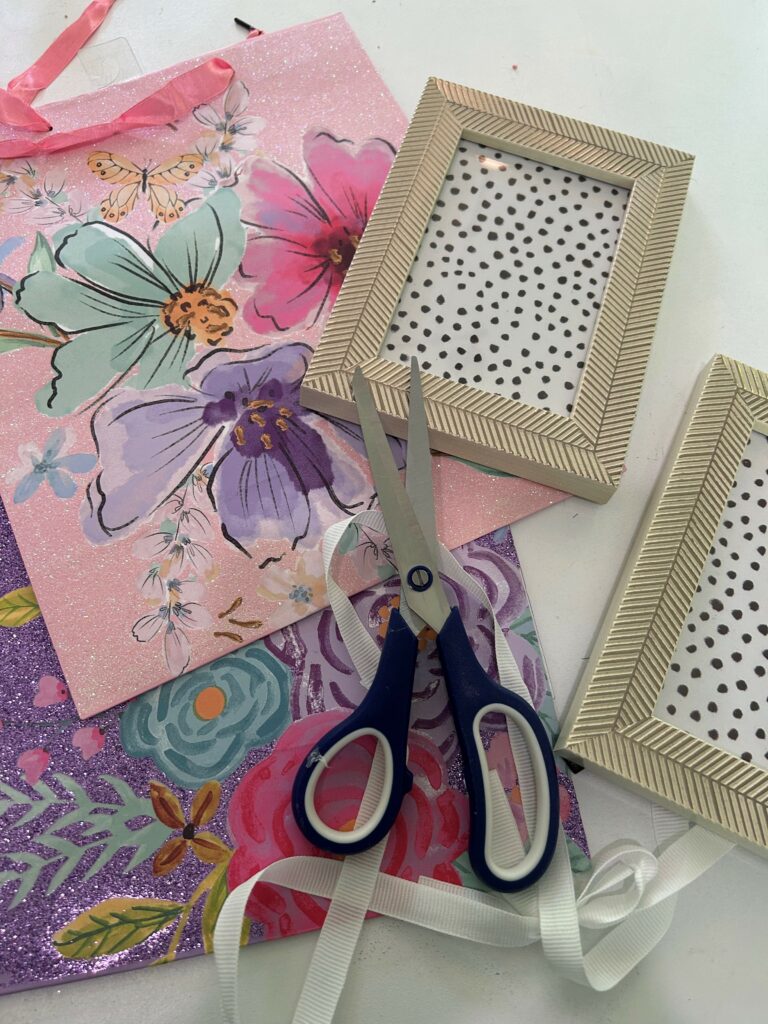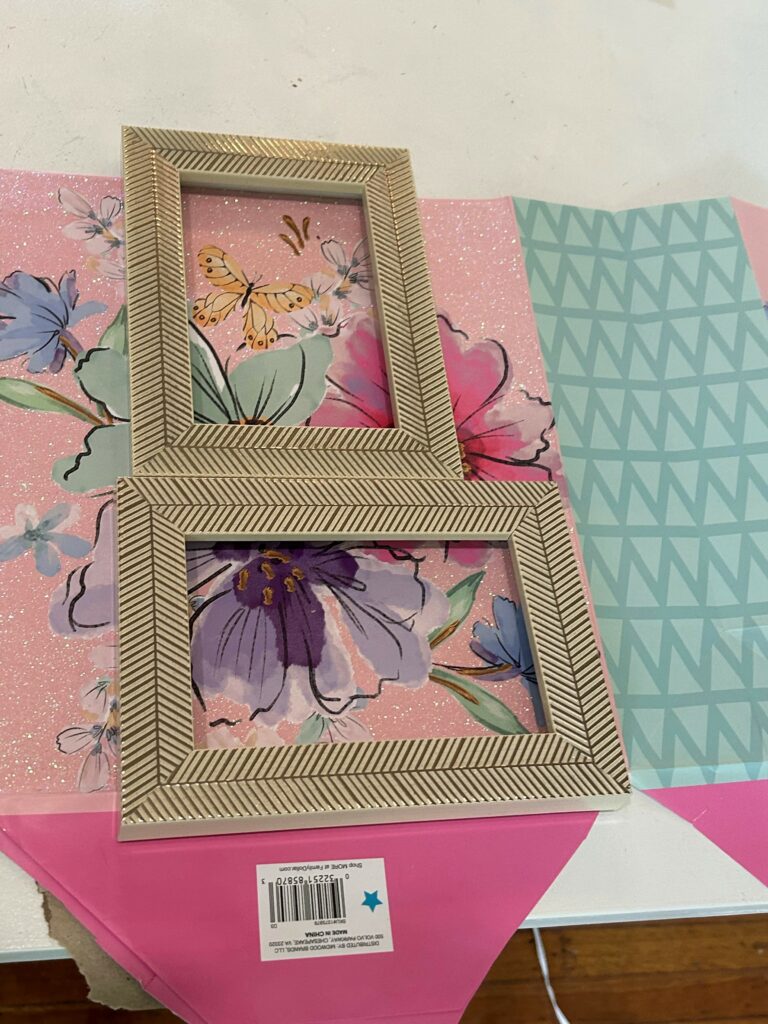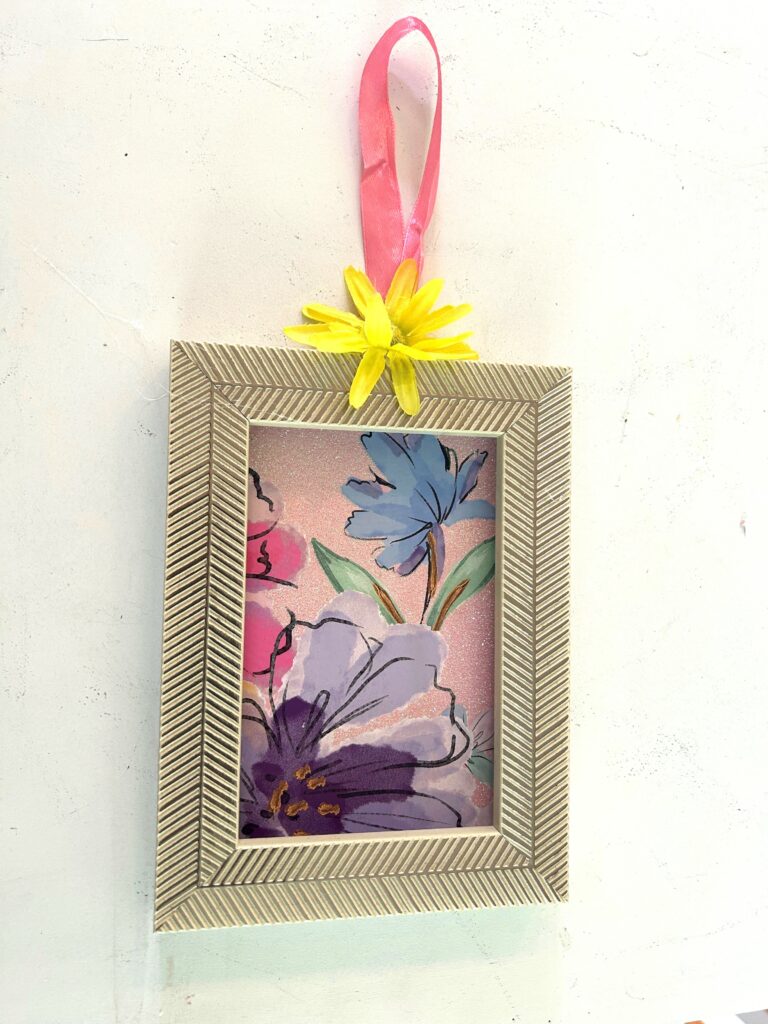 When I first created these picture frame decorations, they looked too little for the door, so another piece of ribbon was glued in place, and a happy flower was added below.  Now they are pitch-perfect!
4. Hooks help to hold
Above the door where you want your blooming décor to hang, add hooks to hold it.  My recommendation is those Commando hooks which are easy to put in place and simple to remove. 
Several more pipe cleaners were wrapped around the flowering noodle and then placed over the hooks.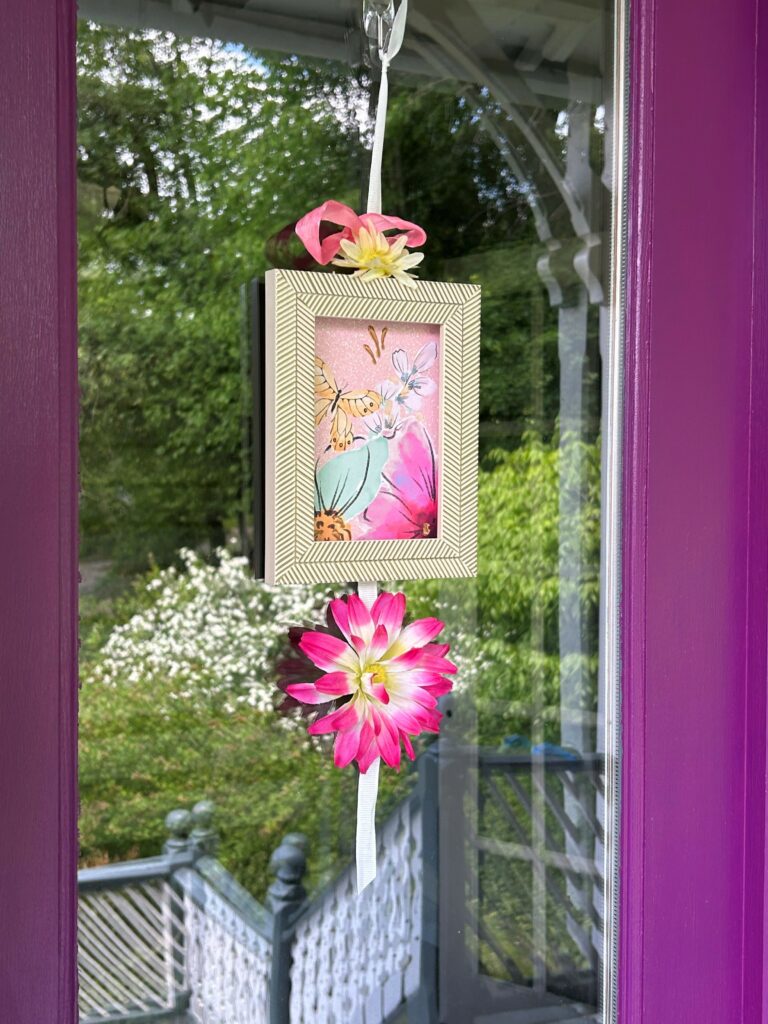 On the front door, more of these temporary hooks were added, and the upcycled frame decorations were hung from them. 
Super simple and simply special!
5. Position potted plants
Continue your blooming motif by adding flowering potted plants next to your Mom's door. 
For my vignette, several painted chairs (also picked up at Goodwill and upcycled) were placed on both sides of the door and used as plant stands.  Bright, pink annuals were added on the chairs and next to them.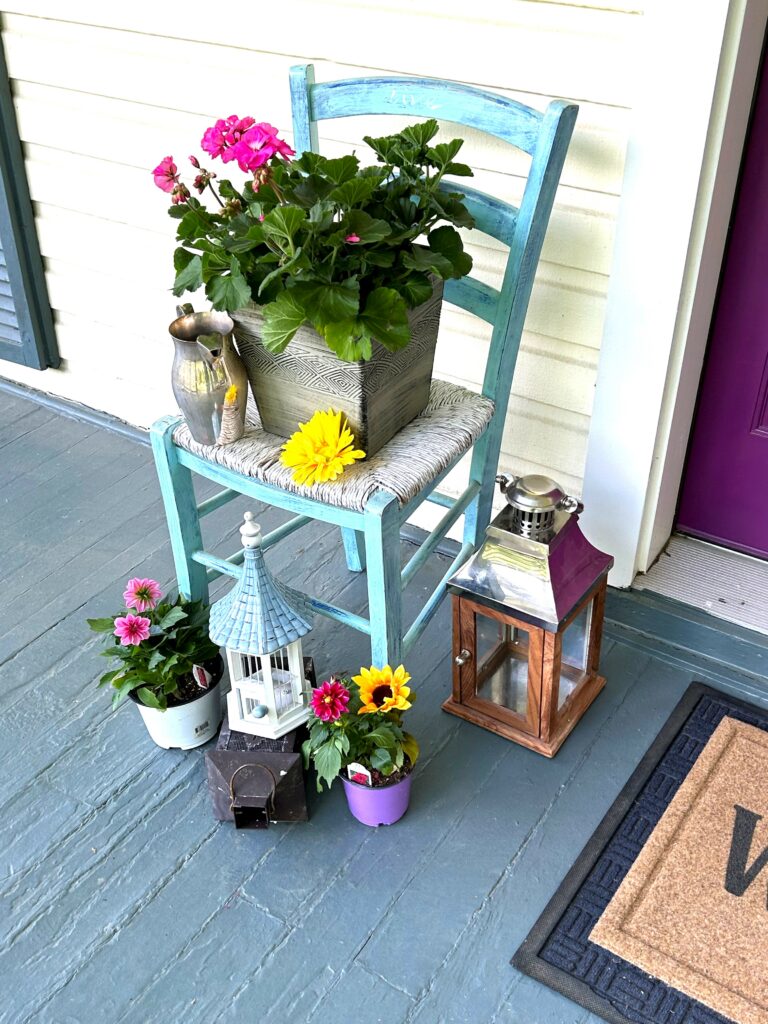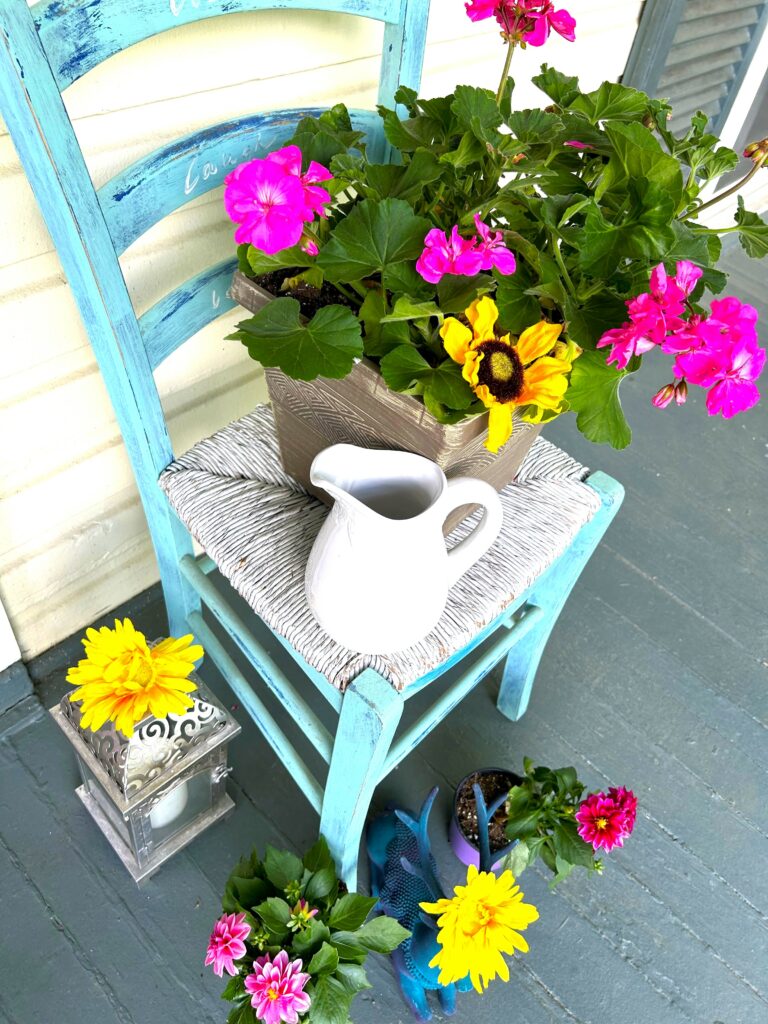 6. Accessorizing gets you an A+
Take your Mother's Day delightful door decor to the next level by adding pretty accessories.  Elegant lanterns, a charming bird cage, and even a teal deer statue were arranged in a way that complimented the overall look and feel.  
All these items, too, were purchased a Goodwill during various excursions.  Vases, candle holders, children's chairs, silver pitchers, and birdhouses are all great items to add that loving touch!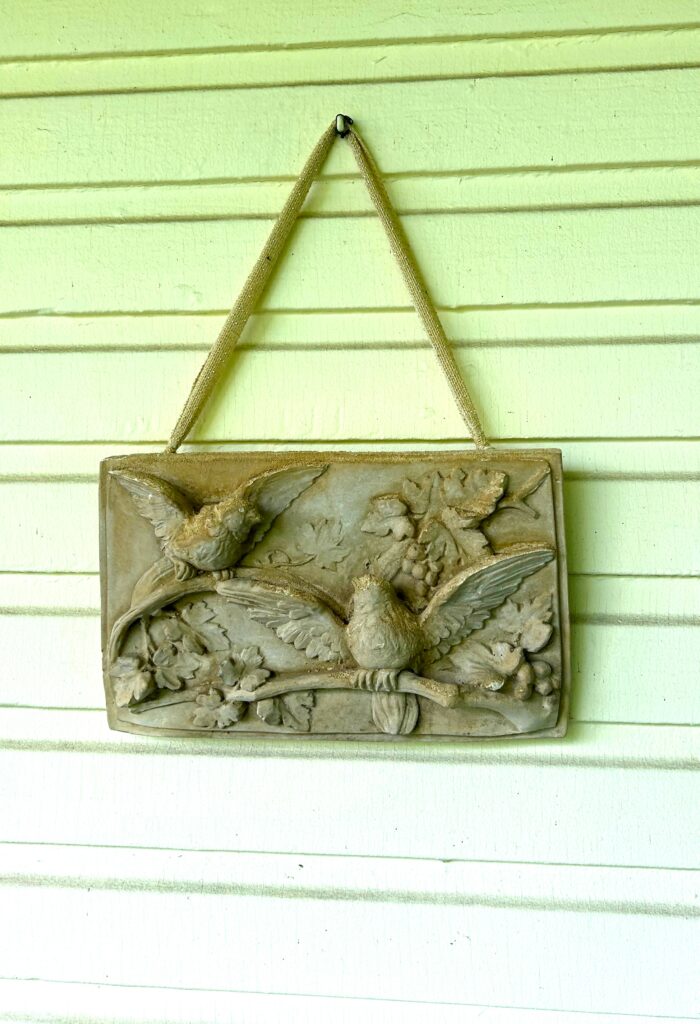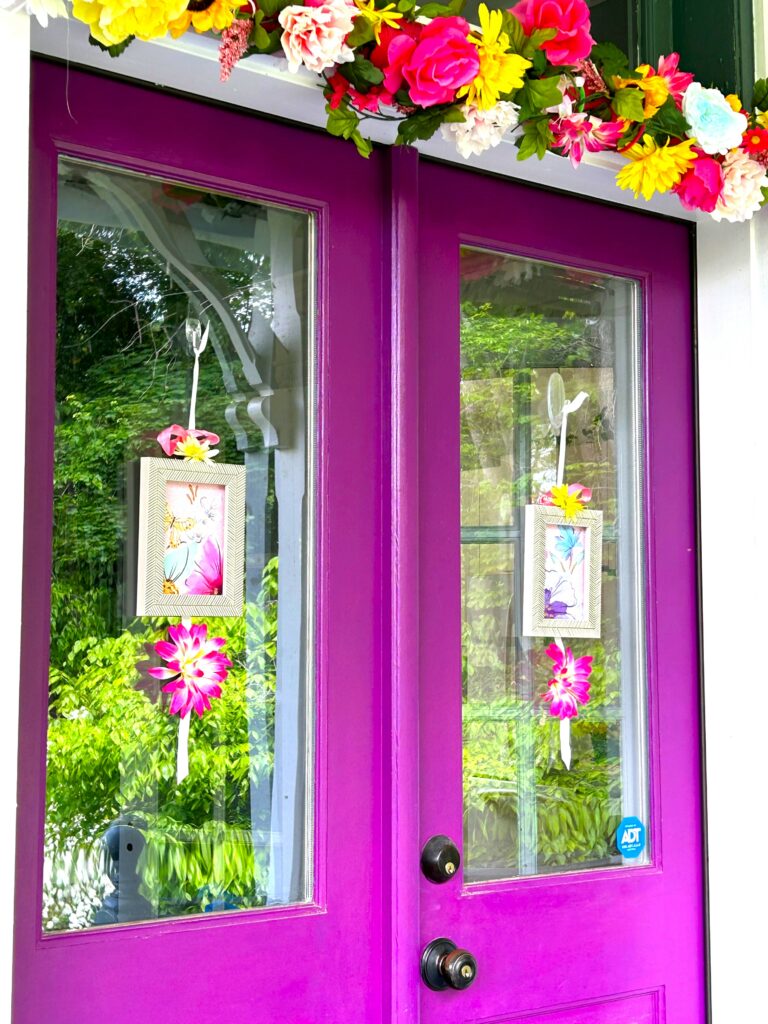 If you follow these simple steps, you are certain to create a wonderful gift and memory for your Mother during this special time for her.  If your Mom is no longer with us, take time to transform your door, too, in her honor using her favorite colors and flowers. You, too, will say, "Merci beaucoup!"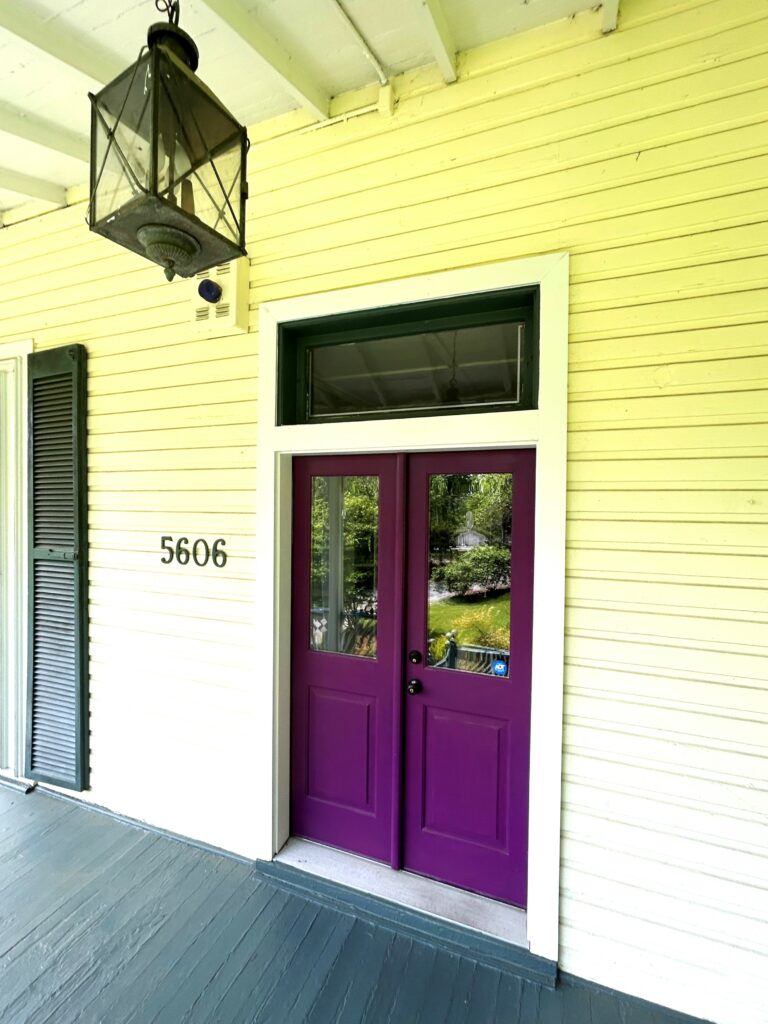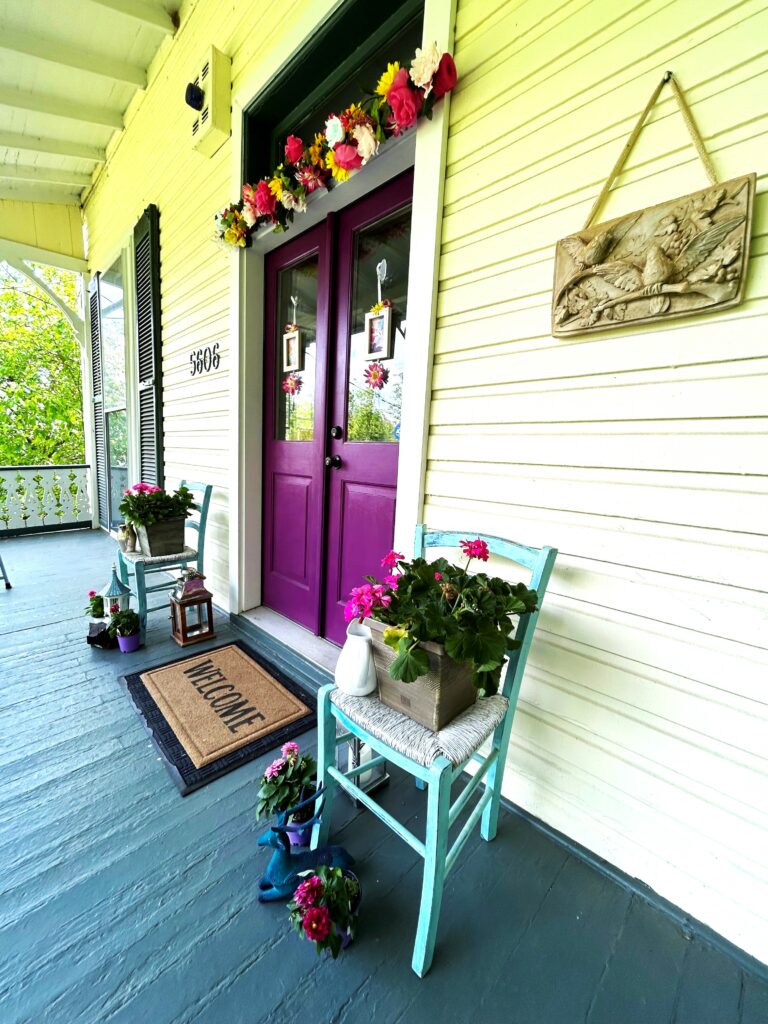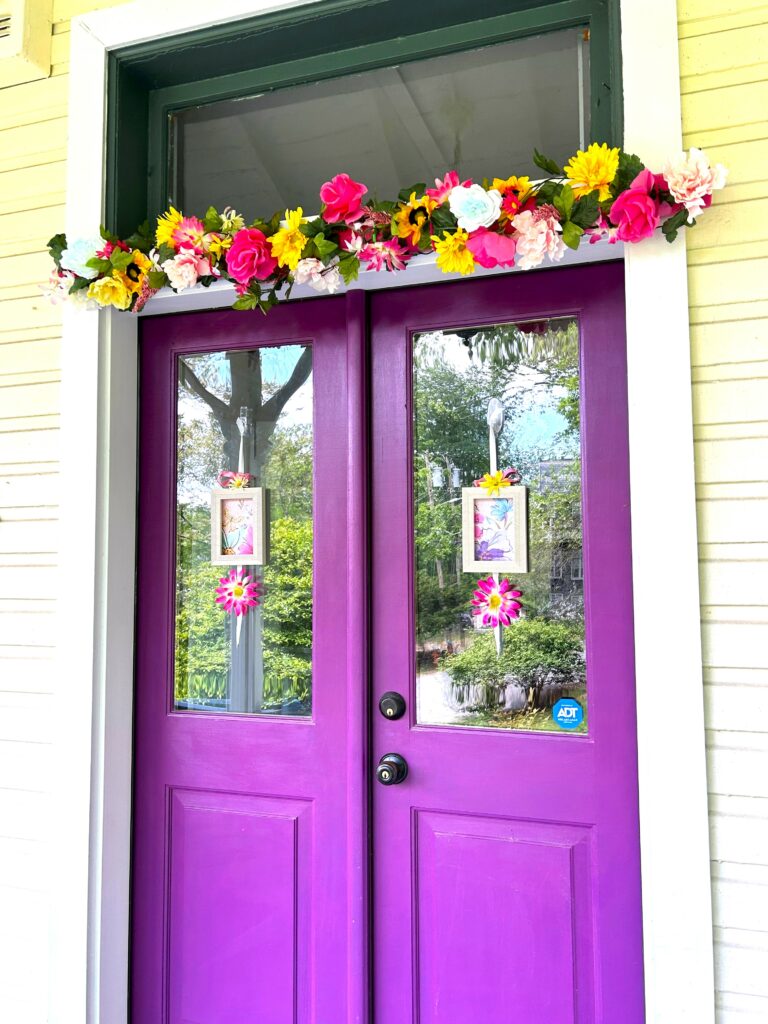 Similar Reads: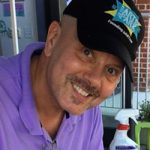 Tim Kime
Artist, Motivational Speaker, Life Coach
Tim Kime is an artist, life coach, and connector. He is the President of Kime Leadership Associates, offering executive coaching, meeting facilitating, and motivational speaking. He is also the Chief Creative Force of Transformation Junkies, which upcycles furniture and other household items into functional works of art. He combined his two passions—unleashing the potential in people and transforming items with the launch of the Art of Possibilities Workshops. These workshops are part upcycling, part dreaming, and part goal setting.