Collect and combine thrift store items into cheerful & colorful spring-themed vignettes.  For those who celebrate the holiday, these also make friendly Easter baskets that can be displayed all season long.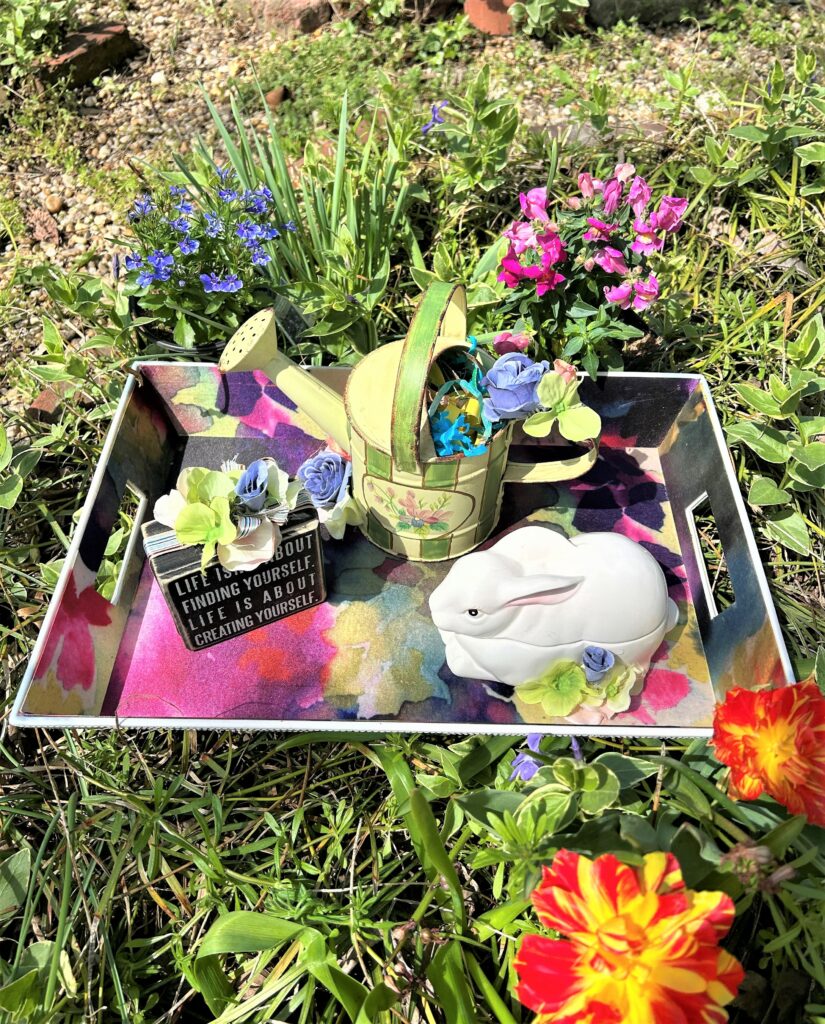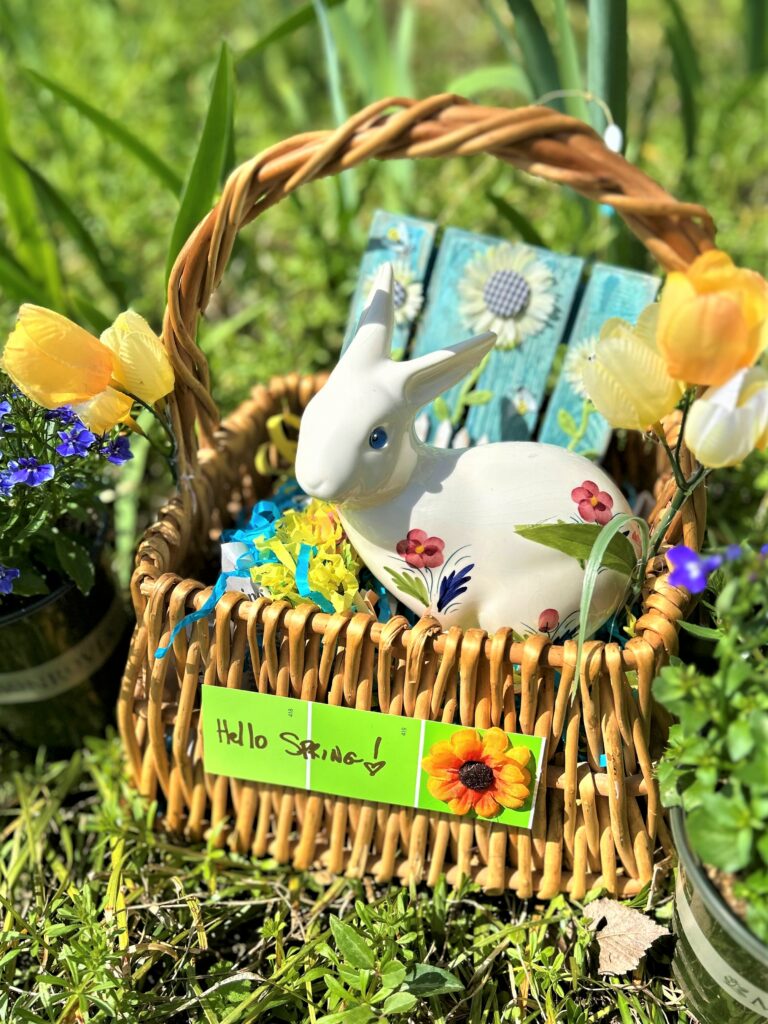 Peter Rabbit will give a thumbs-up or at least a paws-up when you pull together these super charming vignettes to celebrate April showers & May flowers!
Items needed:
· Baskets
· Small pails, containers
· Flower-covered plates, colorful candle votives
· Statutes, other figurines
· Silk flowers
· Ribbons
· Repurposed paper like paint strips, sheet music
· Glue gun & glue sticks
· Shredded tissue paper
· Marker
1. Hop & skip your way over to Goodwill
While we talk about April having lots of showers, it is always sunny at your favorite Goodwill store.  Happy team members are greeting you, and lots of smiling customers are picking up bargains on great items. 
A recent excursion there inspired today's blog when I saw lots of flower-shaped and covered items, bunny statutes, and cheerfully colored pieces.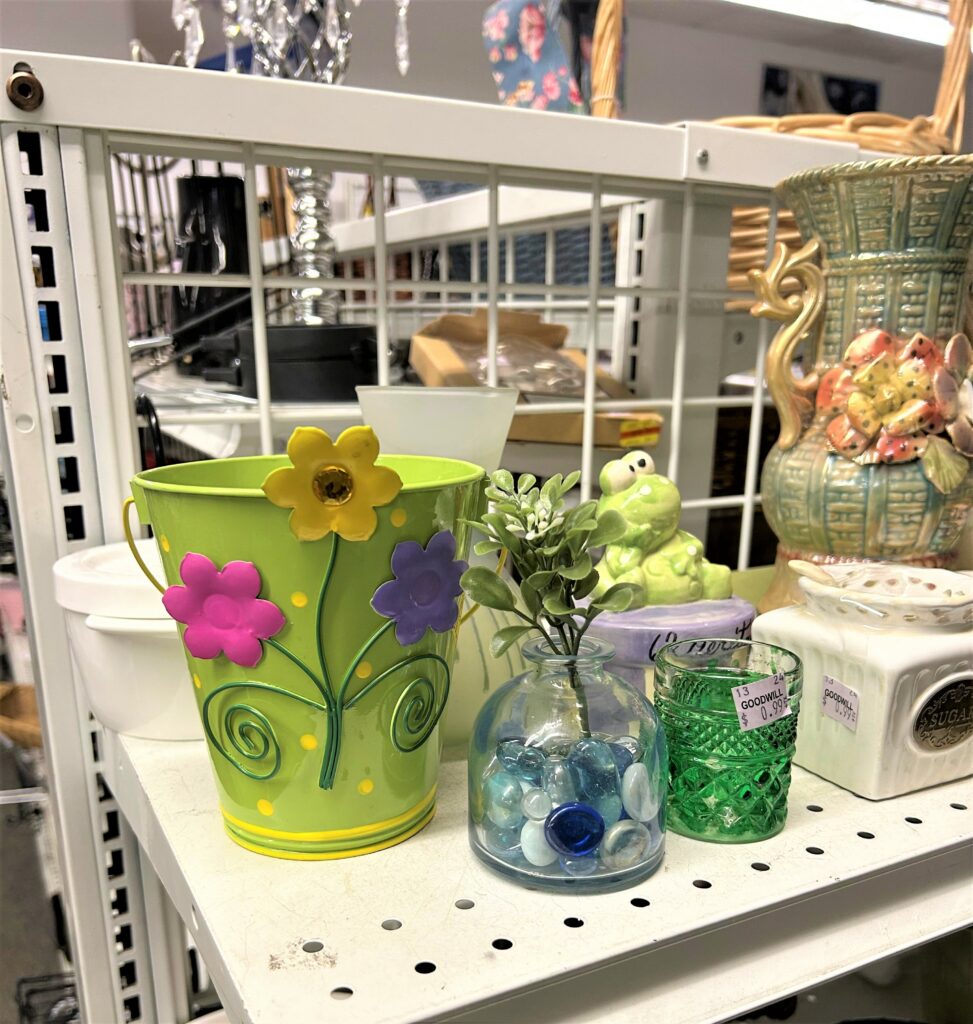 Look for items in the Housewares sections such as baskets, small containers, candle holders/votives, figurines, and other items to collect and combine to add some Springy happiness to your home or apartment.  Look for pieces in bright green, bold pink, and sunny yellow tones to match the colors you see outside in gardens and yards this time of year.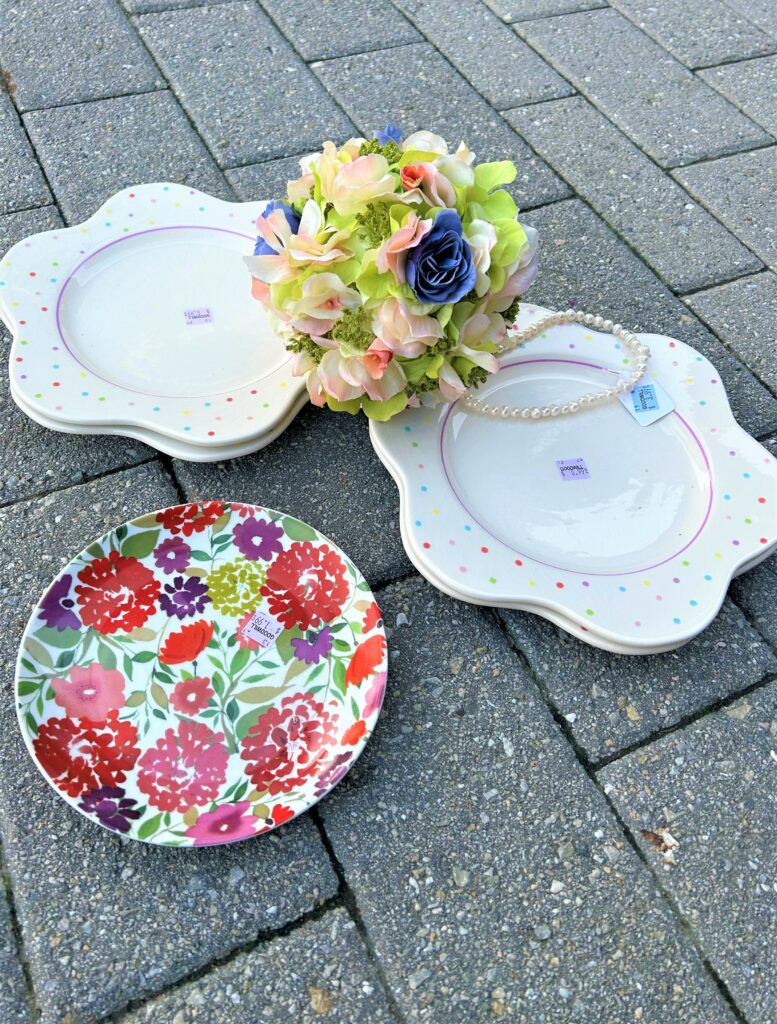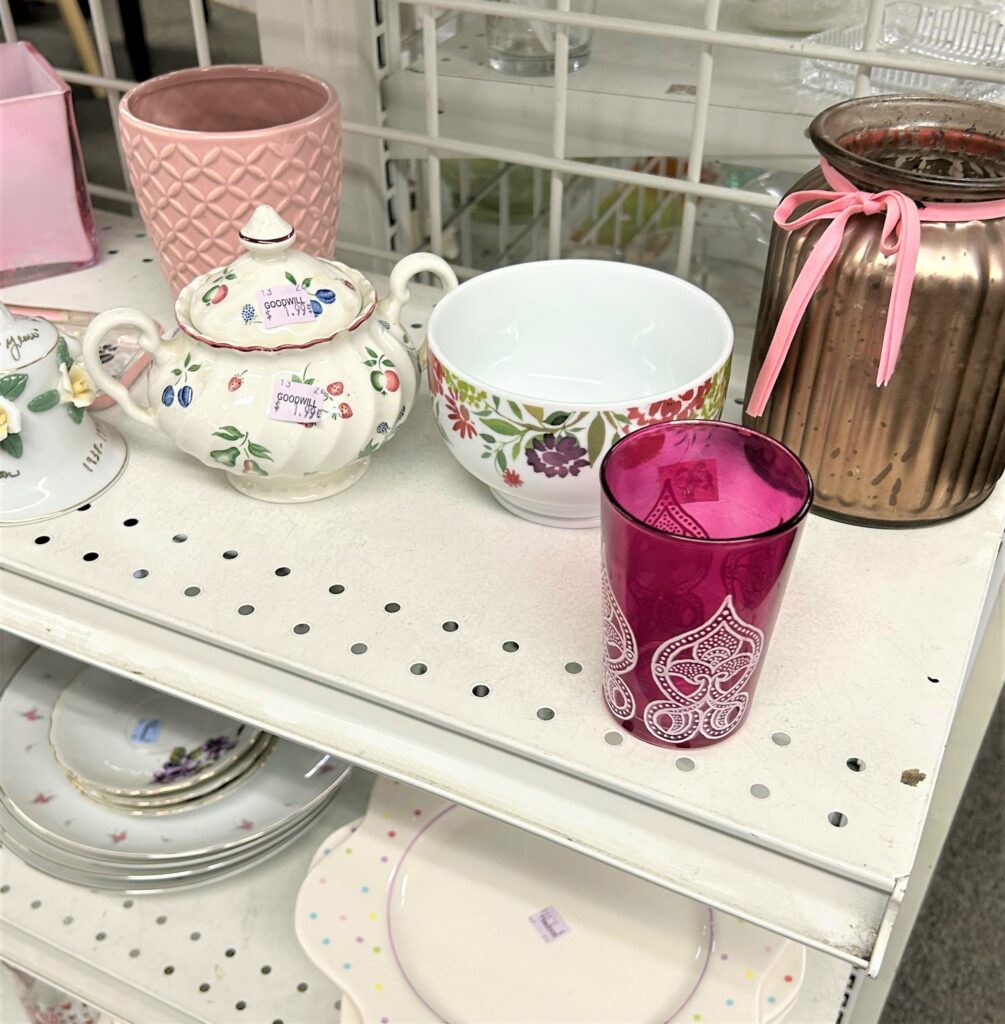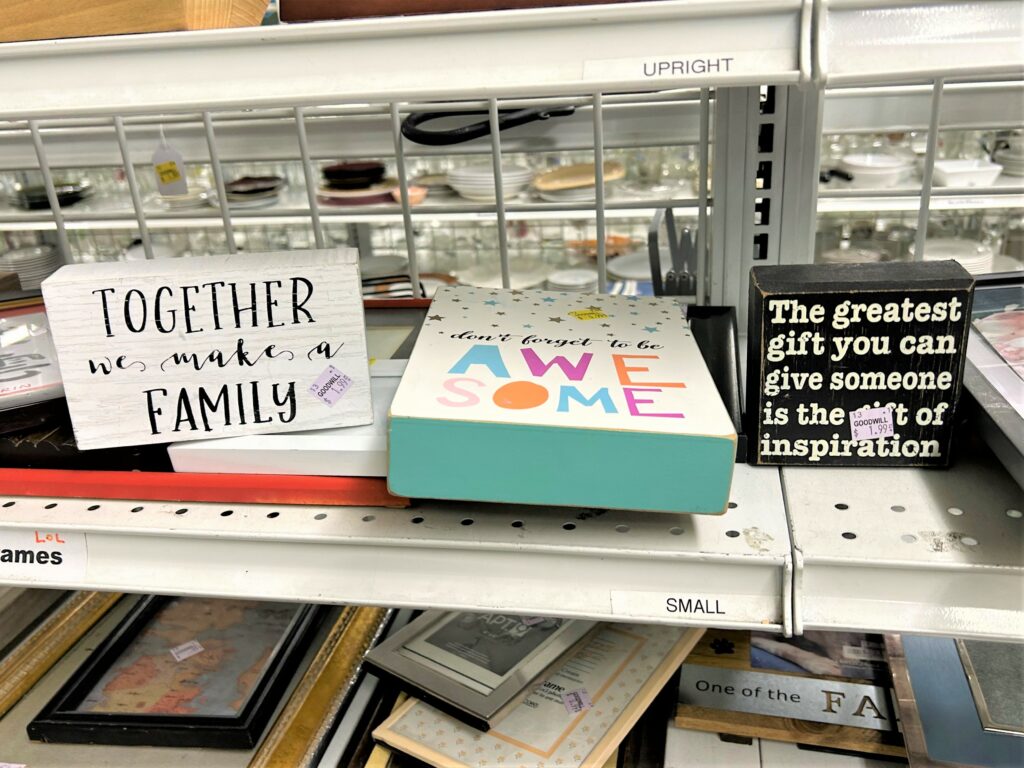 Also, check out the aisle, which has office and school supplies, to see if you might find ribbon, tissue paper, and other items to include in this easy DIY project.
2. Begin with a base
Start with a basket or other container as your Spring vignette's base.  As you are able to see from the four vignettes featured here, one started with a squarish basket; another started with one with a curved top; a third began with a flower-encrusted metal container, and the fourth started with a small, striped watering can.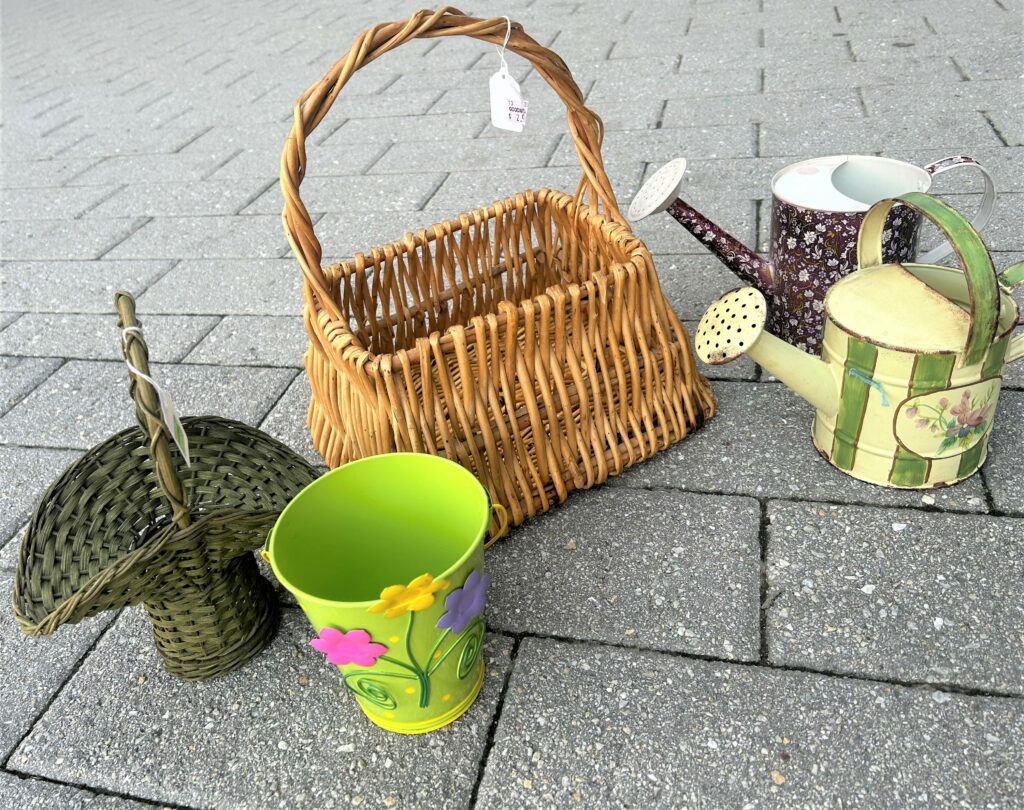 Fill the bottom with balled-up newspaper, then add cut and shredded tissue paper on top.  If you have colorful craft paper or magazines, you can also cut thin strips from them to make your own, adding to the reused and repurposed focus.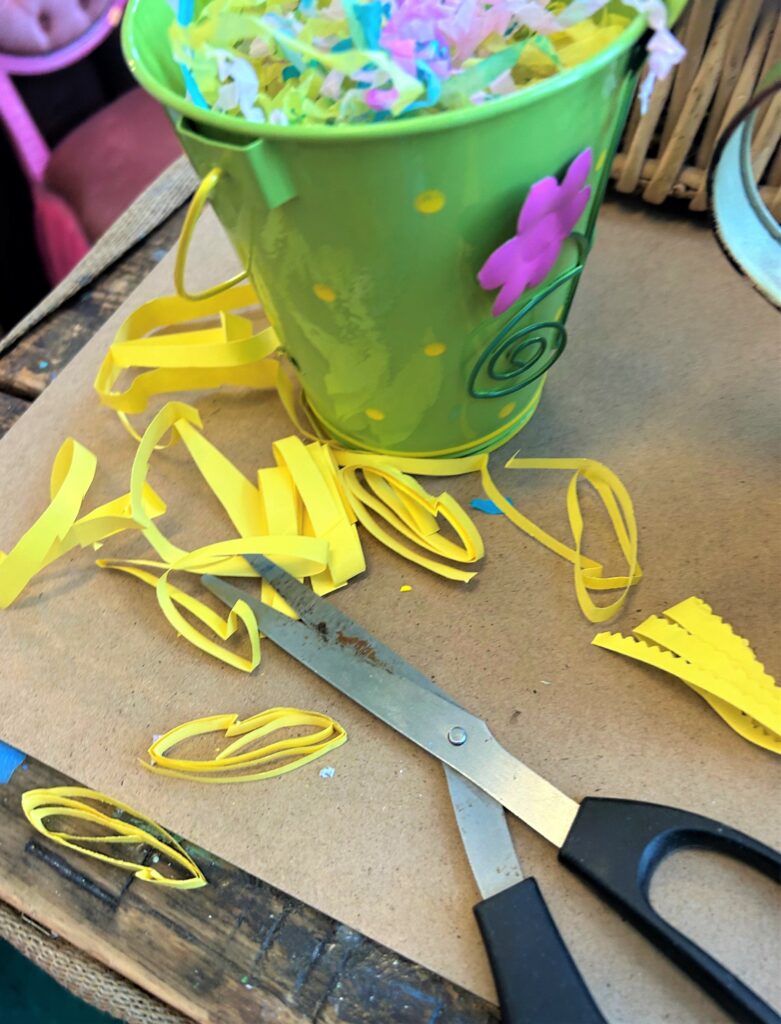 3. Roll with the ribbon, fasten on flowers
Embellish your basket with ribbons in complementary colors.  Make it bloom by adding silk flowers.  Your glue gun is the perfect tool to use for this step; if you have a child who is helping, be sure to keep an eye on them to keep their small figures away from the very hot glue!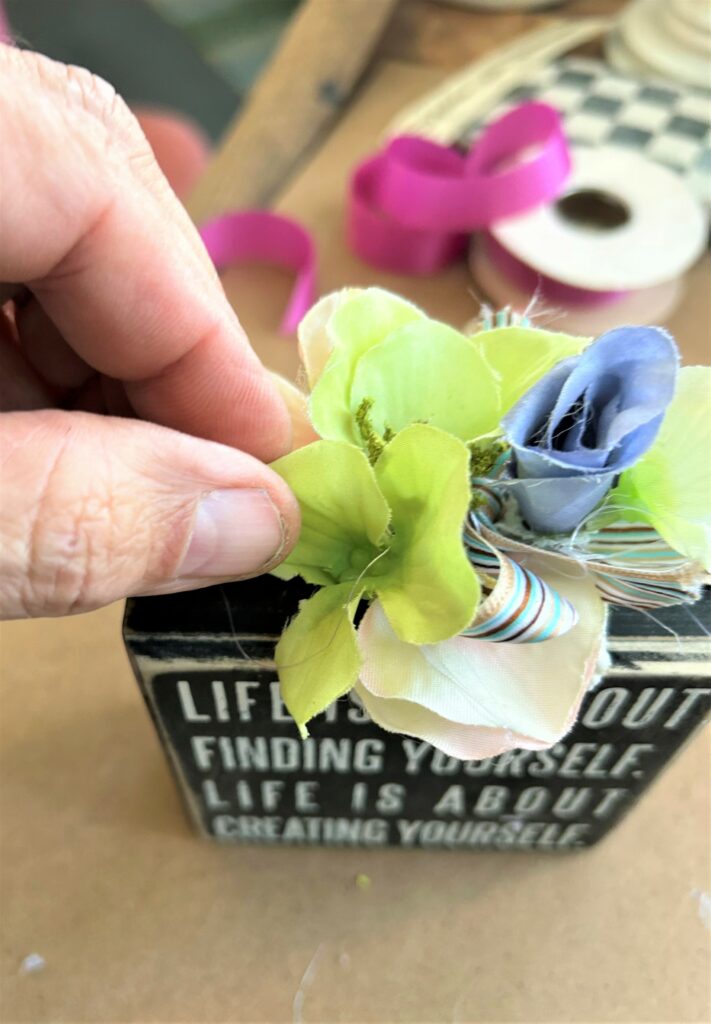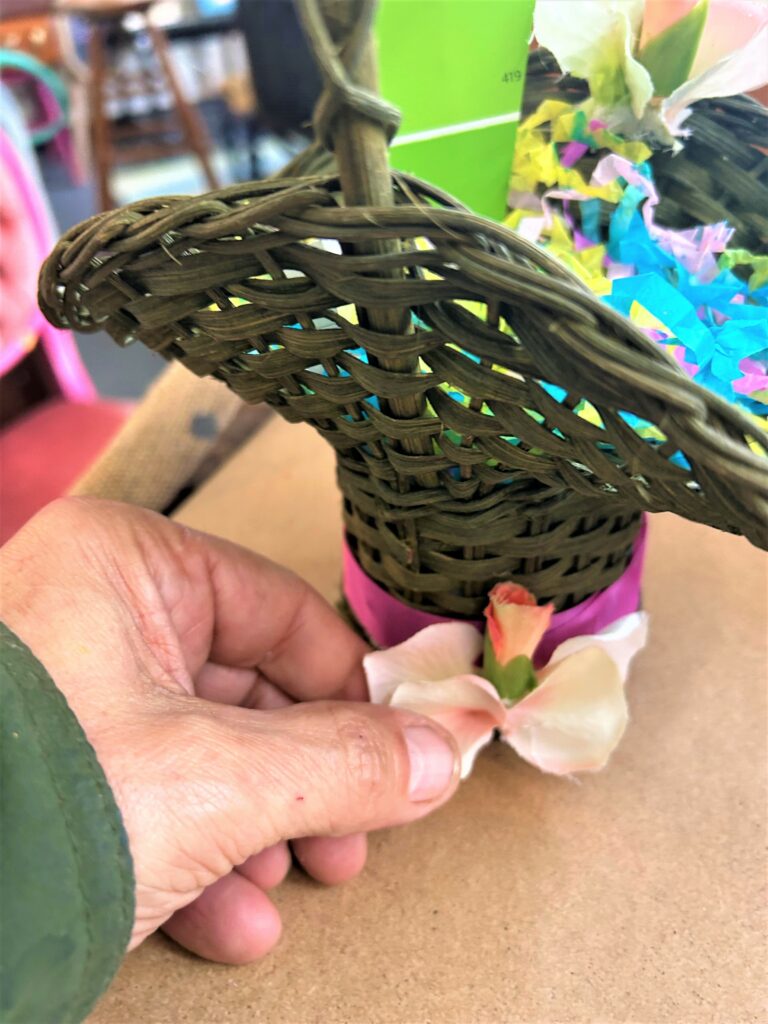 Consider adding ribbon and flowers to other pieces that will make up your vignette so your final look is cohesive and connected. 
One bunny statue got matching silk flowers; a small wooden frame with an inspiring message got ribbon and flowers to make it happier looking and to match, too.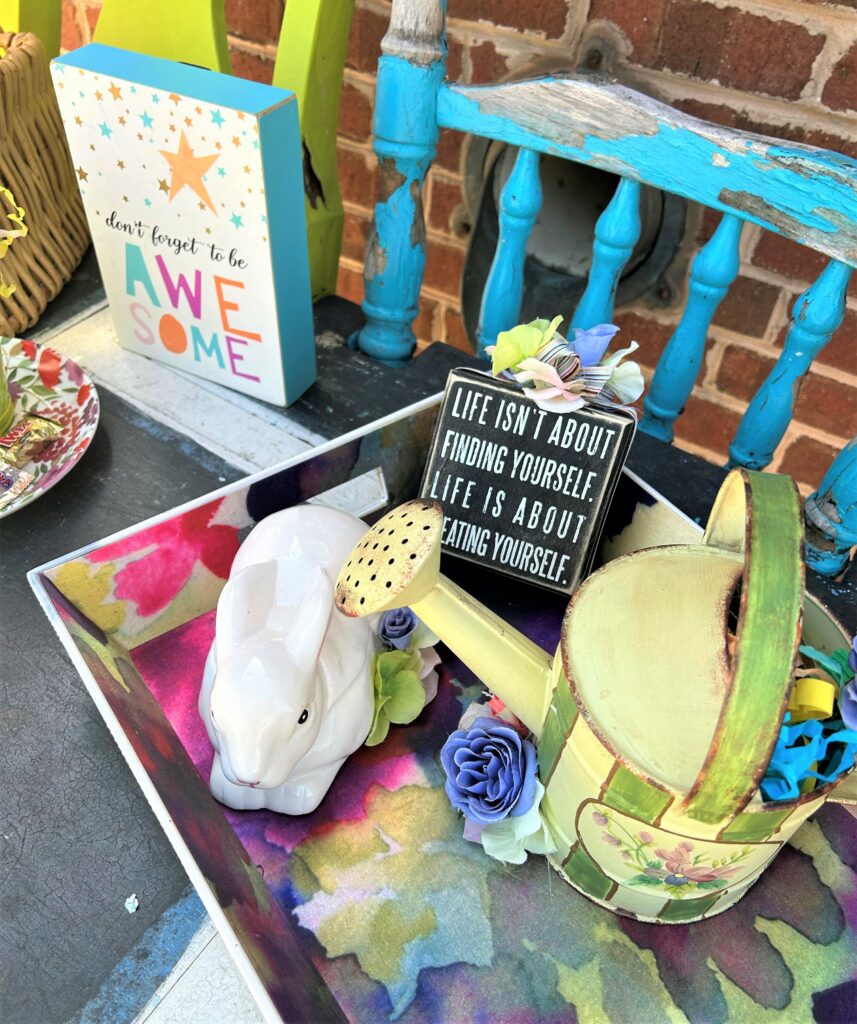 4. Fill with fun & figurines
Next, position a figurine on top.  A bunny and the Eiffel tower were given prominence in the display when added.  A deep pink votive was placed in the center of another.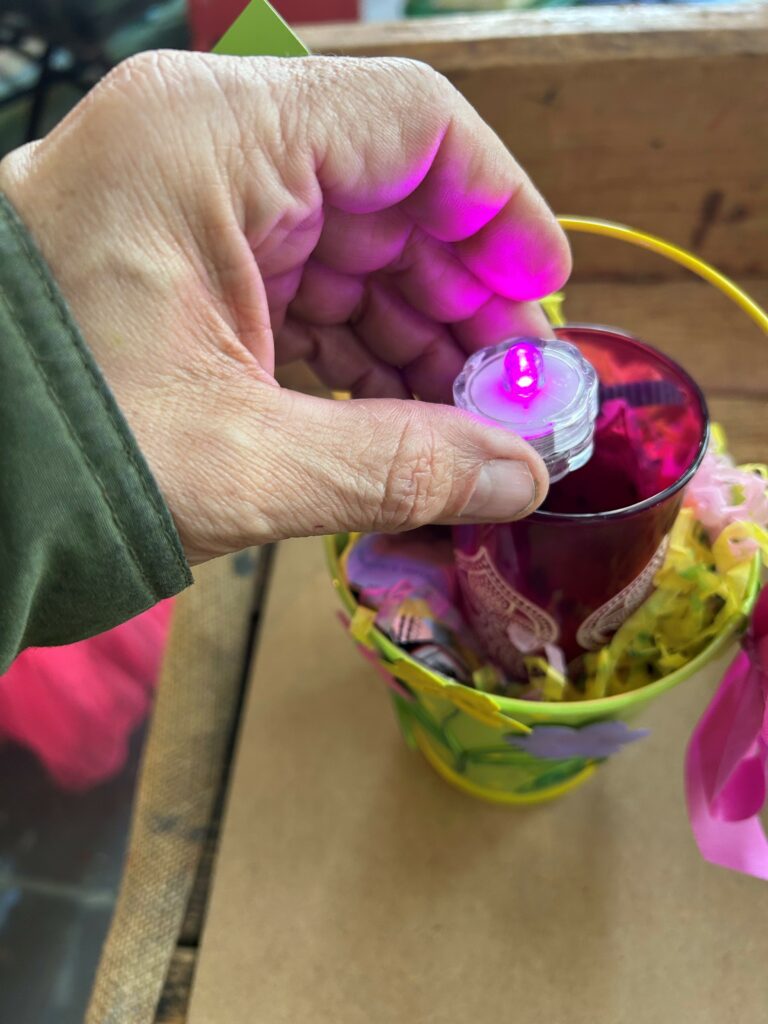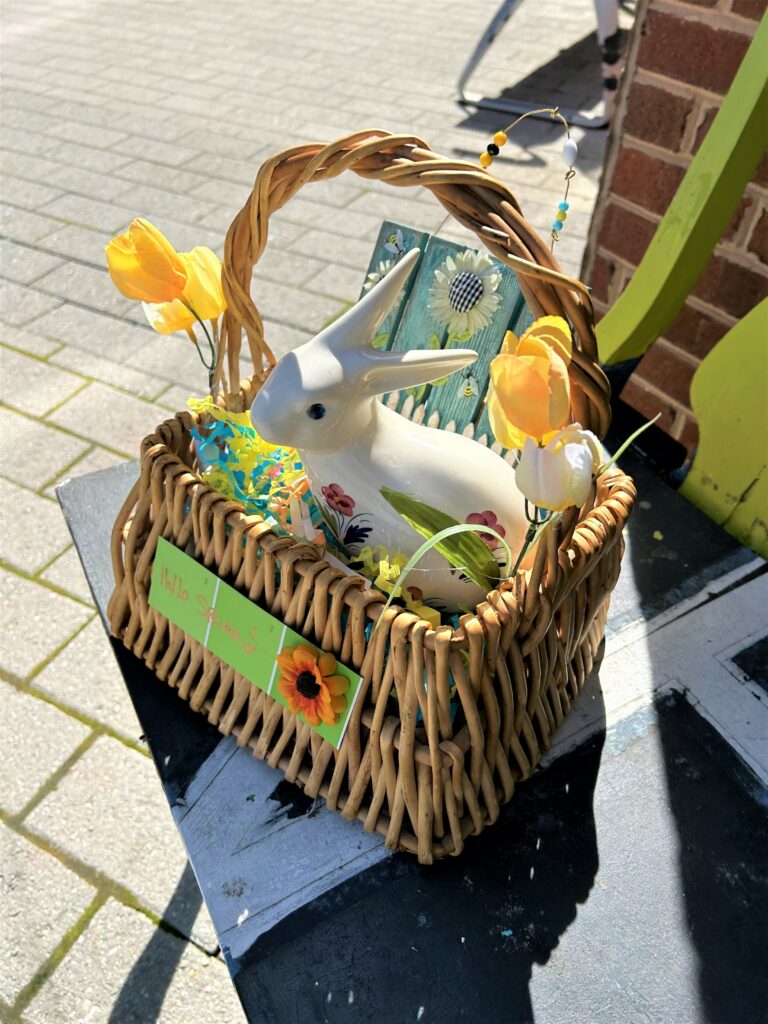 What other items might you add to make this project sing Spring?  What about a small vase to hold a freshly cut flower or two?  A tiny picture frame with an image of a beloved pet or favorite family member would be so enchanting to include.
5. Add a message
A repurposed paint chip sample paper in greens (of course!) was given a message and then added to the vignette. 
Consider using an old seed packet or sheet music to include in yours after adding a meaningful message, too.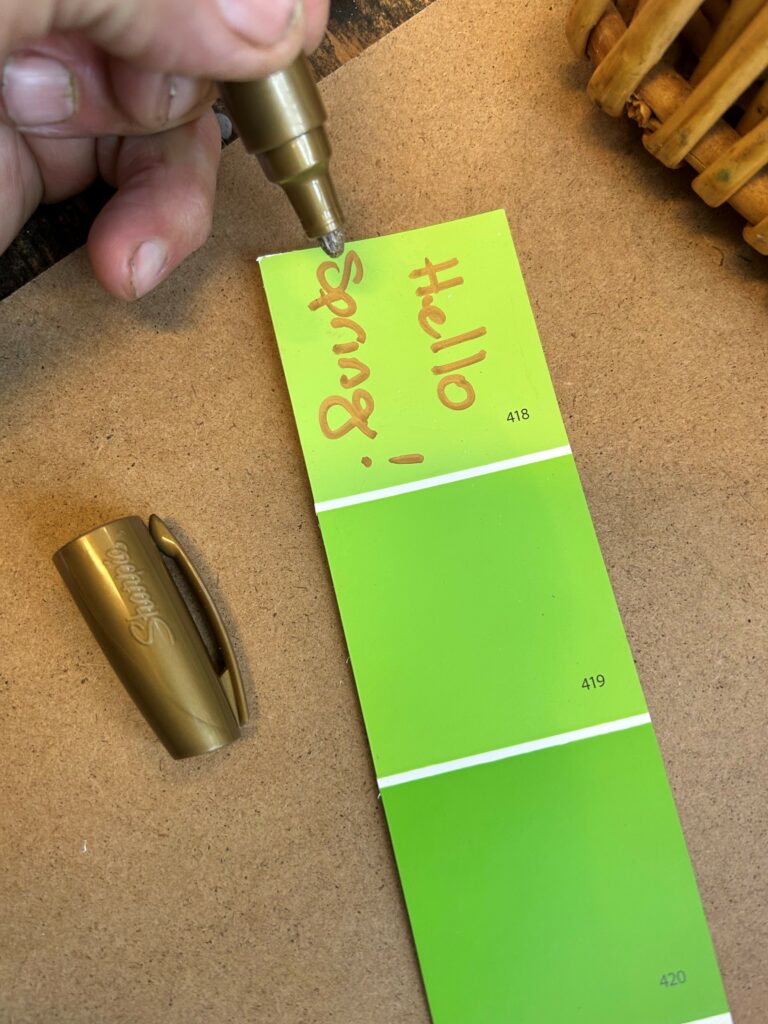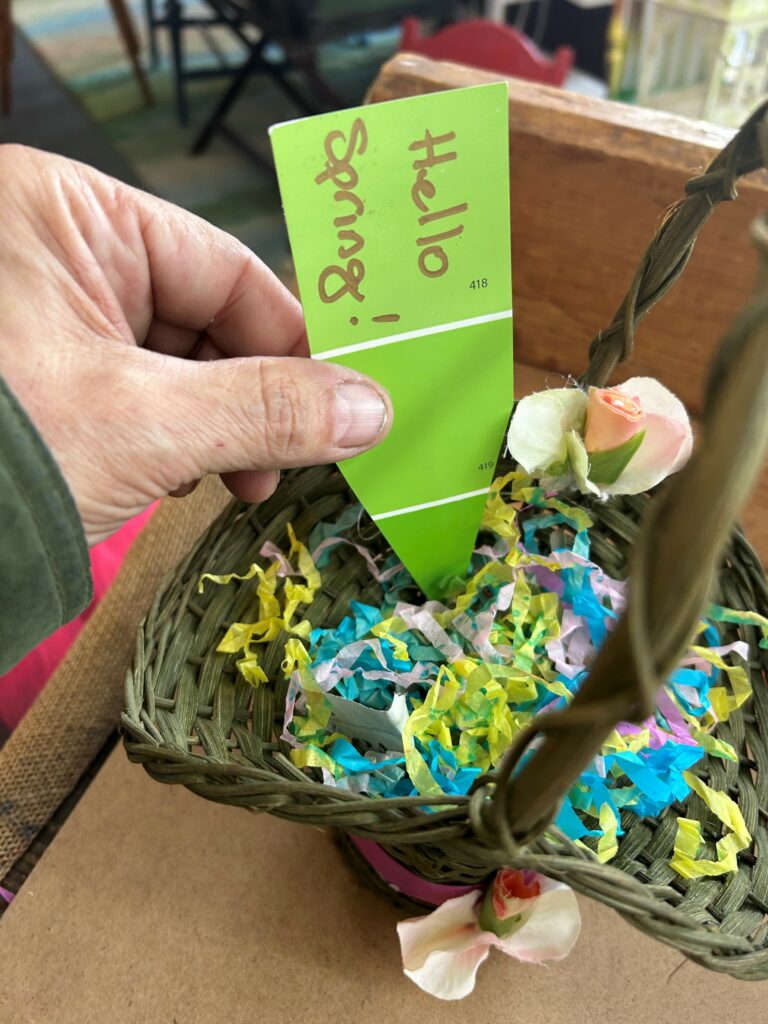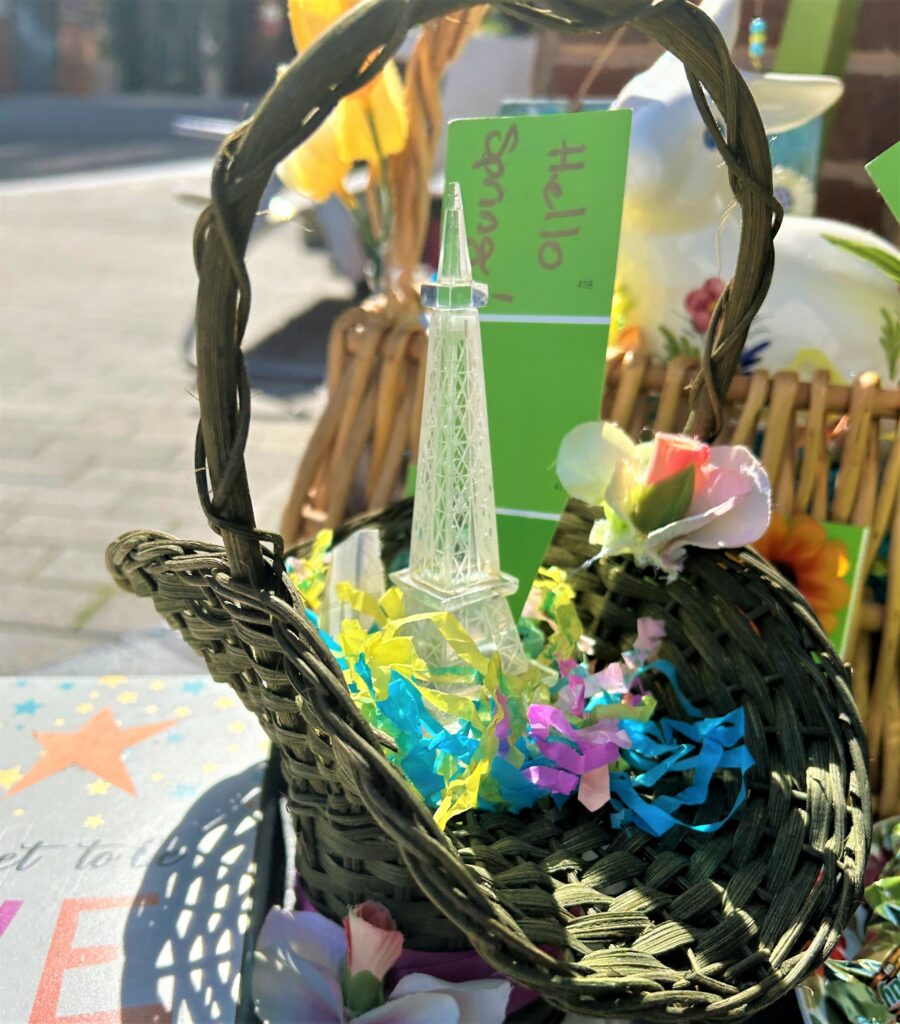 6.      Decor to delight
A colorful serving tray was used to hold several pieces and provide a great backdrop.  A flower-covered dish was the foundation for a container, and candies were added.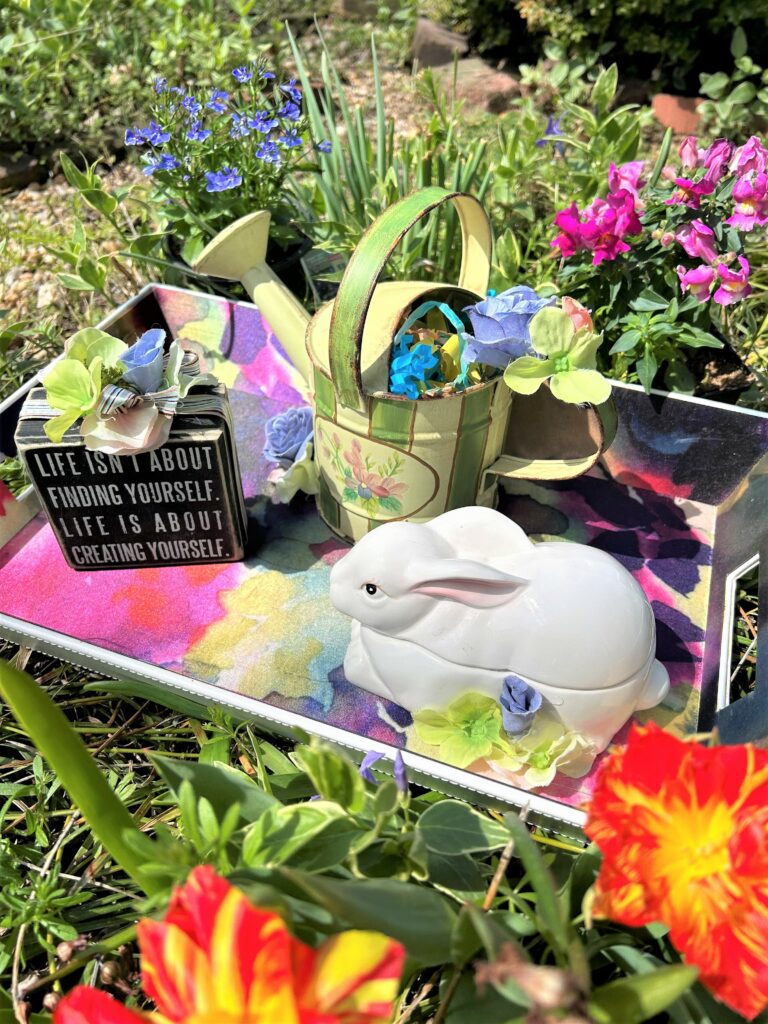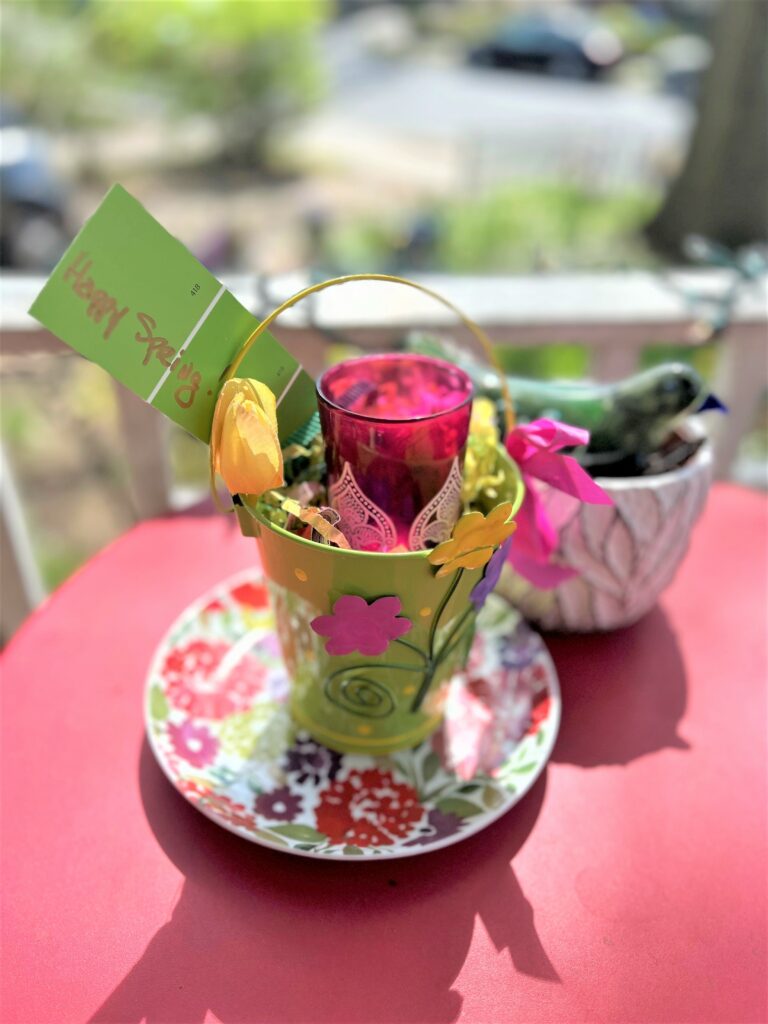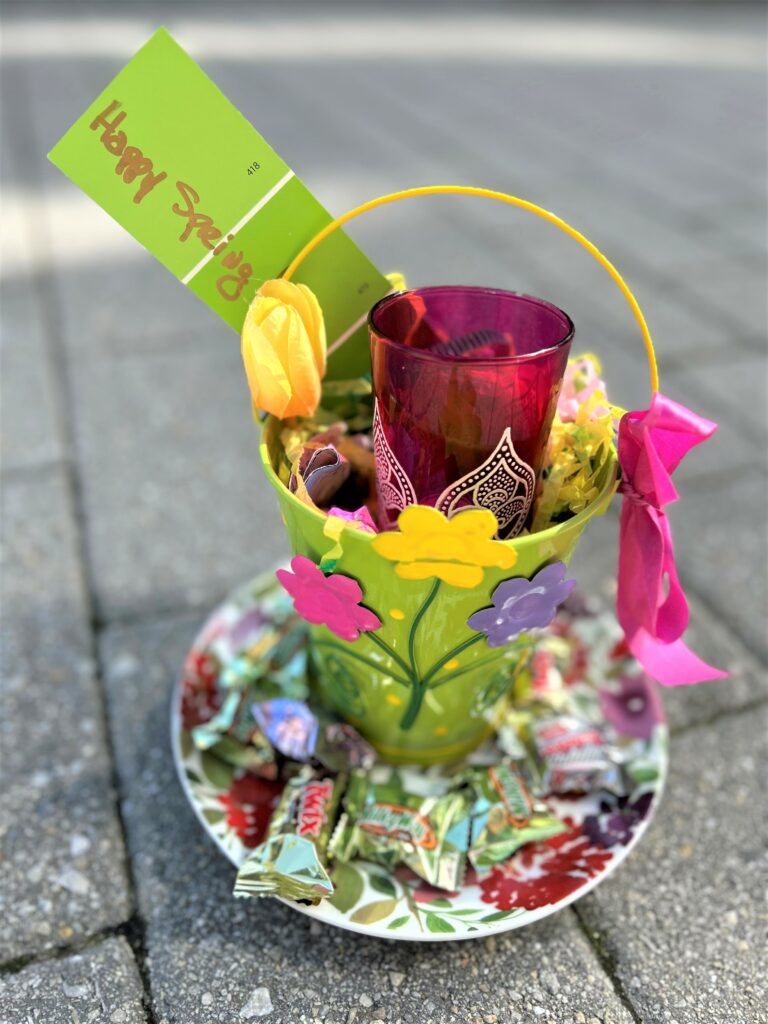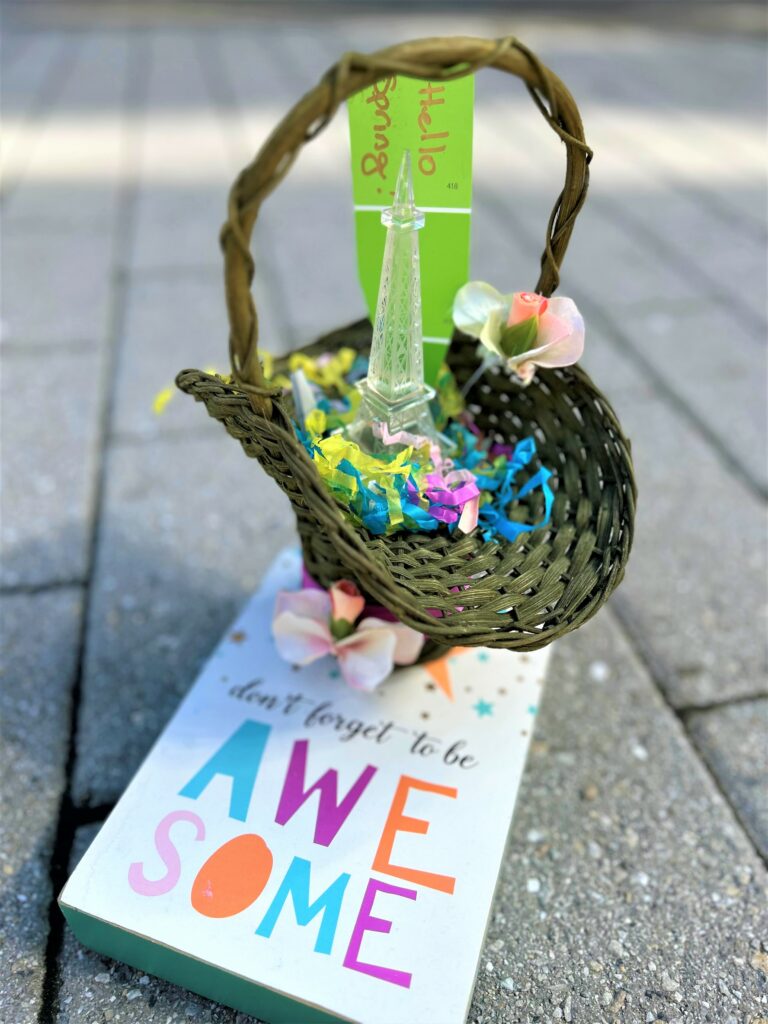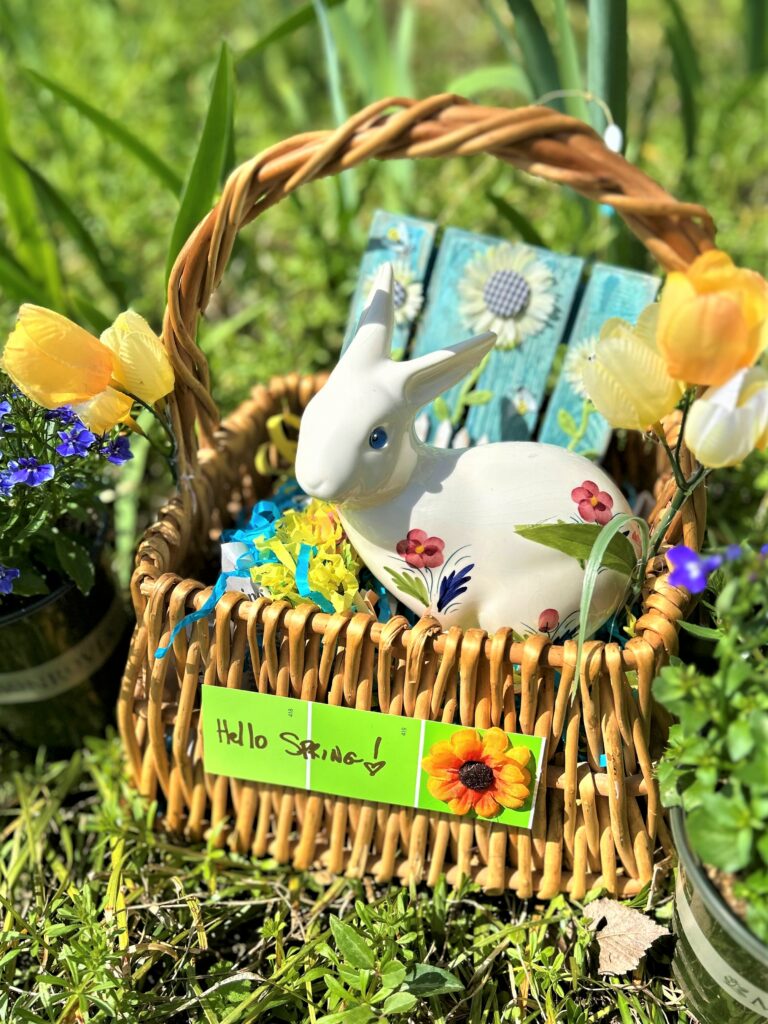 Create an inviting display on your coffee table or in your foyer to welcome family and guests.  Place a vignette in your bathroom to add some Spring cheer there, too.   Give a bunny basket to your neighbor to show them you care.  These colorful collections of thrifted store find will be sure to bring lots of smiles!
Thanks to Finding Your Good for always making our community brighter and more cheerful, too!
Similar Reads: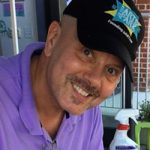 Tim Kime
Artist, Motivational Speaker, Life Coach
Tim Kime is an artist, life coach, and connector. He is the President of Kime Leadership Associates, offering executive coaching, meeting facilitating, and motivational speaking. He is also the Chief Creative Force of Transformation Junkies, which upcycles furniture and other household items into functional works of art. He combined his two passions—unleashing the potential in people and transforming items with the launch of the Art of Possibilities Workshops. These workshops are part upcycling, part dreaming, and part goal setting.