Upcycle a classic painting into a cool conversation piece using collage!
How many times have you seen copies of famous masterpieces framed and ready to go at Goodwill?  I bet you will say it all the time!  Here's a way to take a painting reproduction and give it a funky transformation.  This artwork went from the back of the closet to center stage with clippings from old magazines.  This is a two-fer since you are upcycling a thrift store find and repurposing magazine photos and images as part of the process.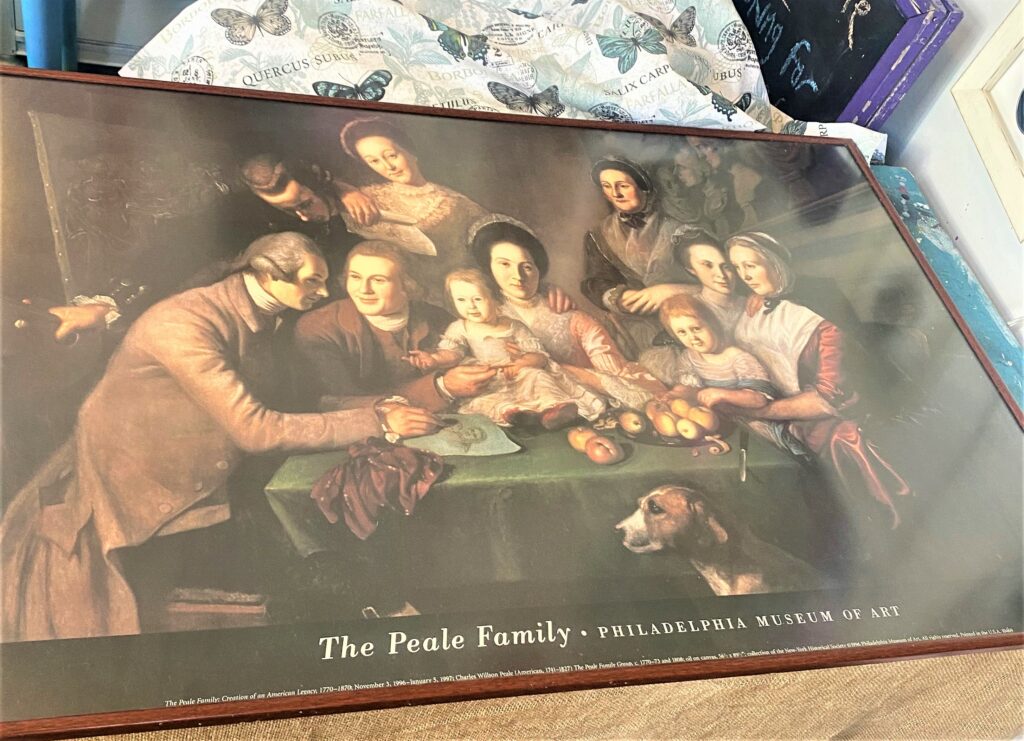 This was such a quirky project that is great to do as a group or as part of your family fun. Now, you can see this piece hanging in someone's home or office and getting lots of attention—and it a good way!
Supplies needed:
· Framed artwork of a traditional masterpiece
· Old magazines
· Scissors
· Glue sticks
· Markers
· Pen or pencil
Zip on over to Goodwill to shop for a "classic" piece of art
Goodwill's collection of available framed art is ever-changing and is constantly being replenished. Look for a framed poster or reproduction of a classic masterpiece. Ideally, you will find a piece that looks like it was originally painted centuries ago, so you may give it this fun and funky update.
The poster featured in this week's blog is called "The Peale Family." According to Wikipedia, "Charles Willson Peale (April 15, 1741 – February 22, 1827) was an American painter, soldier, scientist, inventor, politician and naturalist. He is best remembered for his portrait paintings of leading figures of the American Revolution, and for establishing one of the first museums in the United States." This is a painting of his family and was considered "the most ambitious portrait undertaken by a colonial America artist up to that time." Here's more on this piece: https://emuseum.nyhistory.org/objects/41924/the-peale-family?ctx=e19958e611a7c782bf3577c2c4fcb8cd0650f058&idx=0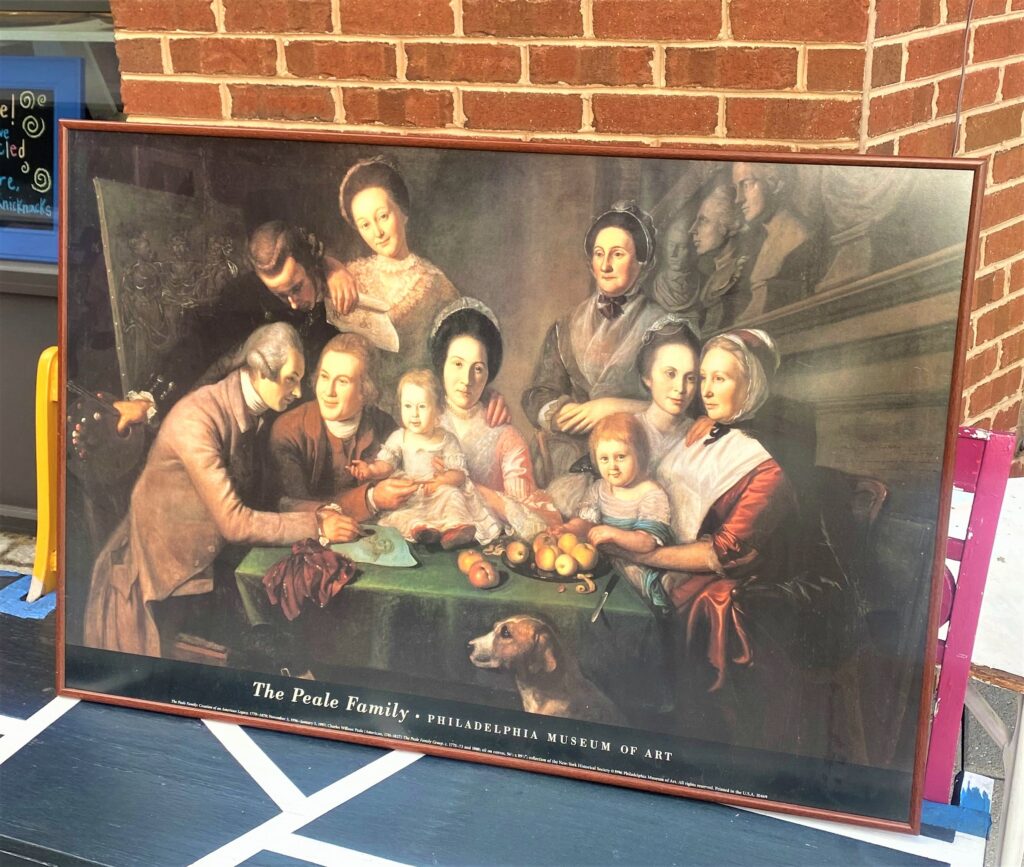 When I saw this artwork hanging around Goodwill, I immediately thought a modern update on it would be lots of fun. And I was right! What classic pieces have you seen that you could transform this way? Don't you think the Mona Lisa is ready for a makeover, too?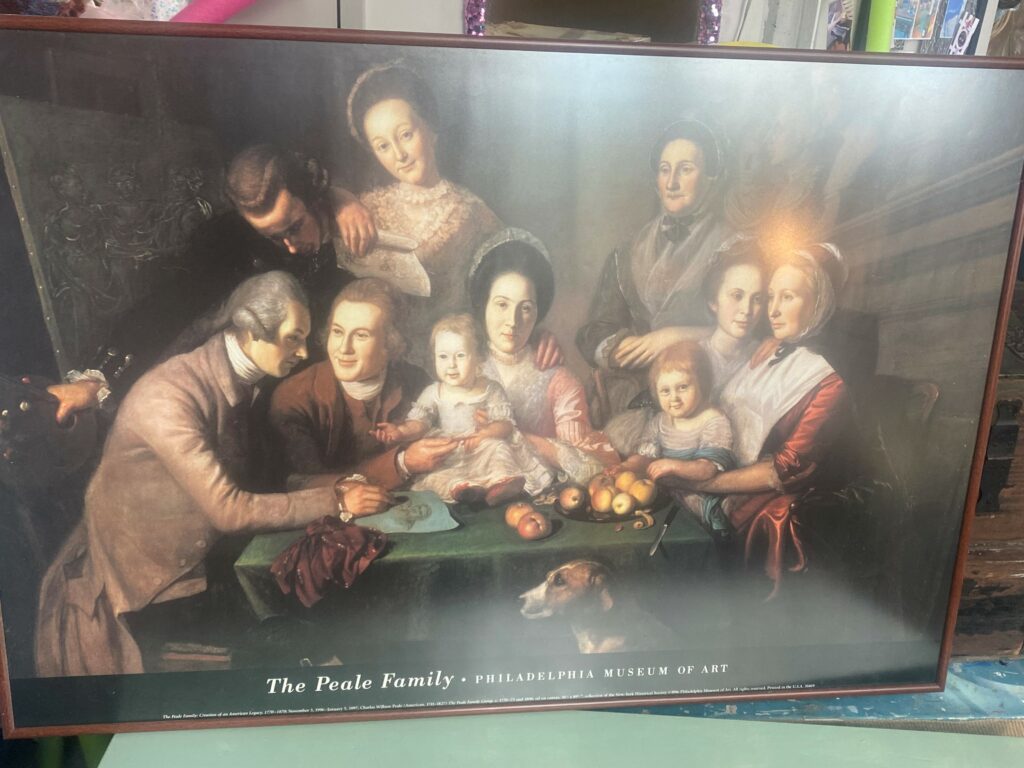 When you get your framed piece home, carefully take it out of the frame and place it in your workspace to start its transformation.
Clip images for a contemporary look
When you think about what makes a family portrait look like it is from 2022 and not 1822, you will want to consider clothing, hairstyles, fashion accessories and technology. Also, we live in a much more diverse and inclusive time, thankfully, so you will want to ensure that you include additional faces to reflect that fact.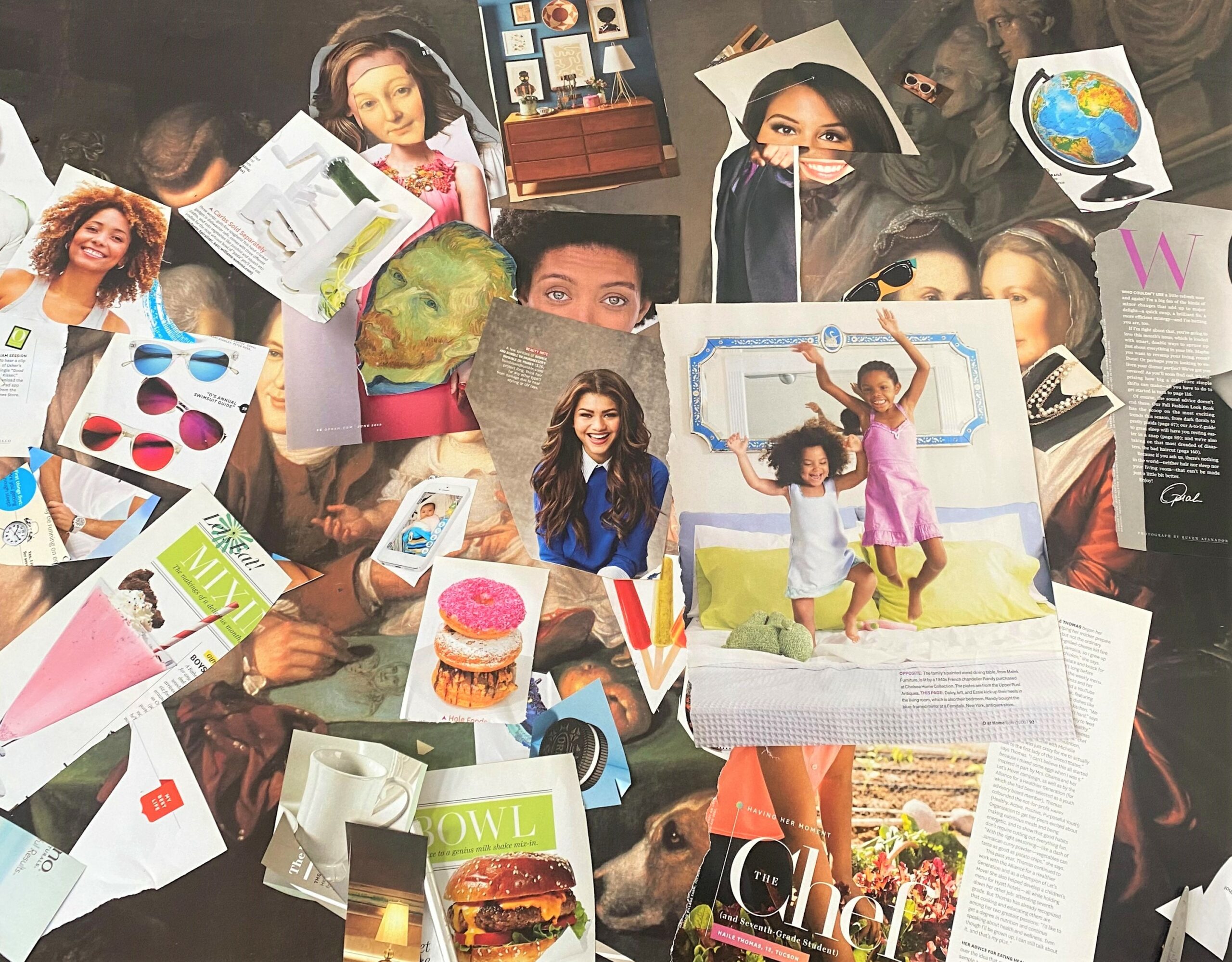 And last but not least, what makes your classic artwork go from then to now? This family is seated at a dining room table, so the food served and artwork displayed had to reflect the options available today. Follow these simple steps:
Add faces
As you go through magazine, look for images of people of various backgrounds. I saw an ad featuring basketball legend Charles Barkley that had a great look and was a good size to weave into the collection of Peale family members.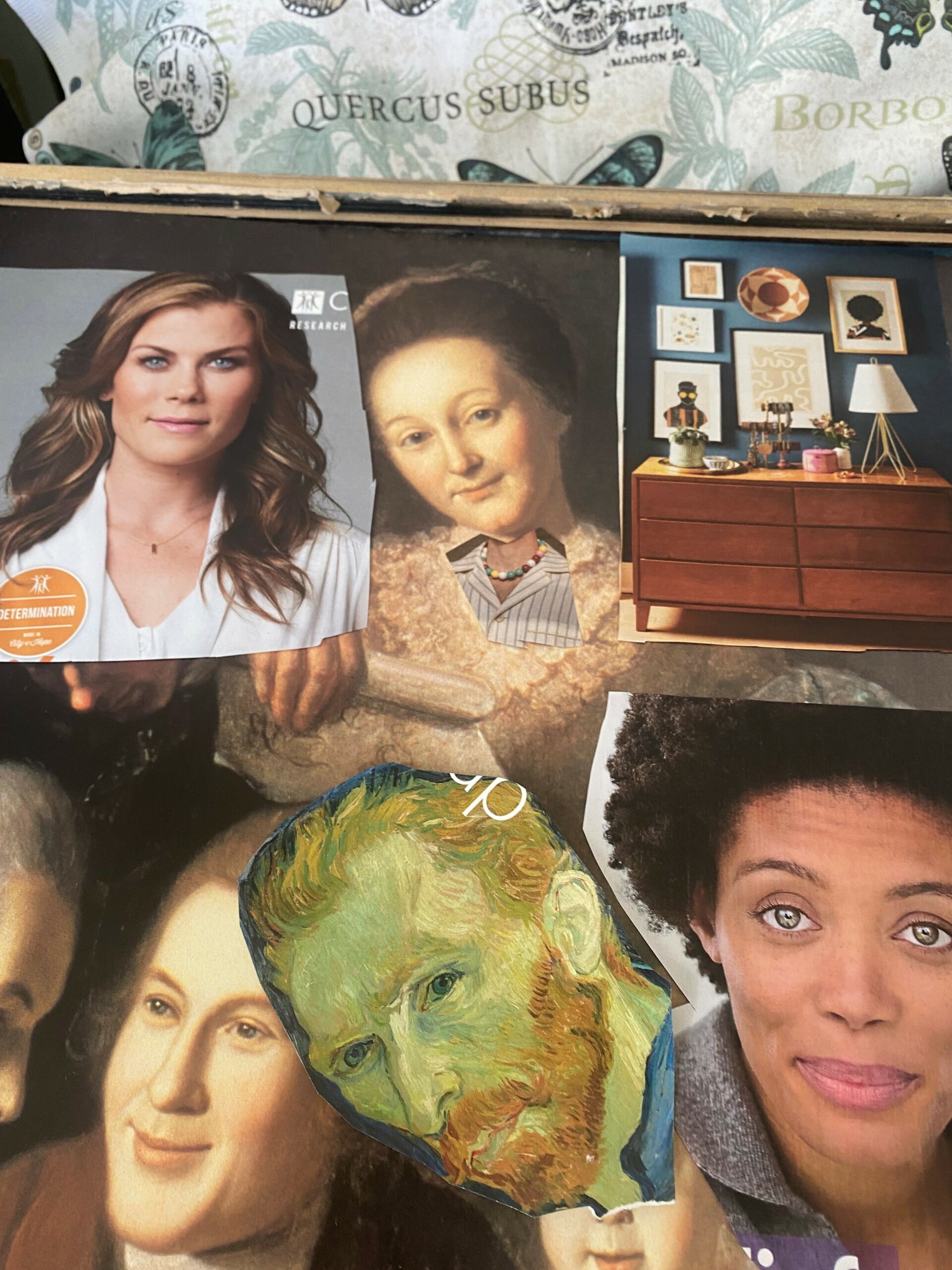 Update the hairstyles
Advertisements for hair care products were a great option to cut out to give the people in the painting a more modern look. Cut away the models' faces and use their hair for this art piece. I came across a rainbow punk hair cut online so printed it and cut it out to give one of the guys a totally funky new look.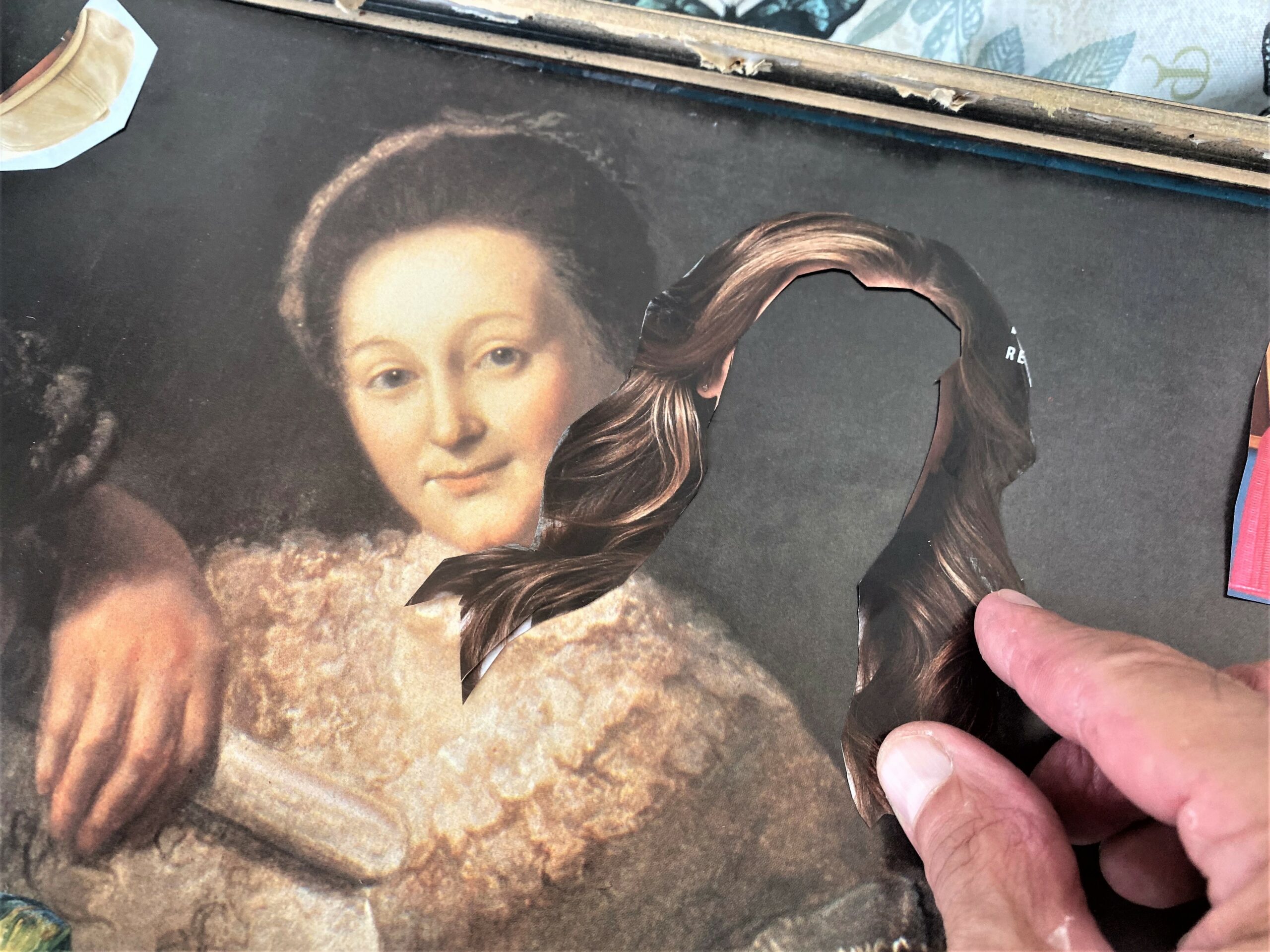 Refresh the attire
To take this dated collection of portraits from blah to bodacious, some of the clothing got an update. Photos of hats, baseball caps, and jewelry were cut out with a little pair of scissors to make this cast of characters look contemporary.
Knitted gloves pictures were cut out and used.
One woman got a new body, dress, and jewelry when a photo was trimmed to hide her original, out-of-date, lacy attire. Now she is sleek!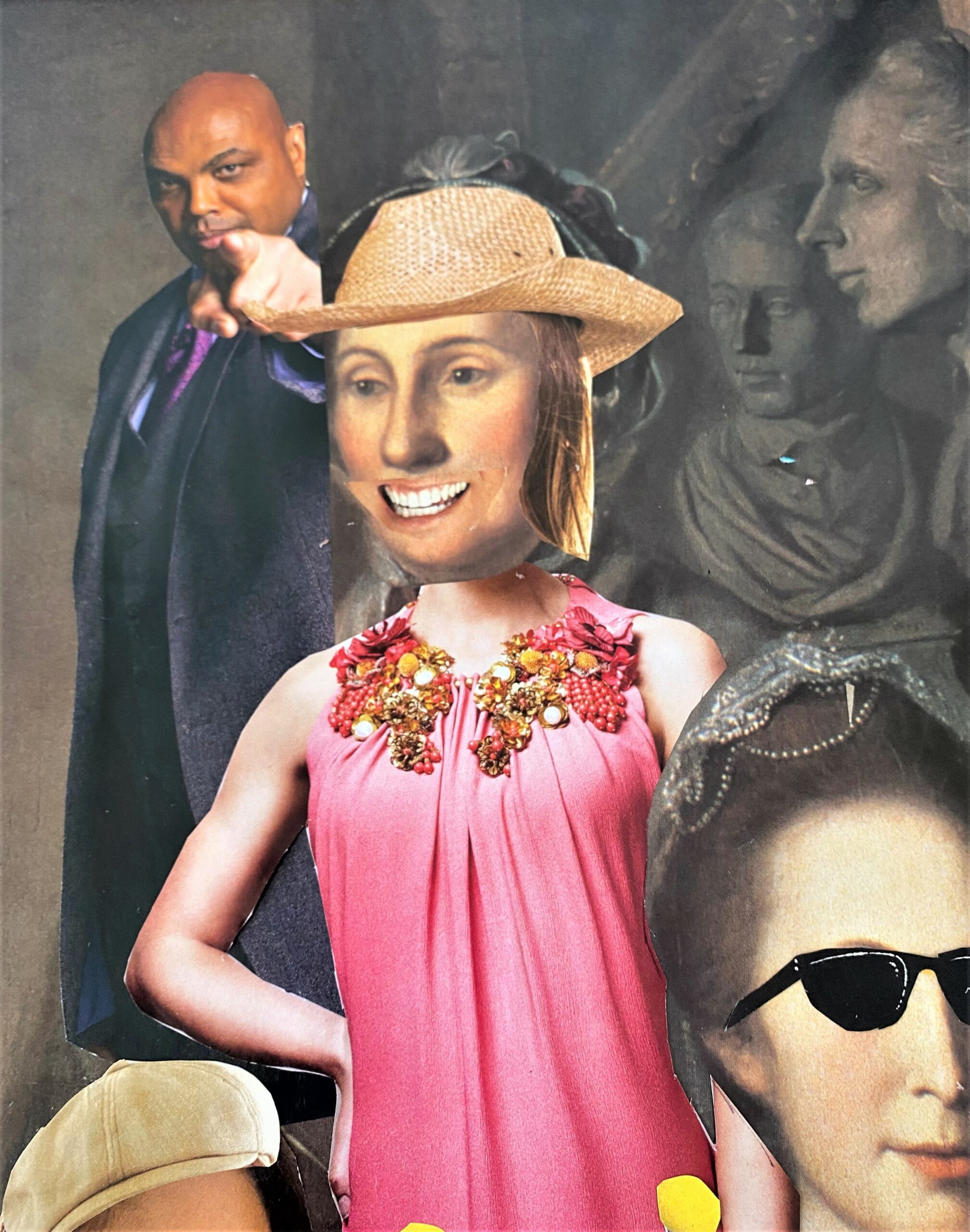 Incorporate technology
Airbuds, an iPhone, wrist watches, and sunglasses were added to the original portraits and new faces.
Given that this is 2022, a mask was clipped and included, reflecting our recent health challenges.
One of the guys went from holding an artist's paintbrush to sporting a metal tennis racquet, clearly not available in the early 1800s!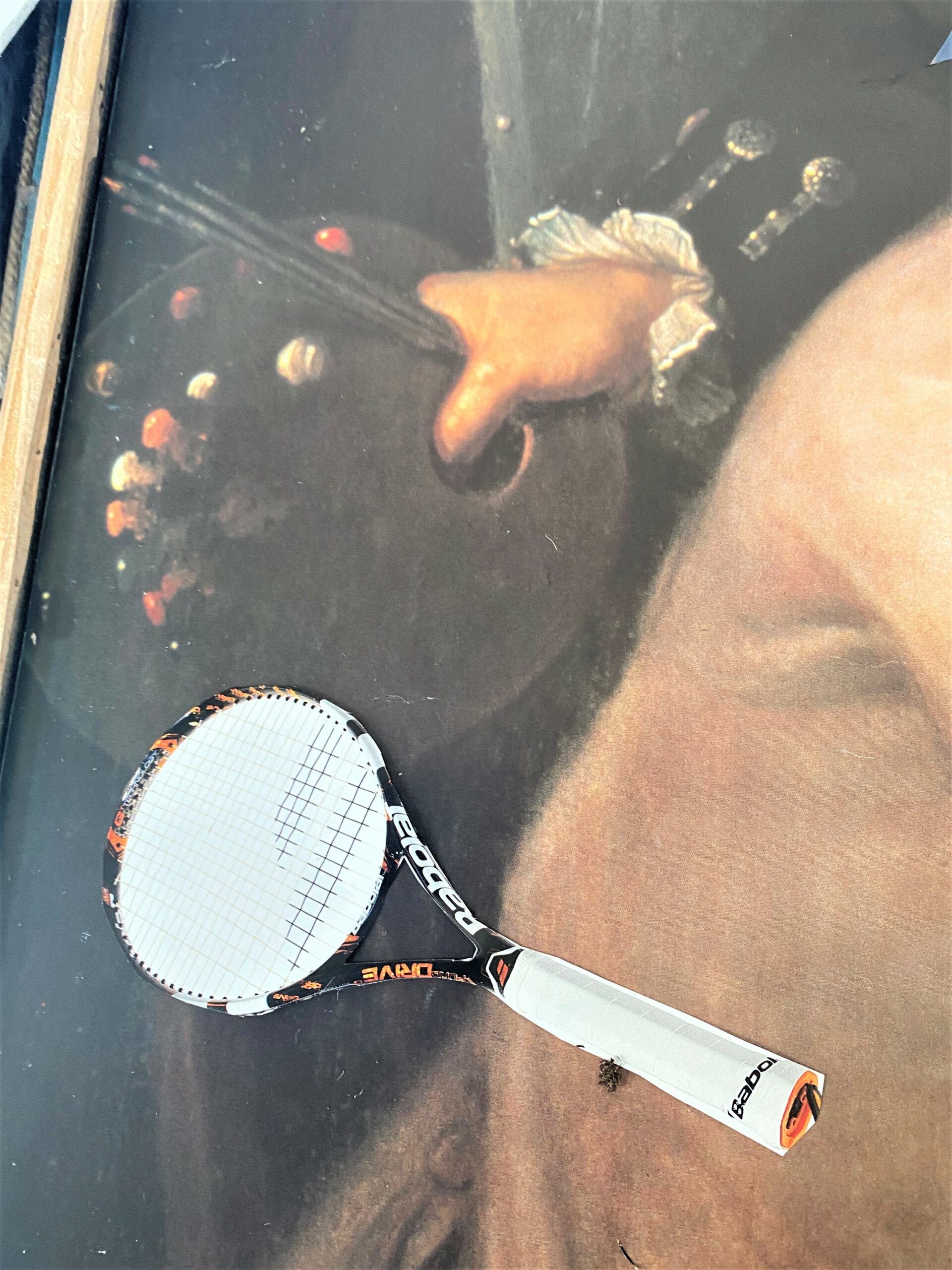 Set the table to reflect today
What better anchors the new table than a cup of Starbuck's coffee along with donuts, a hamburger and Mexican meal?
Vincent Van Gogh—very much part of today's conversation given the recent immersive exhibits featuring his works—is sipping a milkshake.
One of the girls is sharing her popsicle. The other is proudly showing off her ET movie lunchbox.
In the background is now some modern artwork, a cool clock, and a hot pink wicker light fixture. Indeed, you would not have seen any of these pieces back then!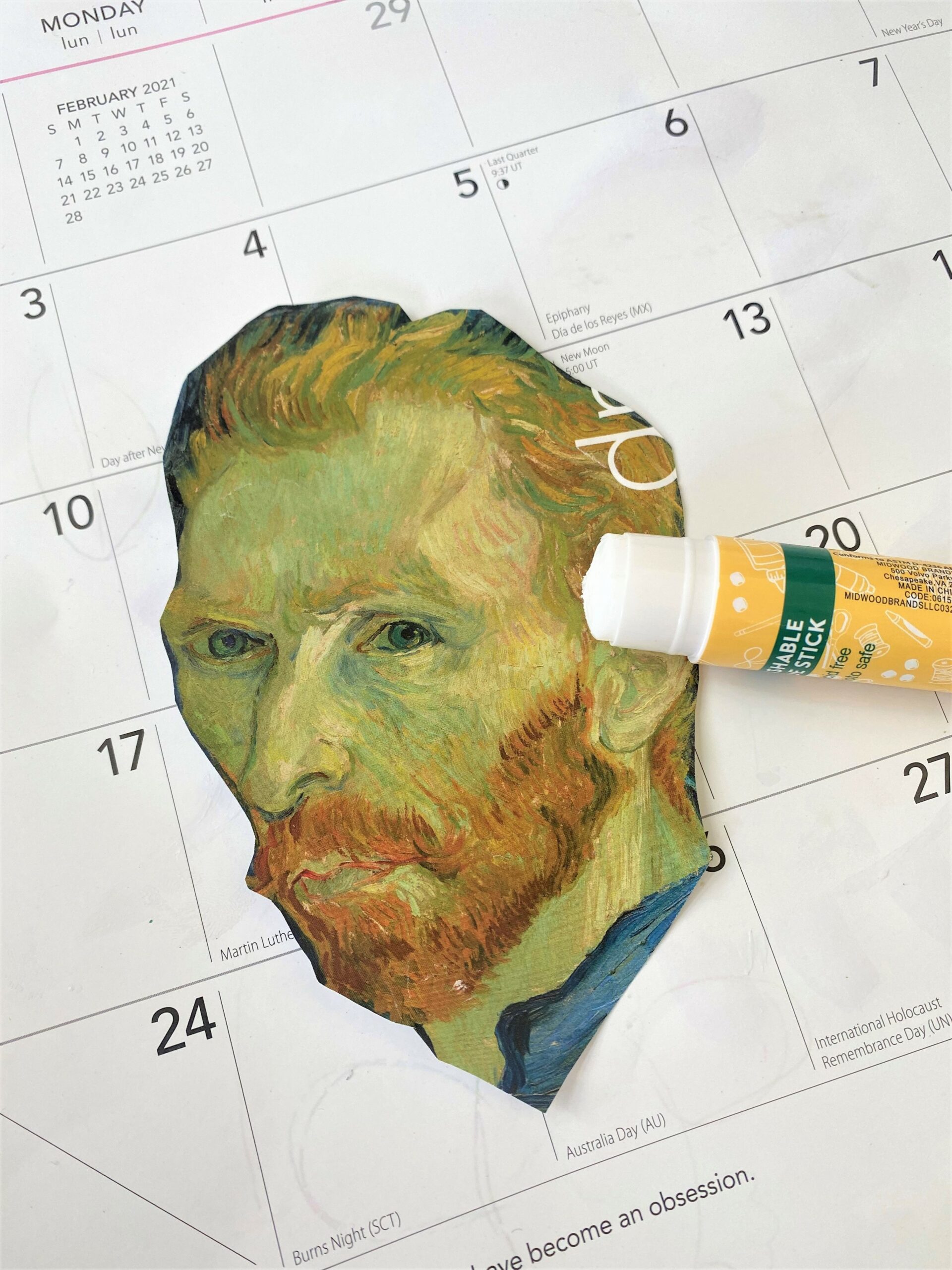 Add details
Some of the original faces got updates by clipping smiles from magazines.
Others got eye make-up, lipstick and nail polish using markers.
One got a beauty mark while another even got a tattoo!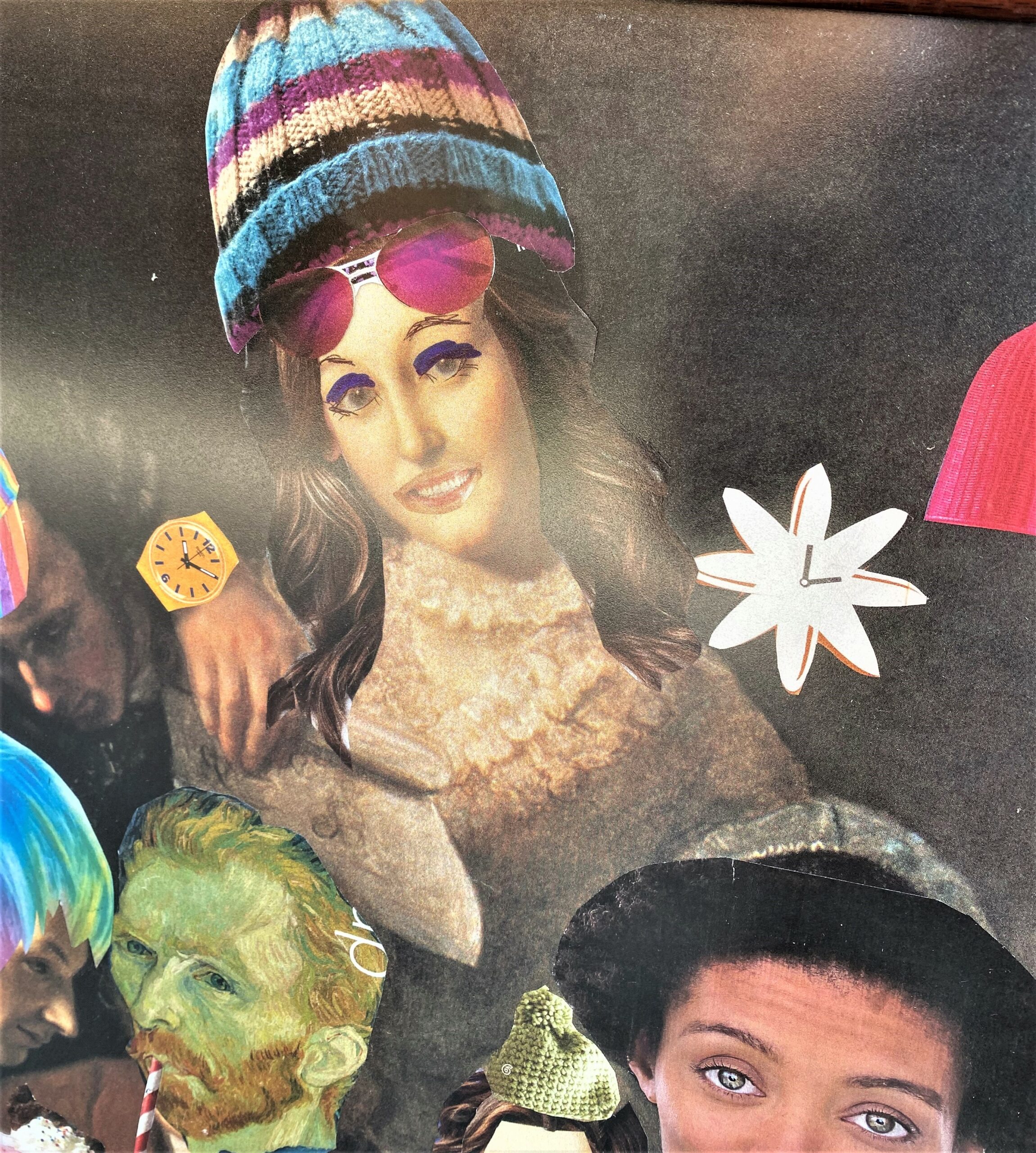 Reassemble & Hang
Carefully reassemble your artwork in its frame. This unique piece will surely attract attention and inspire comments wherever it is displayed. You will undoubtedly smile and chuckle when you see how the "Peale" family was transformed into the "Now" family!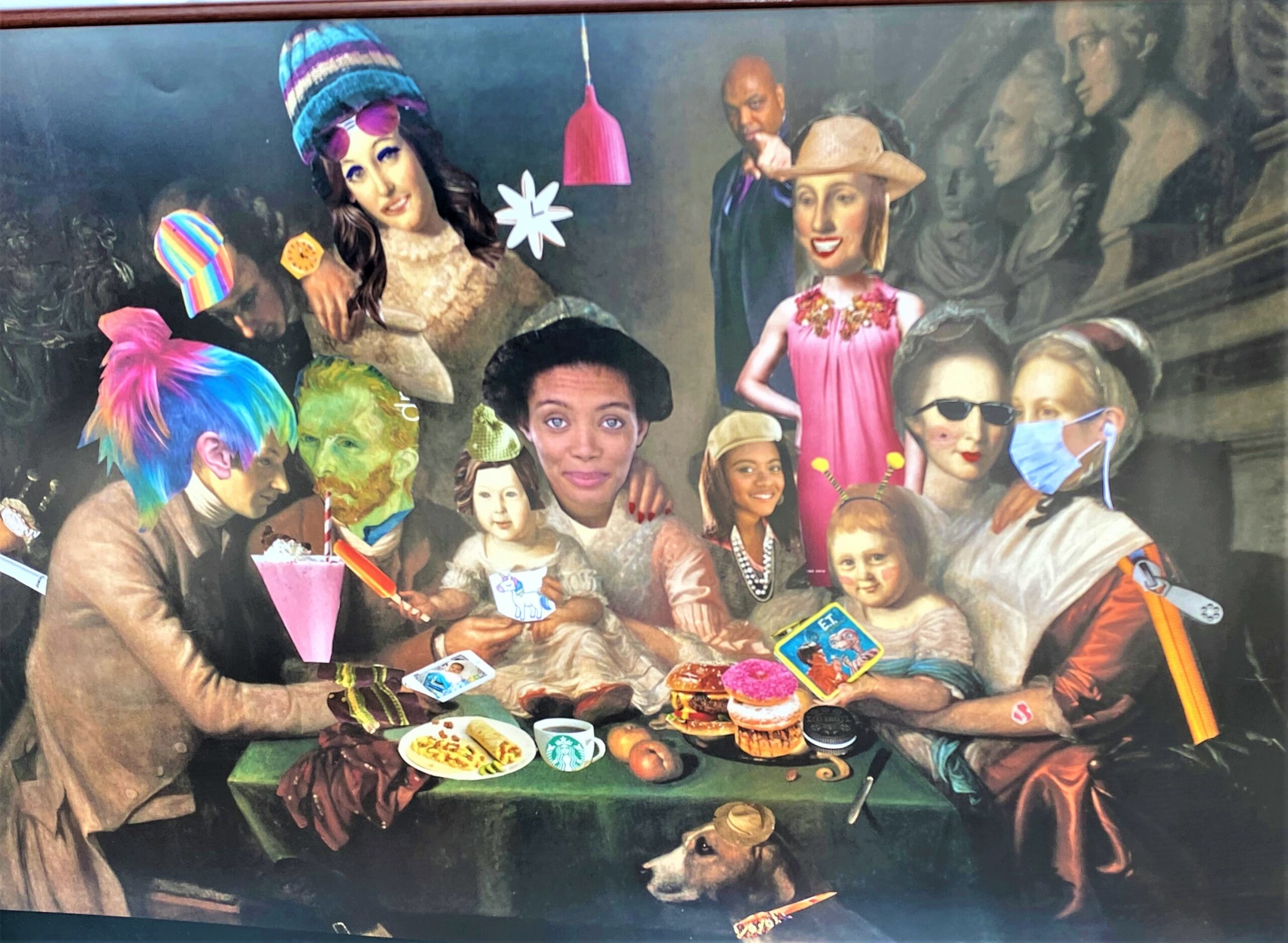 Show us your classics-turned-contemporary thanks to collage pieces! We love to see how you will take a traditional item and make it truly one of a kind!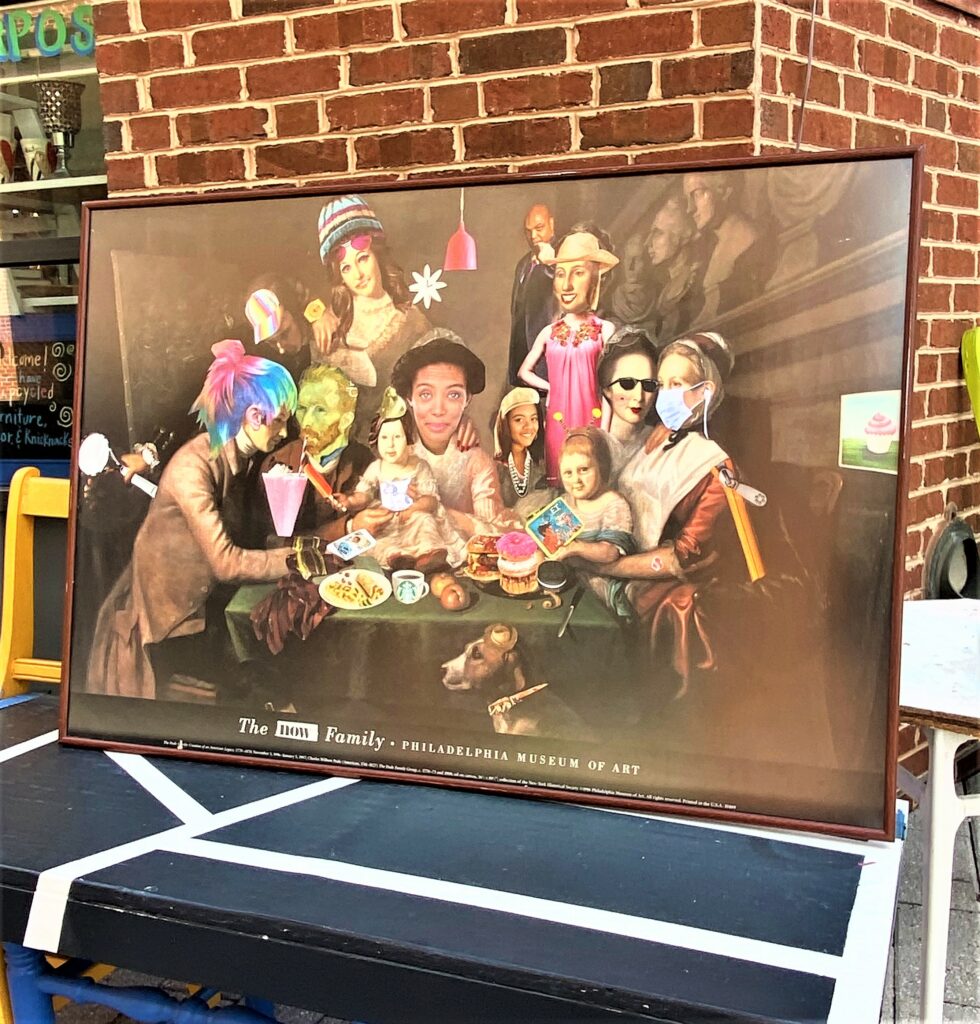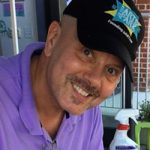 Tim Kime
Artist, Motivational Speaker, Life Coach
Tim Kime is an artist, life coach, connector. He is President of Kime Leadership Associates offering executive coaching, meeting facilitating and motivational speaking. He is also Chief Creative Force of Transformation Junkies which upcycles furniture and other household items into functional works of art. He combined his two passions—unleashing the potential in people and transforming items with the launch of the Art of Possibilities Workshops. These workshops are part upcycling, part dreaming, part goal setting.