Barbie-Inspired DIY Part 2: Dip-Painted Glass Pieces
Since the Barbie movie is becoming a cultural phenomenon, allow your DIY projects to catch the fever, too!  Bright pinks, shimmery tones, and other cheerful colors are must-haves to get the "Barbiecore" look on your upcycled items.   This project is easy and makes everyday thrift store glass items look stylish, artsy, and certainly, Barbie-approved.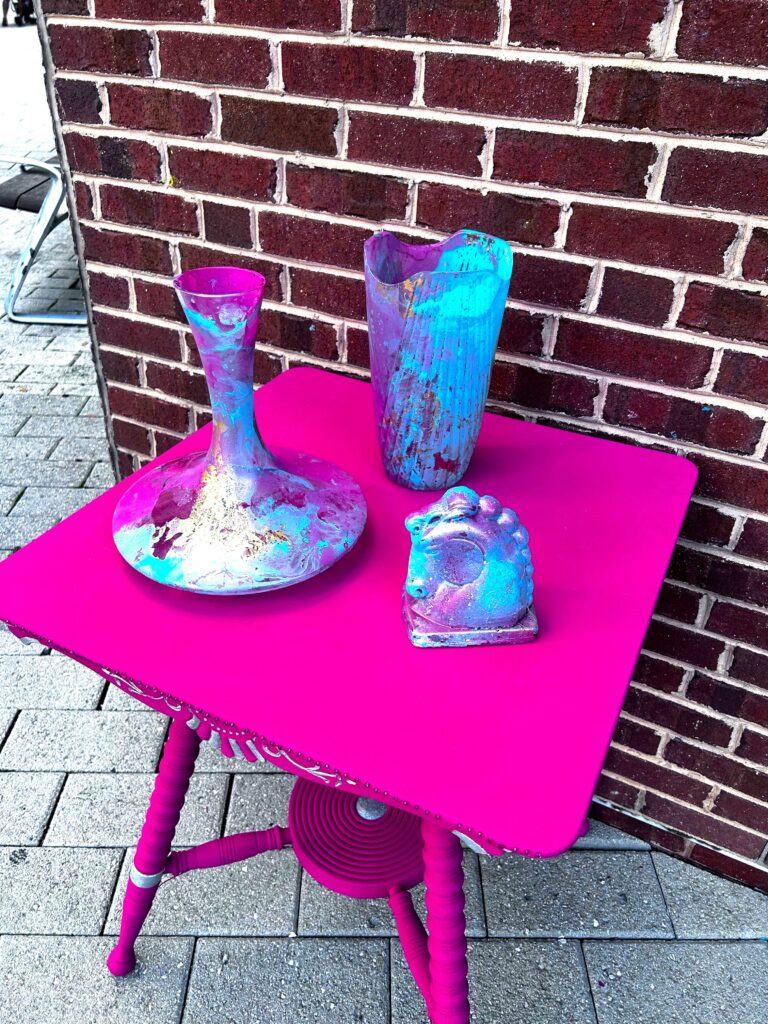 Glassware is dipped into a container filled with water covered with a layer of spray paint added on top.  Dance with your pieces by dipping them, twisting them, and shimming with them!
When you're done, you'll want to dance, too, with how beautiful they look!

Items needed:
·        Glass vases, containers, and other household items
·        Spray paints in bright pink, blue, purple, and gold tones
·        Bucket, bin, or big container to hold water
· Disposable gloves
·        Dropcloth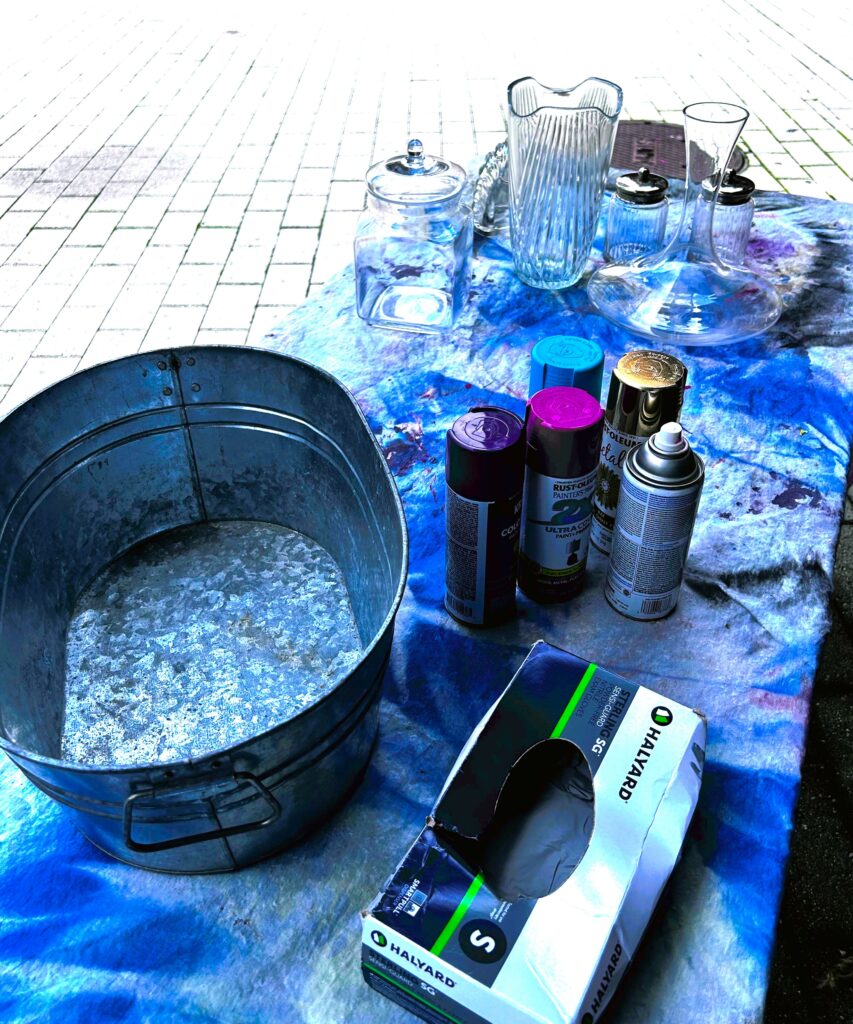 1. Barbie will find her good at Goodwill, so you can, too
To start this DIY project, look in the Housewares section for glass pieces to add sparkle and color.  Each piece selected at Goodwill for this project was nice, just as it was, so you can't go wrong with anything you pick up there.  Look for items with nice lines, shapes, and other visual elements.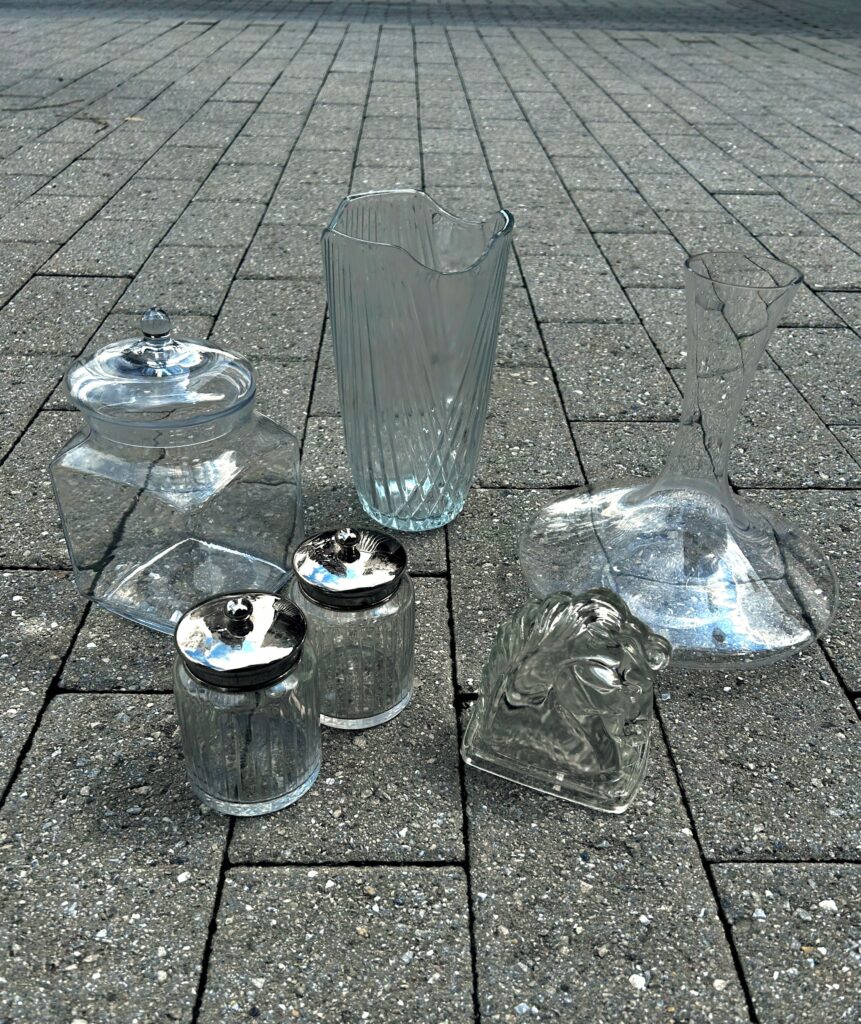 While this DIY blog focuses on transforming glassware and other items found for a few dollars each at Goodwill, be sure to shop for your latest fashion items there, too.  In addition to giving Barbie's bright style to common household items, you might consider adding her look to your clothing, too, along found for just a buck or two.  But I digress!
2. Set up a dipping station
If possible, set up a worktable outside in the shade.  This will allow lots of fresh air as you work your magic with these pieces. 
Place a drop cloth on the table, fill a bin, bucket, or another good-sized container with water, gather your collection of spray paints, and position your glass pieces right next to things. 
For added protection, wear an apron and put on disposal gloves.  You are now ready for some upcycling, Barbie-inspired fun!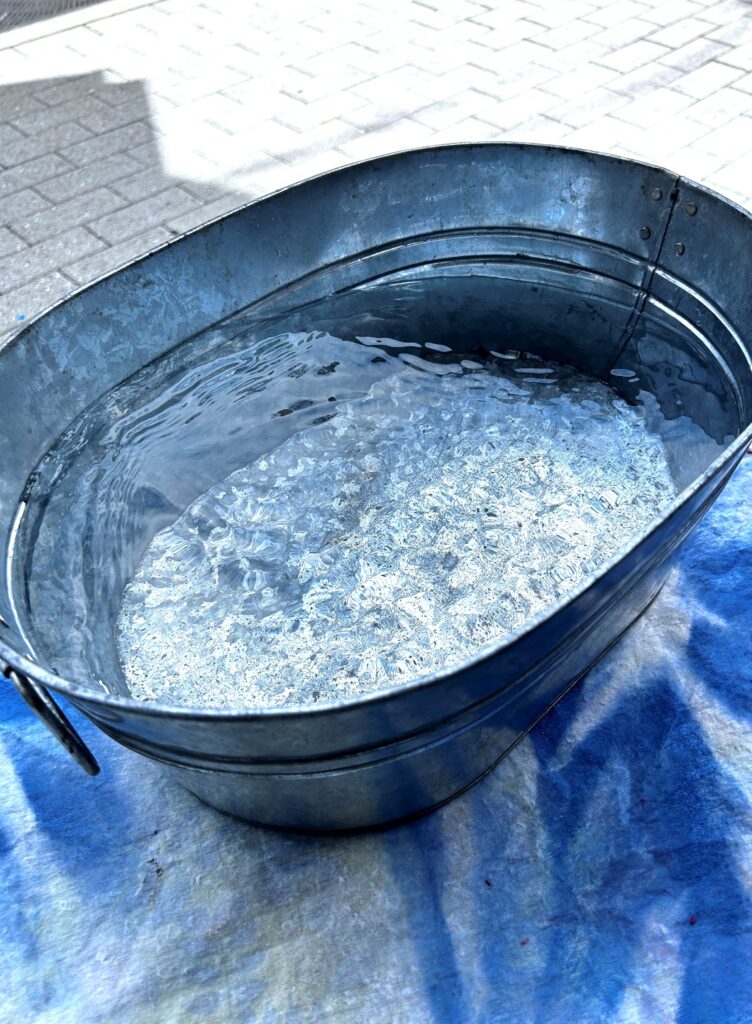 3. Add spray paint to your water's surface
Pick up your can of pink paint and spray some onto your water's surface.  Add a layer all over the top, then repeat this step with other colorful, bright tones.  Add a spritz of sky blue and a spritz of gold.  The various colors will flow together, given the watery surface.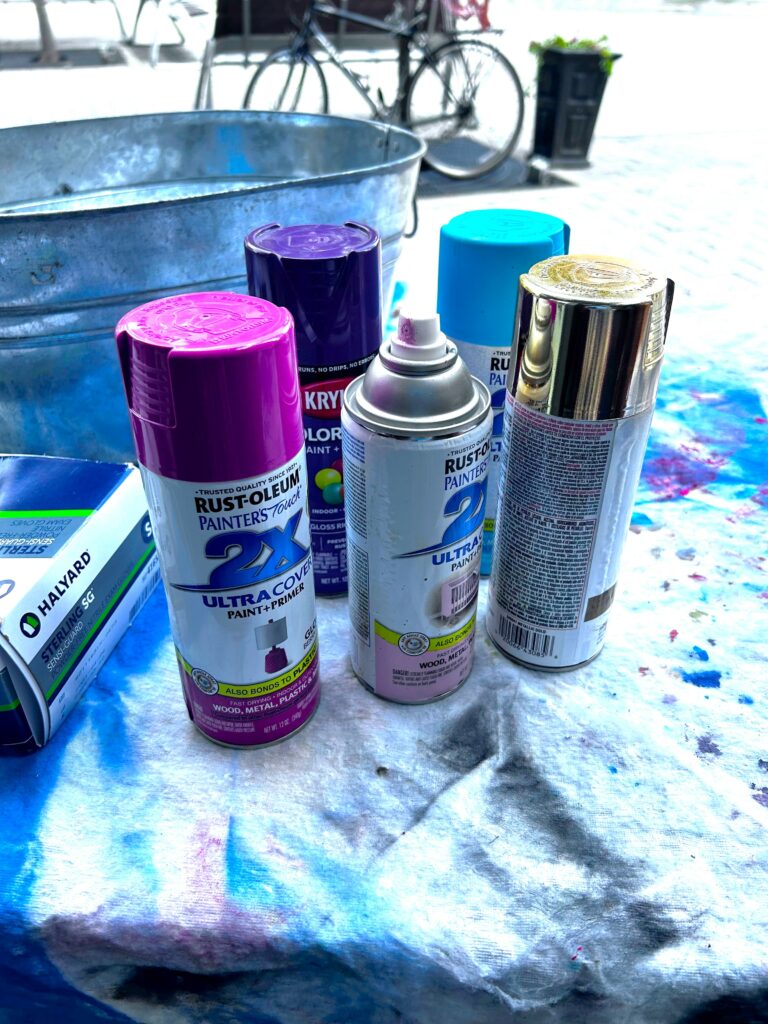 Design Idea:
While Barbie and her favorite bold pink color is the centerpiece for this project, consider selecting the favorite colors of the person who might receive a dipped-painted piece as a gift.
 Use the colors in our home, too, to create a piece that is unique and looks coordinated with your style and design.  Given the flowing feel of the paint when applied, consider selecting shades of blue and green, then add silver to look like the ocean—perfect for a beach-themed home.  Black and gold together will look very dramatic and elegant.  I am sure Barbie will give a thumbs-up to all these stylish combinations and options!
4. Dip & twist your piece
Gently dip your piece into the spray paint-covered water, allowing the paint to cling to your piece.  Carefully twist your piece to allow the paint to cover as much surface area as possible.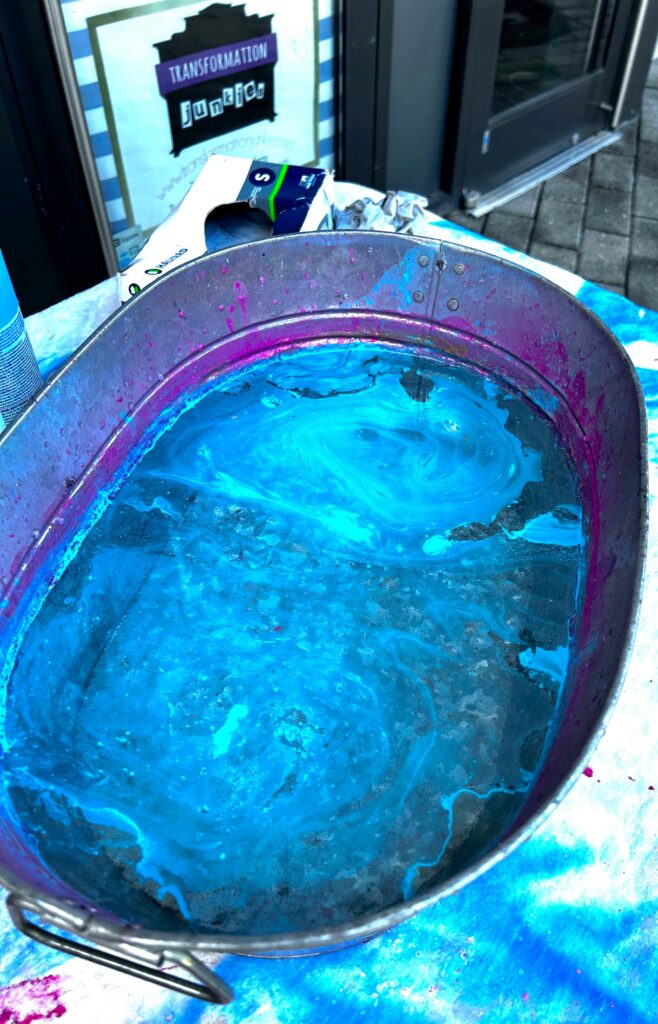 Pull out your piece and empty any water in it back into your water-filled container. 
Set the piece aside to allow time to dry.  Spray more paint onto the water surface and repeat this step for your next glass piece. 
5. Repeat steps 3 & 4 to cover your pieces other side, parts
Allow your pieces to dry for a bit, then repeat step 3 of spraying more paint to the water's surface and do step 4 again for the piece's other side.   Let your pieces dry very well before touching and moving them.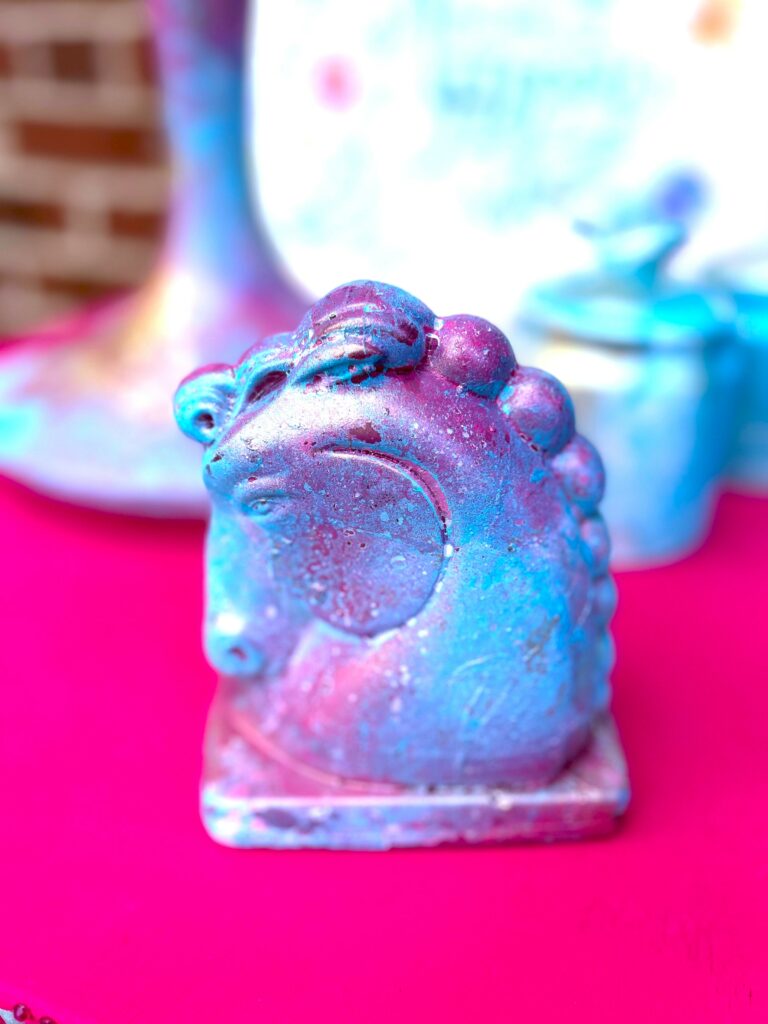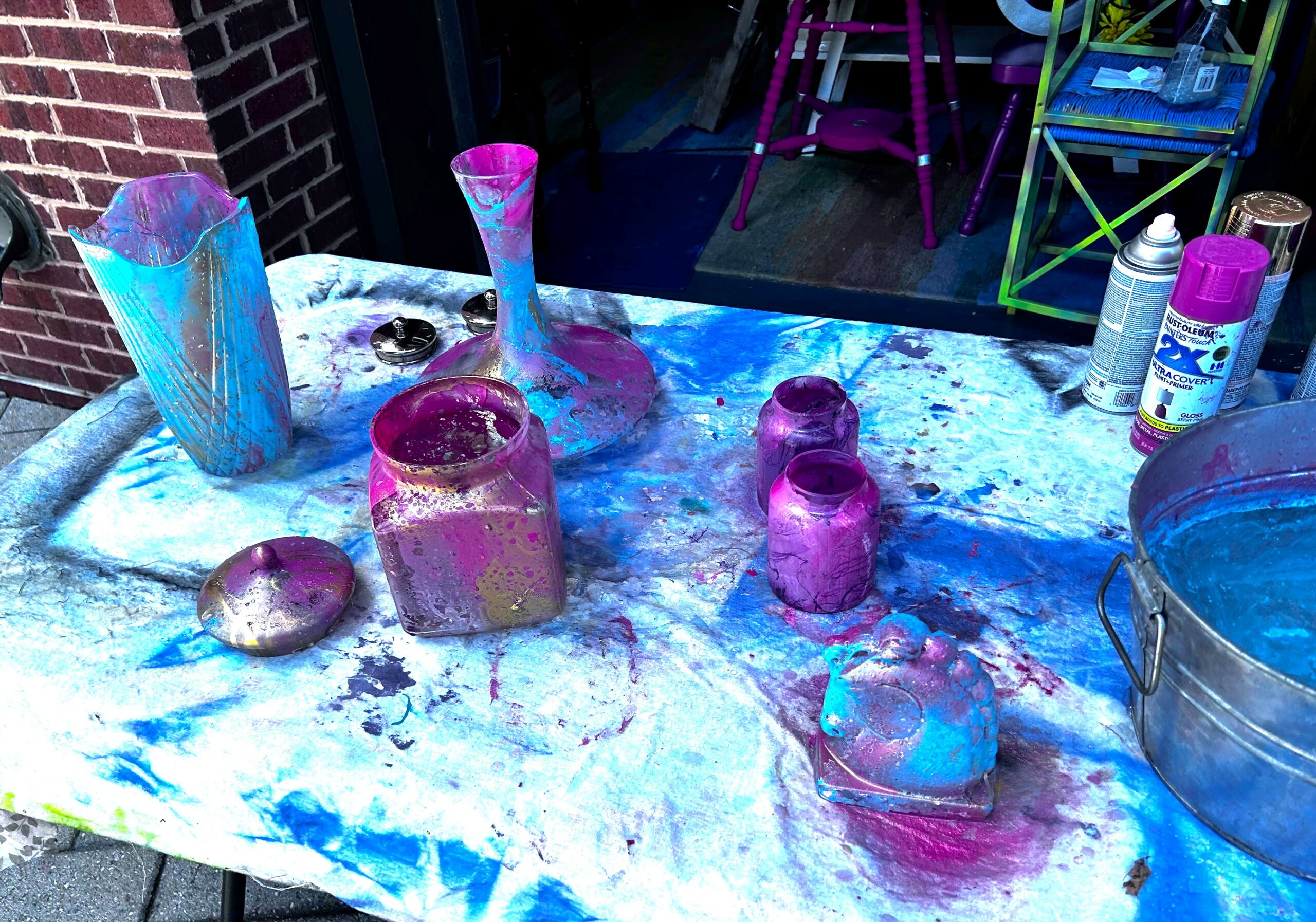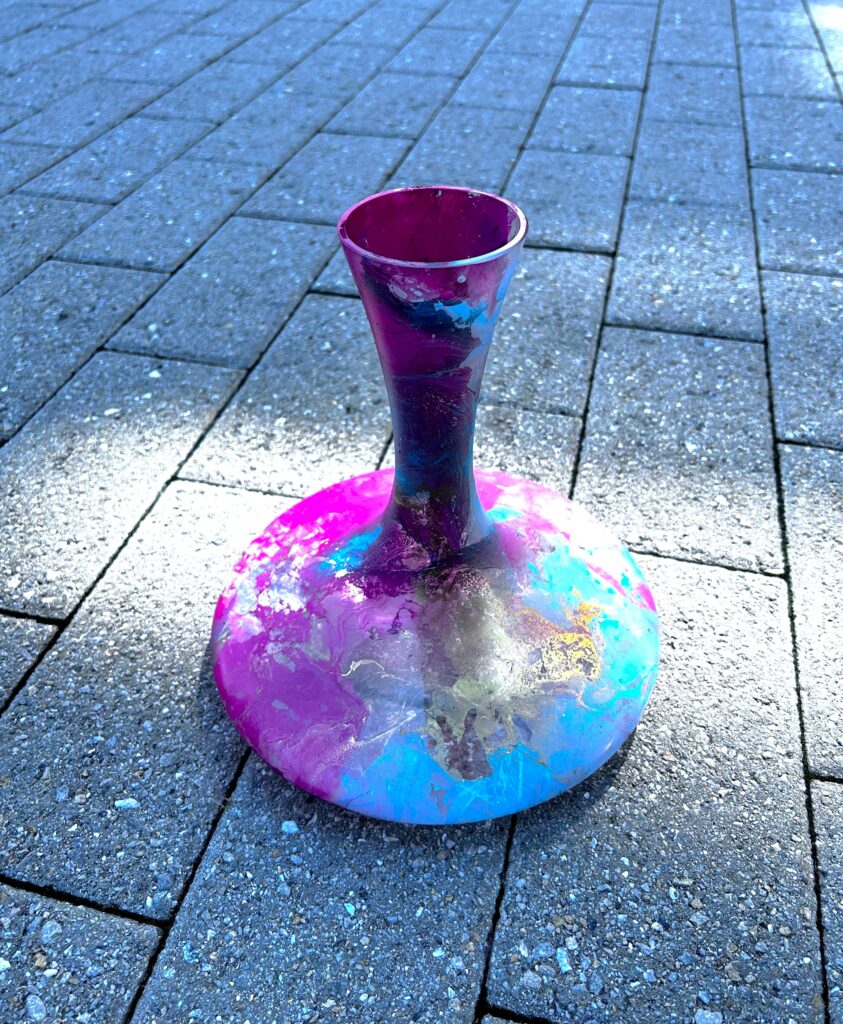 Expert Tip:
After you have dipped your piece a couple of times and it has nice coverage on it, consider spritzing (gentle touches) some paint right on top of the dipped piece to hit any gaps and to add extra color pop.  Do so while it's still wet; the moisture on the piece will combine with the spritzing of the paint, so flowing and dripping will happen—which is exactly what you want!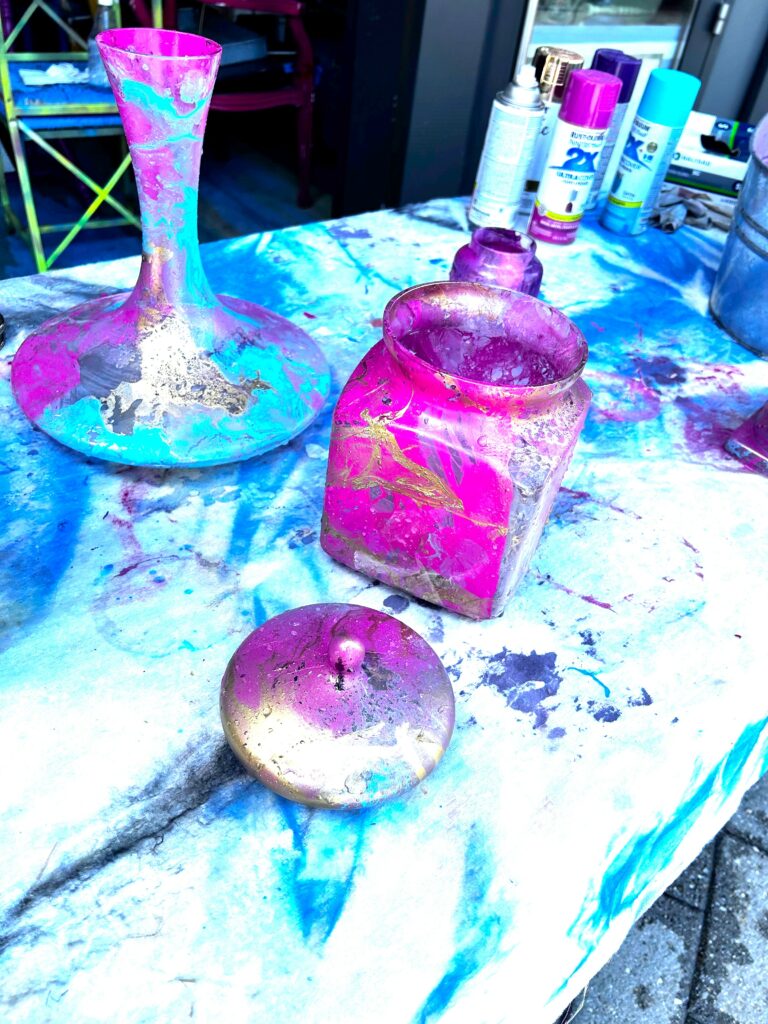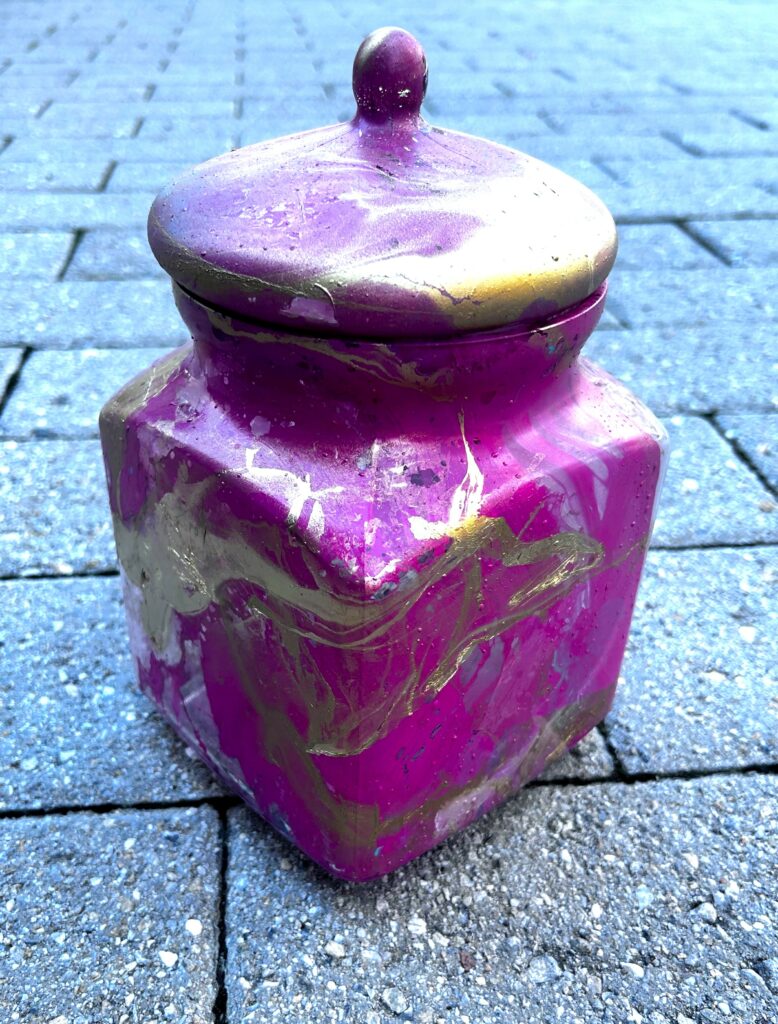 6. Create an eye-catching vignette with accessories (and we know Barbie loves accessories!)
Position your dipped-painted pieces on a colorful table with fun artwork.  Fill the vases with flowers in matching tones.  Place in a dreary corner to add instant energy and pizzazz.  Share with a friend who appreciates creativity and style (like my lovely model Melanie).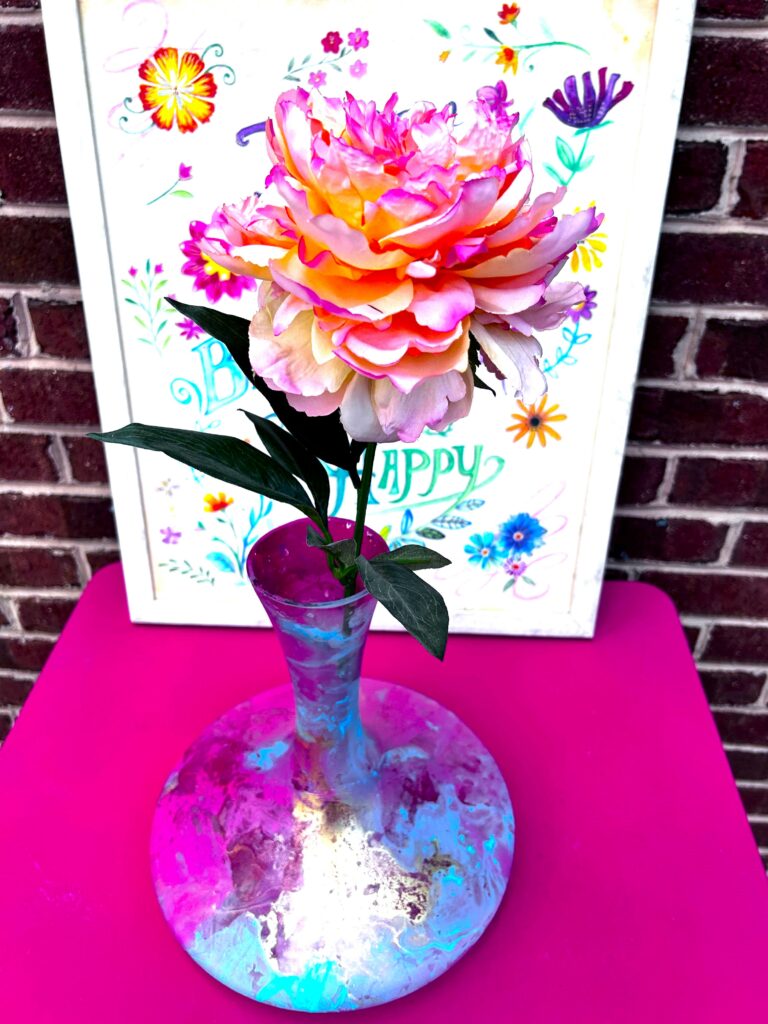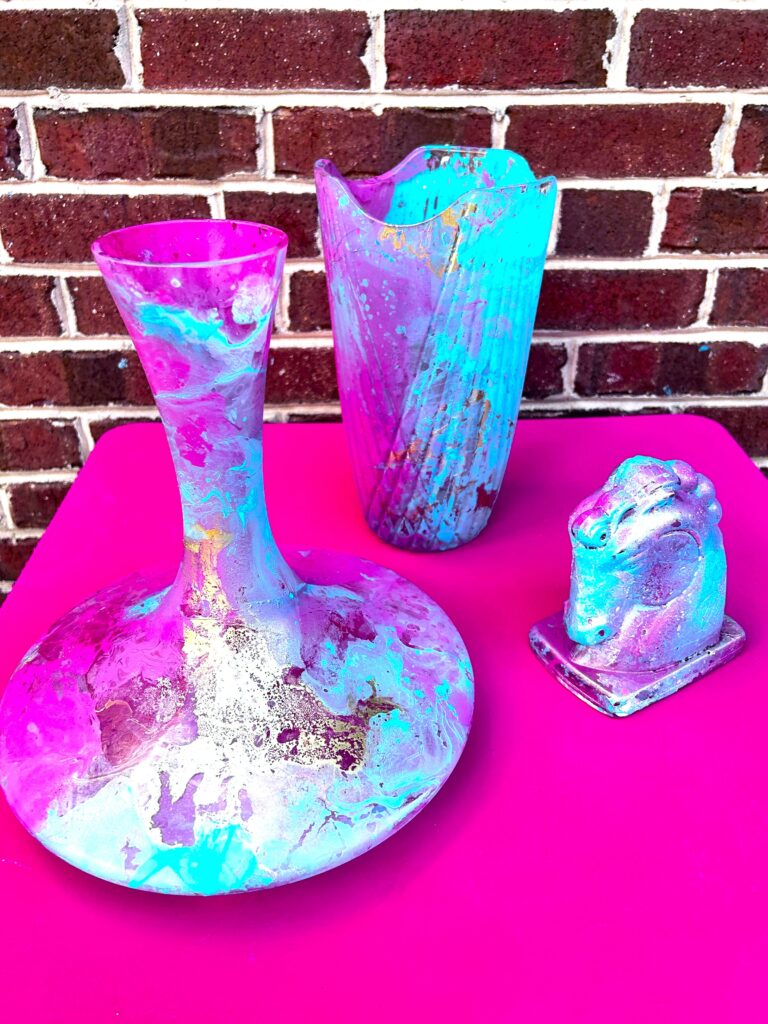 These dipped paint pieces will be sure to make you happy if you keep one or two for yourself, too, as you channel your inner-Barbie style!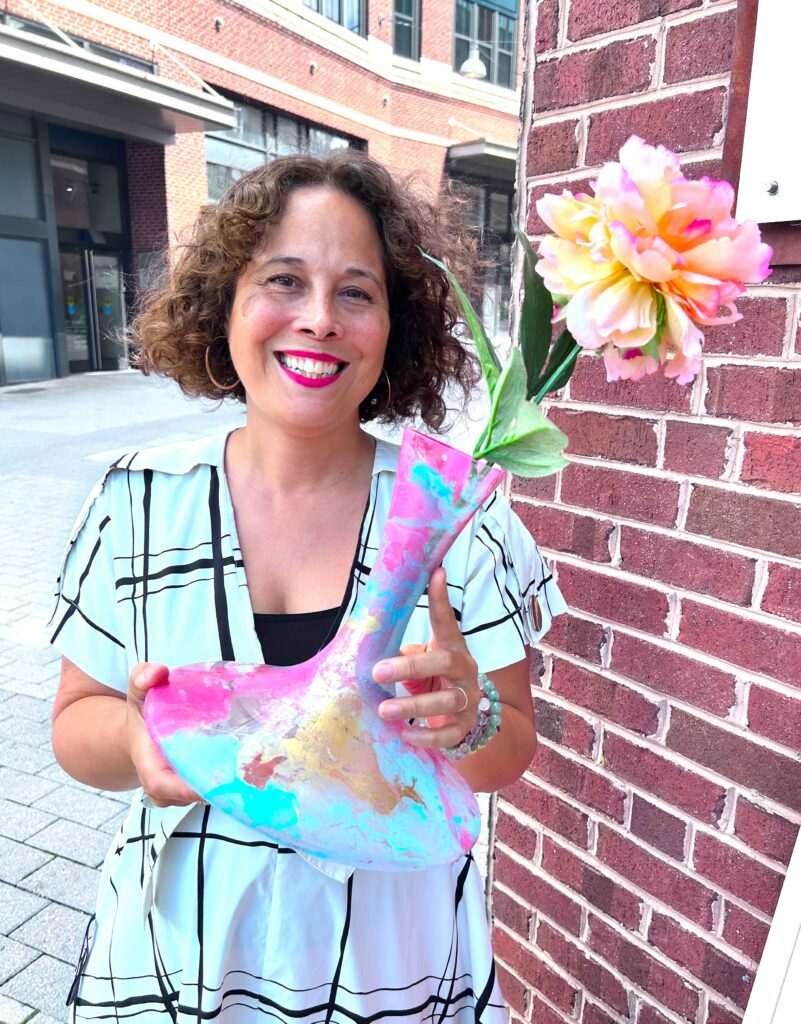 Similar Reads: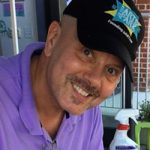 Tim Kime
Artist, Motivational Speaker, Life Coach
Tim Kime is an artist, life coach, and connector. He is the President of Kime Leadership Associates, offering executive coaching, meeting facilitating, and motivational speaking. He is also the Chief Creative Force of Transformation Junkies which upcycles furniture and other household items into functional works of art. He combined his two passions—unleashing the potential in people and transforming items with the launch of the Art of Possibilities Workshops. These workshops are part upcycling, part dreaming, and part goal setting.