Despite having the rainy week blues, my vibrant outfits helped to lift my spirits and increase my confidence, even though, my stylish pieces were often worn under raincoats (ha!).
Last Sunday afternoon was quite a rainy one, but despite the weather, I was able to unleash my inner 80's rockstar at my band's second show. I just couldn't let the rain take away from our performance – Effemme is not only about giving DC the sounds of throwback hip-hop, we're about showcasing them through fashion too!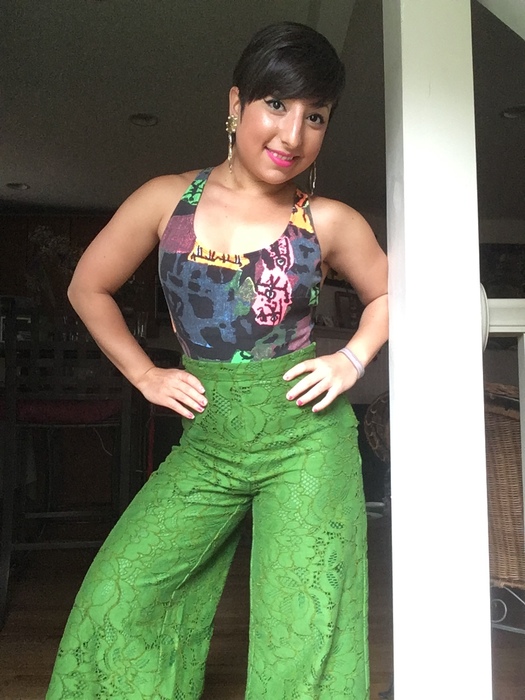 For our performance, I assembled a color-saturated, electric look in which I took cues from contemporary fashion and quintessential 80's aerobic wear. While composing a summer Sunday outfit, I had the bright idea to wear one of my swimsuits as a leotard! Much like in my previous post, I got a seamless tucked-in look which also felt humidity proof all day!
There were two main focuses of my look:
My Goodwill NWT (new with tags) 80's neon leotard with a crossed back. This is so Olivia Newton-John, I love it.
My contemporary green lace palazzo pants
These two items paired together created a modern-Madonna look that kept me comfortable, yet hot-to-trot while dancing and rapping rhymes.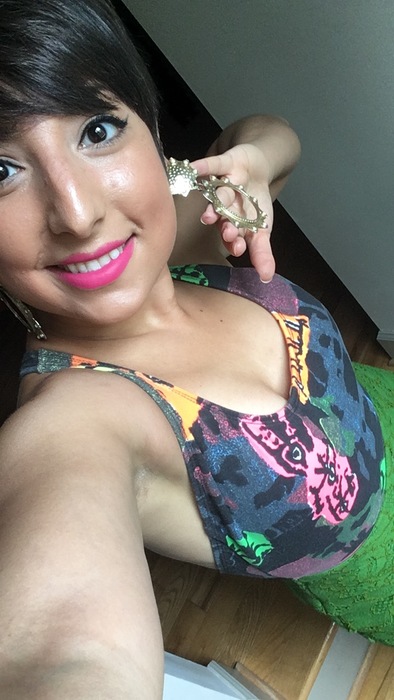 The main reason why these pieces worked so well together, despite their wild textures and patterns, was because of the green elements throughout my look. The top/leotard, although loudly patterned, contained splashes of rich green elements – which perfectly matched my structured high waisted pants.
So if you are ever wondering how to pattern/texture mix, try picking pieces that both have a unifying color. Even though prints can seem quite different, one color through an entire look will keep the eye smoothly looking and up and down an ensemble.
Curious to know the breakdown of my look? I'd be happy to share where everything came from! My outfit consisted of:
Vintage swimsuit: $5 Bowie Goodwill
Green Pants: H&M
Gold hoop earrings: Vintage
Talk about a steal! The authentic vintage swimsuit would have cost at least $20 at a trendy boutique.
What do you think of my vintage-inspired rainy day performance look, readers?