I am so thrilled, my fellow fashionistas, to let ya'll know I am finally working back in DC! I've recently taken a new position with a company that has an office on M Street and I love being back in the city. If you've been following me for a while, you know that I am frugal fashion lover. And you probably know that I fell in love with Goodwill shopping through my need for office wear on a budget. Now that I've started a new job, it is a better time than ever to put some focus and energy into my professional look. So, today I'm kicking off this fresh start with an affordable and chic office look for under $20.00 comprised completely of Goodwill finds.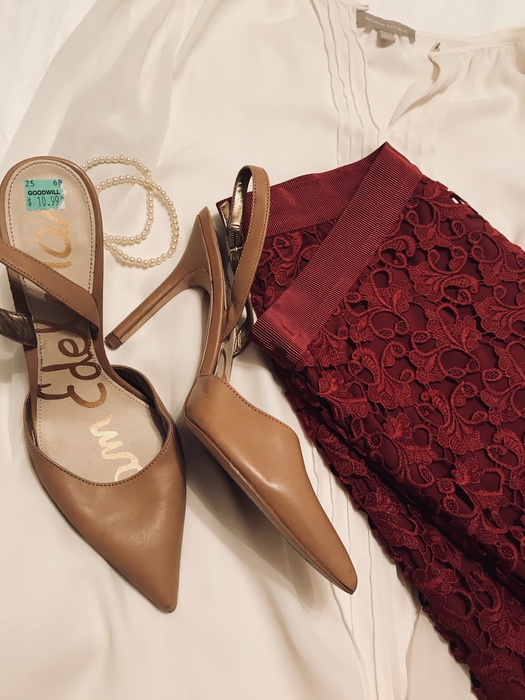 Blouse: This is a perfect closet staple. Made by Banana Republic, the top is conservative and professional, but the pleats down the front and gold button at the neckline make it impeccably elegant. Purchased at Kings Highway Goodwill for $5.99.
Skirt: This skirt is made by Ann Taylor. My secret tip when purchasing a pencil skirt? I like to grab a "tall" size when I can find it. Even though I'm average height, I find a below-the-knee length pencil skirt to be incredibly flattering when creating a curvy silhouette. Purchased at South Dakota Avenue Goodwill for $5.99
Shoes: I have a feeling these are going to be my new favorites, fashionistas! I scored these Sam Edelman slingbacks in the perfect camel color at the last month's Kings Highway Goodwill Meetup for only $6.00! The pointed toe and neutral color are versatile and classy. I'm currently hunting for the same pair in black!
Accessories: Pearl strand bracelets are a classic accessory. They're timeless and elegant. Best of all? They are super easy to find at Goodwill. I scored both of these at Columbia Pike Goodwill for $0.99 each.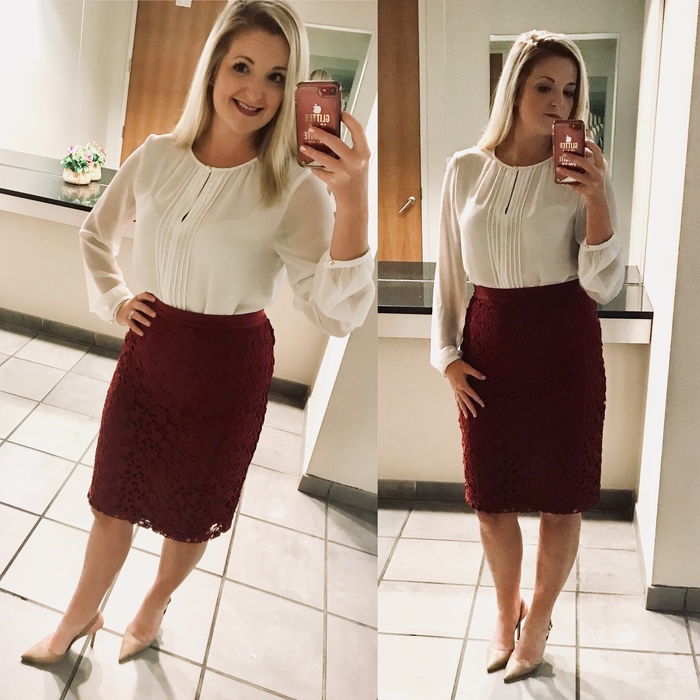 Total Outfit Cost: $19.98
So, there you have it! A pretty and polished professional look – comprised of amazing quality brands – all for under $20.00. If you're ever on M Street – hit me up. We can talk about frugal fashion over lunch at Cava! 🙂
Karen Wathen is a young professional and self-proclaimed "thriftanista." Her passion for fashion and her savvy spending habits make shopping second-hand one of her favorite hobbies. Wearing many (frugal and fashionable!) hats, Karen is a highly caffeinated Special Olympics coach, passionate community volunteer, amateur foodie, farm dweller, newlywed, and cheap wine connoisseur. When she isn't scavenging the racks at DC Goodwill stores, you can find her barefoot in her kitchen, blasting country music and cooking up locally sourced foods from her Southern Maryland community. Follow her on Instagram (@k_wattt) for a peek into her savvy life!