Fashionistas, my vintage bathing suit collection has EXPLODED. Unfortunately, I'm having trouble finding time to wear all my beauties!
While putting together a summer Sunday outfit, I had a bright idea to wear one of my swimsuits as a leotard! It is an excellent way to to get a "tucked in tank-top" look that is also humidity-friendly.
At first, I thought this might be an uncomfortable outfit decision to rock for an entire day. Would it give me a wedgie? Would it create an awkward restroom scenario? These questions left me reeling. However, after much thought and deliberation, I decided to give it a whirl!
Luckily, my decision was a good one and I stayed quite comfortable for the entire day. As a swimsuit, it left me feeling refreshed after a day of activity.
I decided to rock this retro vintage Coca-Cola bathing suit with a pair of vintage multi-colored striped shorts (found in the Children's section of Goodwill). At first glance, these items paired together seemed a bit ostentatious, but the coordinating reds and blues create a cohesive look.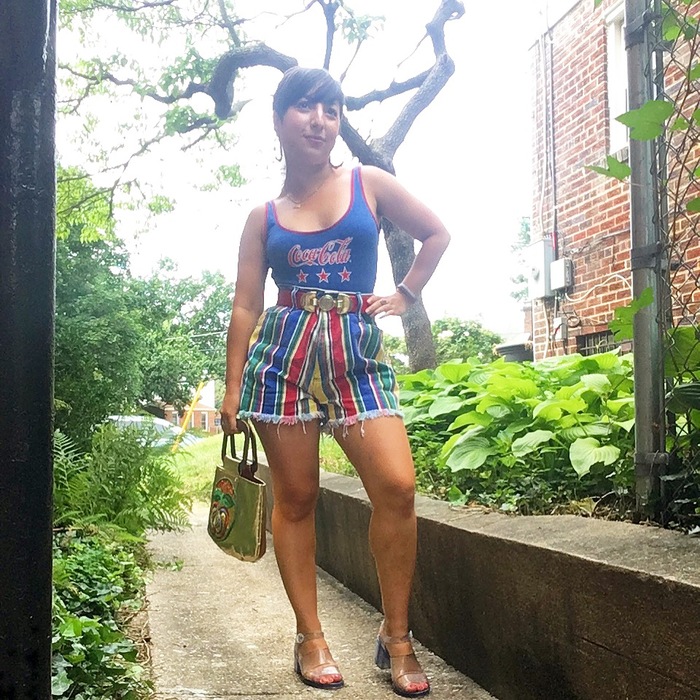 I also opted to throw in a solid red and gold mod belt. Not only does it coordinate with the red in the pieces, but it also helps to tone down the busy patterns.
As for other jewelry and accessories, I slipped on my gold bamboo vintage-style earrings. When I'm in a rush, this is my go-to pair that effortlessly helps to style any vintage-inspired outfit.
Curious to know the breakdown of my look? I'd be happy to share where everything came from! My outfit consisted of:
Vintage Coca-Cola bodysuit: $3 Gaithersburg Goodwill
Vintage striped patterned shorts: No brand, $4, Bowie Goodwill
Jelly Shoes: American Apparel, $15 – Online secondhand store
Gold vintage-inspired hoop earrings: Claire's
Outfit total (Goodwill items): Under $10! Wow!
Talk about a steal! The authentic vintage items in this look would have cost at least $20 each at trendy boutiques.
Would you rock a bathing suit as a top, fashionistas?