One of the best ways to make the most out of your wardrobe is to find ways to transform pieces in your closet. Taking staples and finding creative ways to change up their looks is a frugal way to stay fresh and fashionable. A trend I've been experimenting with this summer is knotting my tops. From soft longline tees and tanks to crisp button-downs, this trend has provided my looks with a fresh and edgy feel. Best of all, placing a simple knot in your top can create a beautiful silhouette and accentuate curves.
Today I'm sharing a couple looks where I've incorporated this trend to freshen up some of my favorite Goodwill finds.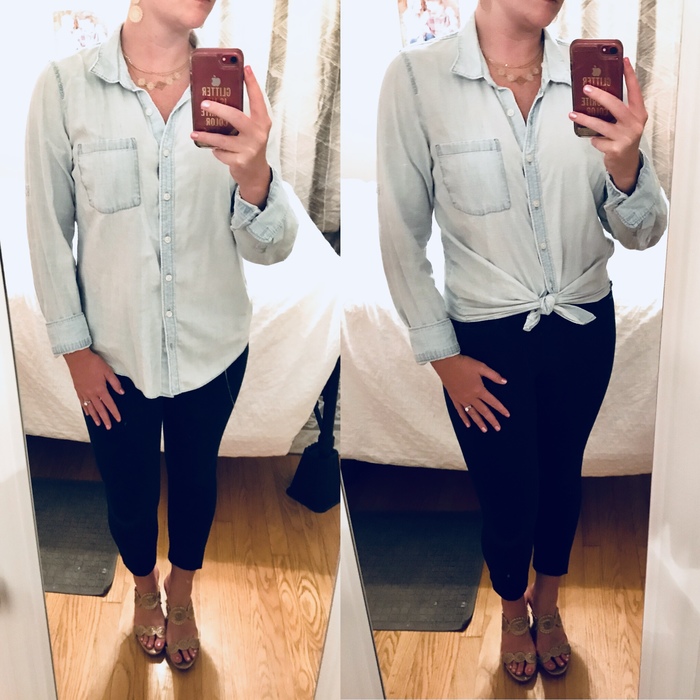 First, this J. Crew light wash chambray top ($5.99 at Goodwill) is one of my favorite pieces to play around with. It's great for layering, the color is a complement to mostly everything in my and best of all – it's incredibly comfortable. I knotted it over a pair of dark Pixie Pants from Old Navy. A perfect casual look that has just a hint more elegance with some definition in the waist.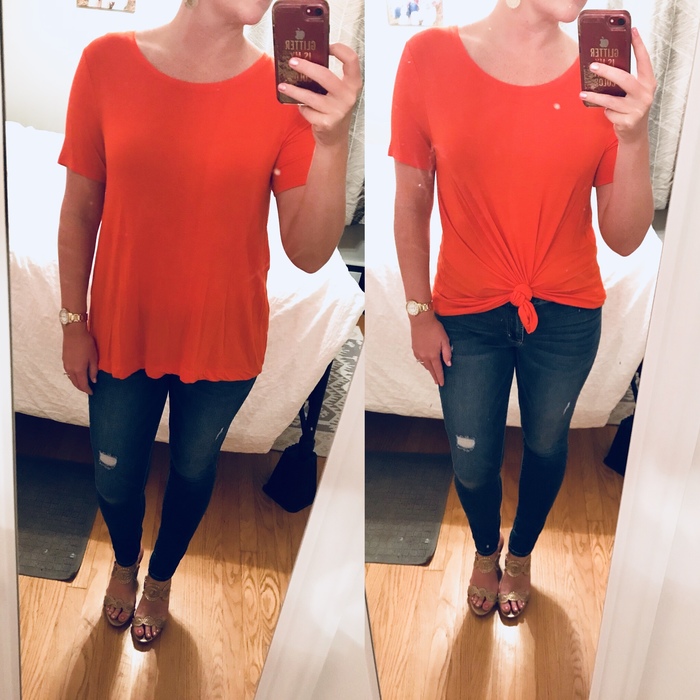 Second, this Old Navy swing tee ($3.99 at Goodwill) is a perfect candidate for knotting. It's oversized and boxy with an elasticity that is easy to gather and tie. You can create different looks by tying the top in the front center, side center or even in the back. If you caught my post about the Loft Lace Top – you saw one of my ways to style and transform it was to knot it in the back. This one, I simply pulled together and knotted in the front. Paired with a high waist jean – it gives a great curvy illusion around the waist.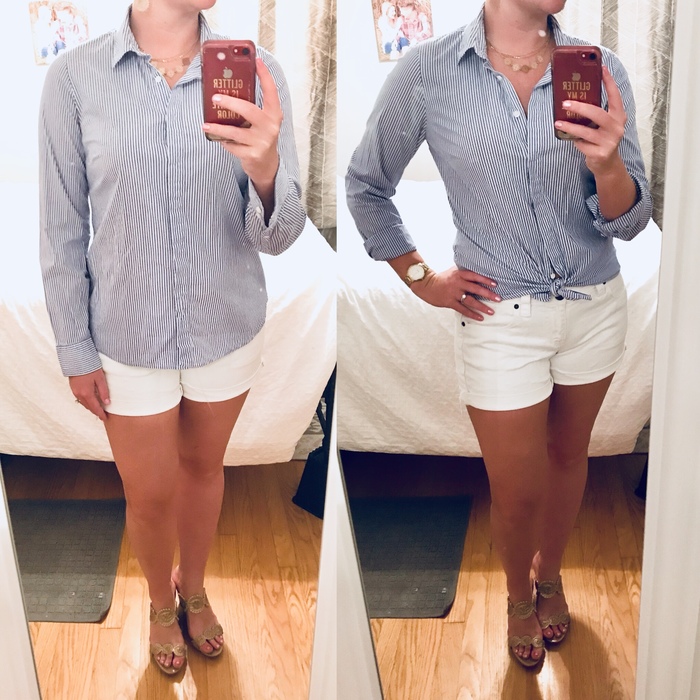 Last, you can even try this knot trend on a dressier style of button down. This J. Crew striped oxford ($5.99 at Goodwill) is an easy piece to tie. Simply unbutton the last few buttons (depending on the type of bottoms you choose) and knot the top. I paired it with a casual bottom – J. Crew white denim shorts ($4.99 at Goodwill). But it could easily be tied up over a pencil skirt or pair of ankle length trousers.
What a simple and cheap way to transform existing pieces in your wardrobe! Get creative and see what pieces you can give new life to by simply tying a knot.
Have you tried this trend out? I'd love to see how you've been rocking it!
Karen Wathen is a young professional and self-proclaimed "thriftanista." Her passion for fashion and her savvy spending habits make shopping second-hand one of her favorite hobbies. Wearing many (frugal and fashionable!) hats, Karen is a highly caffeinated Special Olympics coach, passionate community volunteer, amateur foodie, farm dweller, newlywed, and cheap wine connoisseur. When she isn't scavenging the racks at DC Goodwill stores, you can find her barefoot in her kitchen, blasting country music and cooking up locally sourced foods from her Southern Maryland community. Follow her on Instagram (@k_wattt) for a peek into her savvy life!