My patio furniture is comfy and functional, but it is also a little "blah." I found the perfect item at Goodwill to light up my outdoor space with style. With a little imagination and some solar lights, you can easily add a personal touch to your outdoor space too.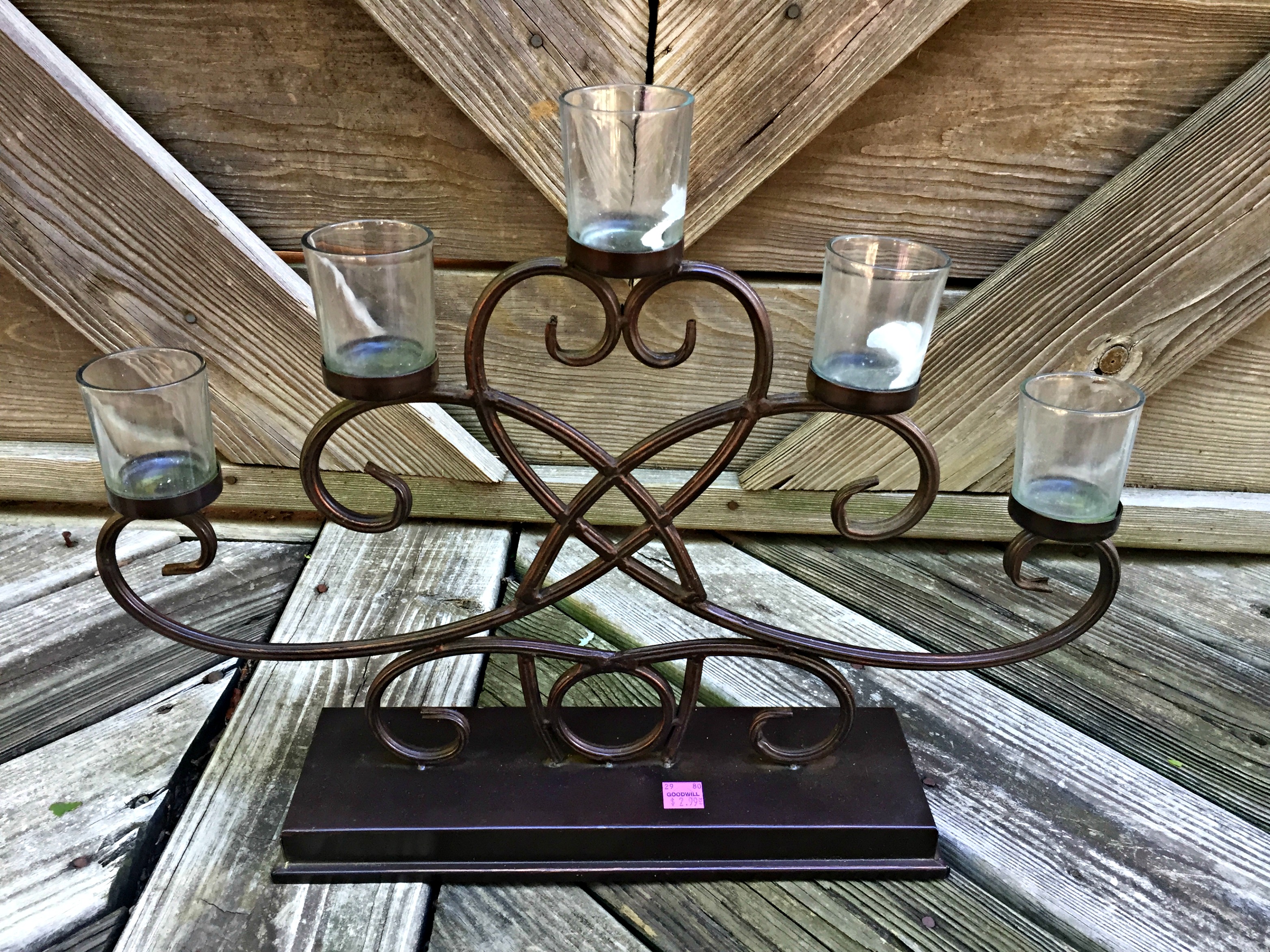 My DIY Solar Light was easy and inexpensive to make. I started with this candelabra I found in the Housewares section at my local Goodwill store for $2.99. I loved the intricate details and knew it was the perfect size for my little outdoor coffee table.
I wanted a juicy burst of color against all of the browns on my deck and patio cushions so I chose a fun color called Key Lime to spray paint the candelabra. It's not a color I would normally choose for my interior home décor, but outdoors is a fun place to experiment with bolder colors.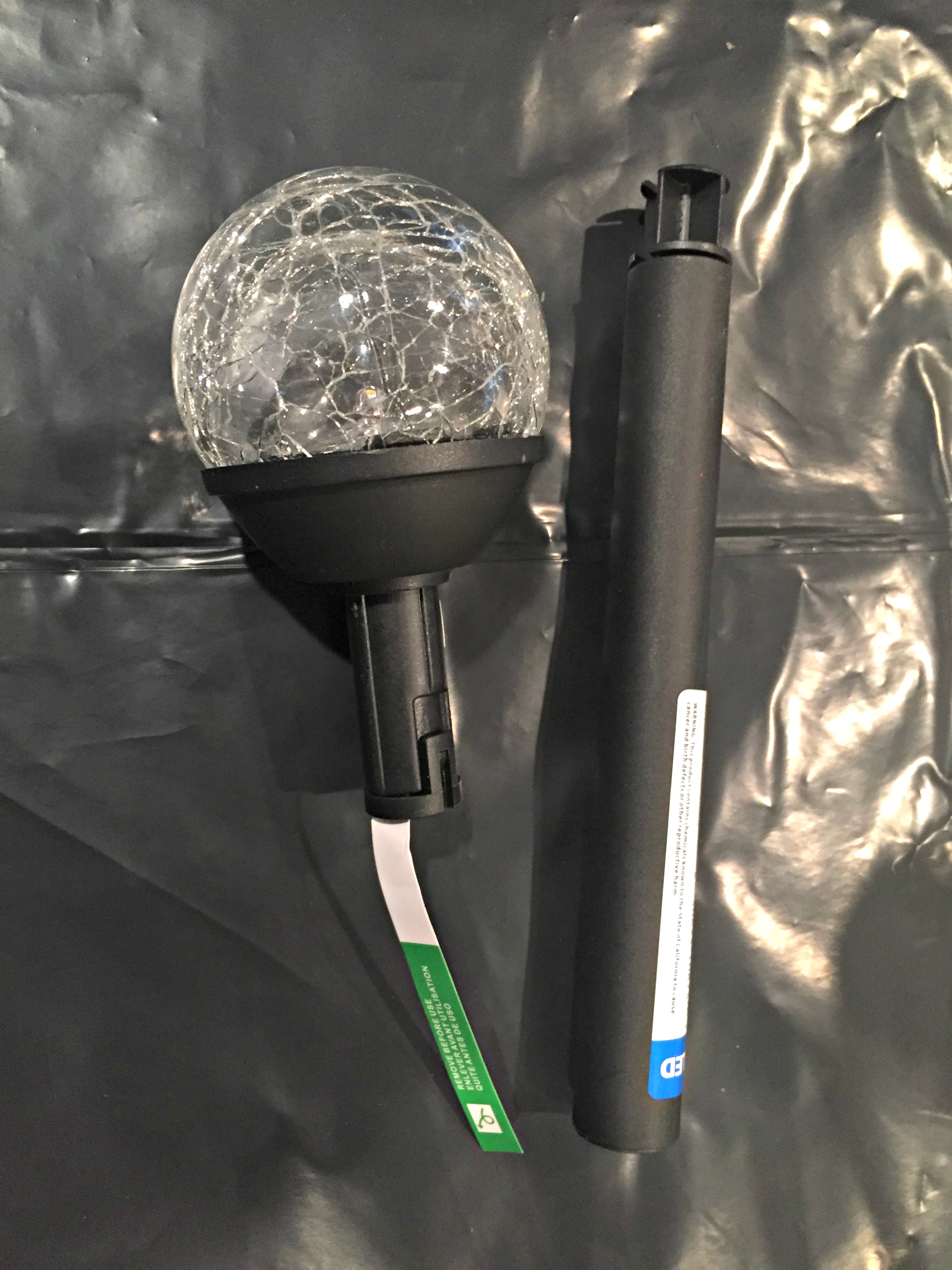 Solar lights come in different sizes and styles. The most inexpensive ones cost around $1 each, however, those did not fit my candelabra. You may need to try out different sized lights to find the match for your item. These round lights cost about $2 each and fit my candelabra perfectly. I love how they look like mini disco balls!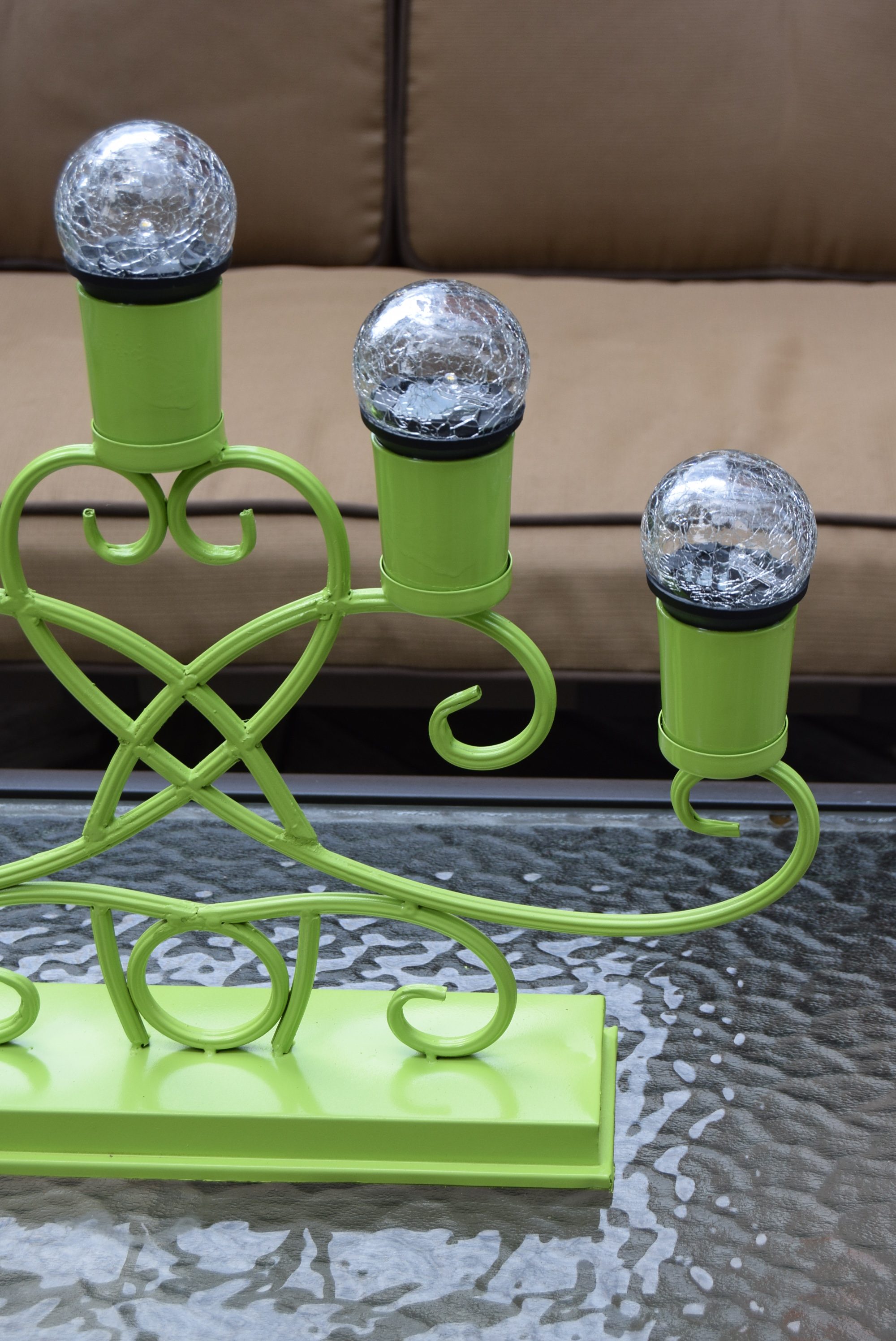 After the candelabra dried completely, I removed the stakes from the solar lights and glued them on top of the candleholders with heavy-duty, waterproof craft glue. Be sure to pull out the tabs to activate the lights before you glue them in place.
Goodwill has so many items you can find to upcycle into solar lighting. In the Housewares section, look for candelabras or funky, clunky candlesticks you can group together. Or check out the Lighting section for chandeliers and old lamps. They may not match your interior home décor, but outdoors is a whole other world.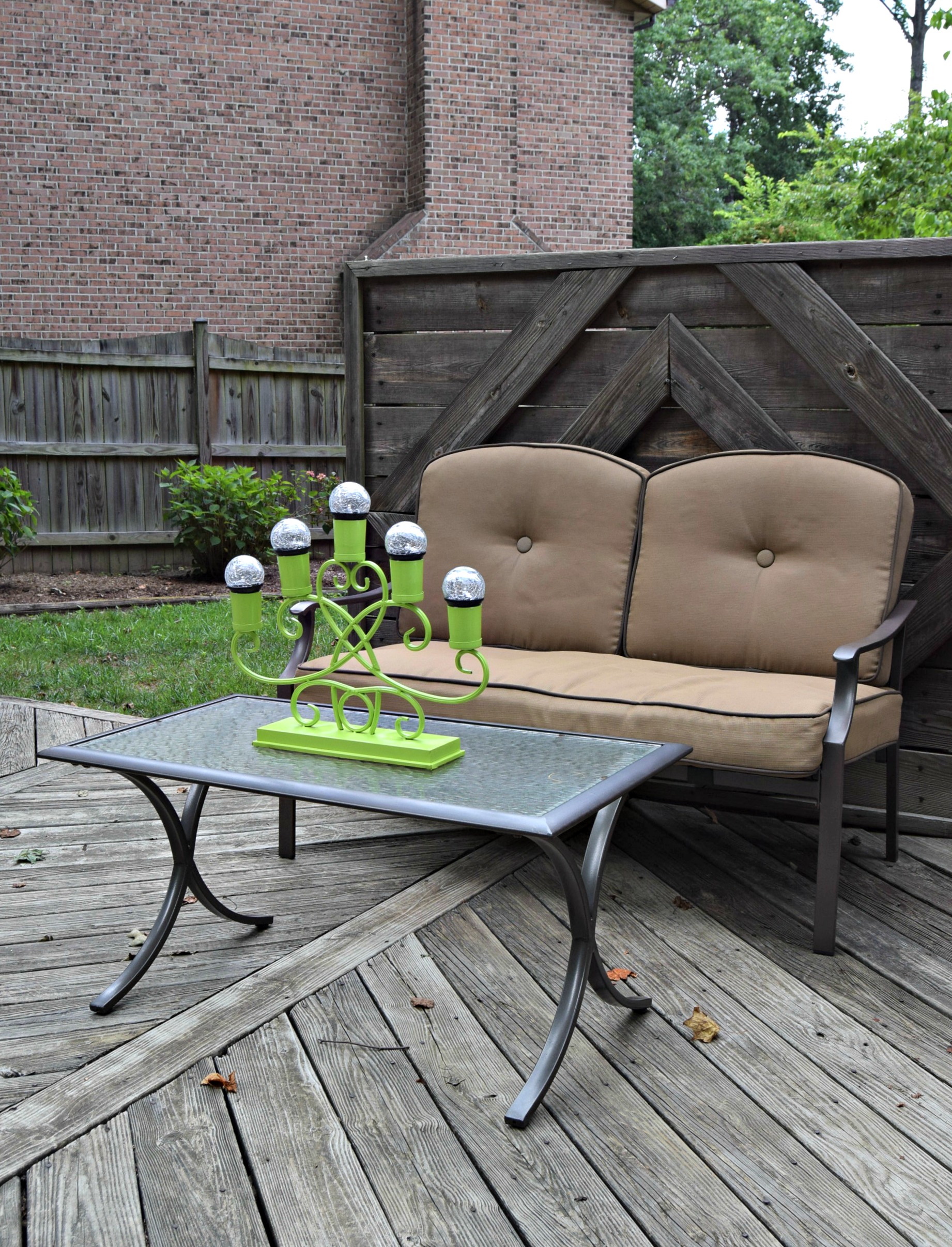 Start by removing the lamp's wiring and painting it a pretty color. (Or don't paint it—that's up to you!) Glue some solar lights where the light bulbs should go and you have created a stylish, one-of-a-kind outdoor decor for your home.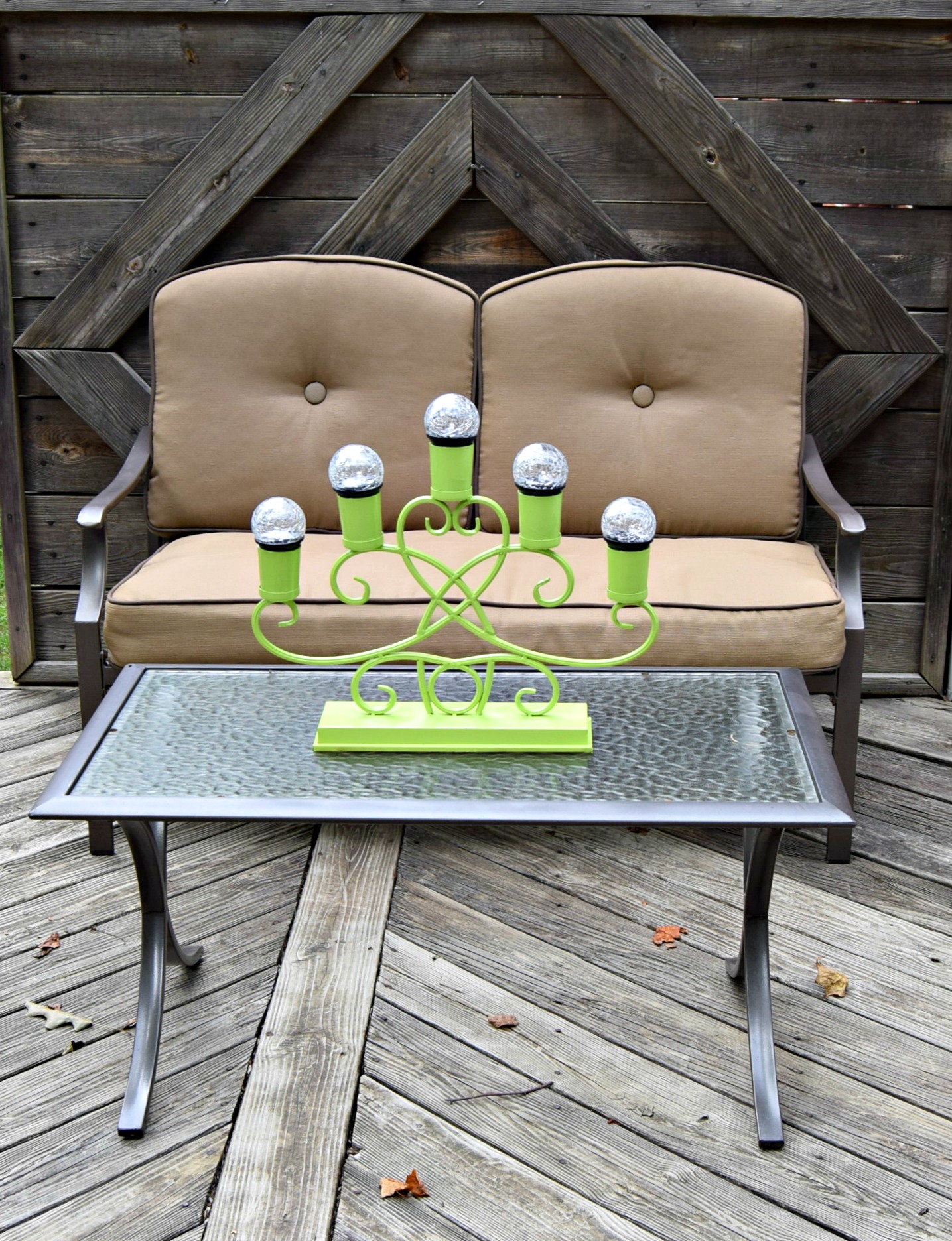 There's plenty of summertime left to enjoy a DIY Solar Light—and plenty of ways to make them reflect your unique personal style.
Courtney Mickalonis is an artist, teacher and treasure hunter at All Things New Again, her family's furniture and paint boutique in Leesburg, VA. She finds old furniture that nobody loves anymore and makes it beautiful—and useful—again. Courtney teaches a monthly Learn How to Paint Furniture class at their Leesburg studio and hosts The Furniture Painting Friday Show every Friday at 12 noon on the All Things New Again Facebook page.