The Little Red Chair that Could — Bring Joy for Generations Past, Present, Future!
We all remember the childhood story, "The Little Train that Could," which featured a small engine that was up for a big challenge by being optimistic with its mantra, "I think I can, I think I can." You, too, will be successful when you apply the little train's motto for your DIY projects.
In this case, all it took was a simple solution to preserve the past for the future. The solution? A fresh coat of paint that will continue a family legacy started some forty years ago. A well-loved child's rocking chair was worn out from all the little bodies that rocked in it over the years. Rather than discarding it or totally transforming it, a thoughtful Grandmother wanted to give it a new chapter for a new generation.
By using a cheerful, cherry red tone, the piece now looks like it first did all those years ago when her son, Dante, was a little boy.  I am so grateful that Adele enlisted me to help refresh this cute little piece so it will be enjoyed by her granddaughter, Amirah, and her future offspring.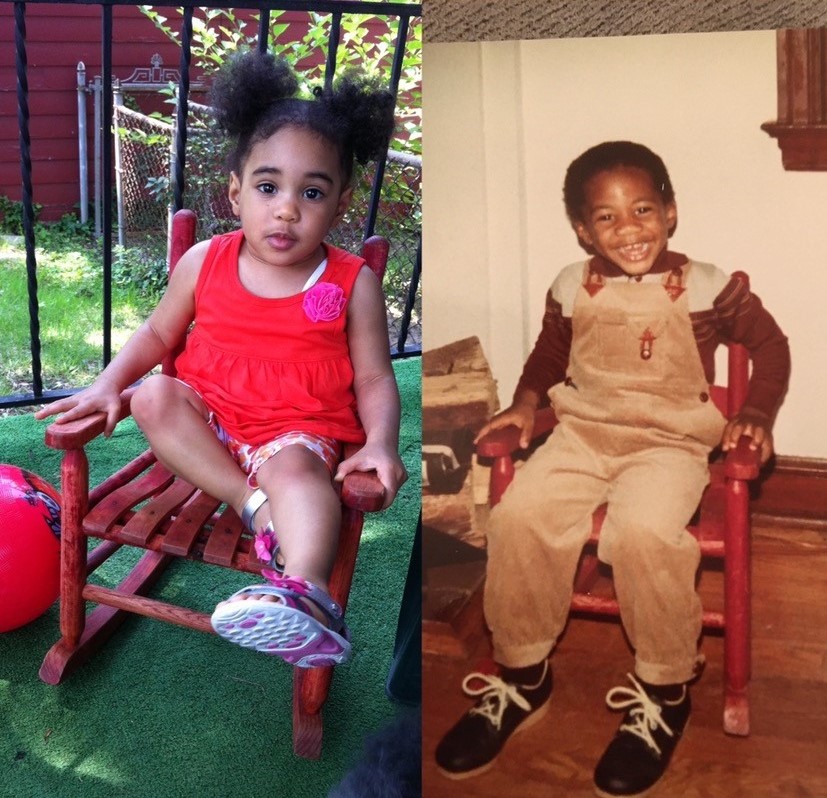 Here are the simple steps that took this treasured piece from sorry to special.
1. Prep for painting
With medium-grade sandpaper, buff up your piece to remove as much of the existing paint as possible. This will remove years of dirty finger prints and allow for your chair to be more painting-friendly. Don't aim for perfection by trying to strip away all of the current layer; just rough it up to smooth any peels or chips.
With a damp cloth, wipe your sanded piece down to provide a clean canvas.
Let it dry completely.
2. Color continues connection
Depending on the look and feel of your piece, your color choice might be an easy one. Rather than totally changing it with a different color, refresh your piece with the same tone. Given that Adele's rocking chair had been red which is works for either gender, we chose that hue and picked the brightest, happiest tone in that color family.
Brush on a very light layer over your entire piece.
Let dry well.
Flip your piece over on its side and add another layer.
Continue by placing it upside down and brushing more paint, with a gentle hand.
This piece took four layers to get it to the place that it looked brand new. And it was so worth the extra effort to ensure it was looking its best!
3. Place and be pleased
Be sure to place your refreshed piece where it will be easily accessible by the little ones in your family.
And given its small size, you could move it to the room or spot wherever your loved ones gather.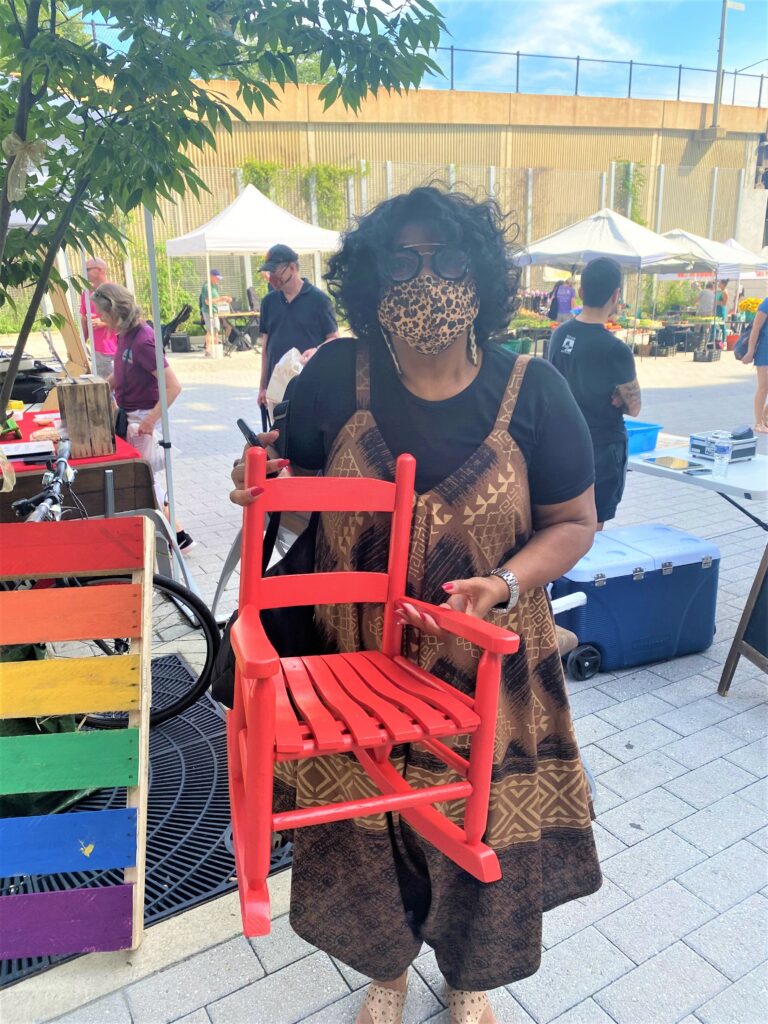 And to model Adele's tradition by taking photos of kids seated in it and enjoying it. We look forward to seeing photos of her great grandchildren and their kids rocking away in it too!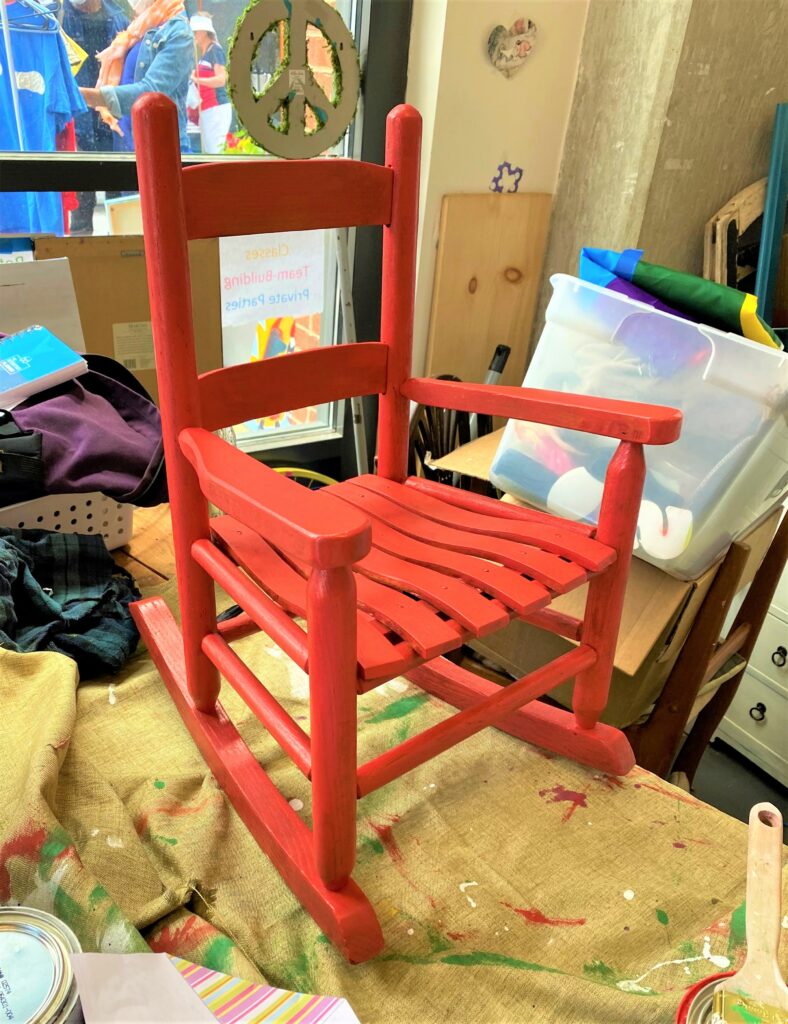 What heirloom or old pieces do you have on hand that a simple coat of paint could preserve it for your future heirs? Be like that Little Train and remind yourself that, "you know you can, you know you can" do it!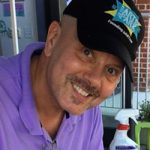 Tim Kime
Artist, Motivational Speaker, Life Coach
Tim Kime is an artist, life coach, connector. He is President of Kime Leadership Associates offering executive coaching, meeting facilitating and motivational speaking. He is also Chief Creative Force of Transformation Junkies which upcycles furniture and other household items into functional works of art. He combined his two passions—unleashing the potential in people and transforming items with the launch of the Art of Possibilities Workshops. These workshops are part upcycling, part dreaming, part goal setting.