Fashionistas, as you might have seen, I wear statement necklaces quite a bit. No matter what season it is a good statement necklace can spice up any simple or wild outfit.
During the fall, I especially like to whip out my gems of steel to add a nice touch to a collared shirt for work, or dress for a night out.
You can find statement necklaces at virtually any store, but I've seen an amazing amount at all the Goodwills I've been to. See here! They come in many shapes, sizes, baubles, colors, styles and length. Literally, there's a necklace for every kind of outfit.
Some of my personal tips and tricks for wearing statement necklaces include:

1) A good statement necklace can elevate any outfit. They're especially perfect for simple ensembles that need a little extra touch. If you typically dress more basic for work, a statement piece will bring some funk into your life. This blogger's outfit is simple, but uses a statement necklace to add some complexity. I'm loving the wild colors!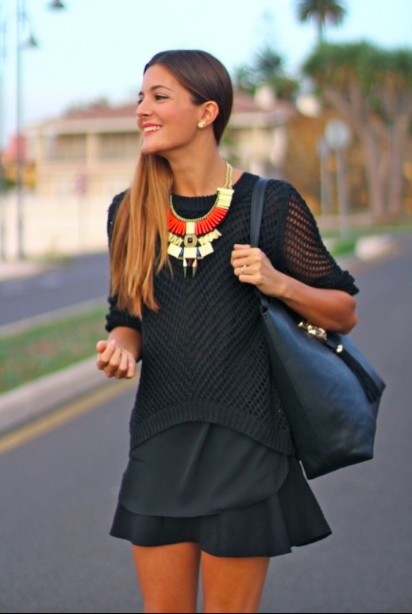 Image from Aleida
2) A nice statement necklace can also add a new element of color to a look. For example, if you are wearing a more funky all black look, a colored bauble beauty will add a color pop, just like a lip color might. This blogger is pulling it off well! The oranges and yellows add a new dimension to her look. Plus, I love how she ties her lip color to her neckwear.

3) A nice metal toned necklace can add some spice to an already spicy ensemble. I especially love wearing bib statement necklaces under collared shirts. It is very feminine and funky, yet classic and timeless. The key is finding a necklace with a long enough chain that allows you to wear it around a collar. I actually sport this look almost all the time. Just yesterday for work, I wore a vintage collared shirt, vintage statement necklace and a statement necklace for a preppy meets punk look. Then I threw on a wild faux fur vest to keep warm. The necklace definitely added a bit of bling!
4) Overall, with any statement necklace, make sure that it's not too heavy. Sometimes, there can be so much stuff on a necklace that it was cause chaffing or pain. So, beware!
5) Also, think of the colors that you wear the most. If it's black, go for a colorful statement necklace! If it's pink, maybe opt for a colorful turquoise or yellow one. The options are endless!
6) And finally, when storing your statement necklaces, keep them on a rack or on a dress hanger. These can be quite delicate, and you don't want to ruin them or have any baubles pop out. That was be such a big disappointment! 🙁
Have you seen any statement necklaces at Goodwill, readers? Also, how do you like to rock yours? I know I only covered bib-style gems. Do you like other kinds?