Today's My Goodwill Find is by a brand that I'm trying to bring more of into my wardrobe. In fact, I wish today's dress fit me! I'd keep it in a heartbeat.
You've probably seen the brand before but don't know anything about it: Vince. They're known for essential and classic pieces for both men and women, made with quality and a modern touch. The brand was founded in L.A. and has been around for I believe, over a decade. All of their clothing is very comfortable, flattering, and mod. Enough said!
The gem I bring to you today is an absolutely gorgeous dark gray sequins-all-over Vince dress, in a size small. The length is a bit short, so be sure to wear tights with this number on a cool fall night. Its above the knee, so it will show a bit of leg.
This dress is made of made of polyester and rayon; it also originally retails for $200+ and is sold at stores like Neiman's, and Saks. Can you tell I like designer items, yet? 😉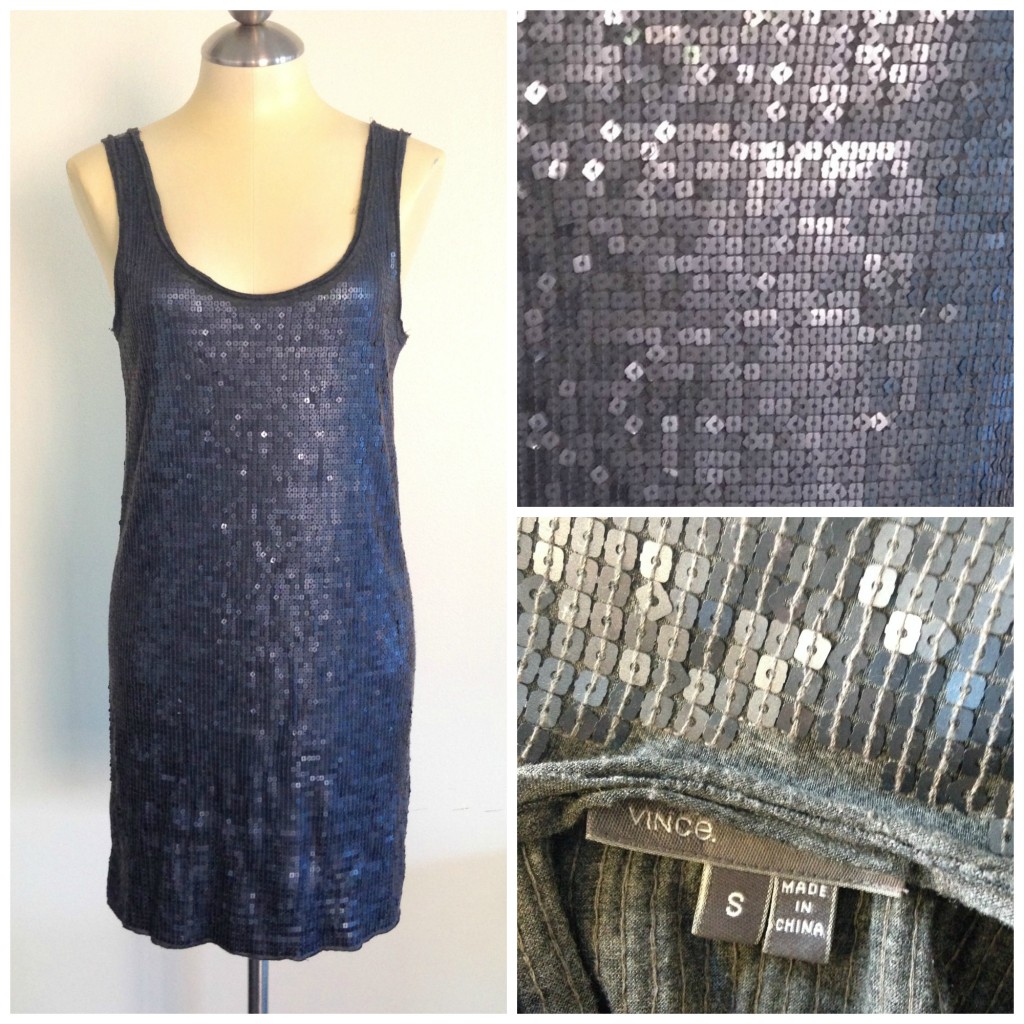 Today's dress would be stunning on a date night with your partner or girlfriends. Pop on a pair of black tights, a slick black jacket and you're all set for a night on the town. You'll look incredibly sophisticated with a hit of edge.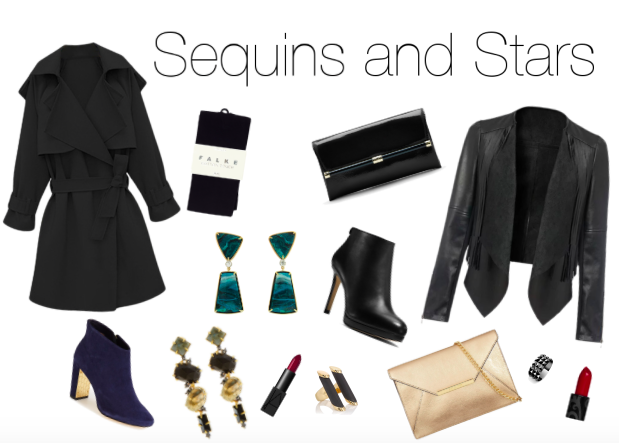 Image by Polyvore.
For an edgy look, I'd wear a black trench or blazer with leather elements. Then, for a fall evening, go ahead and rock some dark color or black booties with metal detailing. This will look a bit punky, yet attractive all at once!
With any bootie, I'd opt for a heel or wedge. This will give a flattering shape to your legs and a teeny bit of height. That's never a bad thing :)….at least for anything but your feet. Make sure what you wear is comfortable though!
As for handbags, a nice clutch is always suitable for a date night. They can get annoying to carry, so make sure it has a tiny strap that you can tuck inside, either way, don't lose it!
If you're going to add any color to the outfit besides with shoes, do it with handbags or jewelry. A fancy looking deep colored red, purple or green dangly earring will add a new element against the subtle gray sequins of today's dress. If you don't want to add color, gun metal will work well with the dark gray of the dress nicely. They're similar colors and won't look too showy or shiny.
As always, on a cold night, wear a pair of plain black tights. Sheer or opaque – it doesn't matter. As long as you're keeping those legs warm. If you're feeling very bold, a fair of patterned fishnets could be spunky and unique. Go ahead and try it; what's the worst that could go wrong?
And finally, to really bring a level of sass to this sequin beauty, a lip color will never do you harm. Deep reds or pinks would look very attractive and effortless. I personally love Wet n' Wild and Revlon products. They're affordable and are very bold.
How would you rock today's dress fashionistas? Slick shoes, a colored clutch?