Fashionistas, I hope you had a fabulous weekend! Although it was rainy, a bunch of other fashionistas and I headed to the Goodwill Fairfax location yesterday morning for breakfast treats, bonding and shopping.
The store opened an hour earlier than usual (9am instead of 10am) for us shoppers to obtain the cream of the crop before anyone else that day. On top of that, all our guests received 25% coupons to use on their purchases yesterday, which made good deals even sweeter.
About 7-10 fashionistas attended the Meetup, making it a fairly big yet intimate bunch. With the 10 of us there we took over the store and all found plenty of treasures!

Not only did I see familiar faces this morning, I met some new ones too and connected with fellow gem-hunters from Instagram!
Easy Frugal Style
came out to the event (in the orange cardigan) and I was so excited to meet her! She has an incredible eye for style and shopping – in this picture she is trying on an originally $200+ Nic + Zoe cardigan. What a steal! On this trip, she also brought her mother, a budding Goodwill-lover as well.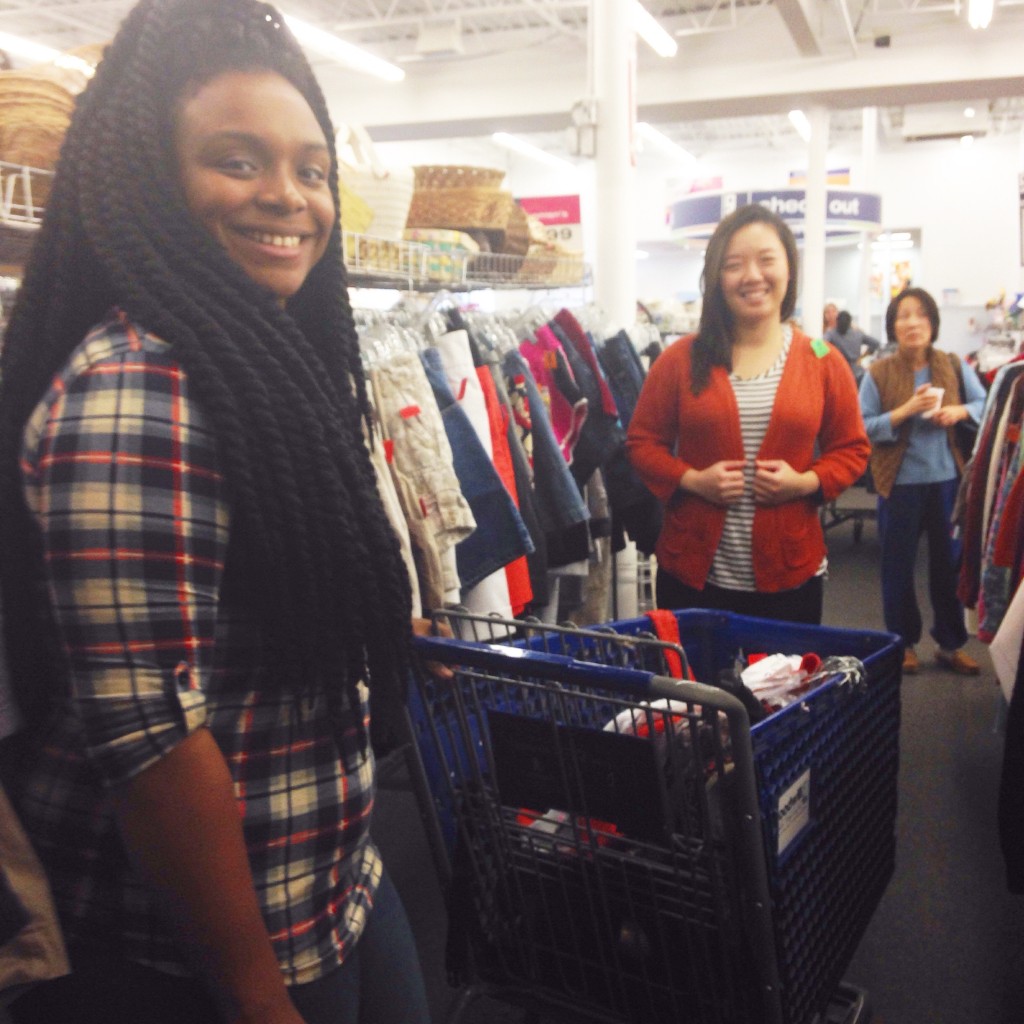 I also met this incredible and stylin' fashionista! As soon as she came walking in wearing a snazzy coat and a bold lip color, I knew she was a part of our pack! During her shopping experience, she picked up a suede blue dress with a belt attached for under $10. To the touch, it was extremely soft and luscious. To knock it out of the park, this fit her like a glove. It was made for her!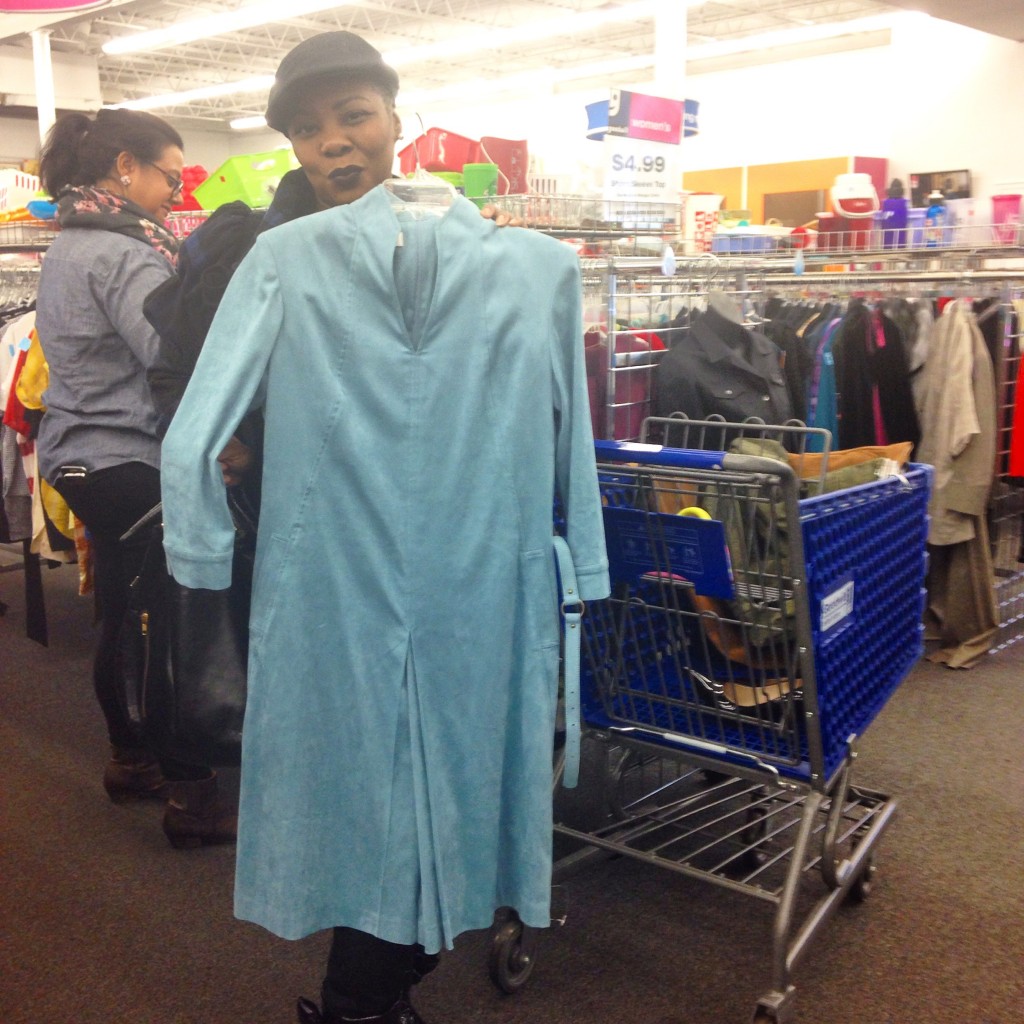 As I was perusing the dress racks, I noticed this fashionista's score from the corner of my eye. A vintage 1090's St. John dress with all of the monogramed buttons in pristine condition! This dress was made of sweater material in a rich deep red color. Originally I know it must've retailed for hundreds of dollars, for it is a classic brand known for it's luxurious pieces. They still manufacture designer gems to this day, but a vintage find is priceless!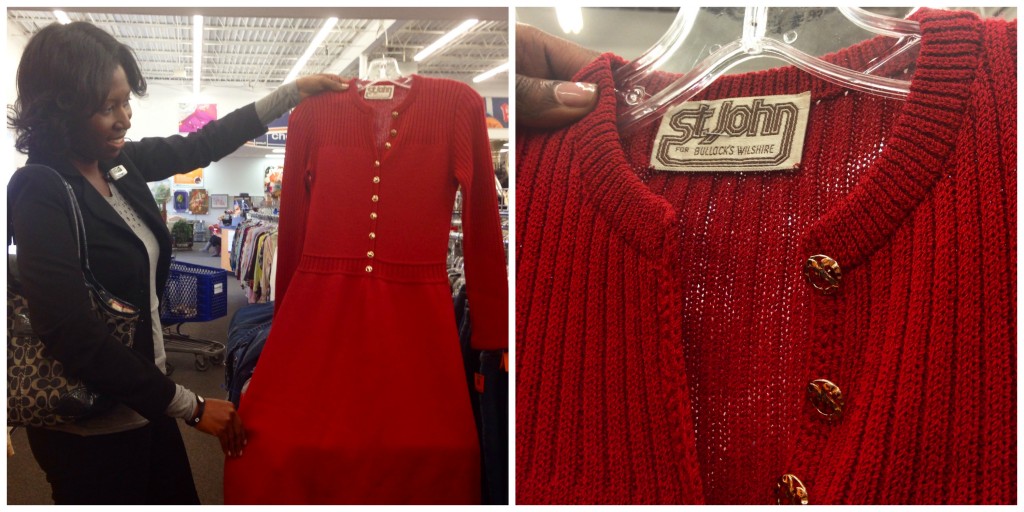 She also found some denim beauties as well, including these brand new with tags Citizens of Humanity skirt. When chatting, I learned she's a lover of Goodwill, but doesn't go that often. After seeing what she picked up on this trip, WHO KNOWS what she'd find at another location!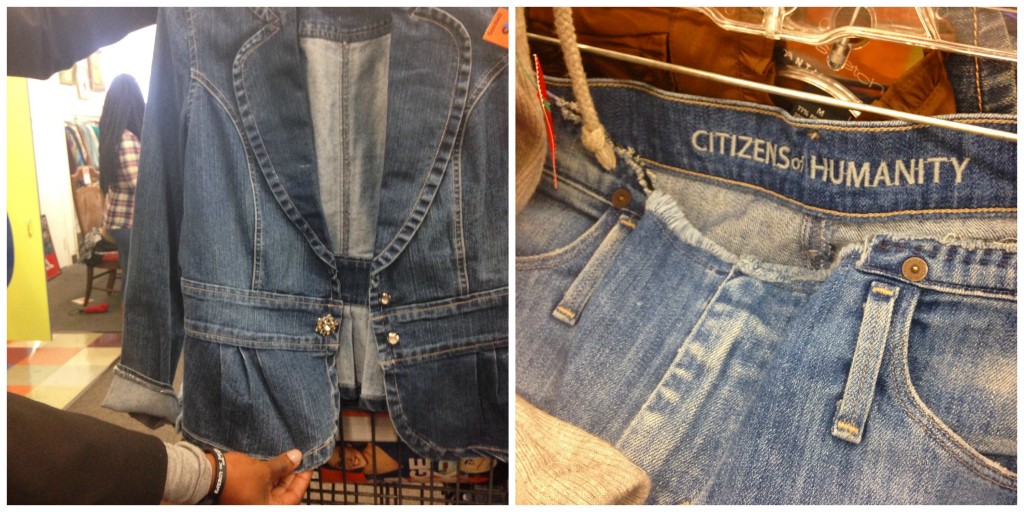 Sam, my friend and fellow shopper that I first met on a past Meetup, has a great eye for gems. On this trip, she picked up a pair of nude pumps and this art-like Sarah Coventry necklace, among a great collection of CDs. These pumps will be amazing for the workplace and have a small enough heel to be comfortable to walk in for longer distances. Under $20 right here, baby!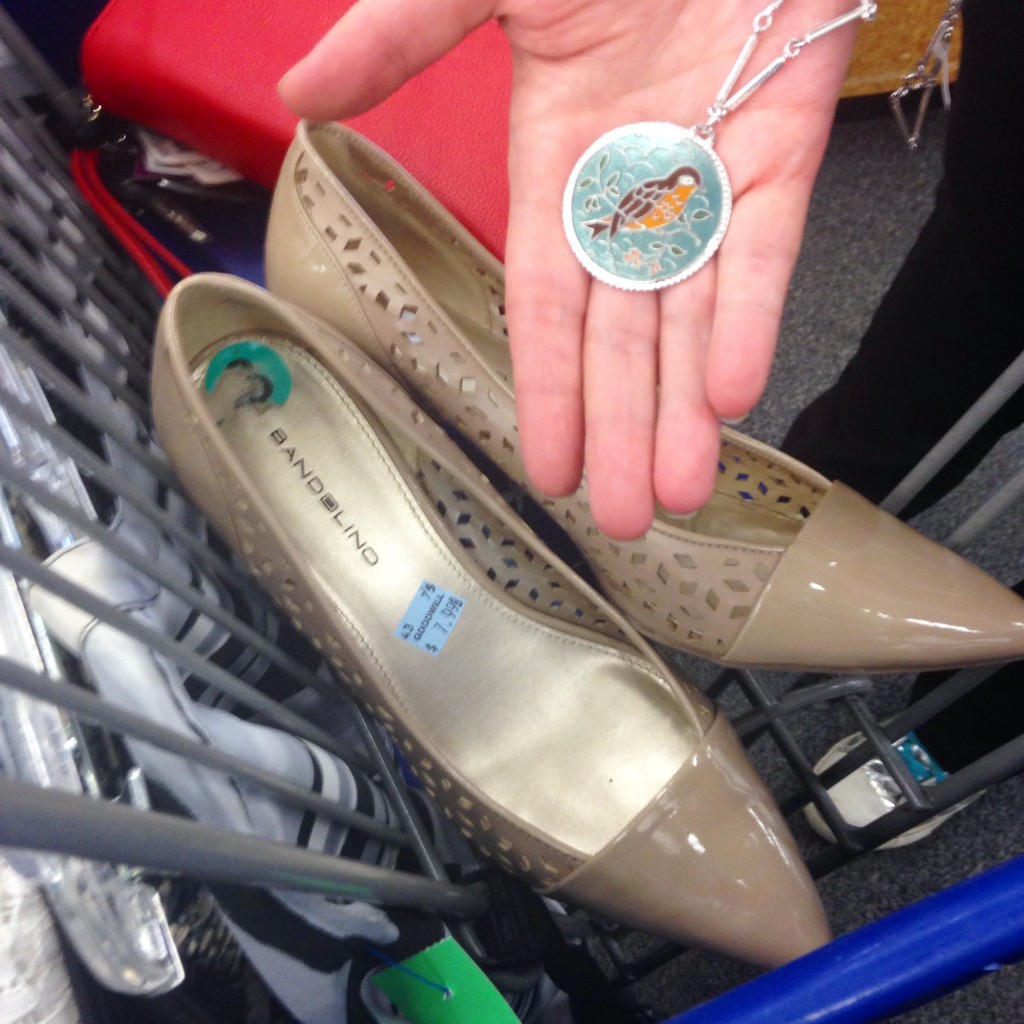 Because I had to, I snapped a photo of my two lovely ladies, Marika and Sam, with carts full of surprises. Eventhough, they met at yesterday's MeetUp, it seemed like they had been friends for a while! Goodwill always brings us girls together. 🙂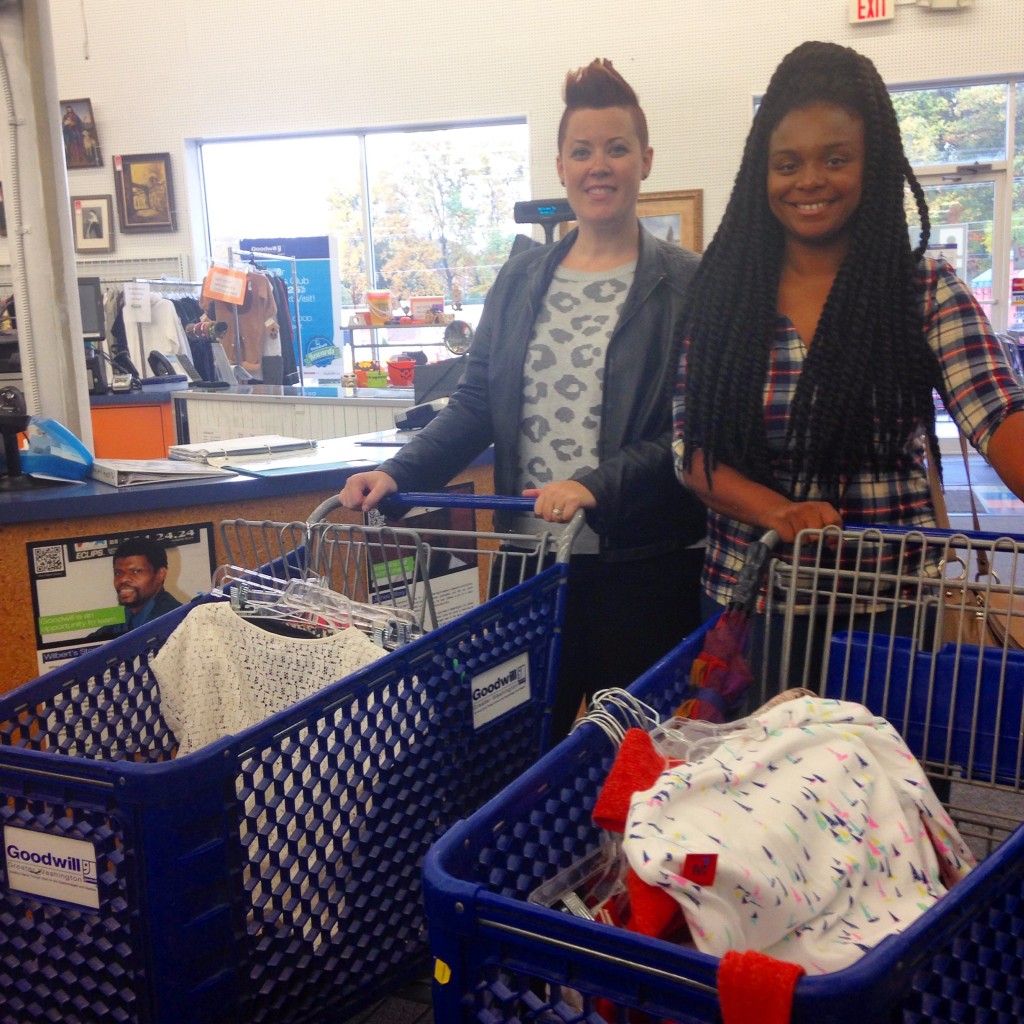 And last but not least, here are my finds for the Meetup. I was trying to not spend a lot (for I went to Goodwill on Saturday ;P) and still came out with some steals for under $15.
First, I picked up this J. Crew watercolor sleeveless top with fruit on it for $3. It was basically brand new and is sooooooo incredibly comfortable. The lemon bracelet on the right is a Goodwill find from Saturday's trip by Kate Spade! It goes perfectly with my Meetup score.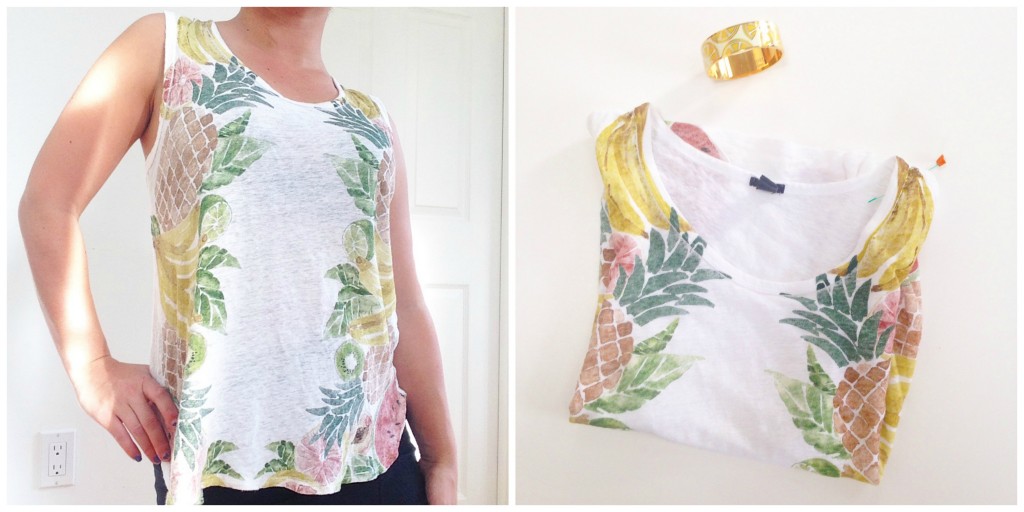 I also picked up this maxi type dress by H&M, practically new too! It's a little longer in real life than the picture, for the tights made it ride up a bit. I can see wearing this gem or to work (thanks Marika and Sam for convincing me!) with an oversized cardigan. It's so comfy, I could sleep in it!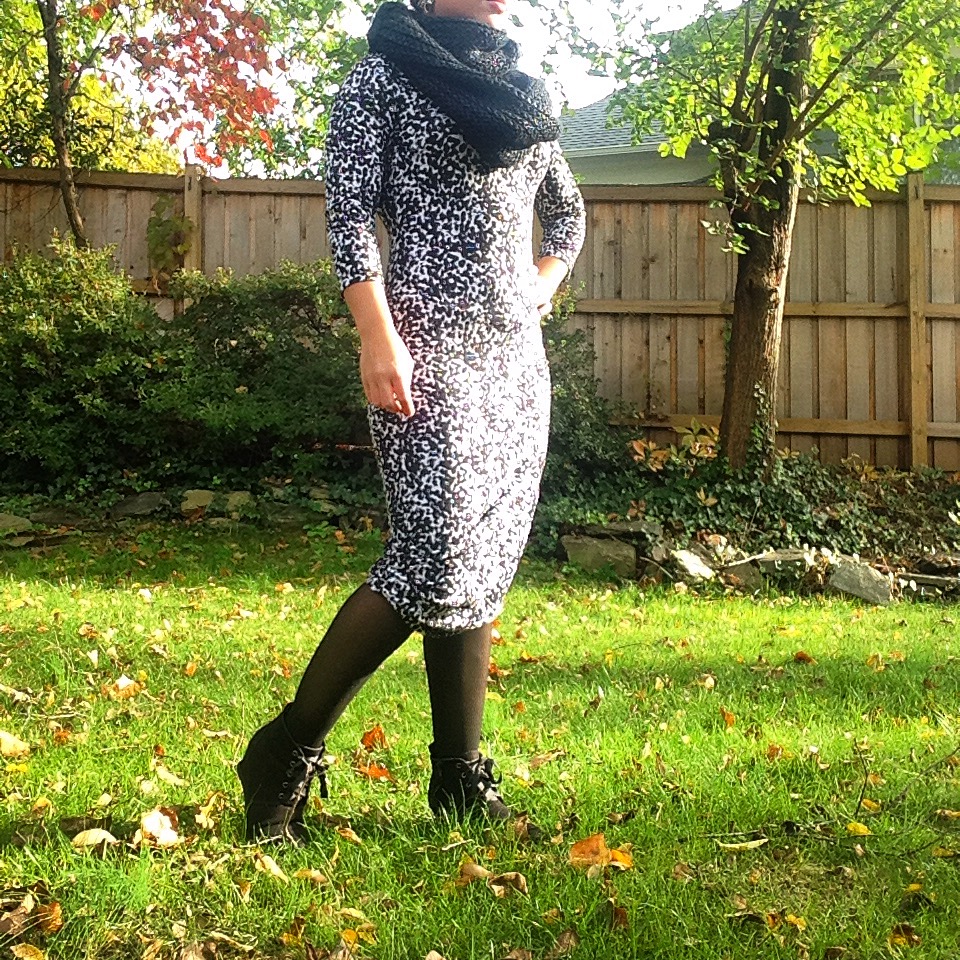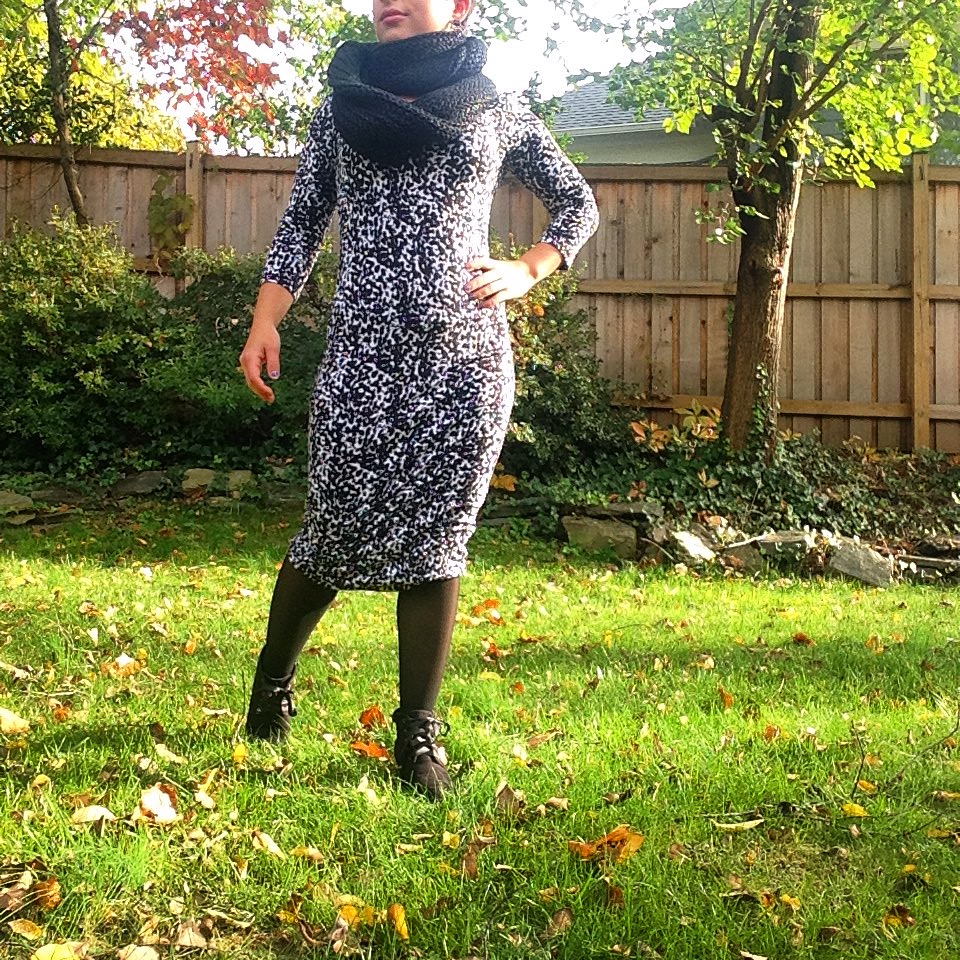 Overall, I had an amazing time on our Meetup. It's always such a pleasure to meet like-minded individuals who love style and shopping with smarts. There's honestly nothing better than shopping and meeting new people all while contributing to a great cause and providing job opportunities in the community. It is unparalleled.
 Next time, come on our next Meetup! I assure you, you won't be disappointed. Stay tuned for more details! <3