I've got a weakness for plainly safe pieces, dear readers. Not only because they're so obviously low-risk fashion choices but more importantly, because their versatile! At my recent Meetup at the Dale City Goodwill, I snagged myself two more key staple pieces that I just had to share with you today. Both of my most recent scores were snagged for under $8 and will make perfect pairs to my spring wardrobe.
My first find is a pair of patent Pour La Victoire wedges. First, these babies sold in stores for upwards of $169. I couldn't believe how expensive they initially were but that's probably because I got them for $7.99! They've got a cork wedge, which I adore. There's something about cork that makes it chic; it is a little more polished than jute espadrille styles but still casual enough to be paired with denim. Take cork and pair it with a patent nude and it becomes the perfect spring shoe. This pair features not one, but two, of my most sought-after details in a warm weather wedge. It is a peep-toe and a sling back! Perfect, right? I love a great peep-toe to show off my bright summery pedi and a sling back makes for a subtly sexy addition. These shoes are definitely going to be in at the top of my shoe rotation this spring (and summer, too!).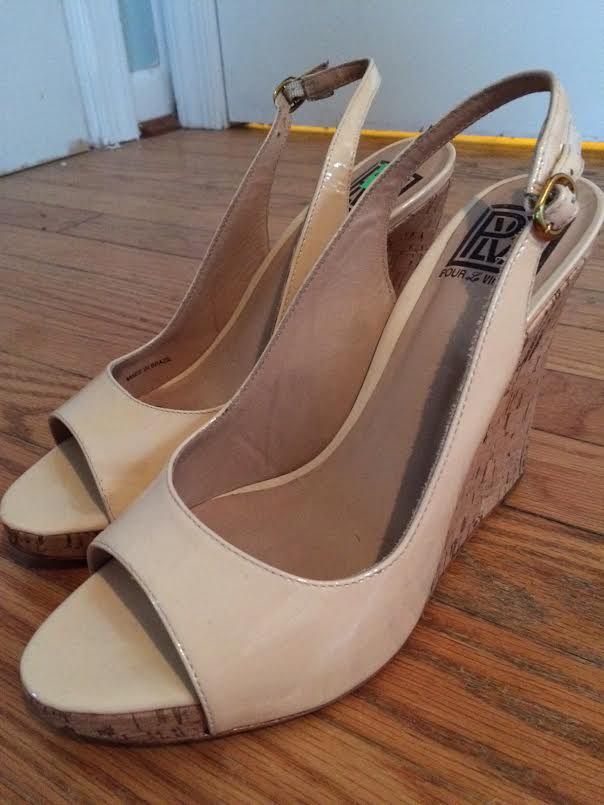 My second find is less significant but worth talking about for its underutilized versatility. I've got to admit, a lot of the fashion reading I do is centered around how to style with accessories better because it's definitely my weak spot. Don't get me wrong, I love all the bold baubles and popping printed scarves and belts, but I sometimes struggle with putting on those finishing touches. It's mostly because I'm rushing out of the house in the morning to make my unpredictable commute to work! I've been trying to put in more effort on those polishing points (like belts!). I spotted this nude patent belt at Dale City, VA Goodwill and for $2.99, I had to snag it. It's originally from Target and looks brand new. I'm estimating it cost $14.99 retail – so I did well! Accessorizing does not have to be expensive. I thought this piece would work well for both belting my trousers and also my dresses for work. Of course, with its solid neutrality, it will literally match everything. You've got to love that!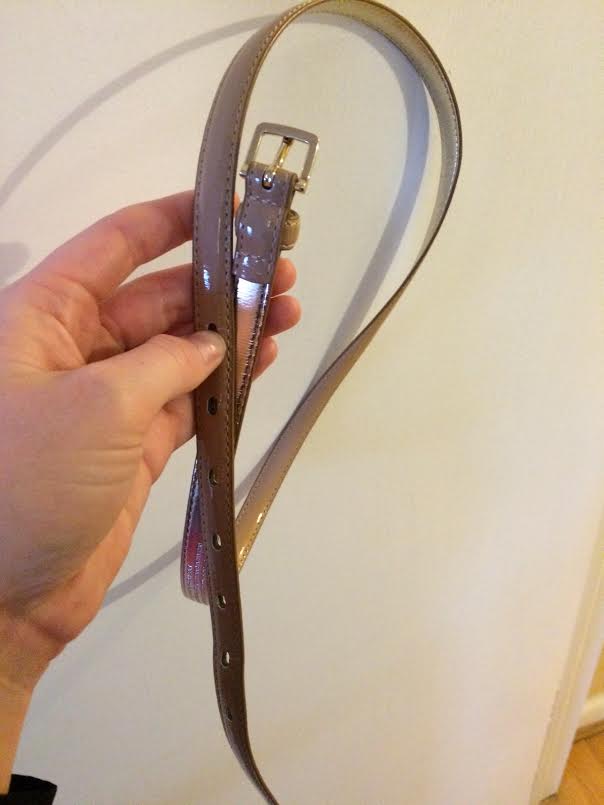 Stay tuned for my next new Favorite Thing from Goodwill in a few weeks. I always love this time of year because everyone is cleaning out their closets and the donations at Goodwill are especially amazing!