Dear readers, in a couple of weeks (October 25th to be exact!), I'm hosting my first Meetup as the new DCGF and I'm PUMPED!
In order to prep for the excitement, I visited the store that we'll be shopping at: our Fairfax location.
I'd only been to this store once before (earlier this year), and snagged great items; scores included a vintage dress, an Asos top and some other goodies. Despite having an already successful haul, I was crunched for time and did not have the chance to truly scour each section.
Because I itched for more, I hit the racks this weekend and girl, did I spot fabulous items. My experience and delight made me even MORE excited for our upcoming adventure.
So here's the deal: 
This store is a showstopper. It's located in a very convenient location, just down the street from Fairfax's notable Main St.
The store is pretty spacious and offers a wide selection of items ranging from inexpensive furniture to designer dresses.
Upon entering the store, I was struck by the amount of items this store carries. It isn't as big as the Dale City location, but it surely does have an abundance of clothing and shoes, as you can see.
The store is also pretty well organized with clothing sorted by size and type, housewares in their own section, and the furniture taking up a good part of the store. If you need furniture, this location is a place to hit!
When you also first enter the store, you're graced with a beautiful display case of jewelry. While I didn't find any this past trip, I look forward to perusing it again on the 25th.
I actually spent over an hour at this store, because I kept finding items that caught my eye. As you know, I'm a big shoe and label lover — I surely found an abundance of both.
These two pairs of shoes caught my attention. The gray ones had their original price tag of $80+ from Nordstrom! They were so cute and simple, but unfortunately didn't fit me.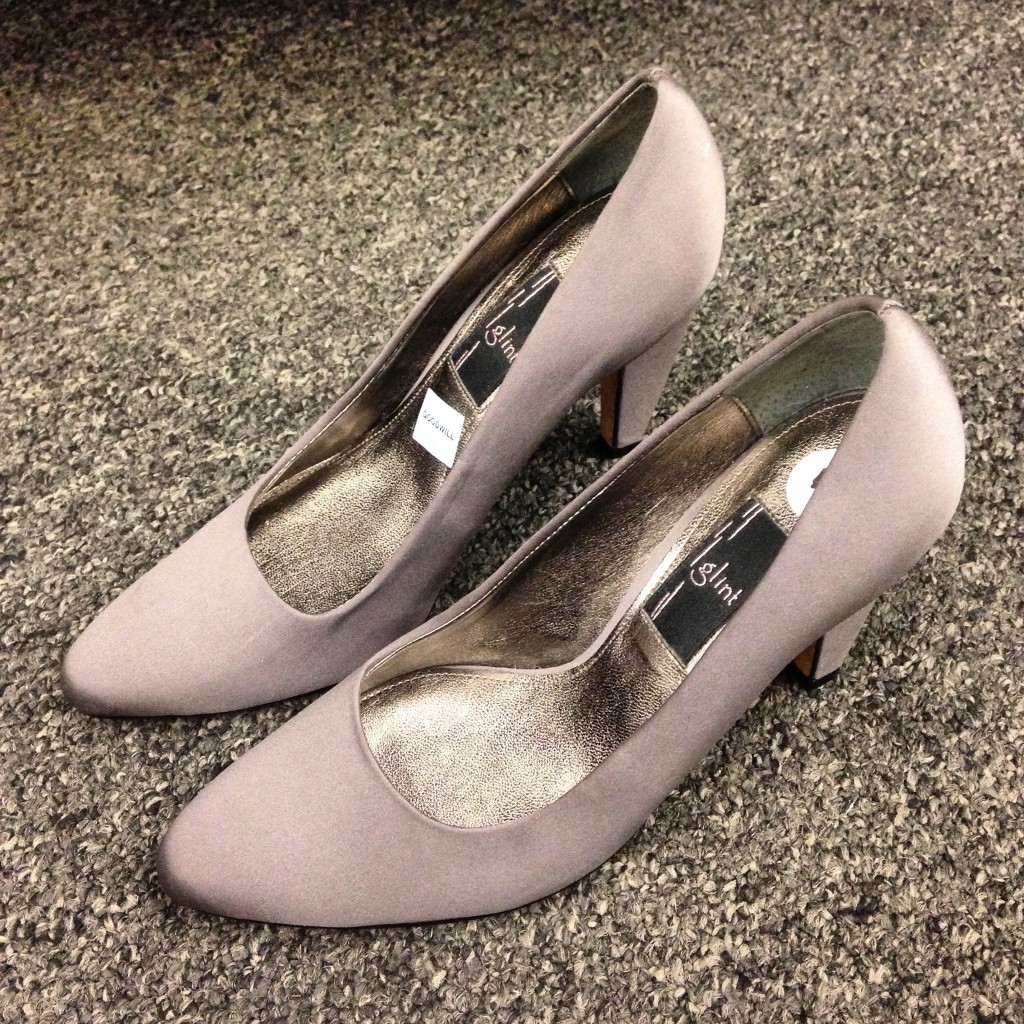 The black beauties made my jaw drop! They are incredibly perfect for the fall and could be worn with some funky tights. They were only priced at $8, and were practically new! It's too bad that they were not my size, otherwise they would have come straight home with me!
Now let's talk labels. This spot has an especially great selection of items because it's located in a very affluent part of Northern Virginia. I found TONS of gems at this store, totaling thousands of dollars. To prove it, take a look at these labels I spotted and took home. And this was only one trip! Who knows what we'll find at the Meetup!
This item wasn't a known label, but I love the sequins! The brand was by Blue Rain, a name that Francesca's carries. I regret not taking this beauty home. It was in perfect shape and all the sequins were in tact!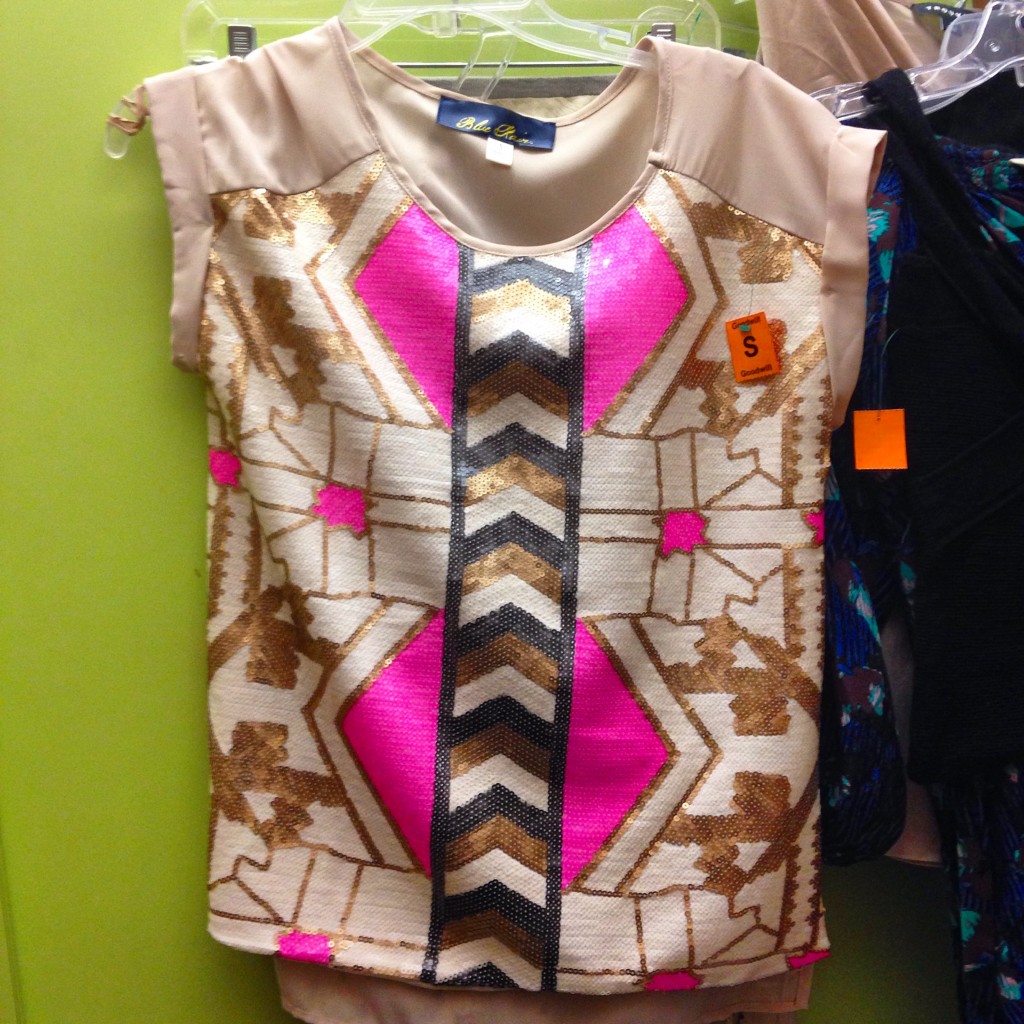 The last spot I hit in the store was the furniture area, which certainly didn't disappoint. You can find anything from bed boards, couches, chairs, desks, side tables… the whole shebang. I have a small car, so I couldn't take big items home, but this vintage chair was calling my name. It was under $20 and in great shape…..I should have bought it. 🙁 Oh well, it happens!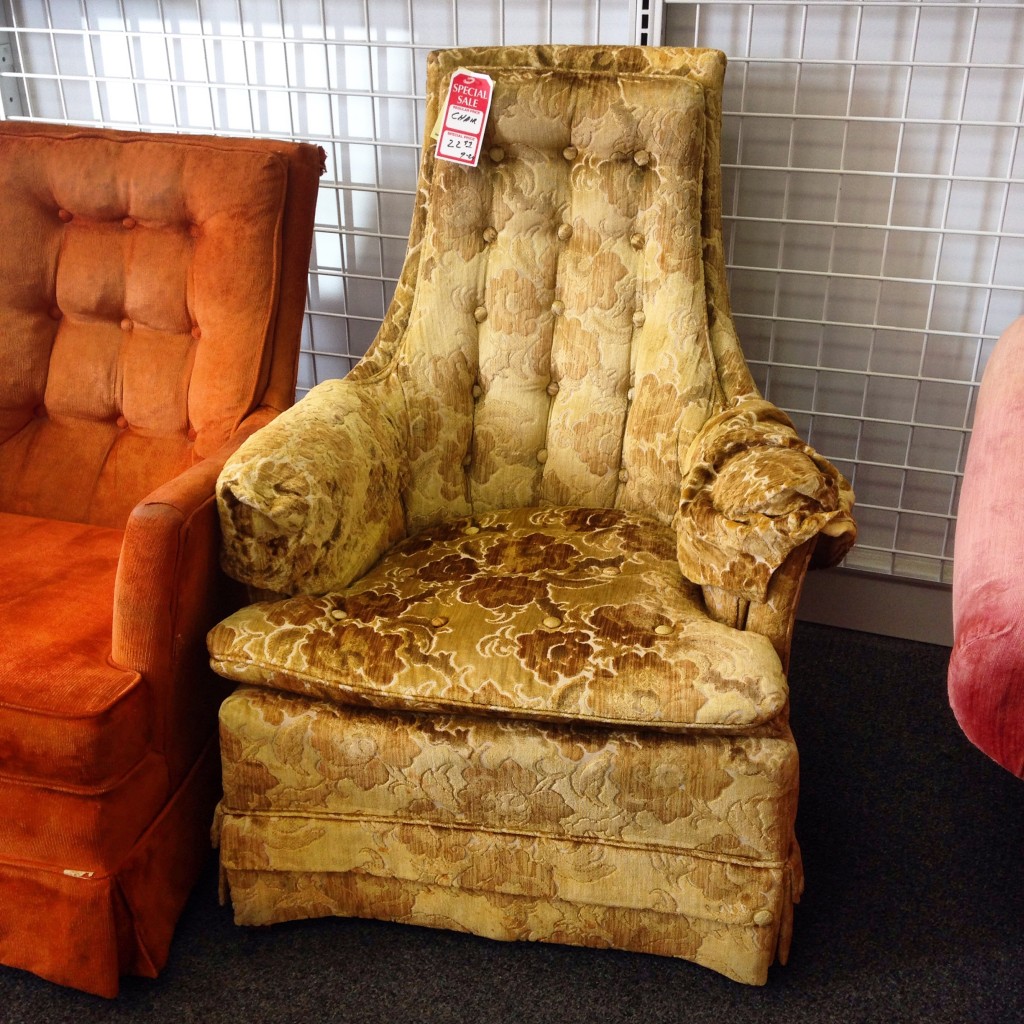 To wrap it up, this store is the real deal. If you don't find anything that fits you, at the very least, the store is eye candy! From the jewelry case, to the dress racks, it's undoubtedly a place with gorgeous items.
I hope to see ya'll in a couple of weeks! 🙂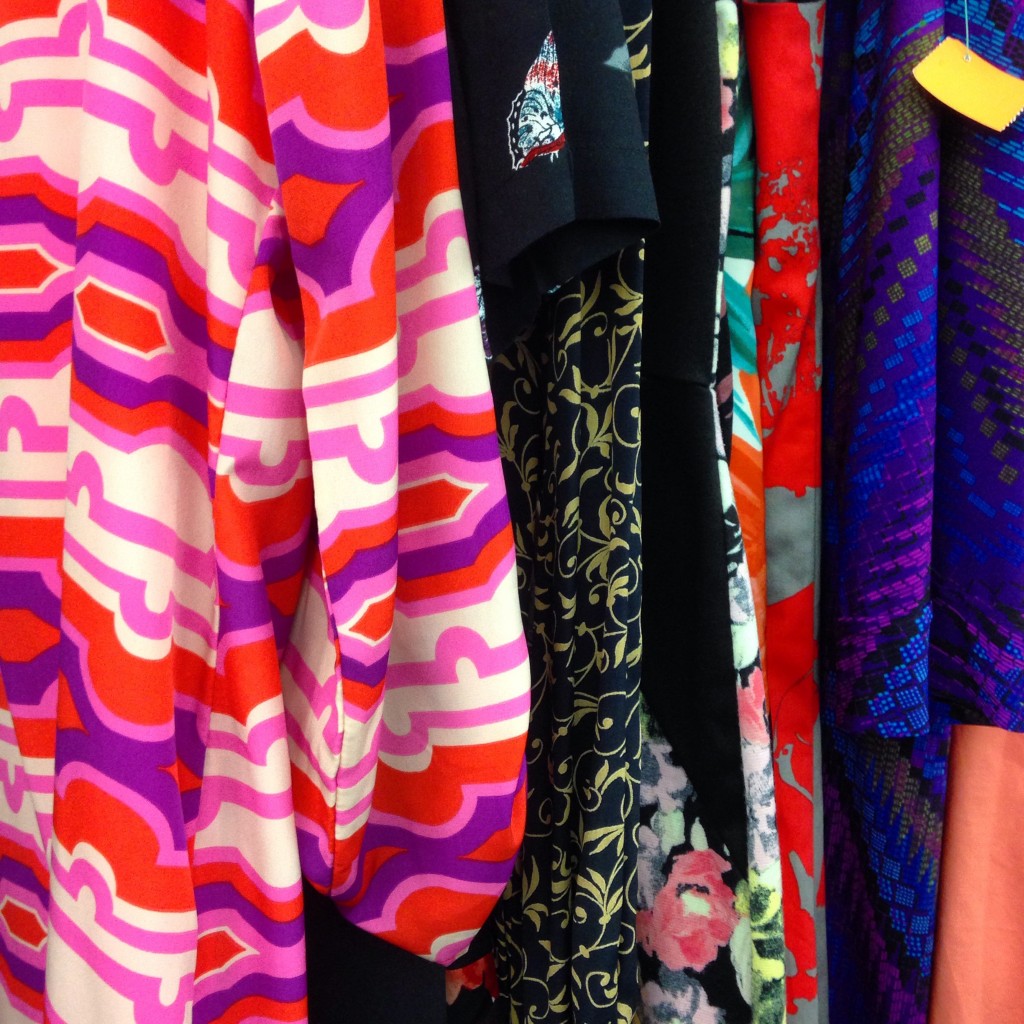 Beautiful prints on a rack of dresses!
What you need to know:
Address
9960 Main St, Fairfax, VA 22031

Phone: (703) 349-1806
Store Hours
Monday – Saturday: 10:00 AM – 9:00 PM
Sunday: 10:00AM – 7:00PM
Donation Center Hours
Monday – Saturday: 9:00 AM – 8:30 PM
Sunday: 9:00AM – 6:00PM
Discounts
Tuesday – 25% off all donated clothing (Customer Appreciation Day!)
And more!
If you swing in and find some Goodwill scores, don't forget to tweet/Instagram/Facebook them with the hashtag "#DCGoodwill", "#DCGF" or #MyGoodwillFind. You might just end up as my next feature on the blog!