Surprisingly, I only recently discovered our Gaithersburg store, all thanks to my fellow fashionista (Sam!), for urging that we shop there one evening.
I'd driven past it many times, but always being in a hurry, I never stopped by. And now I'm definitely glad that I have. This location is AMAZING for items of all kinds.
Of everything, I especially love the jewelry case. In this case, I found myself a $7 Kate Spade wallet that I now use every day! I'm not joking here, dear readers. This place is the bee's knees.
Each necklace, unless otherwise marked is $7.99. Everything else, more or less, is priced individually and nothing is usually over $10!
First, I want to pay homage to their abundant necklace selection. On this past trip, I found tons of colorful bib necklaces that would pair perfectly with a little black dress from Goodwill (LBDFG) and slick pumps. Like I always say, a cute colorful necklace can spice up any simple outfit, and bring some funk to a more conservative work look.
This purple necklace is absolutely dynamite! I'm loving the multiple purple shades that make up each section of this artistic piece.
I can see this necklace being worn with an all black, super sleek look. The lips could be a bold color, but in my outfit, I'd want this neck candy to shine.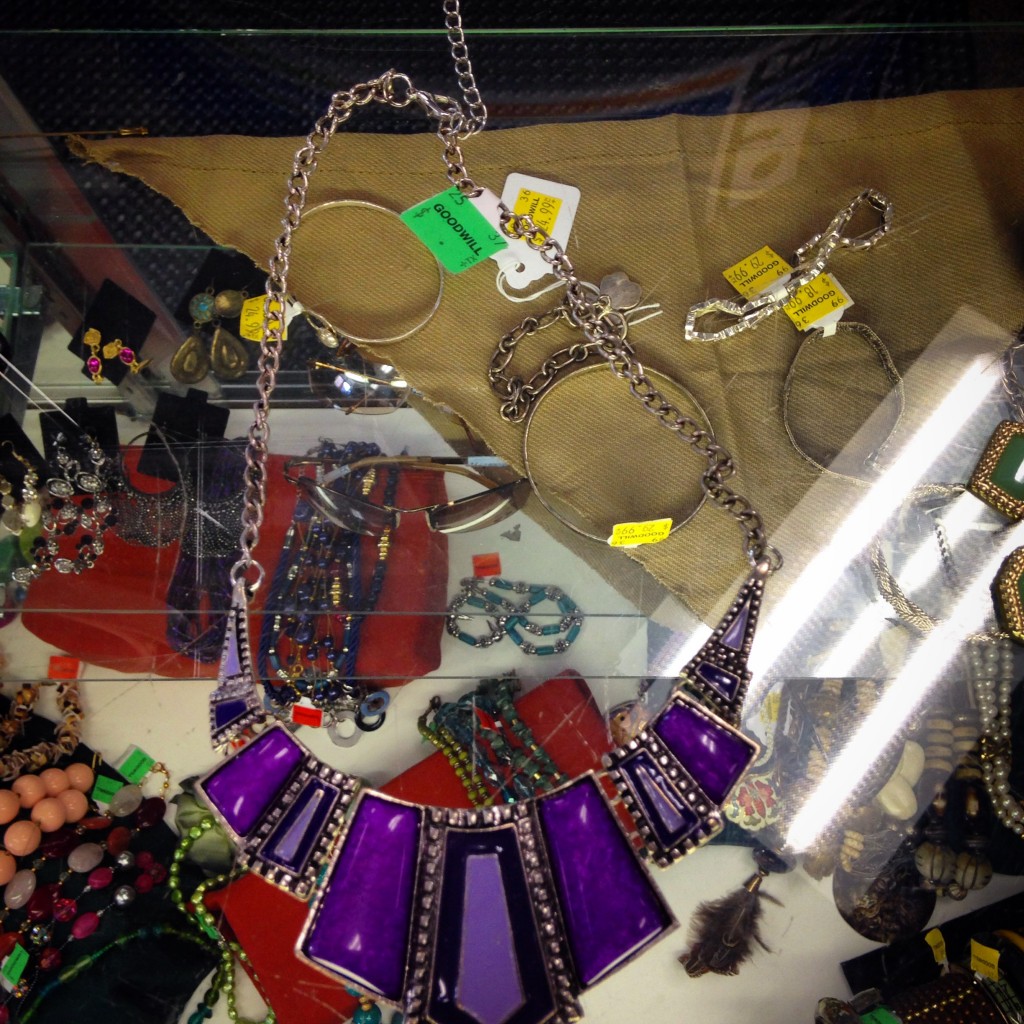 Same with this green one. I'd want it to shine as well. This green shade is more on the softer side and would pair well with other even bolder colors. I envision cute pink coral as a color palette in your outfit to complement this necklace, no matter if it's a dress or blazer. A bright cobalt blue would work as well; the coolness of the blue and slight warmness of the green would bounce well off of one another.
With this gem, I wouldn't wear any crazy earrings. The shapes of the green plates on the necklace are already a conversation piece.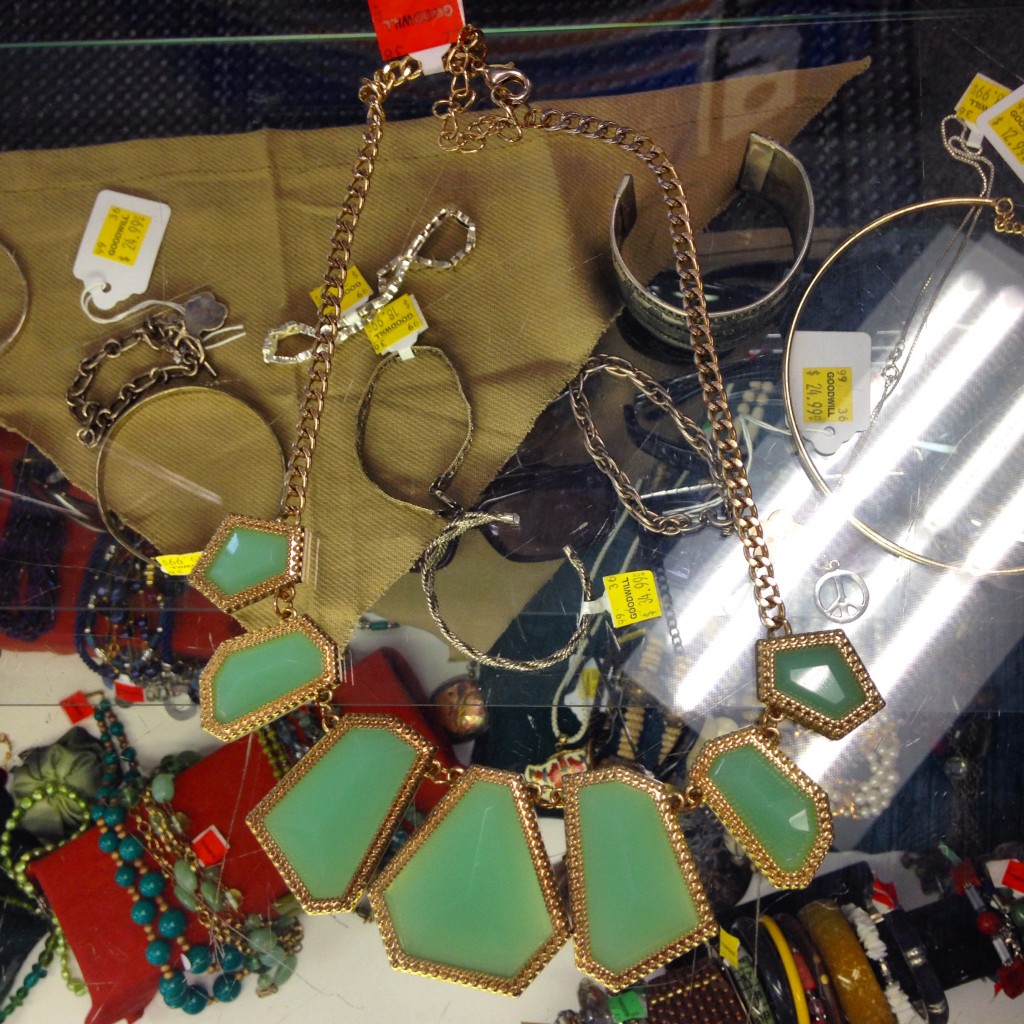 More necklaces!
I'm in LOVE with the silver one on the very right hand side of this collage. It's tribal combined with mod in all of the right kind of ways. I'd wear it with an all black outfit, and my cowboy boots with silver embellishments! In my ideal look, I'd have hints of silver all the way through.
I won't forget the pink necklace though! It has the same vibe as the green one up above. I'm definitely thinking a bright blue or purple would look cute with this necklace. The soft peachy color would look very elegant with a few other pops of color.
With this necklace, instead of wearing all black, I'd opt for some creams and navys. This will add a summer light-hearted vibe back into your fall wardrobe.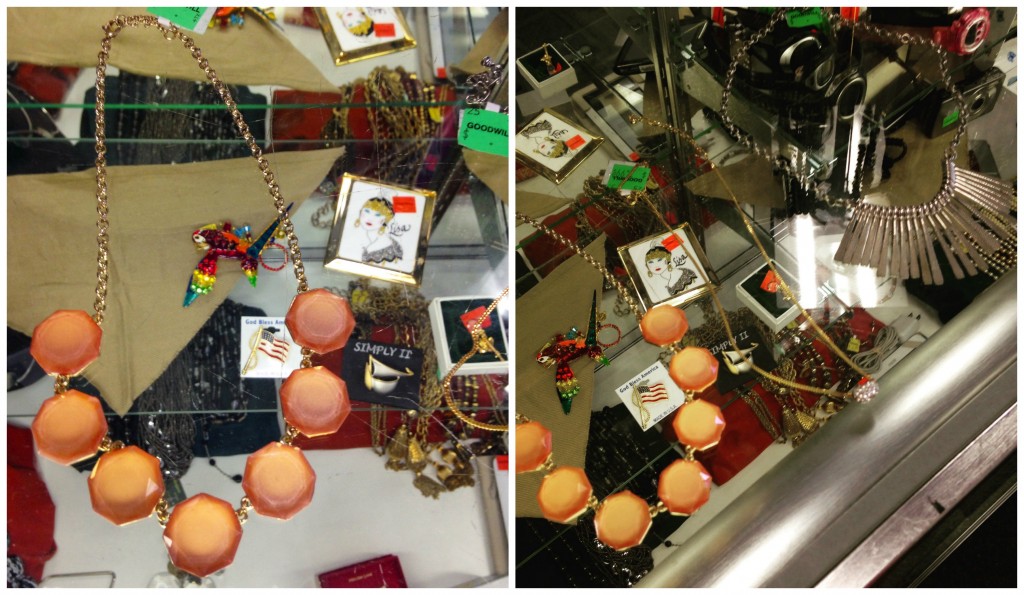 Gotta love jewelry with brand new tags! I'm a sucker for bright colors and bracelets.
How would you wear these, fashionistas? I think they could go with virtually anything! Nothing too soft, pastel, or brown though. These have a bit of edge to them.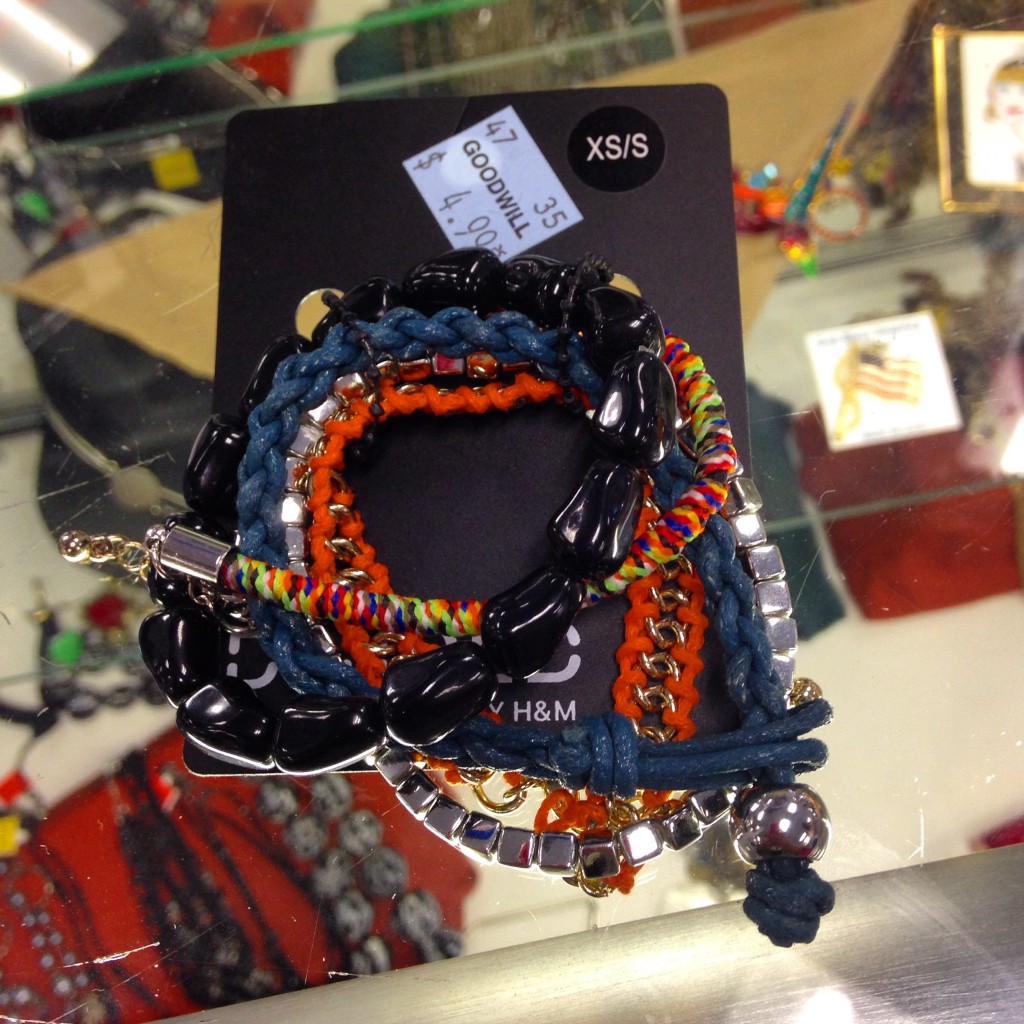 More gems! I'm a self-proclaimed sunglasses fanatic but I didn't find any sunnies on this trip. However, I've certainly found my fair share of designer glasses at Goodwills across the DC area.
Also, heads up, this set of bracelets was one of almost 5-6 at the store! If you're looking for some solid arm candy, this is the store for you.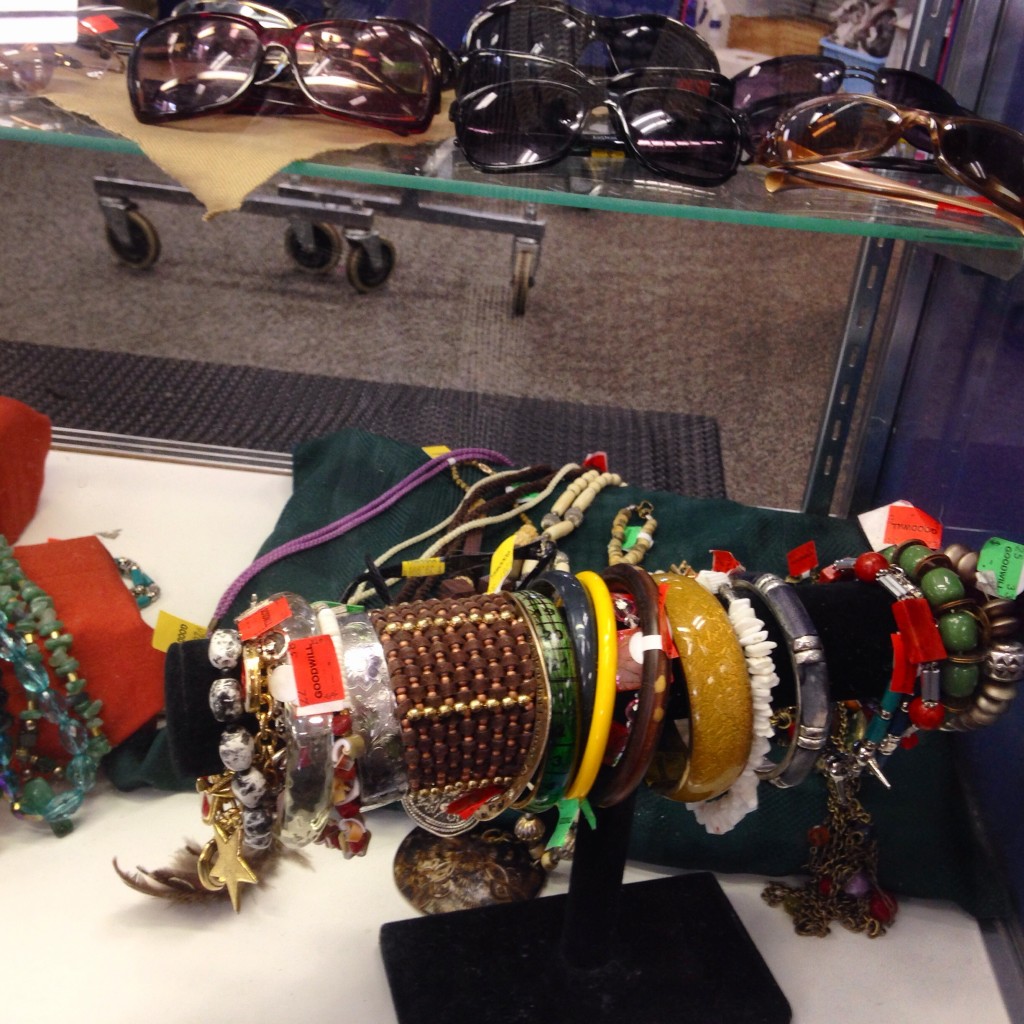 I also spotted this cute little cameo broach. I'm not sure that it's real, but broaches are a great way to spice up a jacket or blazer. When you wear one, people always seem to talk about it! In my day, I've worn some pretty wild ones (shaped like animals) and people will come up and ask me questions…in a good way though! It's a foolproof ice breaker. 🙂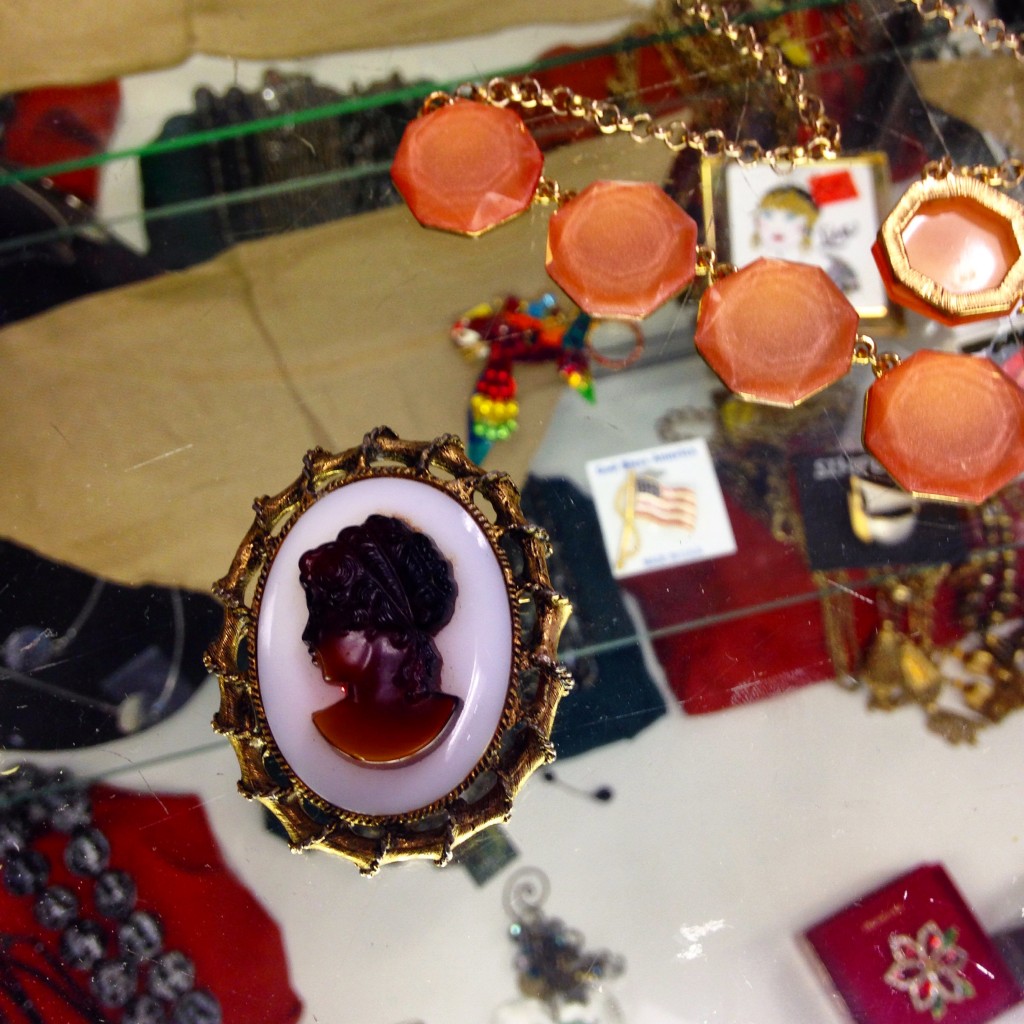 Okay, okay, I'm almost done with obsessing over bracelets! I usually wear gold ones, but this cuff popped right out me. I think it might've been real silver, which is probably the reason why I was going ga-ga. Most importantly, I love bracelets like these because they're easily adjustable. If you squeeze the cuff, it will get smaller. Be careful with these kinds of pieces though, you don't want them to break!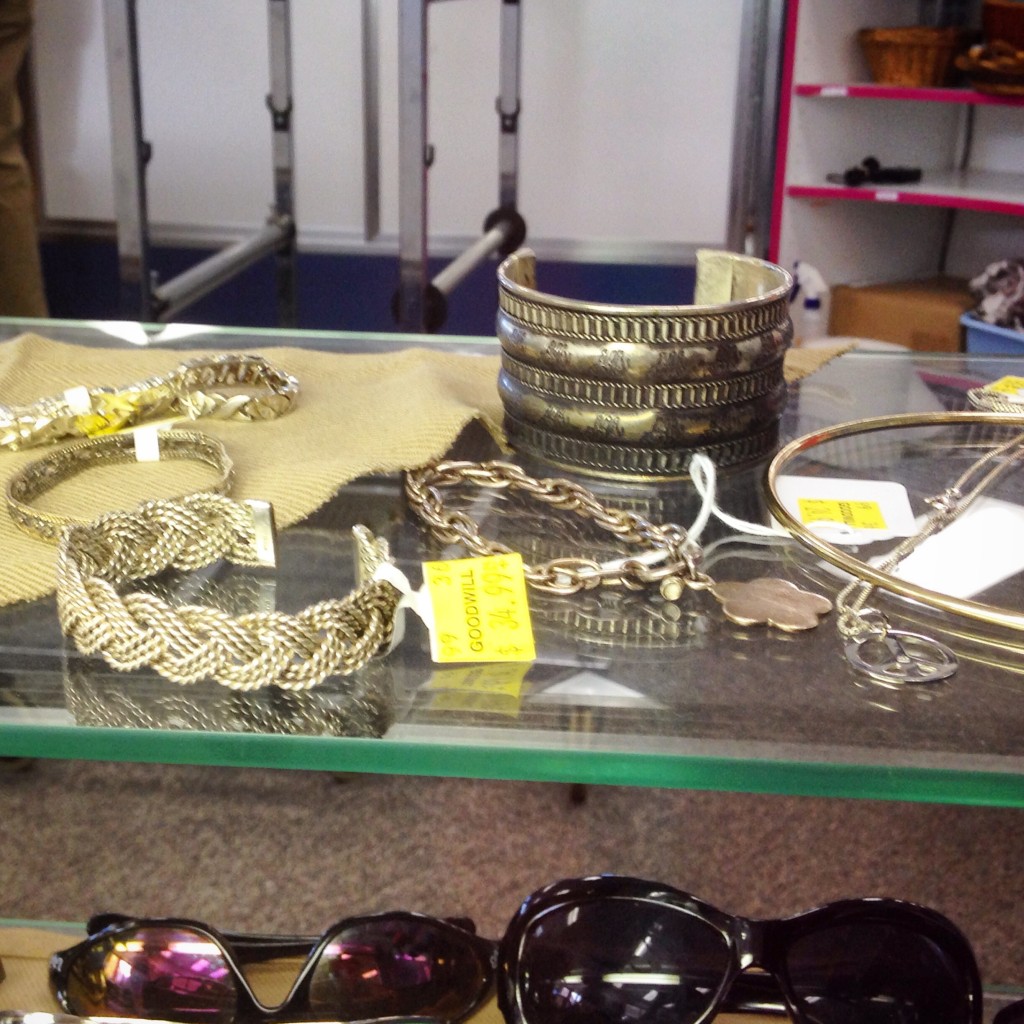 And finally, this shop has earrings galore. These big silver ones caught my attention…but I'm not sure they're really "me." I love the shape though! I hope someone else brought them home. On another note, those little pink ones are super cute! I'd maybe wear them but they're a bit too pink and girly for my taste. 😮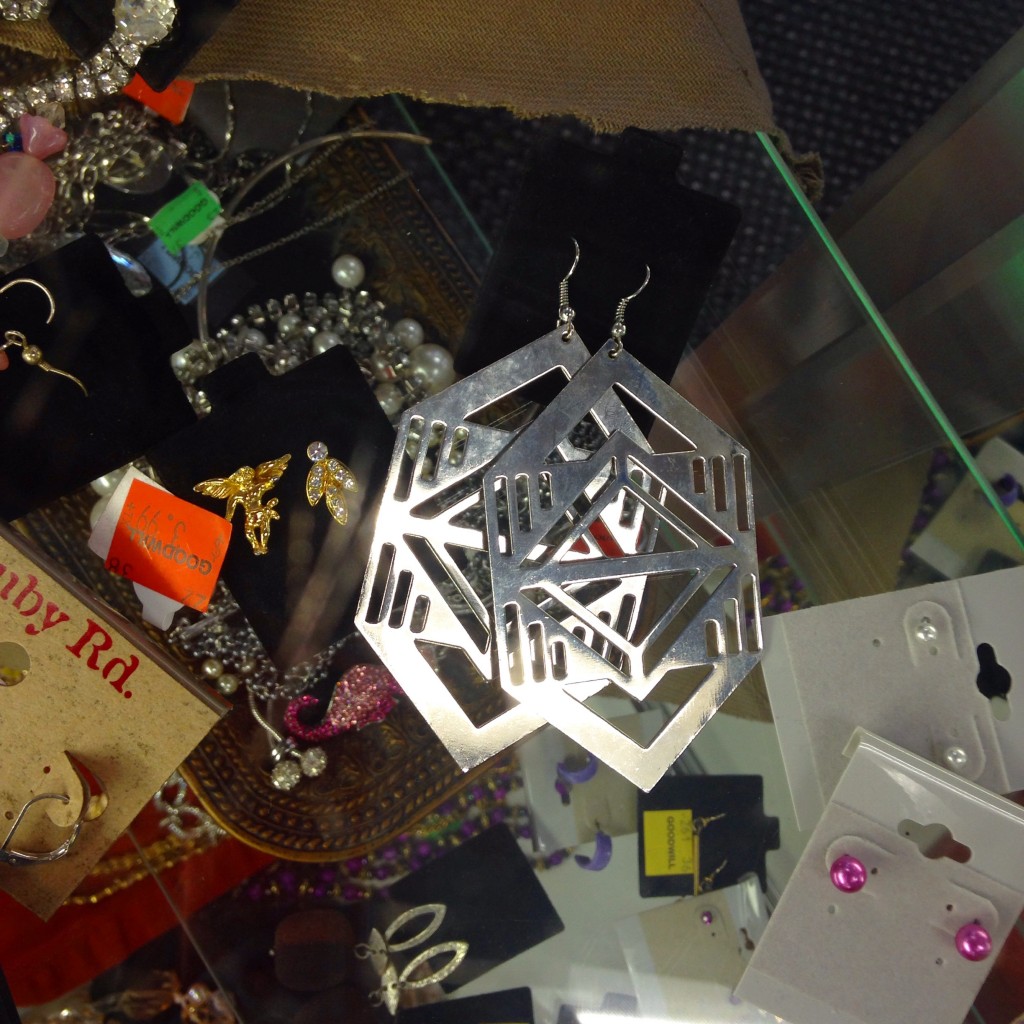 And there you have it! This is one of my favorite Maryland Goodwills for everything, especially jewelry  gems.
Have you ever been to this Goodwill location and checked out their jewelry case? Did you spot any one-of-a-kind finds?