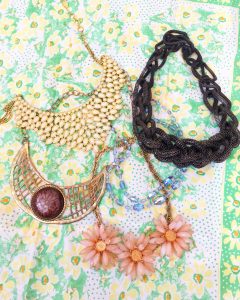 Fashionistas, not only can you find pairs of earrings for under $5 at Goodwill but you can also score some pretty gnarly necklaces too!
Over the past year, I've gotten my hands on some stellar gems! My Goodwill necklace collection varies by decade, style, and cut which can be found at your local DC Goodwill at awesomely affordable prices.
For example, I found multiple modern statement necklaces from boutique and name brands alike.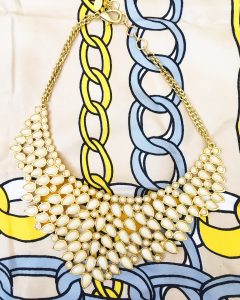 1) Amrita Singh
I often spot pieces by Amrita Singh, a well known fashion designer, at Goodwills across the area. At one location, I picked up this conversation-starter for under $5.
I've worn it with color clothing as well as neutrals – its cream color makes it a versatile item that can be styled in multiple ways.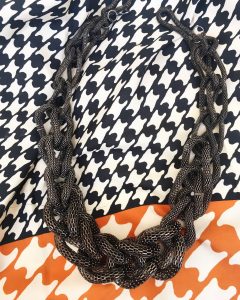 2) Gunmetal Link Chain
From another location I took home this chunky, gunmetal, link chain necklace for under $5. It doesn't have a brand tied to it, but feels very well-made.
I'd imagine wearing this with an all-black rocker look on a date night.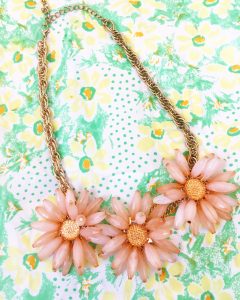 3) Floral 
Next up, I couldn't believe my eyes when I saw this floral, hippie, boho chic, art-like necklace for under $5. I've seen gems like this at Anthropologie and Ann Taylor Loft… perhaps it's from one of those stores!
If I were to rock this number, it would be with some floral patterns and/or pastels. Either I'd embrace a preppy Lilly style or a boho chic one.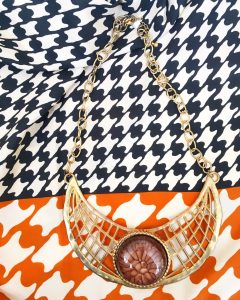 4) Boho Chic
This next necklace is boho chic as well. The brown stone plastic pendant in the middle reminds me of the 1970's and Woodstock. The plate in which it sits on, however, is modern and sculptural, giving it a contemporary twist.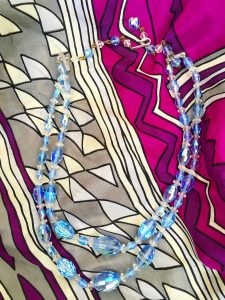 5) Vintage Choker
The last under $5 necklace I'm featuring today is this tiny, glitzy, vintage, blue choker. I think it's from the 50's or 60's, based on the way it's constructed and clasps on the neck. I've worn this many times now with some of my colorful vintage mic mini dresses.
Which one is your favorite Fashionistas?