Dear readers, you know I love to talk about workplace fashion. Over the years, my roles have changed in the workplace and thus, my wardrobe has followed.
In order to prep for the next big gig, some women gain confidence and motivation from putting on makeup, some from curling their hair, and some even do the power pose (have you seen this TED Talk?). Me? I certainly do a little bit of all the above, but when I really want to feel like I have it all together…I do one thing: throw on a blazer!
While lipstick is my preferred method of a "polished touch" – there is something to be said for the power of a structured blazer. Blazers transcend both time and trends. Not only are they flattering on every body type – they also can instantly polish any look and are definitely perfect for layering when your office thermostat is running wild.
Some of my favorite women's suiting brands are J. Crew, the Limited, Banana Republic and LOFT. Most of these brands sell women's blazers from $40.00 – $200 a pop. Since that is nowhere close to what I've got budgeted for clothing, I've turned to Goodwill to give me the confidence I need to tackle corporate America, all while staying perfectly on budget. Check out the looks I've created from my Goodwill scores to inspire your office fashion dreams.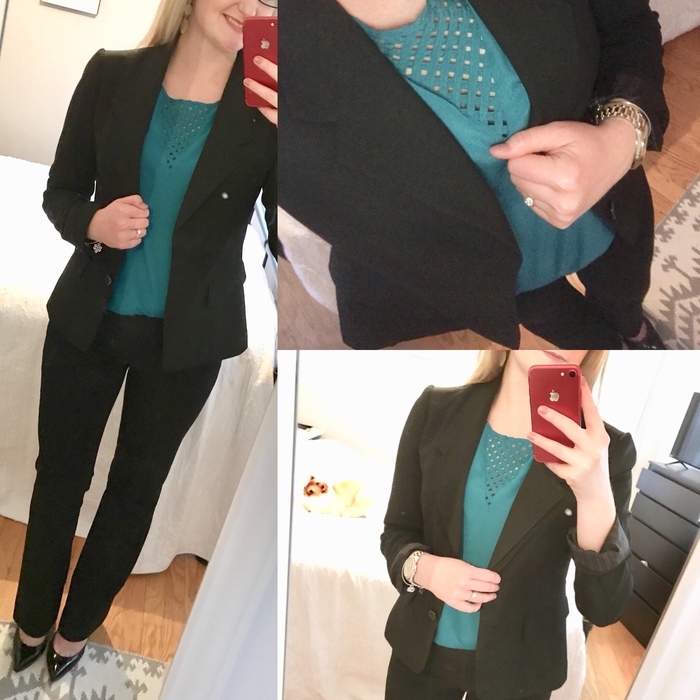 Look #1: The Power Suit
Here, I am wearing a classic pantsuit – it may look as if I purchased both of these pieces at the same retailer and at the same time but, my dear readers, I did not! Even more shocking? These pieces are not even the same brand! The suit jacket is by The Limited ($6.99 at Goodwill) and the pants are White House Black Market ($5.99 at Goodwill). A complete suit for less than $15.00! It is my little secret to snag classic solids to make my own suits at a fraction of the cost.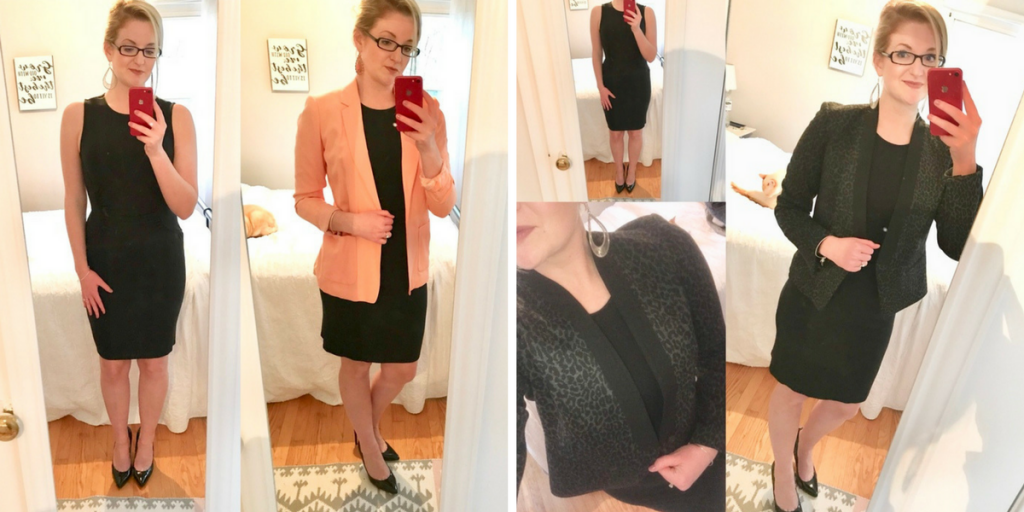 Look #2: The Fun & Feminine Touch
This next way to style a blazer is effortlessly chic. Take your favorite LBD (little black dress!) and pair it with a structured jacket in a fun color and print. It totally transforms the dress and gives one staple so many incredible options for wear. Here, I am wearing a LOFT leopard print blazer (scored at the Bowie Goodwill Meetup for $4.50 with the Color of the Week sale) and a bold peach Armani Exchange boyfriend blazer (snagged from the Edited by Goodwill popup shop for around $10!).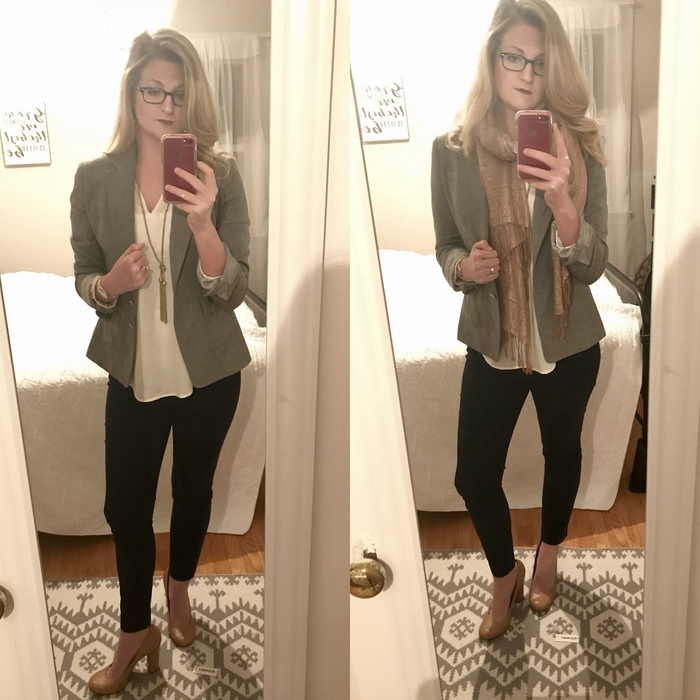 Look#3: The Classy Casual Friday
My absolute favorite way to keep my casual Friday look at the office looking classy to pair a textured blazer with a solid blouse, dark denim, and chunky heel. I am wearing my coveted Banana Republic blazer here ($6.99 at Goodwill). You can see I dress the look up with a scarf during colder months – it gives polish but still keeps it nice and casual.
There it is, dear readers! The savvy suit up for the smart, sophisticated professional. See what I mean about that perfect polish a well fitting jacket exudes? I'd love to see how you rock your favorite blazers!
Karen Wathen is a young professional and self-proclaimed "thriftanista." She has brought her love of writing, food and affordable fashion together on her blog, County Meanderings, where she frequently posts about her thrifting adventures. Follow her on Instagram (@k_wattt) for a peek into her savvy life.