Today's look is one I wear when out running a full day or errands and going to multiple Goodwills. Sometimes, you just need to dress practically when getting so much done in one day!
To keep myself comfortable, yet still stylish, I like to wear a pair of classically comfortable shoes and a loose dress.
Comfy shoes speak for themselves, but the reason why I opt to wear a loose dress is because it's breathable, easy to style, and you can just throw it on in one go. No pairing needed. It's also easy to move and groove in – a necessity when going to multiple places in one day.
Today's #MyGoodwillFind look is one that perfectly encapsulates this list of reasons.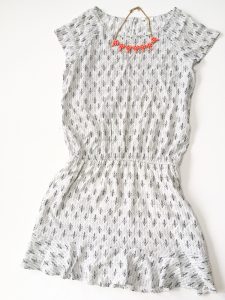 Today's dress, which is for sale on ShopGoodwill, is a cozy, one-piece number I could live in! This designer Joie, in a size Medium, is a black & white pattern drawstring dress.
At full retail, this gem would have sold for around $100 at stores like Cusp by Neiman Marcus and Bloomingdale's.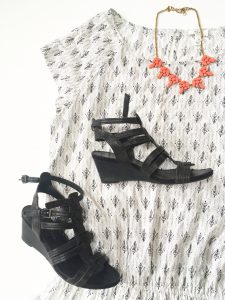 I'd style this dress in a multitude of ways. But the most fashionable, yet still comfy, way I'd wear this number is with some sandal wedges. I've always found wedges to be the most practical and versatile elevated type of shoe, without putting your sense of fashion at the risk of just being mobile.
Every girl needs a pair of black sandal wedges in her closet. I myself have found countless pairs of these at Goodwill stores for under $5.
Finally, to add a pop of color into this errands look, I'd rock a fun necklace that isn't too heavy or ponderous. Just a little color through beads or pendants will do just the trick.
How would you style this Joie dress, fashionistas? Would you rock it the way I've styled it today?