Fashionistas, August sure has flown by! Filled with grand openings and Meetups, this August has been a truly great one at Goodwill.
To wrap up the month, I'm looking back at 5 of my most favorite under $5 finds from the month.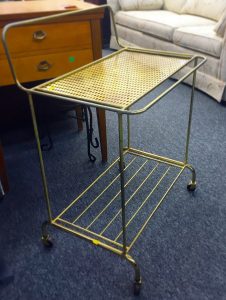 1.) Mid-Century Modern Bar Cart

First find! As you read about in the Centerville Grand Opening post, I took home a vintage, brass, bar cart for under $5. Can you believe it? I was swooning when I saw it!
I might give it some DIY love or leave it as-is for displaying my retro glass drink ware.
2.) 1970's Howard Hirsch Dress
I snagged this 1970's Howard Hirsch gem at the Falls Church store $5 on the dot. This flowy accordion skirt is a rarity you would typically find in a vintage store selling for upwards of $50.
Since it was so inexpensive, I don't mind taking it to get tailored to adjust the dress's length to my height.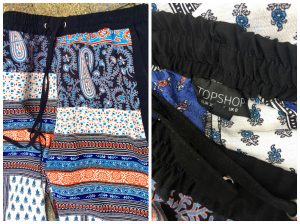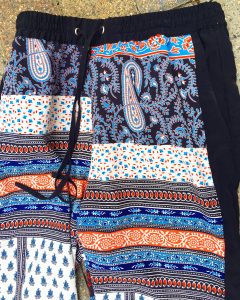 3.) Topshop Pants

I also took home this patterned pair of Topshop pants from the Falls Church store. These originally retailed for about $60. I can't wait to rock them with a Peter Pan collared blouse or off-the-shoulder, ruffled, short sleeve blouse.
Plus, this pattern is so fun for the fall! That's one of the reasons why I am naming it in my top finds.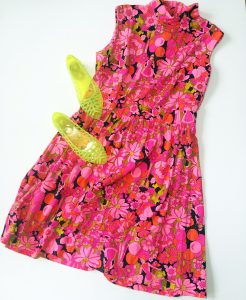 4.) 1960s-1970s Cirette California Dress

You know I always love me a vibrant and colorful vintage dress, fashionistas!
I found this under $5 beauty in the kid's section at the South Dakota Ave store. It's a bit big on me, but with some hemming it will become the perfect micro-mini.
How would you style this beauty, fashionistas? I'm thinking of ways to spice it up this fall!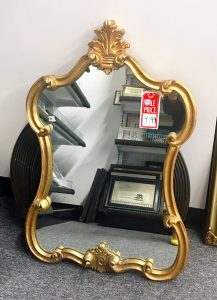 5.) Retro-Inspired Mirror

Mirrors can be expensive, totaling at least $50 brand new. The vintage-inspired ones can get especially pricey so I was relieved to see Goodwill offering them at such affordable prices.
Affordable is an understatement though. This gem from the Centerville store was a steal! I spotted a gorgeous gold mirror for $4.99 without any discounts!
Unfortunately, my car was too full to take this home. But if I were moving into a new place tomorrow, it would have been mine. I hope it went to a good home!

As we look back at my finds, I'd love to hear about the ones you've scored this month as well! Shoot them to me in the comments or leave them on social media. I'd love to share them!