The summer isn't over yet fashionistas! Before the season comes to a close with a very fast-approaching September, one must wear a Hawaiian style shirt at least once! And today's #MyGoodwillFind outfit combo effectively shows one of these classic floral shirts can be classy and cool.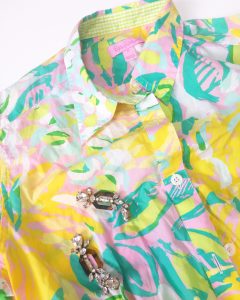 Today's #MyGoodwillFind look is a floral yellow, green, and pink, collared Lilly Pulitzer short sleeve in a size 12. This preppy, light-fabric beauty looks like it was never worn. Normally this would sell for $118 in high end department stores.
With this top, I'd wear bright white pants, skinny blue jeans, or pink pencil skirt depending on the occasion.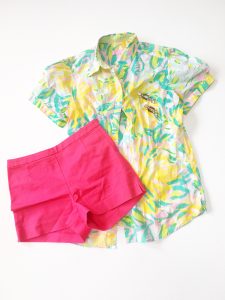 However for today's particular ensemble, I'm suggesting you wear some fun pink shorts to effectively embrace the summer sun one last time. I found these shorts at a DC Goodwill for under $5 so if you're looking for a pair hit up your local Goodwill store. But, if pink isn't your jam, a pair of white or denim shorts will do just the trick as well.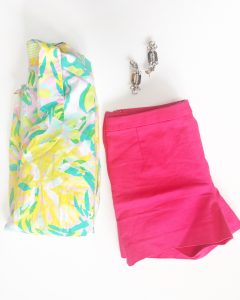 If you'd like to add an once of glitz and glam to this light-hearted beachy look, I'd wear a pair of gem earrings by the likes of J Crew or Banana Republic. I see these two brands on the DC Goodwill racks on a daily basis. Any style of bling, whether stud or dangle, will elevate this look for any type of occasion.
To round out the look, we can't forget about the shoes (unless you're at the beach walking on the warm sand). When strolling on the boardwalk during the day, I'd wear comfortable, flat, strappy gladiators. But for an evening, night-out-look, a pair of printed, sassy, cork wedges will keep you comfortable and tall on the dance floor.
How would you style this Hawaiian shirt-inspired Lilly blouse, fashionistas? Would you rock all color, or tie in some neutrals?