Saturday nights are for partying, fashionistas! And this #MyGoodwillFind look is one you should ABSOLUTELY wear on one of your fun and relaxing nights.
Every fashionista needs at least one ankle-length or maxi dress to rock with any type of black top. A leotard, an off-the-shoulder blouse… you name it, it will work with a maxi!
Today's look is a fool-proof outfit combo I'd undoubtedly wear out in DC on a fun night.
Although all of today's outfit items came from Goodwill, this stand-out maxi skirt is up for you to buy today! It's vintage, it's metallic… and I want it! However, it's not in my size. So, it's up for you to style!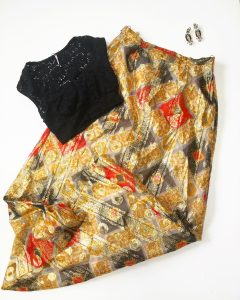 This vintage, 1960's, Nelly de Grab maxi skirt is in a size medium and a retro must-have. It is comprised of a metallic gold, black, and red patterned material and lined with a cream fabric. It also has rope loops to style with a belt of your choice! Depending on height, this could be an ankle skirt or a maxi.
Nelly de Grab is an Austrian designer known for her panache style. This designer has crafted some of this centuries' best fashion staples including disco-style necessities like today's #MyGoodwillFind.
Today I'm styling it with a mini, black, sweetheart neckline, crop top I picked up at the new Centerville, VA Goodwill store for under $5. Tops like this can EASILY be found at any DC Goodwill, you just have to look in the section where the sleeveless tops reside.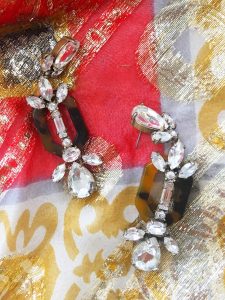 If you're going for a disco look, you must wear additional glitz and glamour like you're at Studio 54! I'm opting for some J Crew dangle gems that are from my own collection. They are a bit heavy, so if you want to wear something that's fun and will stay on your ears on the dance floor, I recommend something a little lighter. Anything gold-toned will be your safest bet because the color matches the shimmer built into the skirt.
How would you style this #MyGoodwillFind statement maxi, readers? Have you found a piece of art like this at a DC Goodwill? Luckily, I've done all the work for you today! 🙂