Fashionistas, I'll be honest, out of all the clothing and shoes I own, I basically only have  one pair of sneakers. And it's not because I don't love them…I know they come in so many fabulous looks and styles! I just don't know how I can fit them in my wardrobe. I wear comfy sandals during the summer, sleek boots during the winter and fall, and occasional flats during the Spring. I only wear sneakers when going to the gym, or on a day when I know I'll be active and on my feet. I've viewed sneakers as more of a shoe of practicality as opposed to trendy fashion.
I'm trying to break the cycle though – in fact, there's a new style of sneaker that I'm absolutely in love with: the slip-on!
I'm pretty sure these shoes originated in the 70's or 80's when Spicoli wore his signature checkered pair in Fast Times at Ridgemont High. Since then, this style has blown up and fashionistas have been wearing them for all types of occasions. A while back, you could only find them in canvas, but now, they come studded, bedazzled, and lovely leather….the list goes on! What I love most about them is that they're comfy AND you can easily slip them on…literally. No laces or ties required. I'm all about simple and easy fashion! Anything to make my morning routine shorter. 😉
Recently I saw two really cute pairs at the Gaithersburg Goodwill the other day. These Steve Madden ones have more of a funky pointy toe, which is a new style that I have not seen before. Usually they're more rounded!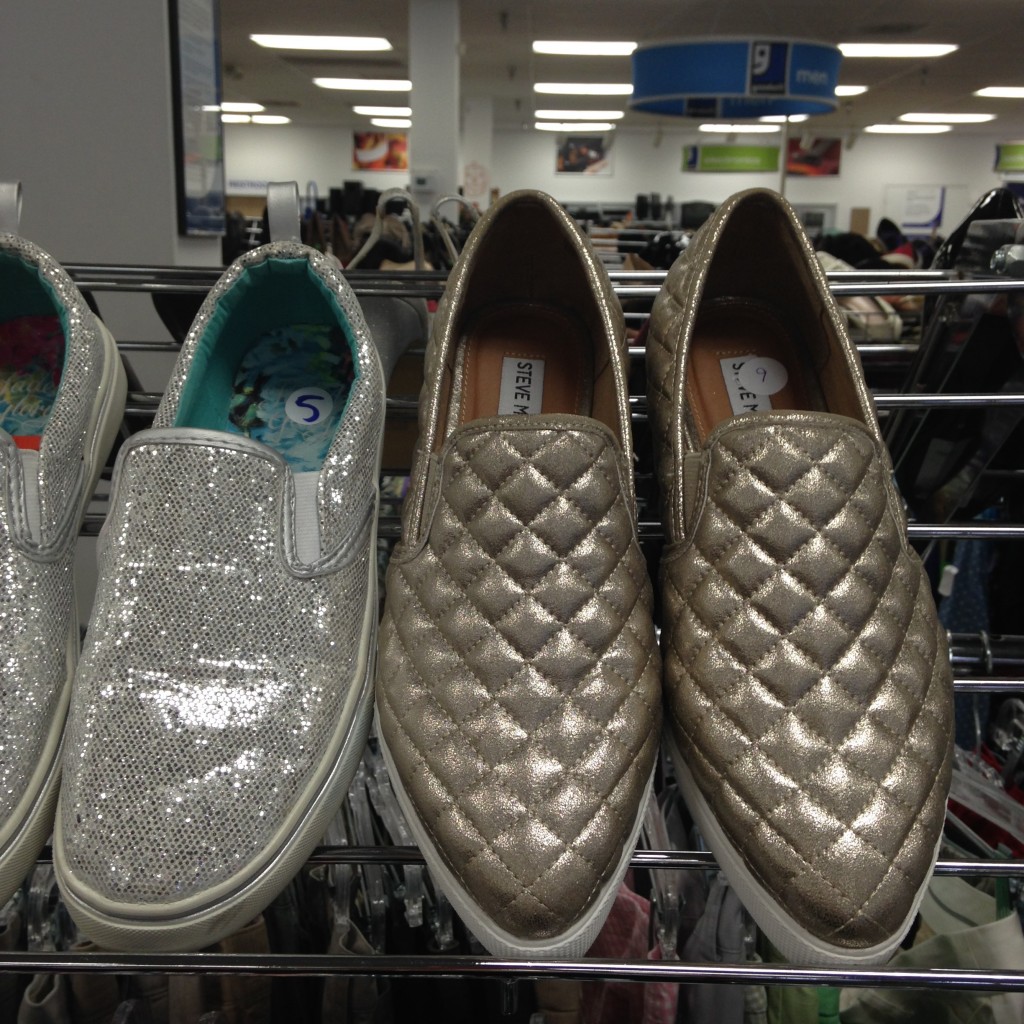 Although I have seen tons at Goodwill, I have yet to find a pair in my size. If you see one in a size 5, holler at your girl!
In the meantime, before I find my perfect pair, I'm polishing my knowledge on how to wear these with confidence and pizzazz.

This look brings monochrome, casual, and sleek to another level. I've been stumped about what type of pants to wear  with slip-ons. Tight pants, slacks, leggings? I've come to realize that you can wear them with basically any style.
I especially love a cropped pant. Slip-on shoes are more tight fitting, so the leg on a cropped pants slims the ankles and adds another dimension to a casual and simple outfit.
This other look proves that slip-ons can look fabulous in a more shabby chic look as well. These stellar leopard print slip-ons make the foot look incredibly feminine and slim, especially against the looser fitting denim. This look, makes the ankles and feet look small and cute.
To top it off, I love this leopard shoe against the olive green jacket. The color scheme of the neutrals is quite cohesive and classic.
How do you feel about this style of shoe, fashionistas? Are they a shoe that you'll consider owning this season?