Fashionistas, remember when I moved into DC from Bethesda last year, becoming a true DC Goodwill Fashionista?
Well, just a short year later, I'm moving again! This time, my turf will be in Takoma Park, DC.
I'm incredibly excited for my move as I will be living in a much bigger space where I'll be able to house all my Goodwill gems properly.
While I am itching to move all of my belongings and residing in a larger space, I'm not looking forward to moving everything from point A to point B. As we all know moving can be stressful, but it's the little things that get you excited!
One really large aspect about moving I'm excited about is the ability to go all out with furnishing my new home. I've already started compiling a laundry list of items I want for my space I hope to score at Goodwill.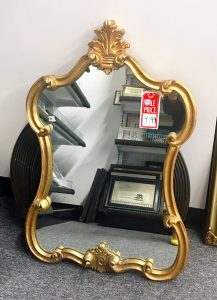 Big Mirrors
At the Centerville Grand Opening I saw a collection of mirrors for under $5 that emanated a retro, yet contemporary, vibe. I would love to score one of these for my place to use for putting outfits together and taking selfies.
Hopefully, I will find one on my next trip to the Centerville store again!
Vintage Couch

Over a year ago, I saw this gorgeous vintage couch for under $100 at the Annandale store. Although it's not quite a couch guests could use to sleep on, it is certainly a statement piece that could be utilized for photo shoots and simply sit on.
I want my living space to be one out of a retro magazine, and a couch like this would enable me to live out that dream!
I've seen a few at Goodwills since, but they are rare to come by.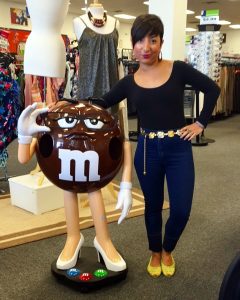 Unusual Conversation Pieces
Remember when I found that M&M at the Alexandria store? I want more pieces like that one!
This might sound a little odd, but I want my living space to be like a museum. A cozy home, but one also filled with conversational pieces that are unique and stand out among the crowd.
I've always been fond of cute knick knacks. And as I've gotten older, this interest has grown into bigger furniture pieces people can actually see and appreciate.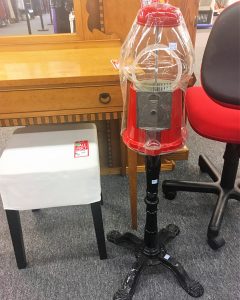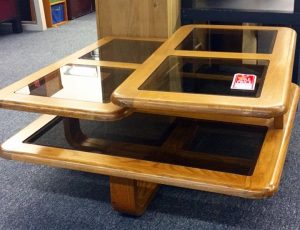 I have found some neat items like these at the Centerville store; such as this gumball machine and one-of-a-kind, mid-century, modern coffee table.
I hope to find more items like these in the coming months as I furnish my new basement apartment. I know Goodwill stores have me covered. I've already seen dozens of furniture pieces like the ones I mentioned already!
Fashionistas, what other items should I keep my eye out for at Goodwill? Do you have any tips and tricks for a fashionista moving into her own new spot?