I can't believe it's already been a month since I moved! February was a whirlwind and it sure didn't help that were are only 28 days to complete many tasks.
Despite the fact that February was busy with events galore, I've had the opportunity to start putting my new Adams Morgan apartment together fusing furniture from my previous place along with new finds from Goodwill.
Admittedly, I'm still on my furnishing journey.
However, I wanted to share my progress with you in order to spread some home decor inspiration and showcase some of the vintage finds that can be scored at Goodwill.
First, I want to showcase the the below vintage pitcher that I snagged at Goodwill for under $6!
I thought it paired nicely with the purple flowers and would be a multi-purpose decor/beverage item.
Also pictured is a mid-century modern 70's Heller bowl that was scored at the Rockville location within a larger dish set. The whole set was under $20.
Although this bowl is for salad, I thought it was the perfect fruit display!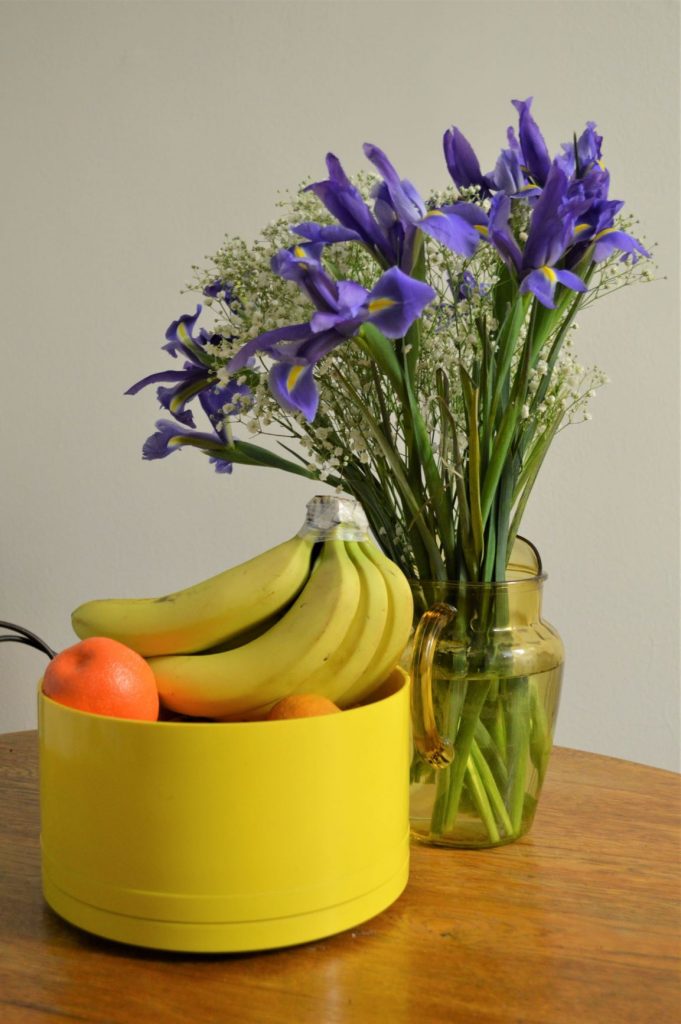 This pitcher and dish set sit on top of THE cutest vintage ice cream parlour set that I scored at the Alexandria Goodwill for under $35. That's right. All four chairs and the table were that inexpensive.
What I love most about this set is that it's of very high quality. The chairs are made from a rich older wood and a sturdy dark metal. I think this set was from the 60's too!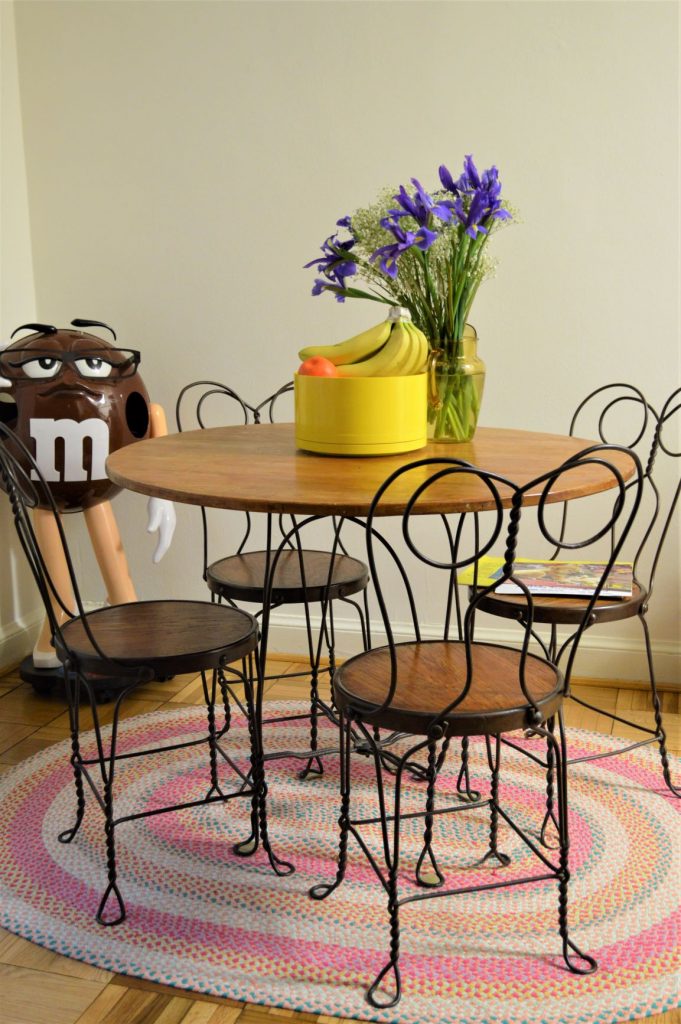 Moving to this side of the room, I just had showcase this mid-century modern chair that we scored off of Craigslist for $20. The furry pillows were custom and came with the chair when we picked it up.
Although the chair wasn't from Goodwill, we did toss a small patterned vintage Gaithersburg 60's pillow on top to help bring it into the fuller apartment space.
Guess what!? This $10 vintage rug was from Goodwill too. We found it in the home decor area at the Rockville, MD Goodwill store.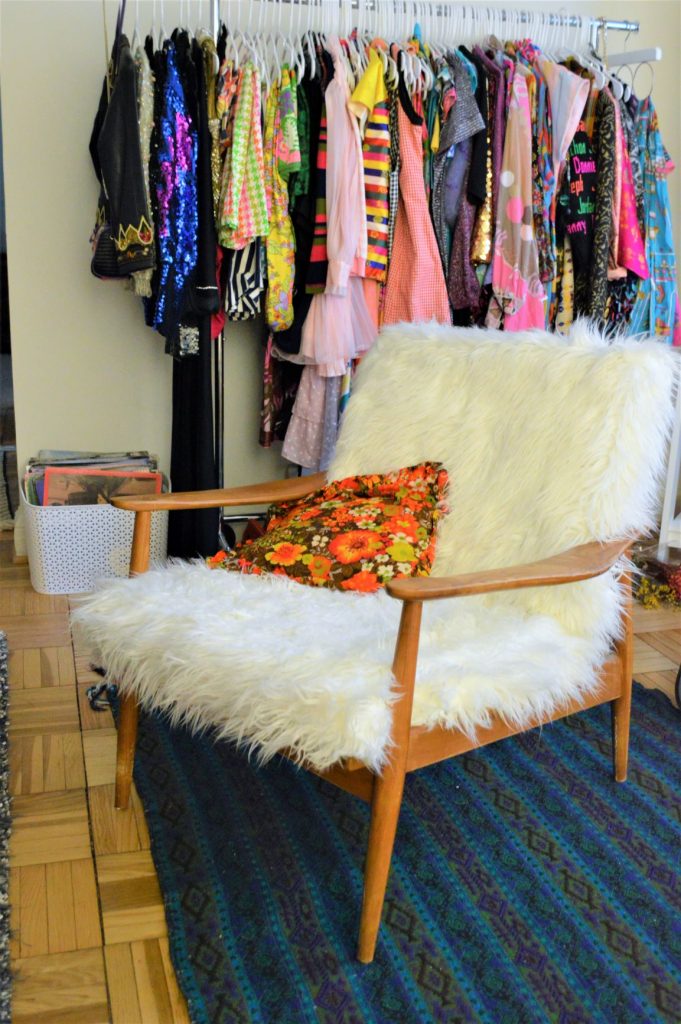 Next up are some snapshots of areas in my place that exhibit my vintage Goodwill finds.
Some might think that clothing should be kept in the closet, but I love using it as a display of color and pattern. When organizing and sorted with intent, I think clothing can be a great conversation piece in one's space.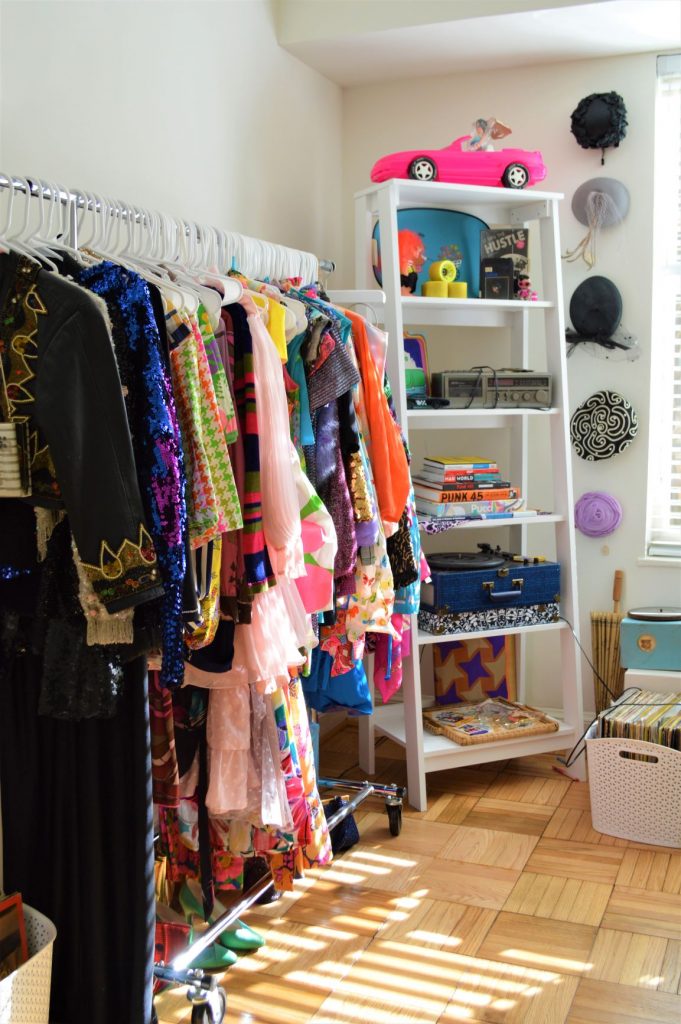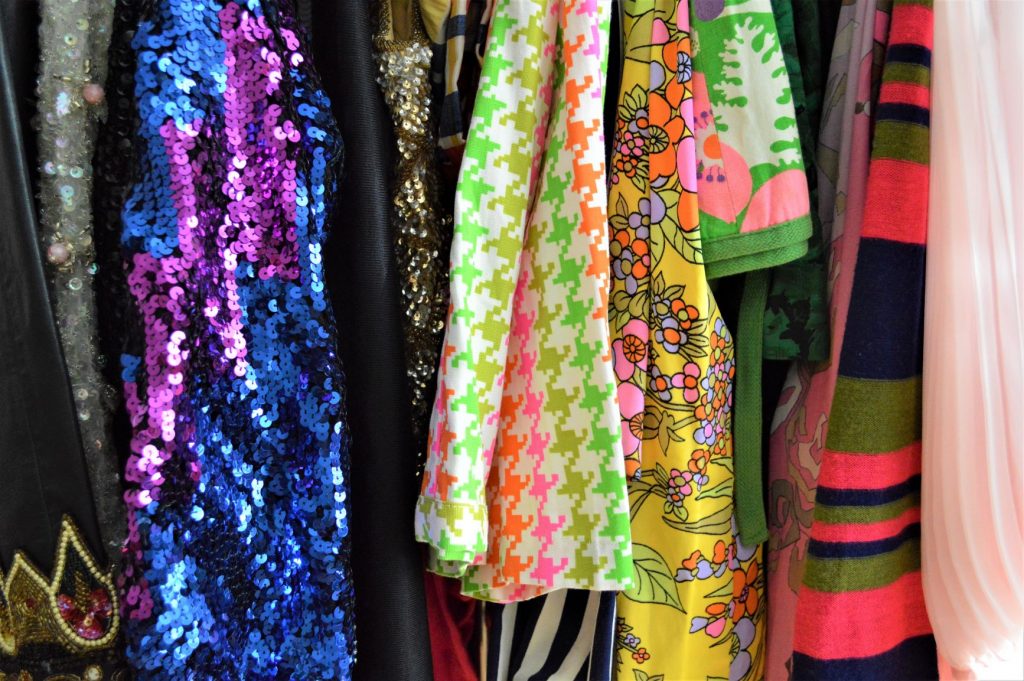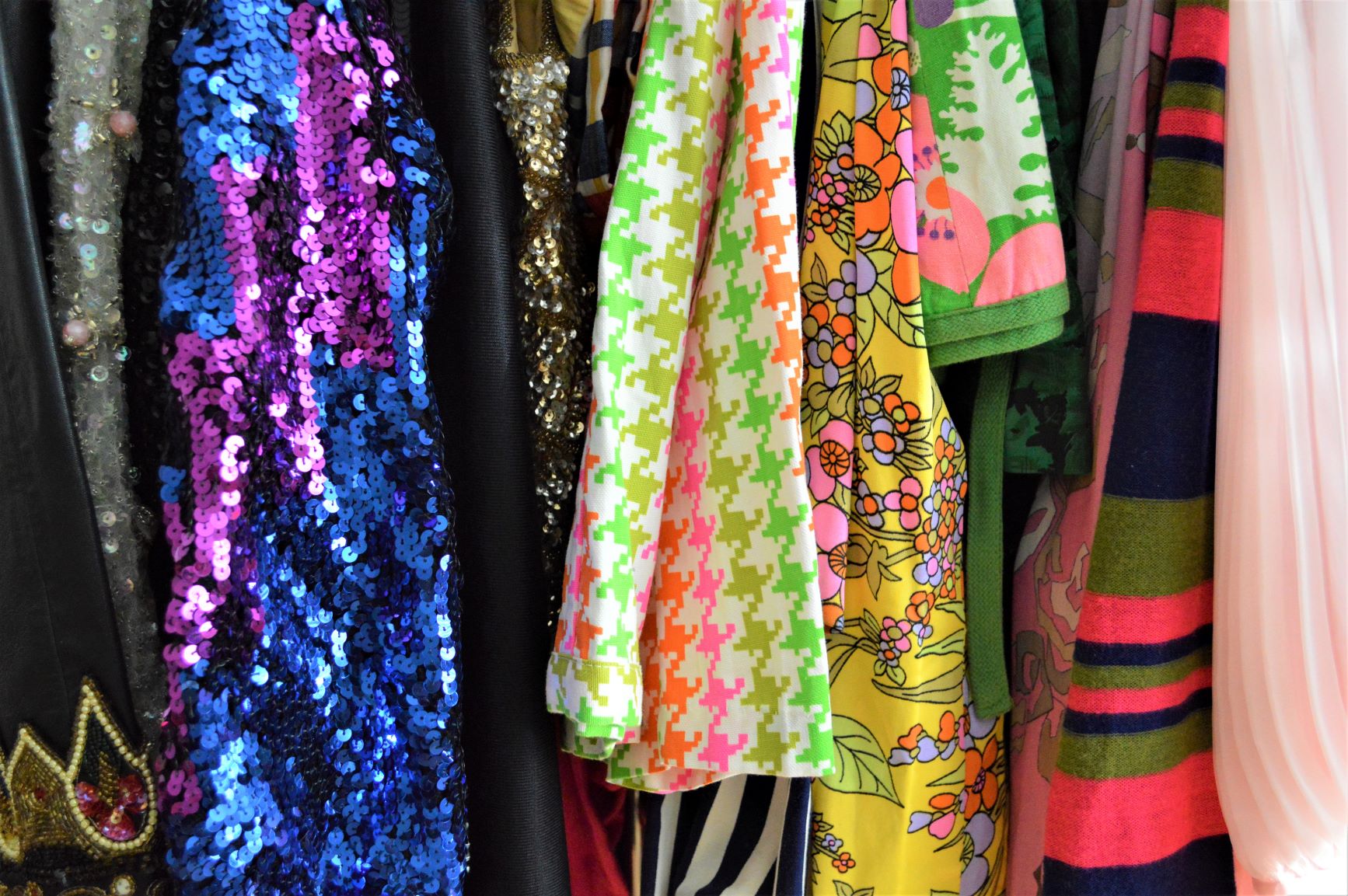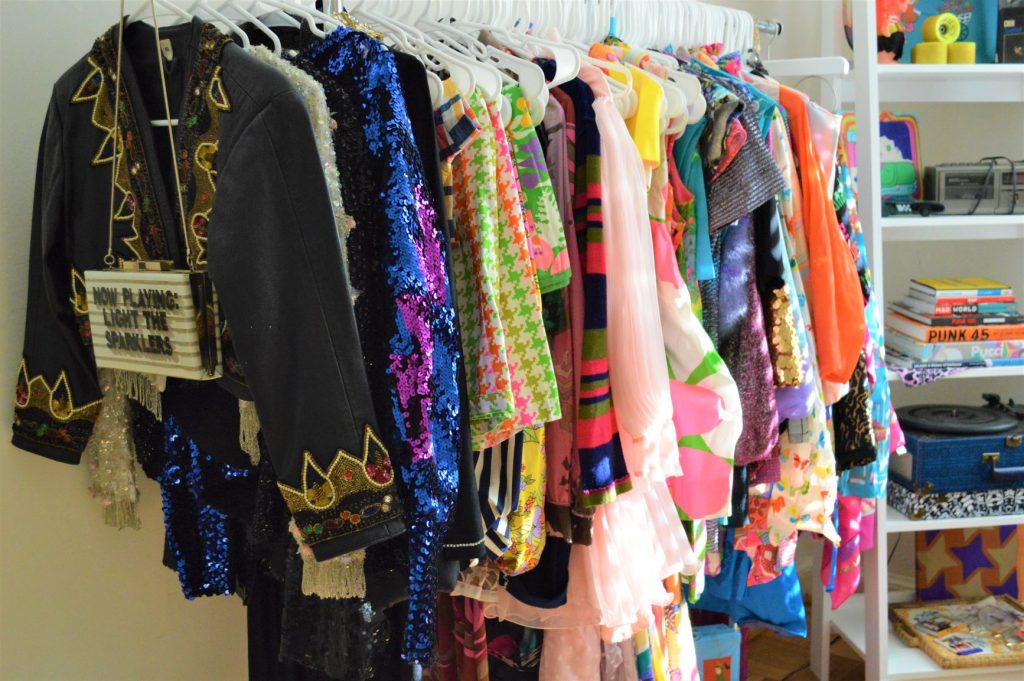 Lastly, I HAD to show off this tiny vintage (70's?) $10 table scored at the Rockville Goodwill.
I found this to be the perfect entrance table to showcase flowers and store keys (it has a cute drawer too!).
On top of the table, I've placed a Goodwill find nautical key holder to hang all of my house keys. When I found this piece, it was hiding in the housewares section. I wasn't sure what it was a first, but I know I could get creative!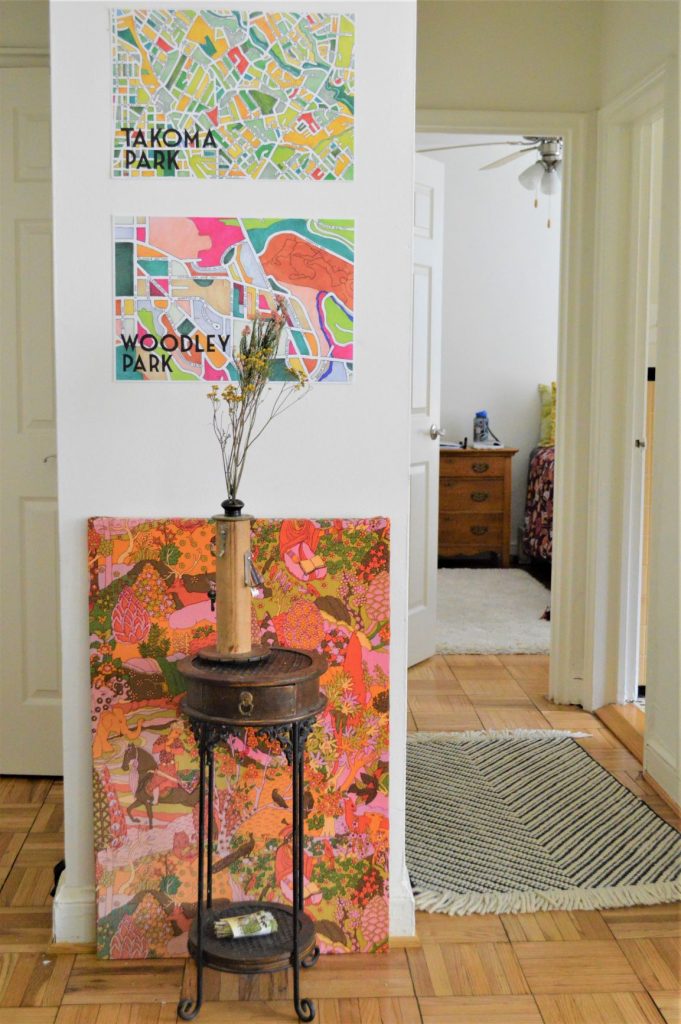 And that's my space so far! I'll provide another update next month, but so far, it's definitely transforming into my dream home.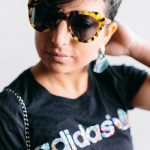 Carolyn Becker
A self-proclaimed thrifty spunky petite fashionista who works in the marketing field by day, and is an artist and musician by night. You can find her bragging about her designer Goodwill thrift finds on her Instagram: @petite_punk.