As we celebrate Women's History Month here at FYG, we wanted to showcase one of the many amazing women that make up the Goodwill-loving community! DC is filled with ladies of all walks of life – foodies, painters, artisans….and today, we're shining the light on a woman that is all of the above!
Readers, meet Mallory – one of the most inspiring and passionate women in DC.
Mallory, a PA native, is one of my good friends who is also an active vegan foodie, artist and fashionista living in Alexandria, VA. By day, she also works for Conversation International, an American nonprofit environmental organization
I first met Mallory through the DC vegan lady community at several potlucks and dinners. After hanging out on many other occasions, I found out that she also loves Goodwill! Since our friendship blossomed, we've Goodwill shopped together at many FYG Meetups!
Enough of me talking. Let's find out how Mallory finds her good at Goodwill!
How would you describe your style/aesthetic?
Hard to narrow down since I really just like what I like, but if I had to choose a few words: boho-chic, vintage, and natural.


What role does Goodwill play in your life?
Definitely my morals.
I know how wasteful the fashion industry is so that is why I choose to shop second hand. I don't only shop for clothing though at Goodwill. I've found some amazing hidden gems in the cooking and housewares section, like a brand new Pyrex! I fully believe, one (wo)man's trash is another (wo)man's treasure!
I also feel like society gets caught up too often in recycling instead of reusing first.
It goes in this order: 1. Reduce 2. Reuse 3. Recycle. 


How long have you been shopping at Goodwill? Any fun Goodwill stories?
I have been shopping at Goodwill for a few years now, but prioritizing second hand shopping for the majority of my life. I've found that I'm naturally attracted to Ann Taylor LOFT clothes at Goodwill.
The past several times that I've been to Goodwill (I should note they were all different locations in the DMV) I've ended up leaving with at least one item that is LOFT. It kind of cracks me up since I've only been to a LOFT store once in my life.
Also, I recently purchased a Gloria Vanderbilt denim skort. I love it and have worn it several times mixing it and matching it with different tights. I never thought I would wear something again that I last wore when I was 7.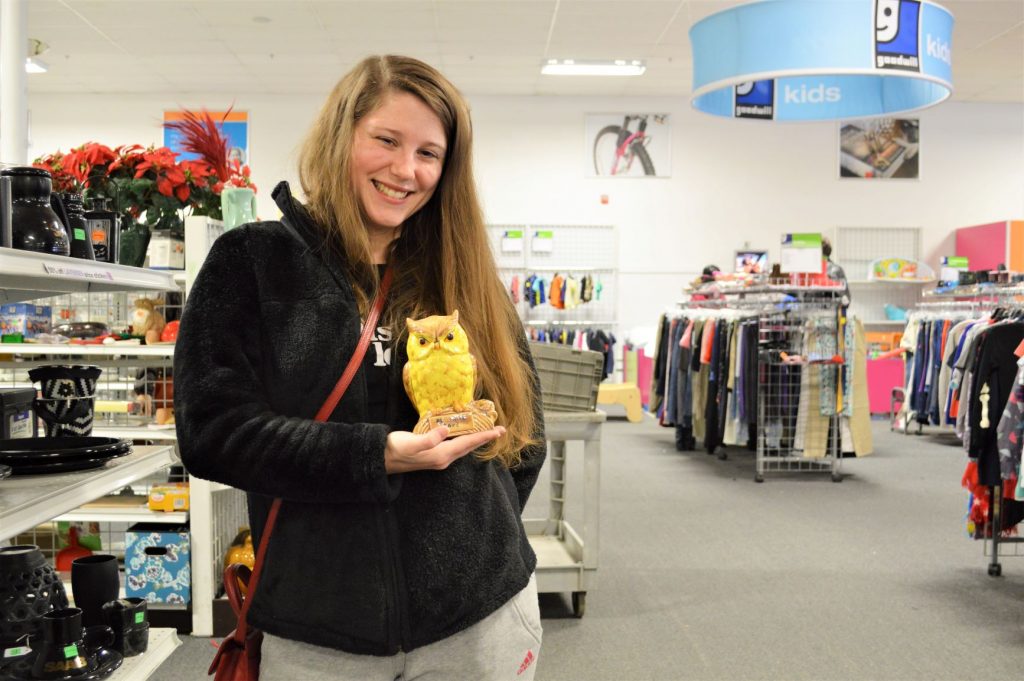 What's your favorite DC Goodwill find of all time?
That's hard to pick one because they are all gems! For this, I'll go with a recent purchase: an Ann Taylor LOFT mustard knit T-shirt sweater. 

What's your favorite DC Goodwill store and why?
Going to say the Alexandria and Arlington stores because I'm biased since I live in that area, BUT I haven't been to all the locations yet and am still making my way to all the meetups that Finding Your Good hosts.


What's your favorite thing about DC Goodwill?
Trust. The fact that I can leave my cart outside the dressing room and no one takes my gems!
And the way the clothing racks are color coded really helps me not feel too overwhelmed.
How do you "find your good" at Goodwill?
I like that I can find unique, vintage pieces and create outfits my own way. I love that I'm not contributing to the wasteful fashion industry by Goodwill-shopping.
It's also really important to me that I'm contributing to the DC area workforce by choosing to shop at my local Goodwill. It's seriously a win-win situation and I save money that I can put towards other things I love, like my dog and traveling.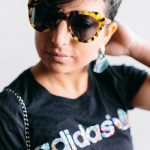 Carolyn Becker
A self-proclaimed thrifty spunky petite fashionista who works in the marketing field by day, and is an artist and musician by night. You can find her bragging about her designer Goodwill thrift finds on her Instagram: @petite_punk.