Inspired by a recent holiday celebration with the Goodwill of Greater Washington team, this post has a slightly different twist to it, yet still aligns with seeing secondhand and donated items in a whole new way!
Leave those ho-hum, have-to attend events at the door!
For a gathering that will be remembered and talked about for days, weeks and months to come, you can combine a party theme with the use of upcycling! And guess what?! It'll only cost a few dollars.
Let this holiday-focused, engaging staff party be your inspiration for connecting your team or group with a truly unique approach.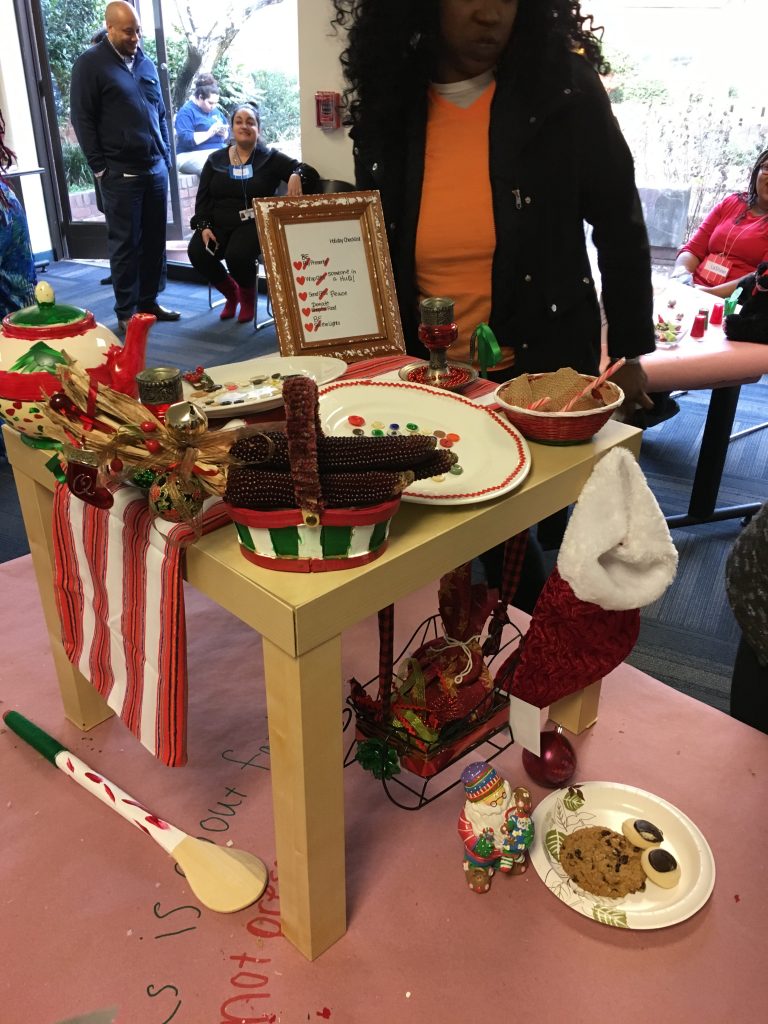 This idea is not limited to the holiday season—consider using it to create memorable birthdays, bridal showers, sporting teams events, summer celebrations and more!
Age Level:Kids of any age
Items Needed:
1. A collection of household items
2. Various colored paints
3. Eye-catching art paper, sheet music, magazines, wrapping paper
4. Scissors
5. Glue guns
6. Modge Podge
7. Paint brushes
8. Other simple tools (screwdrivers, hammers, pliers, etc.)
9. Box of embellishments (fake jewels, old keys, buttons, etc.)
10. Box of holiday materials (ornaments, light bulbs, bows, etc.) or items linked to your theme
11. Optional: festive food and refreshments
Time Requirement:4 hours to host; 2 hours prep time; 1-hour clean-up
Cost:Approximately $20 per person for materials & supplies
Step 1: Select your focus & pick a date!
No matter the purpose of your group—it could be a gathering of friends—there is something about art and creating things that brings folks together in a really fun and engaging way!
Once you have your event's focus, pick a date with all least 4-6 weeks' notice to allow for planning and prep time.
For the event showcased in this post, we wanted to bring the Goodwill team together for a memorable, creative event to celebrate the holiday season.
To align with the nature of the organization, we centered the festivities around upcycling and reusing everyday items.
Goodwill's core mission is also about transforming lives and communities in DC and we decided to hit home this message by naming the actual party after this value. This shindig was titled, "Staff Holiday Transformation Extravaganza."
Step 2: Create themes & teams
For this event, we mixed up the staff, separated departments, and put them into multiple themed teams, so that they could connect with others they don't necessarily work with on a daily basis.
Tying into the holiday focus, team themes selected were, "I'll have a blue Christmas without you," "Musical Melodies," "A dog day holiday," "Land of the misfit toys," "A groovy holiday," "Peace on Earth" and more.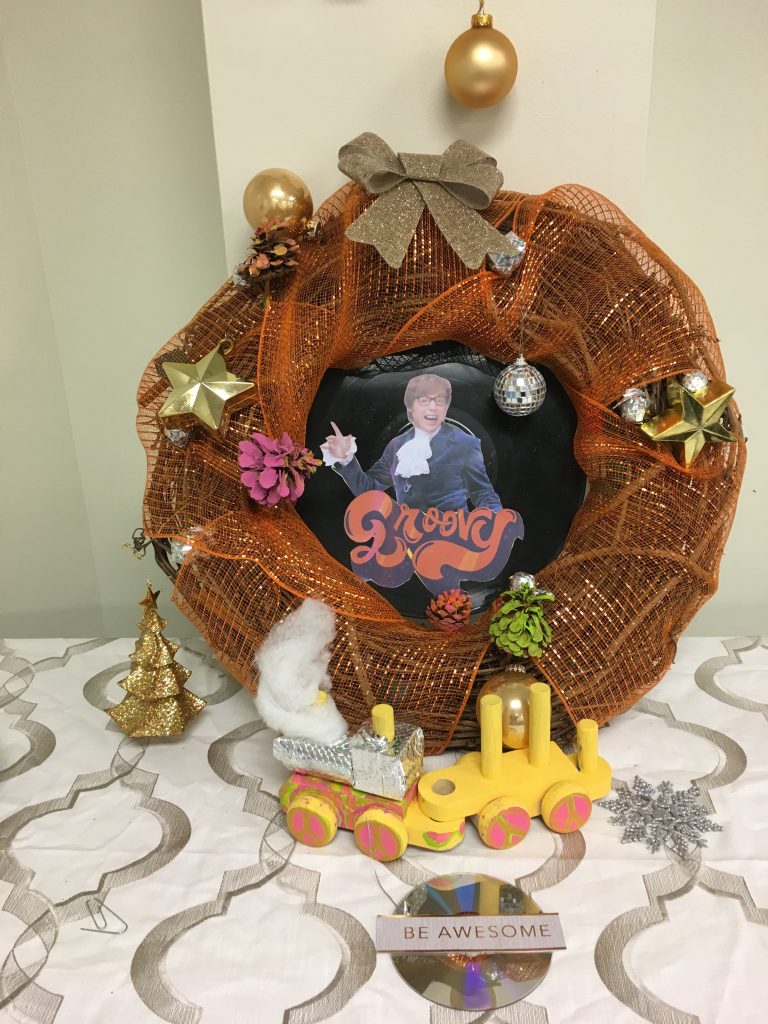 For your event, it's important to understand how many folks will be attending. Based on the number of people who will participate, place attendees in teams of 4-5 individuals who be working together.
From there, you'll have an understanding of the number of teams needing a theme to focus their creative efforts.
Step 3: Determine spending limit
You have your teams and themes – now you need to decide the spending limit for each team at their favorite Goodwill.
For our event, each whole team had $30 to spend.
Good thing is, you don't need to allocate much to each team; it's mazing how many great items you can purchase at Goodwill!
Step 4: Announce the rules, details, awards
At least two weeks prior to the big event, you will need to let participants know the details. To do so:
Bring the teams together for a quick meeting to announce the plans and share details.
During this event, you'll announce who is on each team and have them randomly select their respective team's theme to add extra excitement.
Share the amount the team has to spend and allow teams to meet so they may plan a shopping spree at Goodwill.
For the event, encourage folks to wear attire to tie into the overall theme, too, and to add another element of festive fun.
If you are giving out awards, announce them now, too.
For our event, the awards were "Most Festive," "Most Out of the Box," "Best Use of Team 's Talents" and "Staff Favorite."
Keeping with the upcycled theme, I transformed old trophies into new awards by painting them in Goodwill's colors and adding their logo to each one. (If I do say so myself, I think they turned out great!)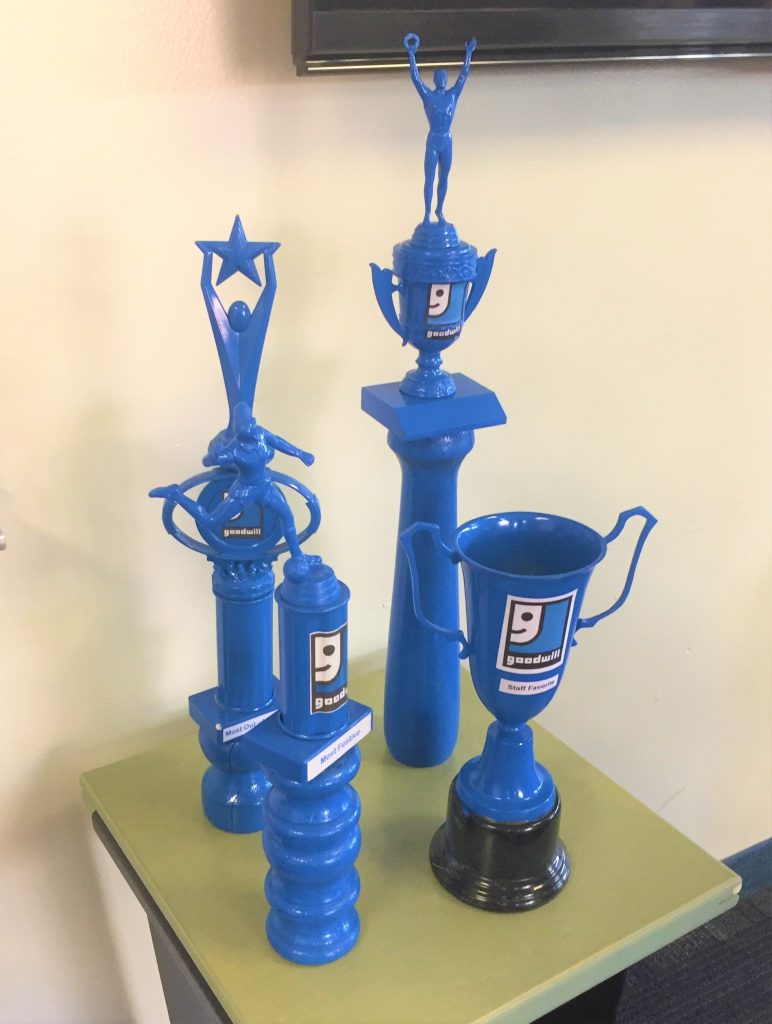 Step 5: Gather supplies
During the days that the teams are planning, gather your DIY supplies. Make sure to have plenty of brushes, glue guns, paper plates and small cups to hold paints and Modge Podge.
As referenced earlier, this is where you might spend the $20 per person to cover these needed items. However, you can save dollars by reusing old holiday decor and collecting items (like old keys, necklaces, etc.) that you already have on hand and that can be used to embellish projects.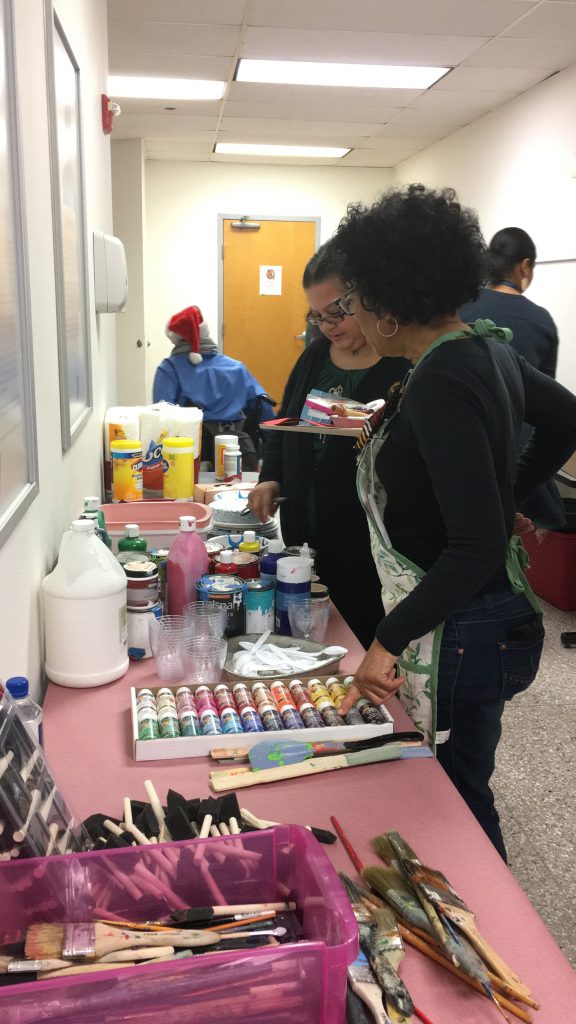 If possible, secure some great volunteers to support the event by collecting used brushes, and encouraging the DIY visions to come to life! Based on the size of the group, you will likely need one helper per ten people.
Step 6: Day-of set up
Allow at least two hours of time to get things ready. Here are some prep tips:
Arrange the space so each team can sit and work together.
Cover tables with newspapers or rolls of painter's paper to protect them from spills.
Place all materials on other covered tables that are easily accessible.
Turn on the holiday music and you are ready to go!
Step 7: Host and get out of the way!
Participants will now arrive with their $30 of items to use for their themes.
Kick things off then get out of the way and watch the fun—and creativity—be unleashed!
Don't forget: Encourage folks to take periodic breaks to step away for their projects and get refreshed. You should also remind participants of the time remaining so they are able to complete their projects in time. There's nothing like a deadline to motivate!
Step 8: Present awards & celebrate creativity
Once work time is over, it's time for the most joyful and hilarious part – the big reveal!
With our event, teams gathered to share details of their transformation and theme.
It was truly exciting to hear what items they used and how their ideas and plans all come together—or what surprises happened along the way! You will be totally blown away by the creativity of those participating, especially among those who don't think they are very talented in this area.
While each team's efforts are truly award-worthy, some hard decisions will be made to select the award recipients. However, this adds to the excitement of the time together with one guarantee….everyone will feel like a winner with this engaging, energizing and unique event!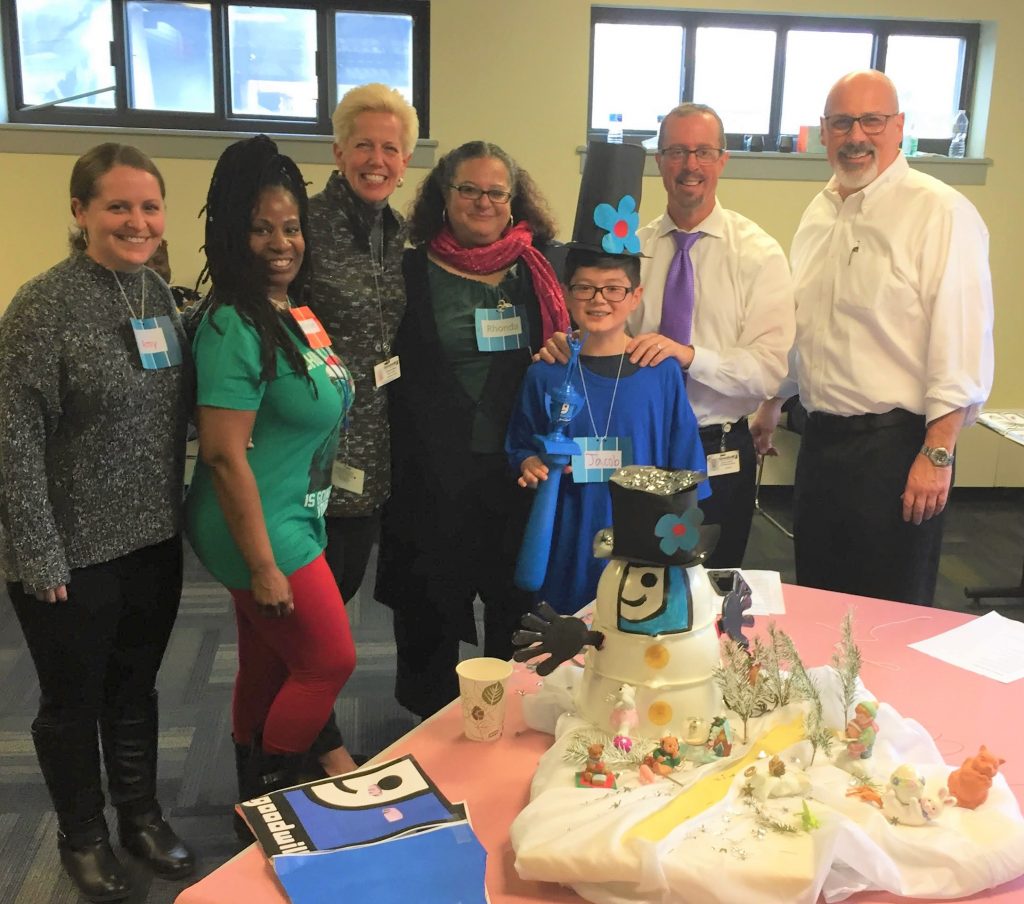 Special thanks: Hats off to Goodwill's CEO Catherine Meloy for her tremendous support of this event and of the team's important work every day. Thanks to Brendan Hurley for his vision and Jasmine Taylor for pulling it all together. My heartful gratitude to Katherine Maldonado, Claudia Morris and Dennis Baker for volunteering their time and talents to help ensure the event's success and to support of Goodwill!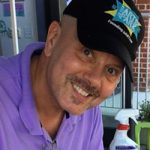 Tim Kime
Tim Kime is an artist, life coach, connector. He is President of Kime Leadership Associates offering executive coaching, meeting facilitating and motivational speaking. He is also Chief Creative Force of Transformation Junkies which upcycles furniture and other household items into functional works of art. He combined his two passions—unleashing the potential in people and transforming items with the launch of the Art of Possibilities Workshops. These workshops are part upcycling, part dreaming, part goal setting.