Merry May, my fellow gifted thrifters and thrifty gifters! Third and last month of Spring, Iyyar 5782 (Jewish month and year), Asian / Haitian / Jewish American Month, Mental Health Month, MerMay (as in mermaids)! Month of May Day, Workers Day, Beltane (Gaelic festival), Eid al-Fitr (end of Ramadan), May The Fourth (Star Wars Day), No Diet Day, Mothers Day, Memorial Day!
One of the reasons my May has been merry was that I FINALLY visited the new Goodwill in North Rockville for the first time!  And, spoiler alert, I loved it.  And I'm looking forward to returning as soon as I can.   
My spouse Julia and I had not been thrifting in person since the Before Times. In February of 2020, DC Goodwill had a Finding Your Good Meetup at the original Goodwill location in Rockville, and we went to it, and had a great time. The next month, of course, the pandemic started. We turned to online Goodwill thrifting, via ShopGoodwill.com, and have had a great experience with that. But of course we missed Goodwilling in person. And when the new Goodwill in Rockville opened last September, we were very excited and tempted, and wanted to go as soon as it was safe enough for us.
We've been vaccinated and had our first boosters, and wore our masks. Most of our fellow shoppers were wearing them too, and we could pretty easily distance ourselves from those who weren't. And the situation seemed safe enough for us otherwise.
Too, the layout accommodated Julia's mobility scooter – it needs more space than the ADA (Americans with Disabilities Act) provides, which unfortunately prevents her from thrifting at many places, and entering/navigating many others.
After marveling at how the location looked even better in person than the photos and videos we'd seen, we started our shopping journey at the neckties and hats.  Julia has thrifted an amazing collection of both, as you can see in my January post for this blog ("My Stylish Spouse's Thrifted Hats And Ties, Oh My!").  And she did find a very cool ball cap, which we'll show you later on.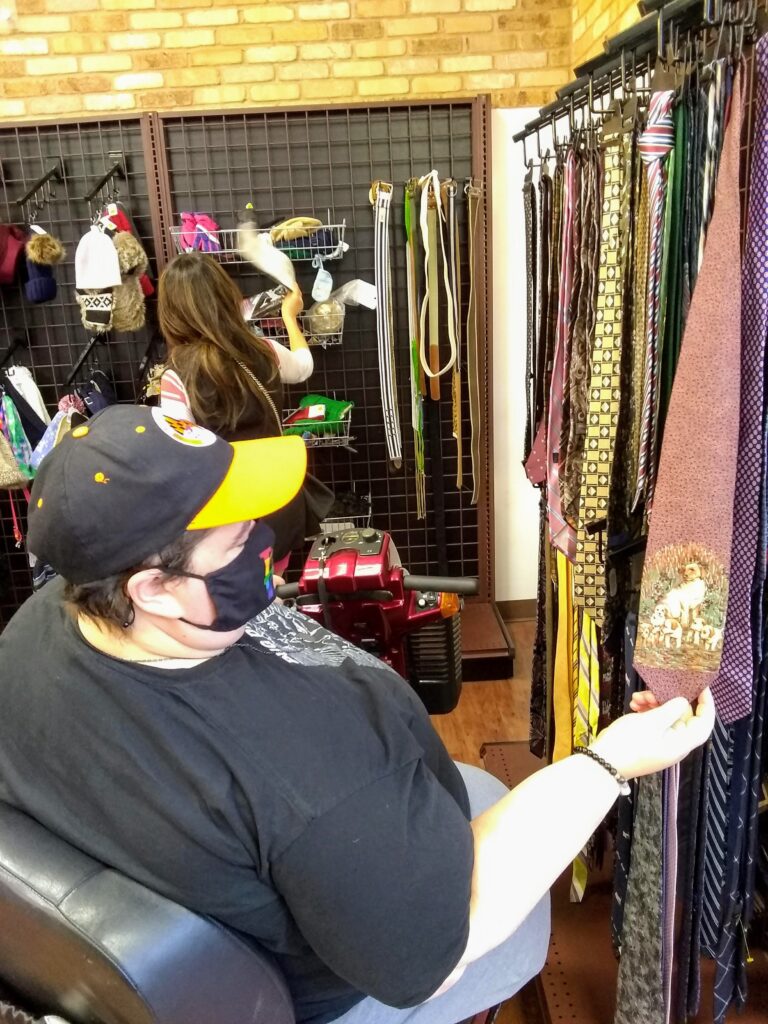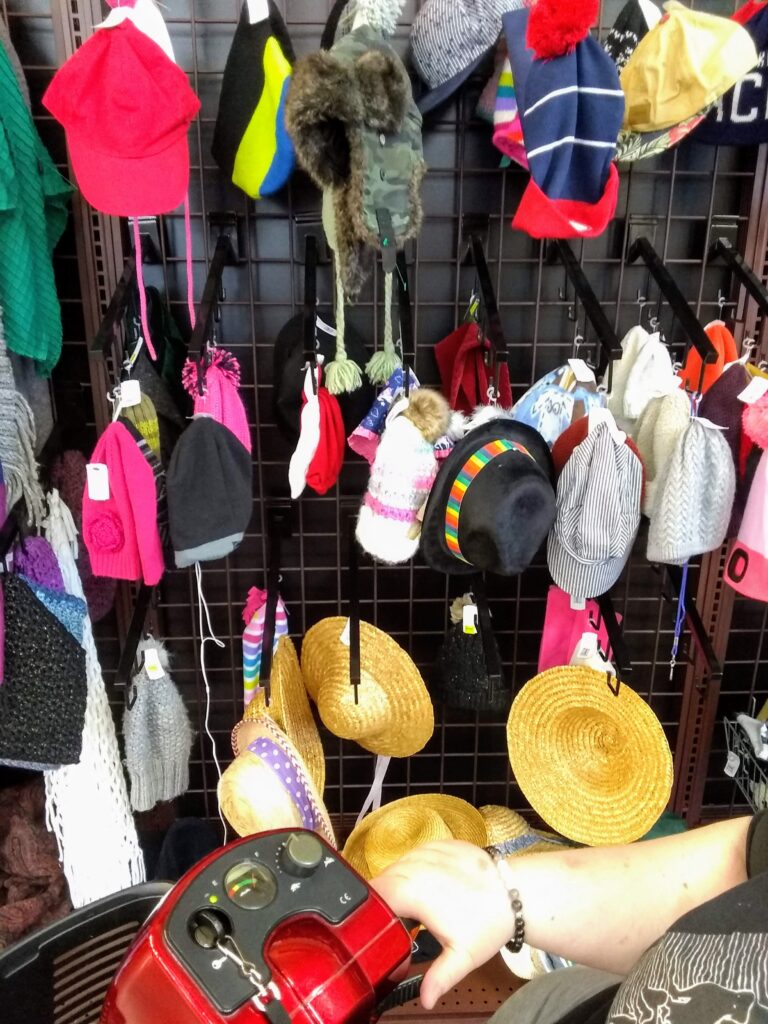 I collect scarves. Do I, allegedly, have more than enough of them already? Yes. Did I buy three more of them during this thrifting trip? Also yes. In my defense, it's very hard to find scarves, other accessories, clothing, etc. in this great green of the one on the left. And the middle one has the Hebrew and English text of Deuteronomy 8:8, describing the Promised Land of Canaan / Israel: "A land of wheat, and barley, and vines, and fig trees, and pomegranates; a land full of oil olive, and honey", with images of those foods! The right one looks a lot like a traditional tallit (Jewish prayer shawl). As a Jewish and interfaith leader, you can never have too many scarves! Or so I tell myself.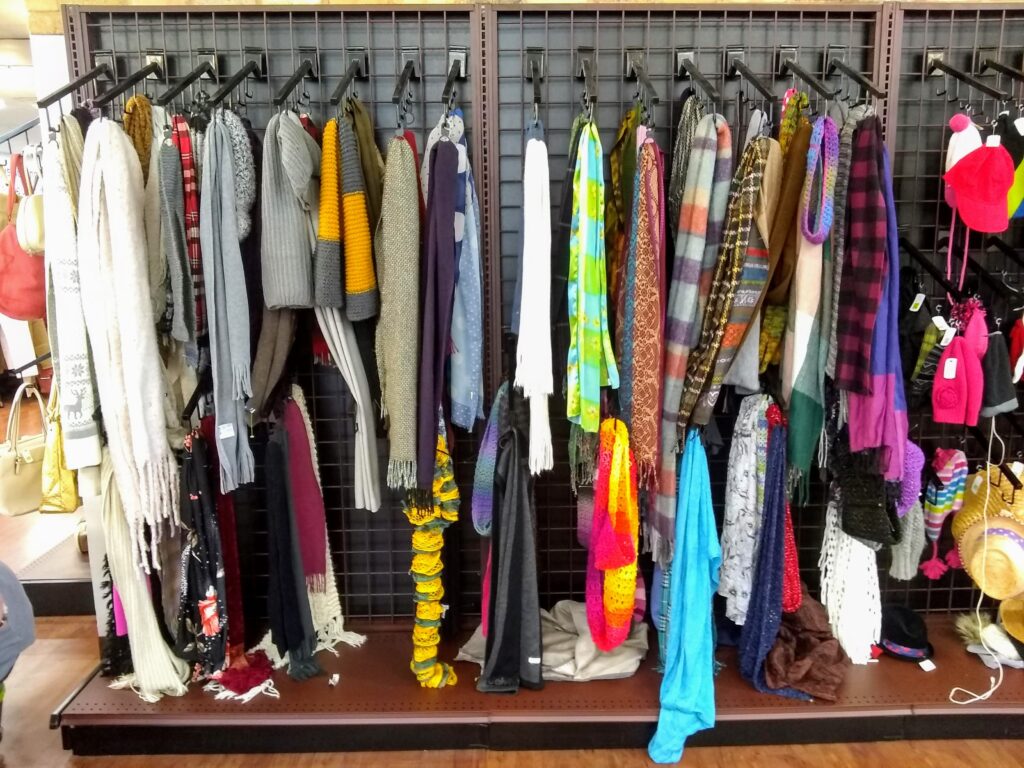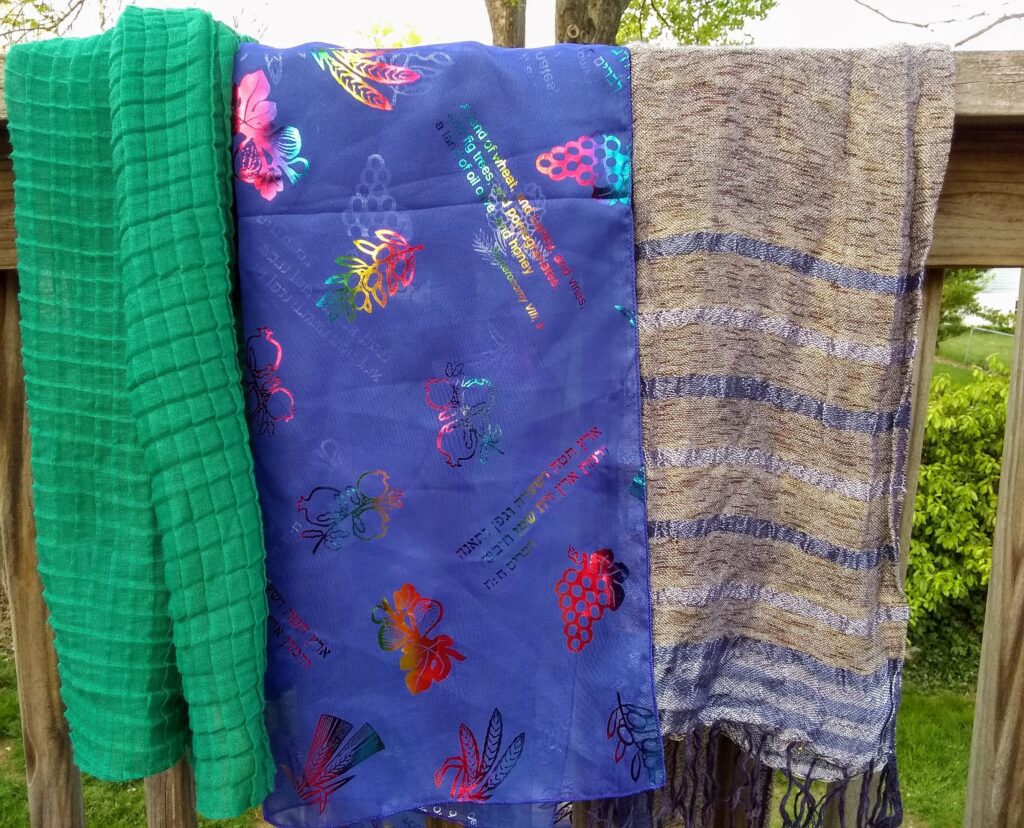 The biggest thing on our shopping list was picture frames. We are finally getting around to framing and hanging more of our art collection. And it is so much better, including cheaper, to thrift frames. We were especially pleased to find document frames, as we have an important photograph and drawing that are both printed on document-sized paper. And how great is it to find a frame that has a built-in shelf? We both love tchotchkes (a Yiddish word for small decorative items), so we can never have enough shelving.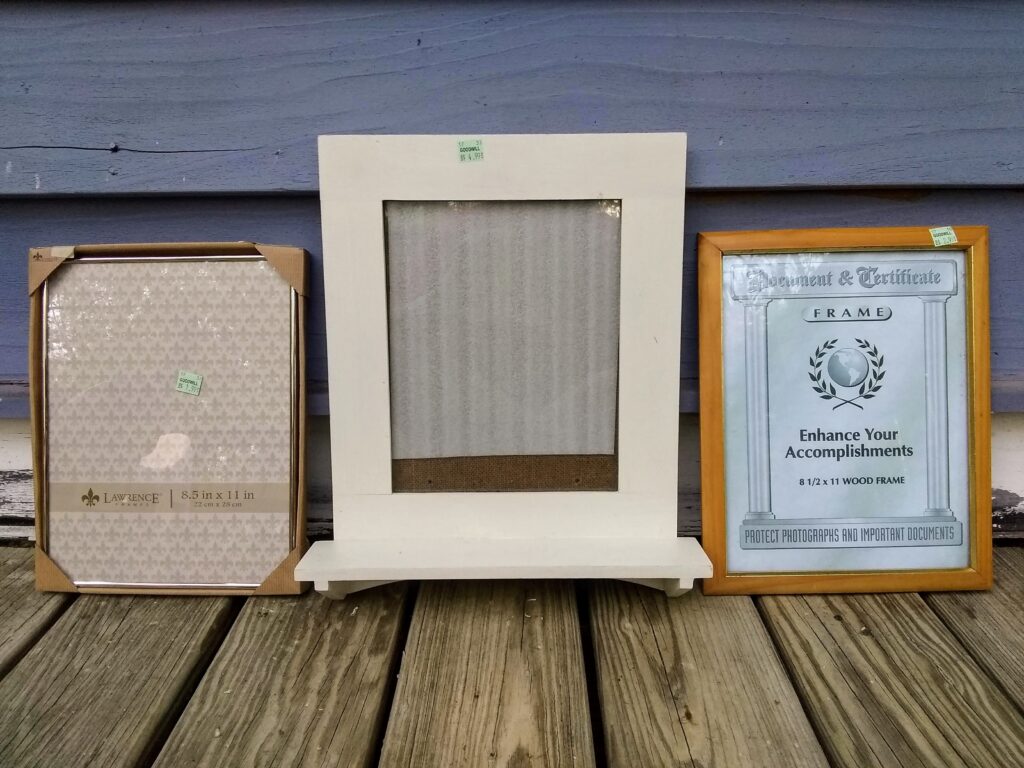 Of course, looking at frames meant looking at artwork.  And I was oh so pleasantly surprised to find this fabulous seahorse painting!  I love seahorses.  Partly because they're one of the symbols of the trans community (especially because some of our men and nonbinary people also bear children), it even matches the wild wallpaper in my home office/studio.  (Which used to be my spouse's childhood bedroom, and the 70s were a very special time in wallpaper design.)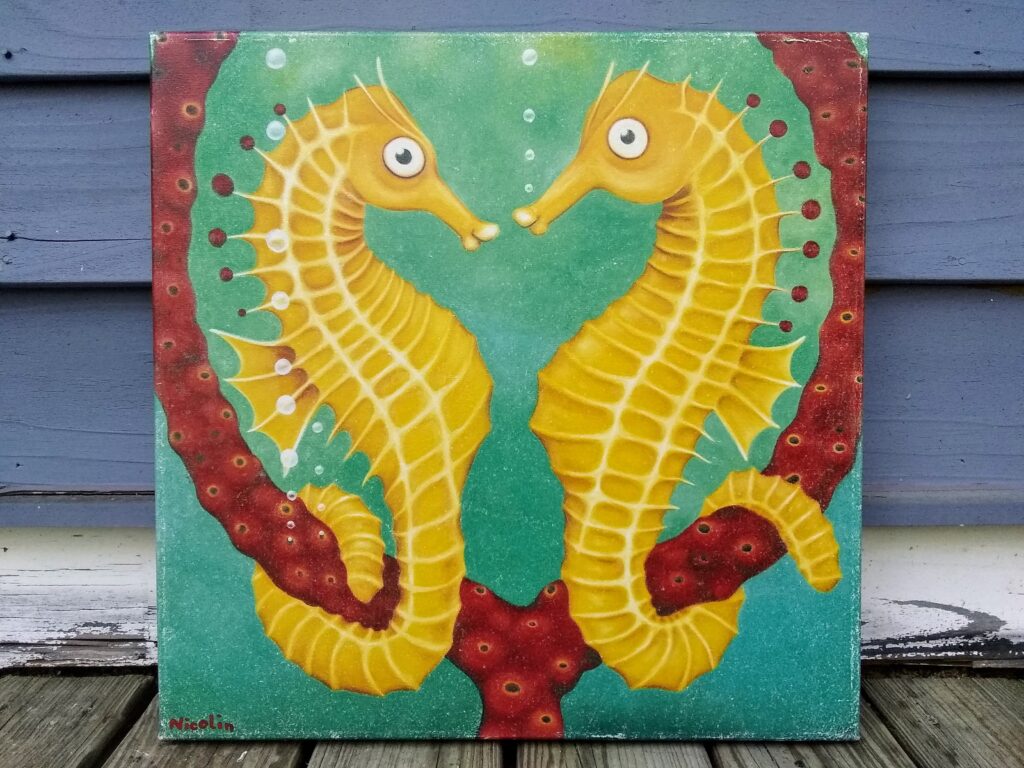 As usual, we looked at all the other areas of the store, too. And not too surprisingly, we found several more items to bring home with us.
A second thistle feeder to add to the various bird feeders on our deck, which enable Julia to do some disability-accessible birdwatching at home. It already has thistle in it in this photo because we were so excited to set it up and use it! And it's by Droll Yankee, a great old brand which understandably doesn't retail for thrifty prices.
A new lamp for Julia's nightstand, which was also on our shopping list. It works well with the fancy bulb she got – she can make the light any color or type by using an app on her phone! Also, a little Ganesh altar that you can sit on a surface or hang on a wall, with removable lotus-design cups that you can put tea light candles or other things in. That will become part of the McCrossin Collection of Cultural Curiosities – the mini museum Julia is curating in the spare room of our house! Most of the curiosities are thrifted, of course. We also got a set of tea light holders in a pressed glass design that we've always liked, and which matches some lanterns we've thrifted.
A mini basketball hoop for the house, which Julia hasn't had a version of in too long. An Indiana Fever ball cap autographed by the whole team, to add to her ball cap collection – and since this one is so special, it will live in the women's basketball display we just set up in a corner of our living room. Julia loves women's basketball, especially the Maryland Terps (Terrapins) and Washington Mystics. And she loves Maryland, and has always lived here, so it was fun to find a garland of Maryland flag pennants.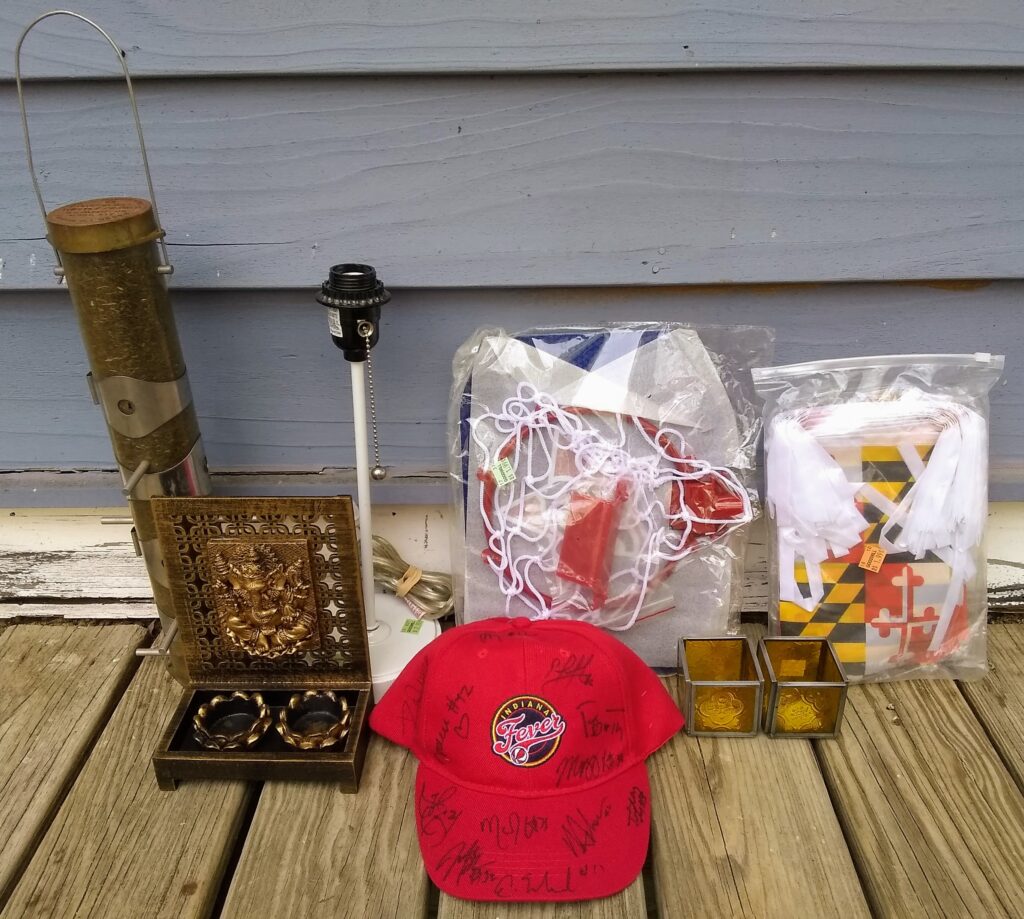 I finally got a photo of myself in front of the beautiful tile mural outside the dressing rooms! I've been wanting to do that since I first saw the mural in the pre-opening photos and videos of this store. The space used to be a tile store, and this is an awesome leftover of that. I love mosaics – if I ever win the lottery, remind me to do something like this with one of my walls.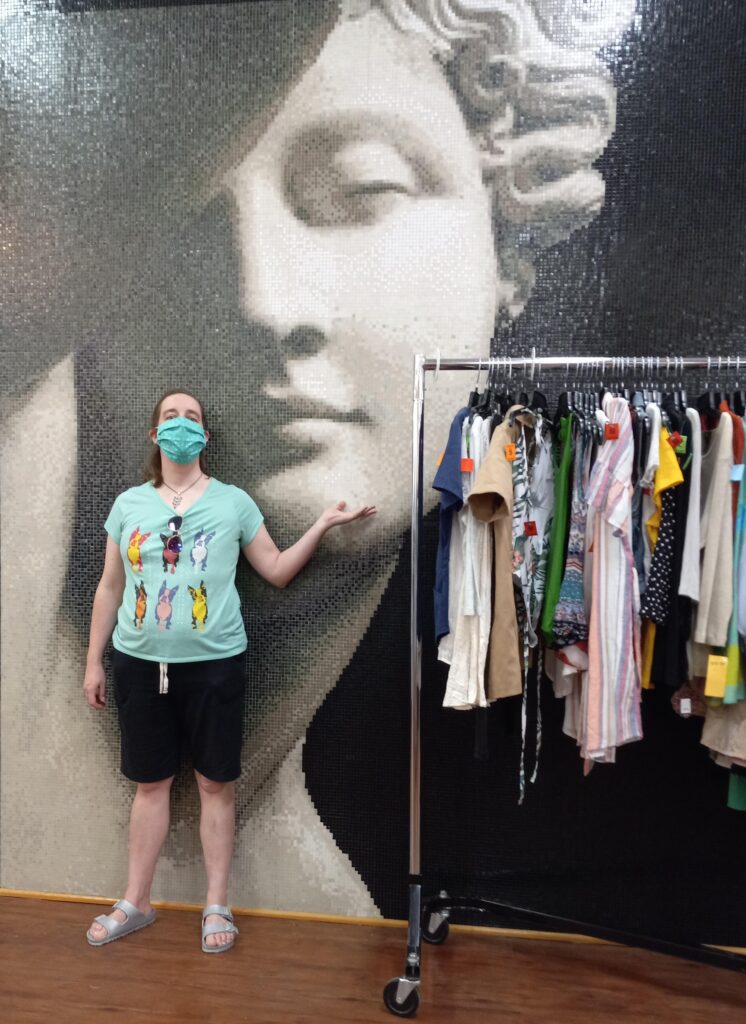 We almost went on to our local Goodwill here in Gaithersburg, which we also hadn't been to since the Before Times. But, we had already shopped until we dropped. So we dropped off some donations at the Gaithersburg location, then dropped down on our stoop to rest for a while before schlepping our shopping inside. And we took this sunny, sleepy selfie. In outfits that are almost all thrifted.
Again, I wish you all a merry May! Join me here next month, LGBTQ+ Pride Month, when we'll be looking at rainbow items and more. Plus, we'll be celebrating my first year as a guest blogger here at FYG!
About our fabulous guest blogger: