I hope you've been having a just January, my fellow thrifters and thrifty gifters! This month includes my spouse Julia's birthday, and next month has Valentine's Day. So, we're collaborating on this post.
My Julia is a superfat queer woman with a mas(s)culine style, so it's very challenging to find and afford clothing in her size. She's also disabled by chronic illness; so, even in the Before Times, she wasn't able to do a lot of offline shopping, and of course, the pandemic has made that much more challenging. However, she has found a lot of great men's clothes at Goodwill of Greater Washington, other local and vacation Goodwills, ShopGoodwill.com, and through other thrifty sources. Including shirts, tees, and other tops; vests, sweaters, blazers, coats, shoes, and more.
It has made me so happy and proud to watch her discern, build and live into her personal style! And help other people do the same. She is my favorite online find, by far (we met in an online community, more than 12 years ago)!
Her experiences have also taught her to fully appreciate accessories. Let's look at her amazing thrifted hat and necktie collections since we've made displays out of them in our home. She also has great collections of scarves, jewelry, and watches, which I'm sure we'll show you at some point.
Here are her old-fashioned men's hats in several classic styles, including many of her beloved flat caps, on display in our bedroom. And as you can see in the background, she has also made a nice storage and display area for her jewelry, out of a nightstand and jewelry boxes, in the back of the closet. You can also catch a glimpse of Julia's thrifted Big Boy piggy bank. And a bit of our thrifted celestial theme.
Here's a closeup of four of her favorite hats, all from DC Goodwill. And yes, she's worn the terrific Terps one to some of the University's women's basketball games.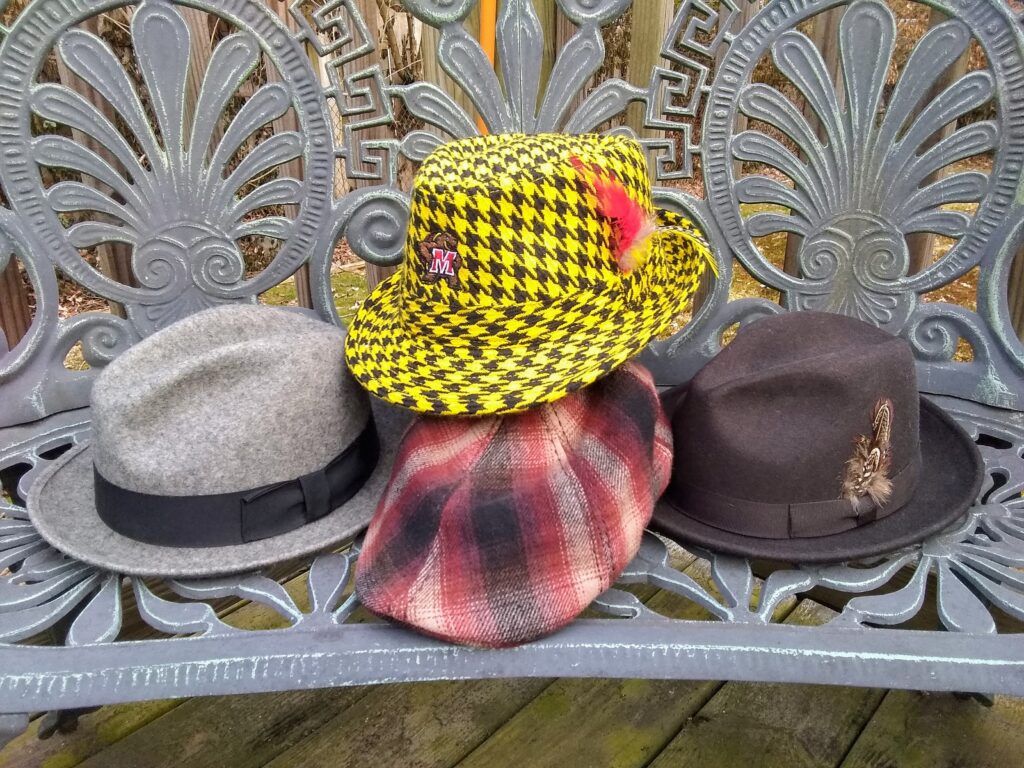 We hung all of her dressier hats with these nifty things.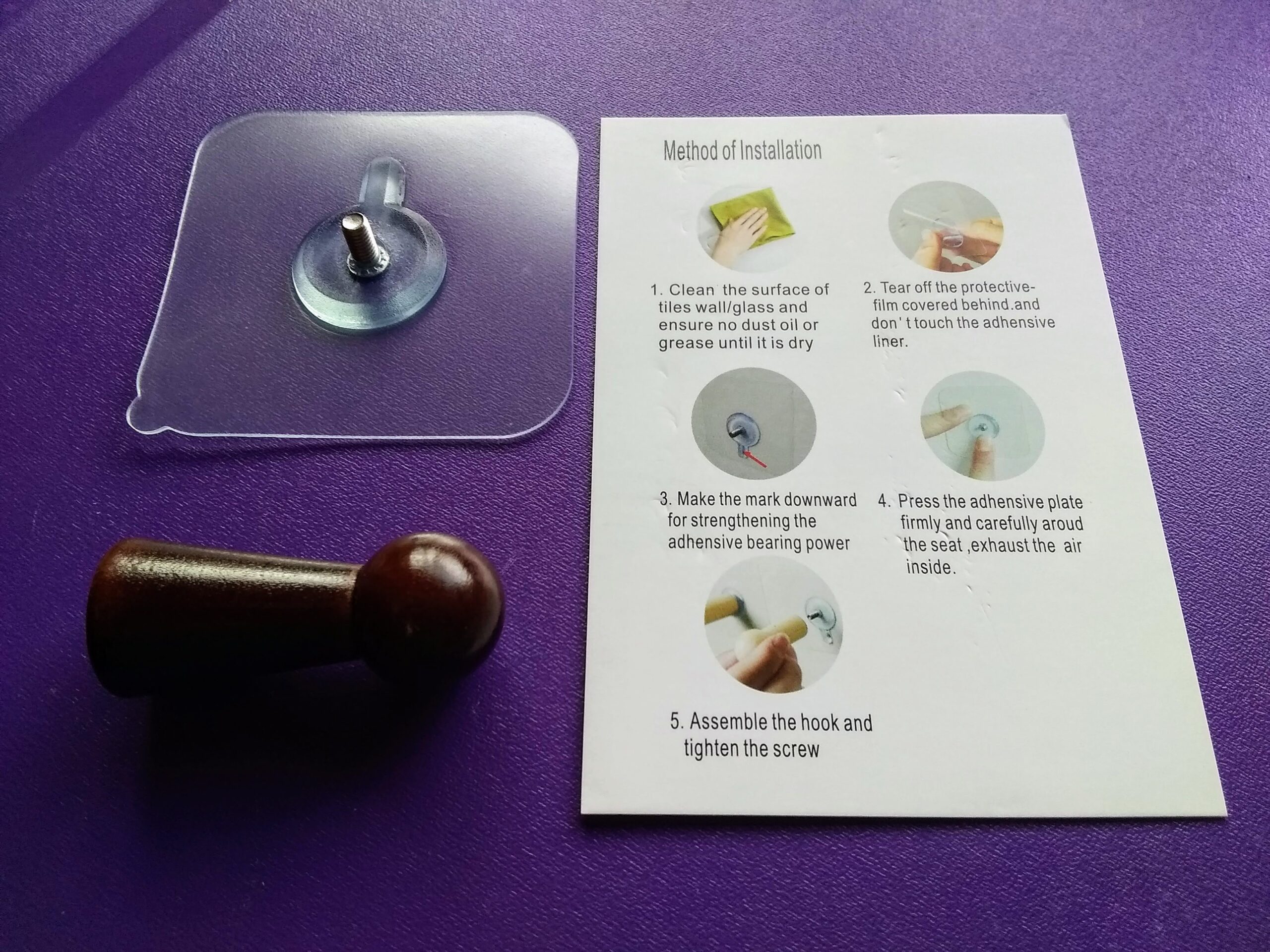 Julia also loves ball caps and usually wears one when she goes out. We found this cool suspenders-like contraption so that we could display them on the inside of our bedroom door. The pretty little thing above the light switch is our thrifted mezuzah (a piece of paper with some specific verses from the Torah, inside a decorative case). On the right is a giant jewelry box I inherited from Julia's late mother.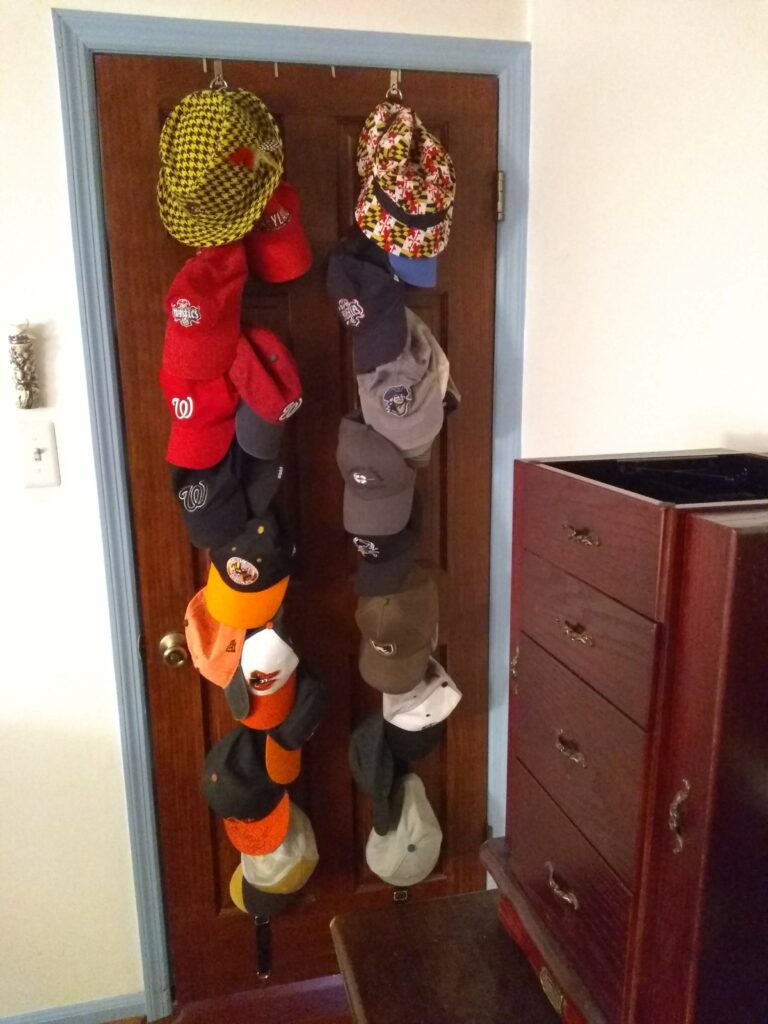 And here is her thrifted necktie collection. Which includes some bow ties – a few of them handmade by a friend. There are colors, patterns, and prints of many kinds. As well as plants and flowers, bears including pandas and koalas and teddies, birds, dragons, whales, penguins, otters, elephants, dogs, and more, oh my! She also has ties from local landmarks such as the National Cathedral and Smithsonian Institution, both of which she used to work at. And some museum-produced and -themed ties, along with some that reproduce old city maps.
While you're here, take some time to enjoy and/or be disturbed by the wild 70s wallpaper – our home office and art studio was Julia's childhood bedroom. And it is way wilder in person. Charlotte Perkins Gilman's infamous 1892 short story The Yellow Wallpaper must have been written about something like this.
When/if you recover, here are a few tie-lights – specially selected to remind us of Summer. Bold stripes by Burberry (!), lighthouses by Ralph Lauren, and Pride by an unknown maker. And all three from Goodwill of Greater Washington!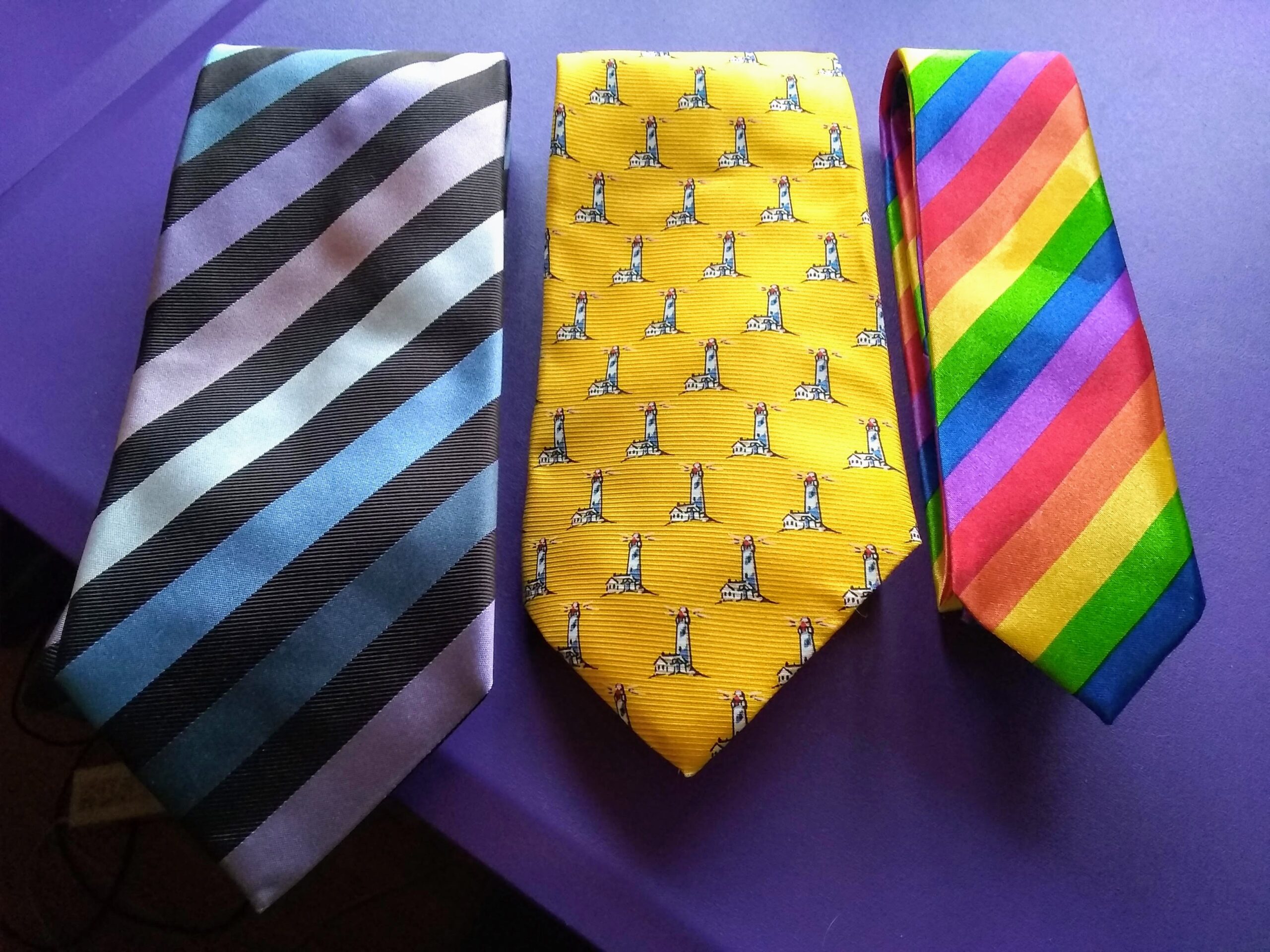 Speaking of fashion, Julia also has ties by Brooks Brothers, Pierre Cardin, Calvin Klein, Chaps, DKNY, Oscar de la Renta, Perry Ellis, and other well-known names. And yes, all thrifted!
She does have a style blog, which has been on hiatus but remains available, and she hopes to get back to it. She also founded Big & Tall Style For Butches & Others, a Facebook Group for people who aren't cis (non-trans) men and are interested in mas(s)culine fatshion.
Too, she has created and curated a miniature museum in one room of our house, The McCrossin Collection of Cultural Curiosities, which will be opening this year. In keeping with our theme today, here's a teaser from the Collection's hat shelf. Two traditional Asian designs, and one from the Wild West.
Until we meet again next month, may you stay warm, well, stylish, and thrifty!
About our fabulous guest blogger: