You'll flip your lid for these fun jar transformations!
Here's a creative Mother's Day gift perfect for the Moms in your world: transform old jars into a set of adorable, personalized containers!
Embellish a jar's lid with items such as plastic animals, drawer knobs and more. Fill with candy, bath salts, tea bags—or even pet treats for those who have four-legged, furry family members!
Age level: Teens and adults
Items needed:
1. Mason jars with lids
2. Plastic toys, knobs
3. Glue gun & glue sticks
4. Glossy spray paint
5. Goodies to fill
Time requirement: 30 minutes (not including paint drying time)
Cost: $4 each
$1 to $2 per jar
$2 for plastic toys
$5 for spray paint with tons left over for more fun!
Instructions:
1.      Always a good day at Goodwill!
Be optimistic and see the glass—or in this case, the jar—as half-full!
Part of the fun of being a regular Goodwill shopper is there are always cool things ready to be taken home that can be used immediately or transformed with minimal effort.
You never know what will be waiting as you look for your good there!
With that said, there are usually mason jars in the Glassware Section that are perfect for this easy, DIY project. Be in the hunt for ones with lids.
2. What's your handle?
Check out the Kid's section at Goodwill to see if there are any toys or game parts (like dominos, chess pieces or dice) that you can turn into your jar's lid handle.
Sometimes the section that has decorative knick-knacks might have small statues to use for this project.
I picked up a bag of plastic farm animals from a local craft store because I like their universal appeal.
Based on who will use these containers, you could use plastic dinosaurs, army men, even Barbie doll boots or shoes! Small hardware nuts and bolts are a great options, too!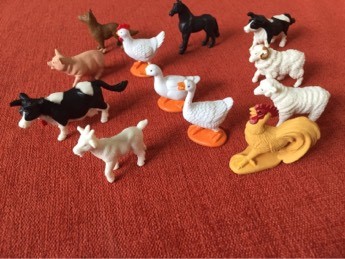 3. Label lids & jar bases
If you have a variety of sizes of jars, save time by adding a label to the side of the jar with a corresponding number on the one you place on the inside of the jar lid.
This will make it easy to match them up when you complete the next steps.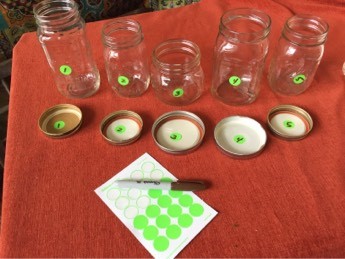 4. Grab that glue gun
With your handy and ever-present glue gun, place hot glue on the bottom of your items which will serve as the lid's handle/decorative piece.
I added it to the bottom of the feet and bases of the animals.
Place on the lid's top and right in the center and hold it for a second until the glue holds tight.
5. Spray on some pizazz
Place your embellished lids on a drop cloth or piece of newspaper either outside or in a well-ventilated area.
With a colorful can of glossy spray paint, add a light coat getting your glue on items from several angles.
Let this coat dry.
Repeat several times until all edges and sides of your plastic toy or knob are completely covered. Ideally, let it dry overnight.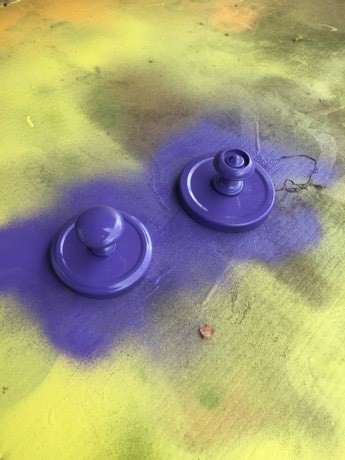 6. Fill with goodies and give with love!
If your Mom is lucky enough to receive this fun set of containers, then fill one with chocolate kisses or other candies that are sweet like her!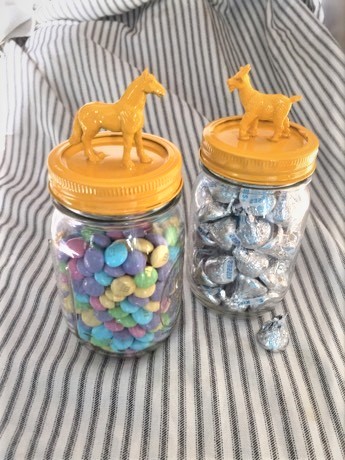 Fill another with other nuts or fancy tea bags. She could use a set in the bathroom to hold cotton balls, Q-tips or small soaps.
If your Mom likes to sew, fill one with buttons, another with spools and other with ribbon.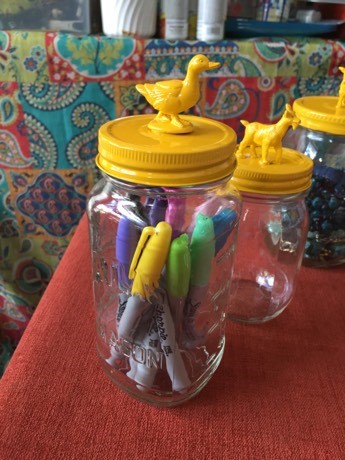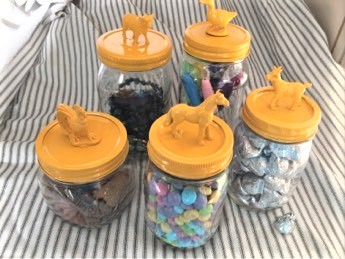 One could hold jewelry, too!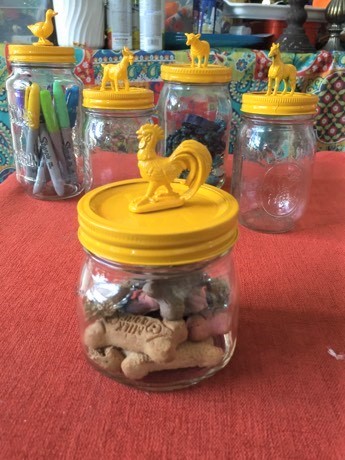 This cool set is great to give to the graduate as well as Dad for Father's Day.
No matter who receives them or how they are used, these whimsical containers are sure to delight!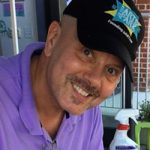 Tim Kime
Tim Kime is an artist, life coach, connector. He is President of Kime Leadership Associates offering executive coaching, meeting facilitating and motivational speaking. He is also Chief Creative Force of Transformation Junkies which upcycles furniture and other household items into functional works of art. He combined his two passions—unleashing the potential in people and transforming items with the launch of the Art of Possibilities Workshops. These workshops are part upcycling, part dreaming, part goal setting.