You won't lose your head but might lose your heart with this week's DIY blog. Inspired by our recent DIY Plant Swap and Planter event, I was looking around at other unique items to transform to hold a house plant. Somewhere on social media, I saw several creative types who had made heads with the hair being real-life plants.
Here's my spin on that idea by taking a styrofoam styling head and transforming it into a planter that will make your head (and those of your family and friends) turn, too!
Items needed:
· Styrofoam styling head
· Small house plants
· Craft paints
· Small paint brushes
· Sharp knife
· Spoon
· Sharpie
· Glue gun
· Fabric scraps
· Silk flowers
· Jewelry pieces
1. Two (or three) heads are better than one…even if they aren't real!
Stop by your local beauty supply store to pick up one (or a collection!) of those white, styrofoam mannequin heads used to hold wigs and other styling items. Each cost $7. No need to shake your head about this cost!
2. Not to be gross but time to scoop out the "brain"
You will want to create a space to hold your plant, so time to cut and spoon away. With your sharpie, trace a circle on the top of your head—I mean the Styrofoam head, that is!
Very carefully, use a knife to cut a circle.
Again with your knife, cut lines from one side of the circle to the other.
With your spoon, dig out this circle section.
Keep scooping away until it is deep enough to hold a small container for your plant.
Dump out the cut up pieces, insert your container and, based on the depth, you may need to continue carefully cutting and scooping. This was the most time-consuming part of the project and also the most dangerous because of the knife, so handle with care, please!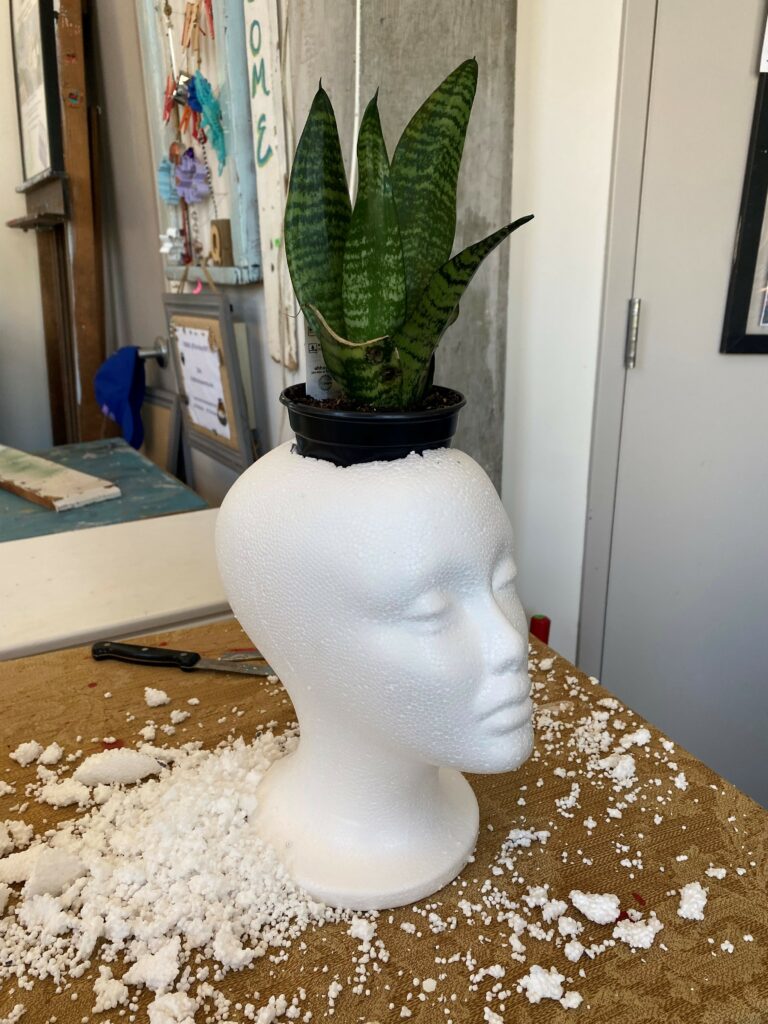 3. Draw on your face
Okay, again to be clear, I mean draw on your styrofoam head's face!
With your Sharpie, add lines for its eyes, ears and lips.
Include lines for the hairline, eyebrows and special details like beauty marks or other notable features.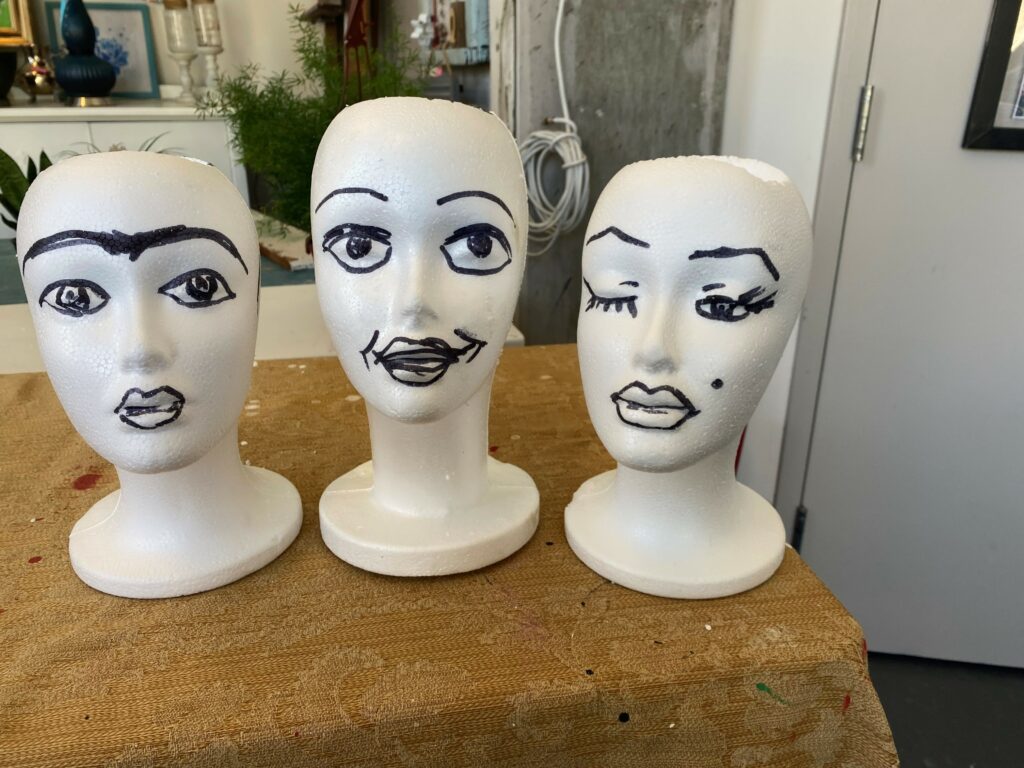 Design Idea:
As you are able to see in the photos, the inspiration for these planters was iconic women: Poet Amanda Gorman, Movie Star Marilyn Monroe, and Artist Frida Kahlo. I wanted to select people who most folks would immediately know who they are. However, you could create a head planter that represents someone you know or just be creative with making a fun face.
Since I know who I wanted to create, I selected physical features or characteristics that helped define each woman and were added now. For example, Frida's unibrow was drawn in; for Amanda, I wanted her mouth to look open since she is a great speaker; with Marilyn, one of her eyes is winking and the other is seductively half-closed.
4. Paint in the skin and hair tones
With a smaller paintbrush, fill in skin tones to match the look of your inspiration person. Each one of these ladies required two to three light paint layers.
Then, paint in the color hue of the hair for each person.
Amanda and Frida have black hair, so that was brushed on; Marilyn's "hair" was painted in with several layers of yellow, gold and white paint to give her the famous platinum blond look.
5. Give your piece personality with paint
After the skin tones and hair sections have dried very well, return to your piece to give it some character. Pinkish red was added to Frida's lips. Brown paint was used for Amanda's eyes. Marilyn got some pink added to her cheeks and blues added to give her eye shadow.
Design Ideas:
If you are making your head resemble someone you know, look for distinguishing characteristics in their face. Do they have freckles? Add them. What about facial hair? Paint it on. What color are their eyes? Be sure to add those tones, too!
6. Bring your planter to life with fabric & embellishments
This last step was so much fun! Given the iconic women I was creating, I checked out images of them online and ensured certain must-haves were added. For example, Frida often is pictured with flowers in her hair, so silk ones were secured along the top with my glue gun.
How to add Amanda's notable red headband and bright yellow coat? A slipper sock was cut apart then folded over and secured on the top. A piece of a yellow fleece jacket over part of a white curtain did the trick.
Since Marilyn sang about diamonds being a girl's best friend, a beaded necklace (sprayed with silver paint) and embellished with fake jewels were added.
And the good news is that all of these items were picked up at some point at Goodwill for pennies!
7. Top it off with your plant
Each one of these famous ladies got a plant that was fitting for their personality or look. Frida received a tropical house plant. Amanda got a plant that mimicked her hairstyle from the inauguration. Marilyn's plant helped to give her a well-coifed look.
Expert Suggestion:
To preserve your head planter for years to come, please your plant in a plastic or glass container. When the plant needs to be watered, carefully remove it and add water. Then return it to its home and avoid spills or drips.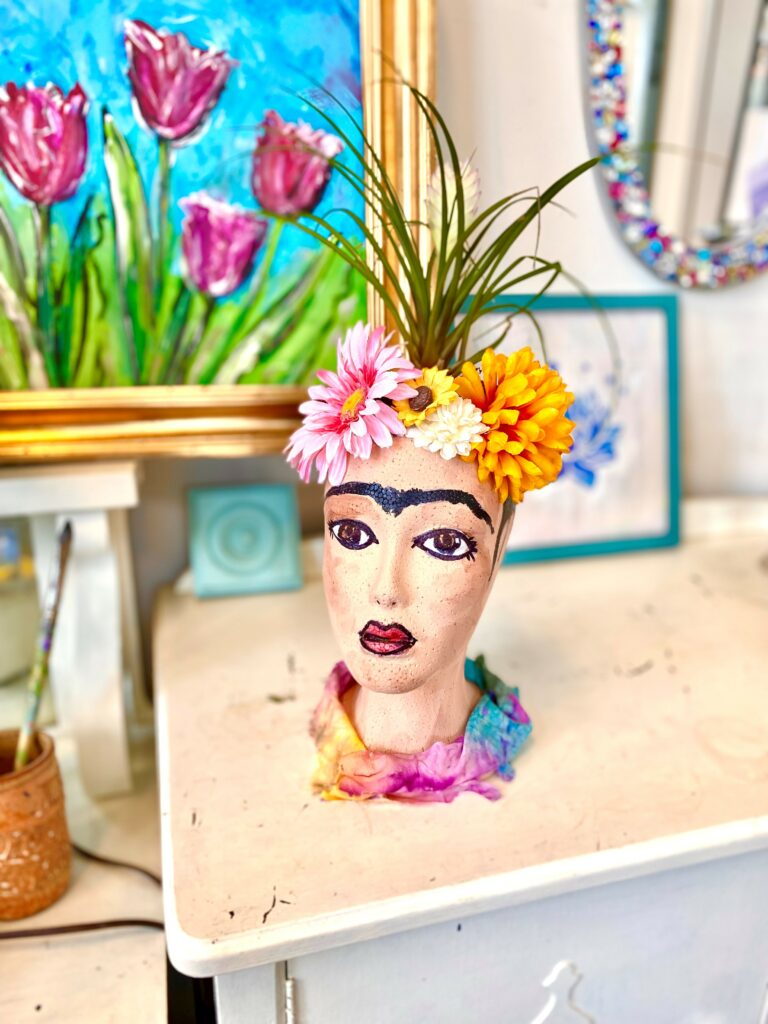 What famous or familiar faces will inspire your head planter's look? This will make a great and memorable gift, certain to be appreciated by the person who receives it. Make one that looks like them or a loved one. Follow these steps to create one that resembles their favorite celebrity.
No matter whose face you select, you are sure to add a big smile to someone's face—even if it's your own!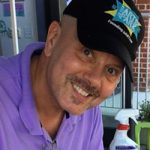 Tim Kime
Artist, Motivational Speaker, Life Coach
Tim Kime is an artist, life coach, connector. He is President of Kime Leadership Associates offering executive coaching, meeting facilitating and motivational speaking. He is also Chief Creative Force of Transformation Junkies which upcycles furniture and other household items into functional works of art. He combined his two passions—unleashing the potential in people and transforming items with the launch of the Art of Possibilities Workshops. These workshops are part upcycling, part dreaming, part goal setting.