Warmer weather is on the way which means entertaining moves outside.  Here is a great way to transform your front porch or patio into the most popular gathering place on the block.  By using colorful paints and fun fabrics, you can give tired, old furniture a new life of welcoming family and friends.  With just a few dollars, some vision and lots of fun, your newly transformed outdoor space can become the place you enjoy most!
Ability level:  Easy
Age Level:  Teens and adults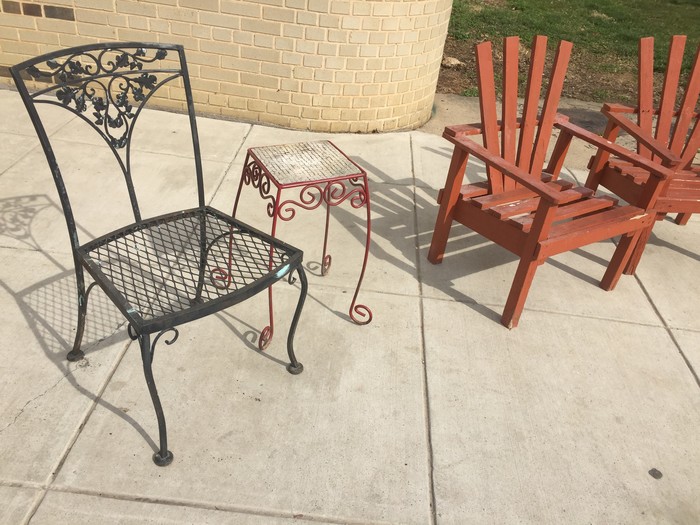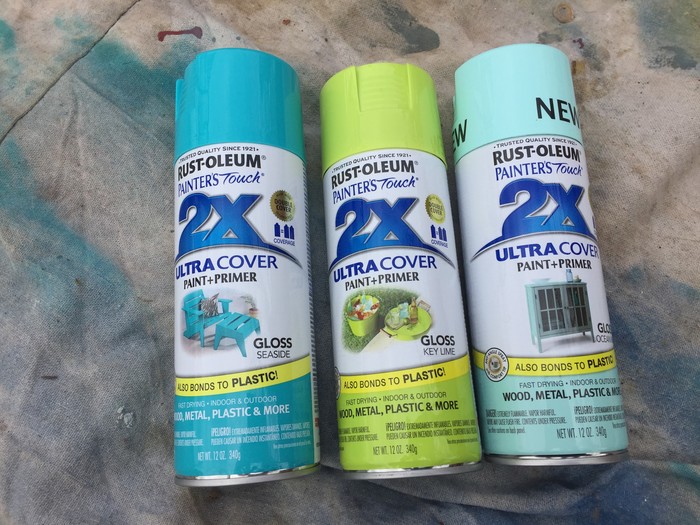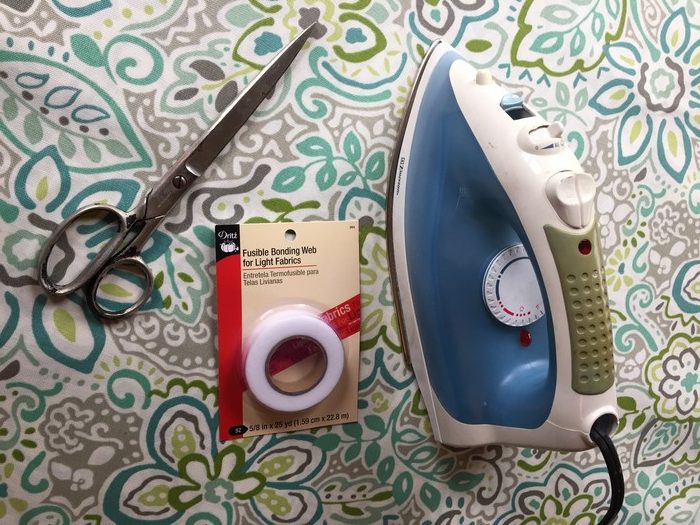 Items needed:
Outdoor furniture (chairs, end tables, plant stands)
Spray paint
Outdoor fabric
Scissors
Iron
Iron-on hemming tape
Accessories like rugs, plants, decorative items
Time requirement: 1.5 hours per piece, depending on the item
Cost: Approximately $25 per chair, $15 for side tables & plant stands
$5 per chair
$4 per plant stand or side table
$3 per pillow
$4 per can of spray paint
$15 for rug
$6 per plant
$4 for decorative accessories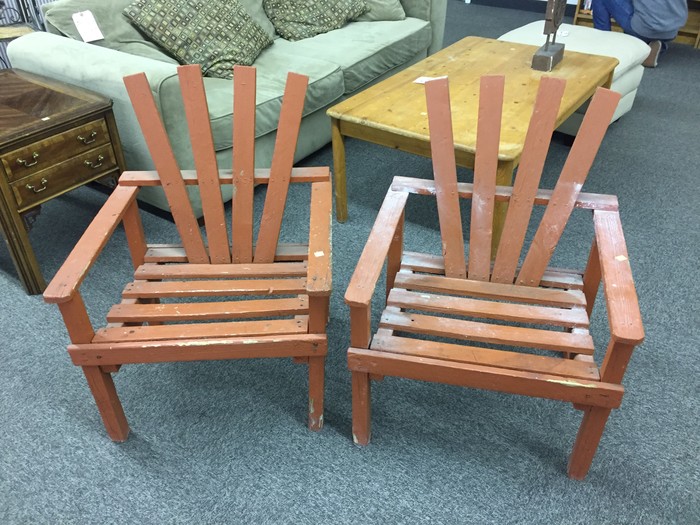 Step 1:  Treasure Hunting Time
With an idea of the space you want to transform, run (don't walk!) to your favorite Goodwill store.  Deals abound in the furniture department where you will find fun and functional pieces for this project.  Since you will be using spray paint, the items don't need to match color or style-wise.  Look for chairs, plant stands, and end tables that are metal or that were designed to go outside (like wicker pieces or wooden deck chairs).  While you're in that department, see what rugs are available to help anchor your pieces.  Next, stop by the Linens section and grab several pillows, again not worrying about the color because they will be covered.  Last but not least, head over to the Housewares section to look for vases, birdhouses, flower pots, and other accessories to add color, flair, and interest to your space. Some of these items can also be transformed with paint so don't worry if their colors don't match.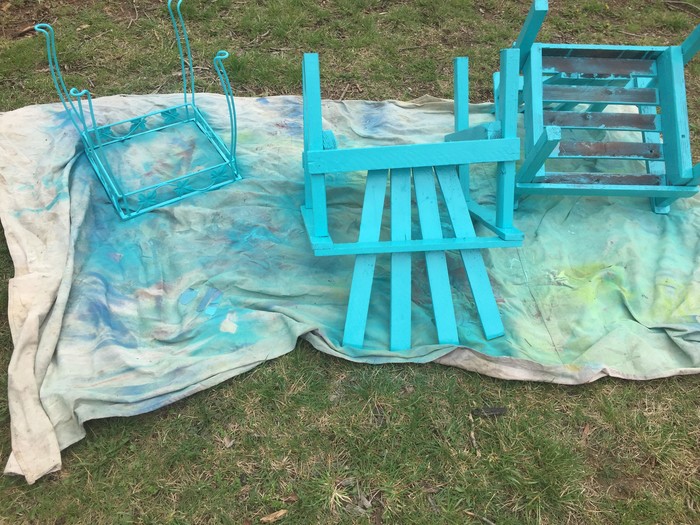 Step 2:  Prepare for Paint
Take advantage of the warmer temperatures and do this project outside.  Wipe down all items with a damp rag to remove any dust or dirt.  Place your clean items on a drop cloth, put on latex, rubber or work gloves, and grab your can of spray paint.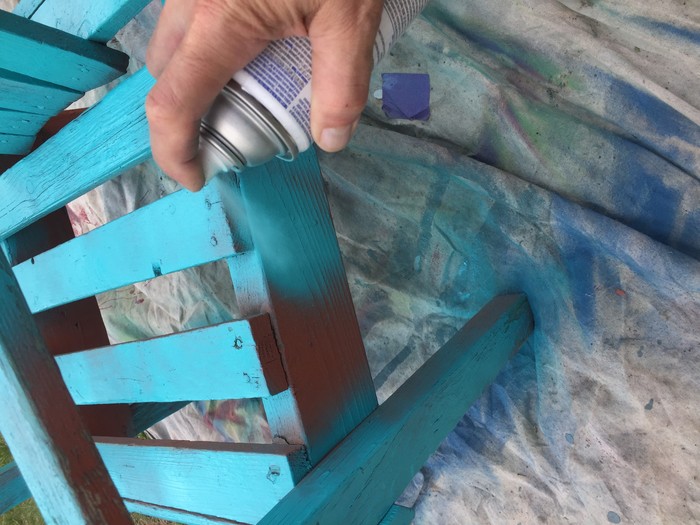 Step 3:  Spray On the Transformation
After just a couple of sprays, you will see how remarkable the change will be!  When spray painting your items, do one light coat and don't worry if it is not covered perfectly.  You will come back with two or three additional light coats to ensure great coverage.  After painting each layer, allow several hours (or overnight if possible) drying time.
An Important Painting Tip: To ensure total coverage, place your item upside down after the first coat.  Set the item on its side, too.  Spray another light coat to ensure your piece is covered well from all angles.
Consider choosing three different paint colors that are either in the same color family or for a bold look, choose hues that are in different places on the color wheel.  To make your look feel cohesive, paint several items with the same color.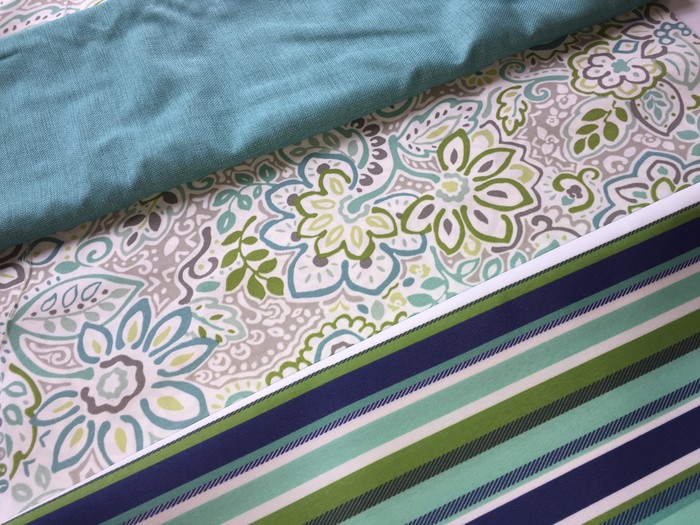 Step 3: Fabrics are Fabulous!
Outdoor cloth comes in all the colors of the rainbow with many fun patterns, stripes, and florals.  Stop by a fabric store to check out its selection.  For my project, I decided on the three paint colors first and then found fabrics to match them; but you can pick up your fabrics first then select paints based on colors in the fabric.  I encourage you to select three different fabrics that match based on color.  I chose a stripe, a contemporary floral, and a solid in a complementary color.  You could use several different stripes, plaids, or even polka dots patterns.  The matching colors in the fabric will make the final result look planned and cohesive.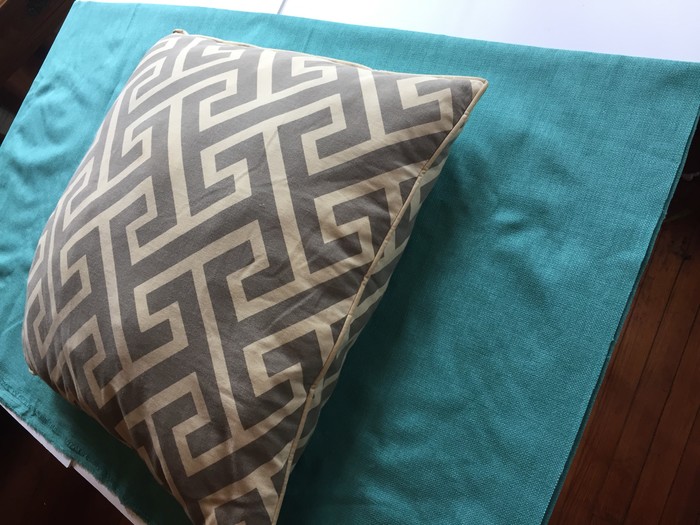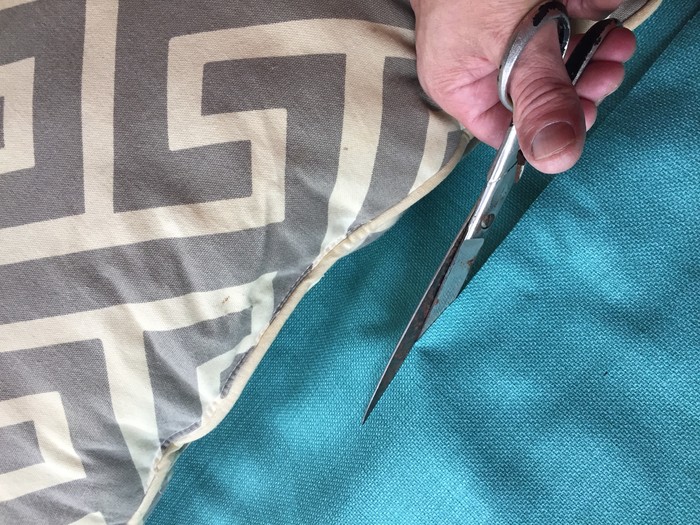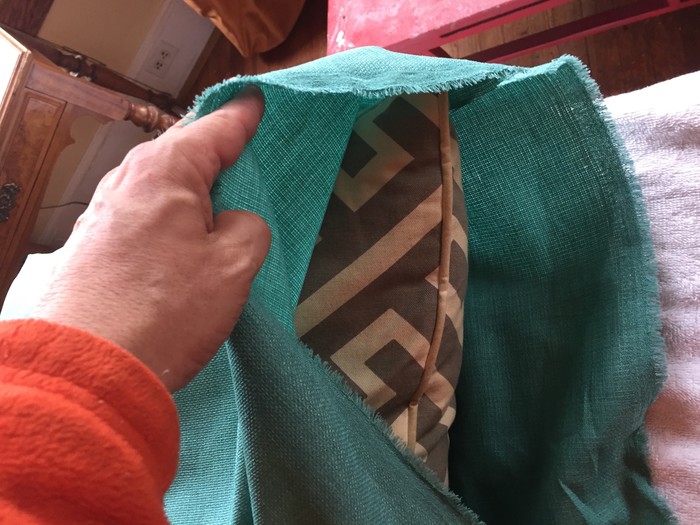 Step 4: Cover Your Pillows
While the paint is drying, turn your attention to covering your pillows with your fun fabrics.  If you don't know how to sew (like me!), then a great option is iron-on hemming tape.  Fold your fabric in half and lay it on your working surface or kitchen table.  Place your pillow on top and leave two inches of the fabric on either edge.  Remove the pillow then cut the fabric.  Refold your fabric so that the "right" side or color side is now on the inside.   Along the side's open edges, place a strip of the iron-on hemming tape then use your iron to heat and adhere fabric.   Do this on the opposite edge too.
At this point, one edge has been folded over.  Two sides have been taped.  With the remaining opened edge, reach in gently to grab the fabric and turn it inside out so that the "right" side now is outside.  Carefully insert your pillow into the open edge reaching in to ensure the pillow fills the entire fabric pocket you created.  Place another piece of the iron-on hemming table along the inside of the open edge and use your iron to seal it.  Ta-da!  A new pillow with no sewing.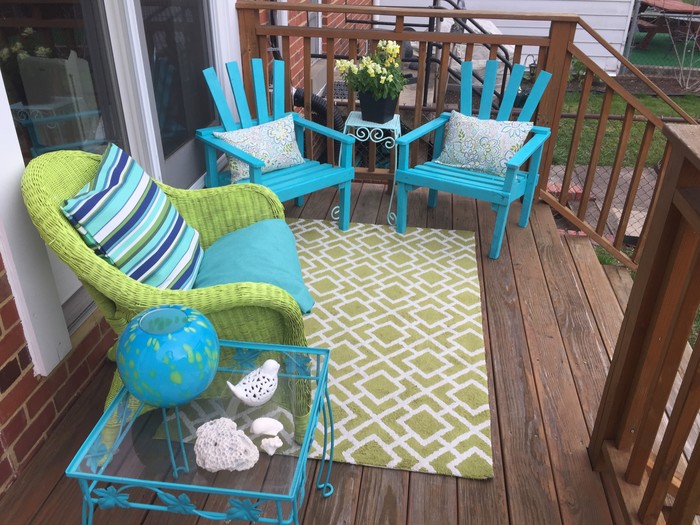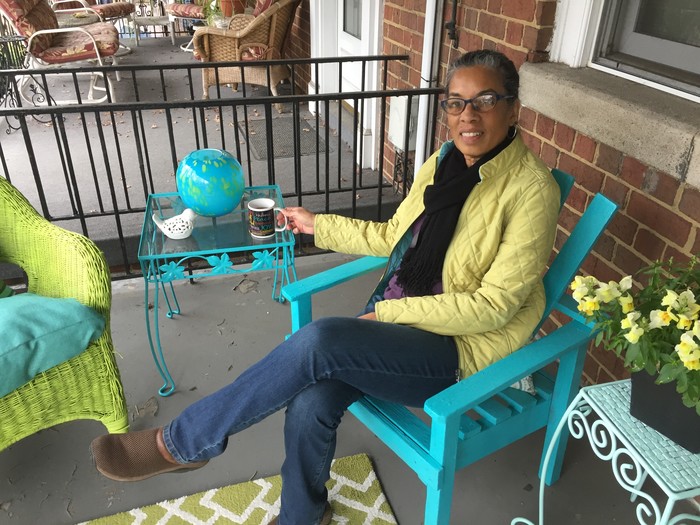 Step 5: Setting the Stage for Fun
Unroll your rug in the center of your outdoor space as a foundation on which to build and connect your transformed furniture items.  Place pairs of matching chairs next to each other.  Put your pieces along the edges of your rug, being mindful of the size as you will want to create comfortable conversation areas.  Place end tables or plant stands in between and add blooming plants, decorative items, and other accessories.  Consider positioning several chairs to face your street to greet neighbors or place pieces to get the best view of your garden.  Once you move items into a place that feels balanced and just right, then be sure to take a seat and allow a minute to admire your great efforts.  This might be the only calm moment as family and friends will be clamoring to spend all their time together enjoying the great outdoors in your newly transformed space.
How will you be decorating your outdoor space this Spring?