Celebrate Mother Nature & Build Community with a DIY Plant Swap Event: 5 Easy Steps!
Following the success of the recent DIY Planter Pop-Up & Plant Swap event hosted in partnership with Goodwill, Tim Kime Art/Transformation Junkies, and others, we offer this idea as inspiration for you and your communities to do the same! What's more meaningful than bringing together great people, doing something creative, and honoring Mother Nature, all at the same time?
For many of us, such an event touches a special part of us. "Plants give us oxygen for the lungs and for the soul," once said Terri Guillemets, a "quotation anthologist" whose website is The Quote Garden (quotegarden.com). We so agree!
This is a great activity for a school, a spiritual group, and even a bunch of friends. Five super simple steps, featured here, well ensure all who participate leave with a smile on their face and a potted plant in their hand!
A million heartfelt thanks to Carolyn Becker of Finding Your Good for her amazing vision and boundless energy. Thanks to Goodwill of Greater Washington, Rewild DC, and 78 Acres for their contributions, too. We love it when things come together easily and better than one could have planned and hoped!
Items needed:
Small plants in separate containers
Cool mugs & other vessels
Potting soil
Big plastic bin
Arts & craft supplies like ribbons, glue, stickers, and more
Tables and other surfaces to use as a workspace
A great set of partners
A beautiful night (not required and certainly nice)
1. Pick some positive partners
One of the reasons why our DIY Plant event was such a hit was that it involved several groups and individuals who support and appreciate one another.  As an upcycle artist who loves to transform thrift store items, Goodwill of Greater Washington and Finding Your Good were perfect partners.  And once we decided to make this happen, others came on board like Rewild DC and 78 Acres. 
We hosted it at my studio which is part of a bigger art community, so the other artists there gave our event shoutouts on their social media.  Thanks to all!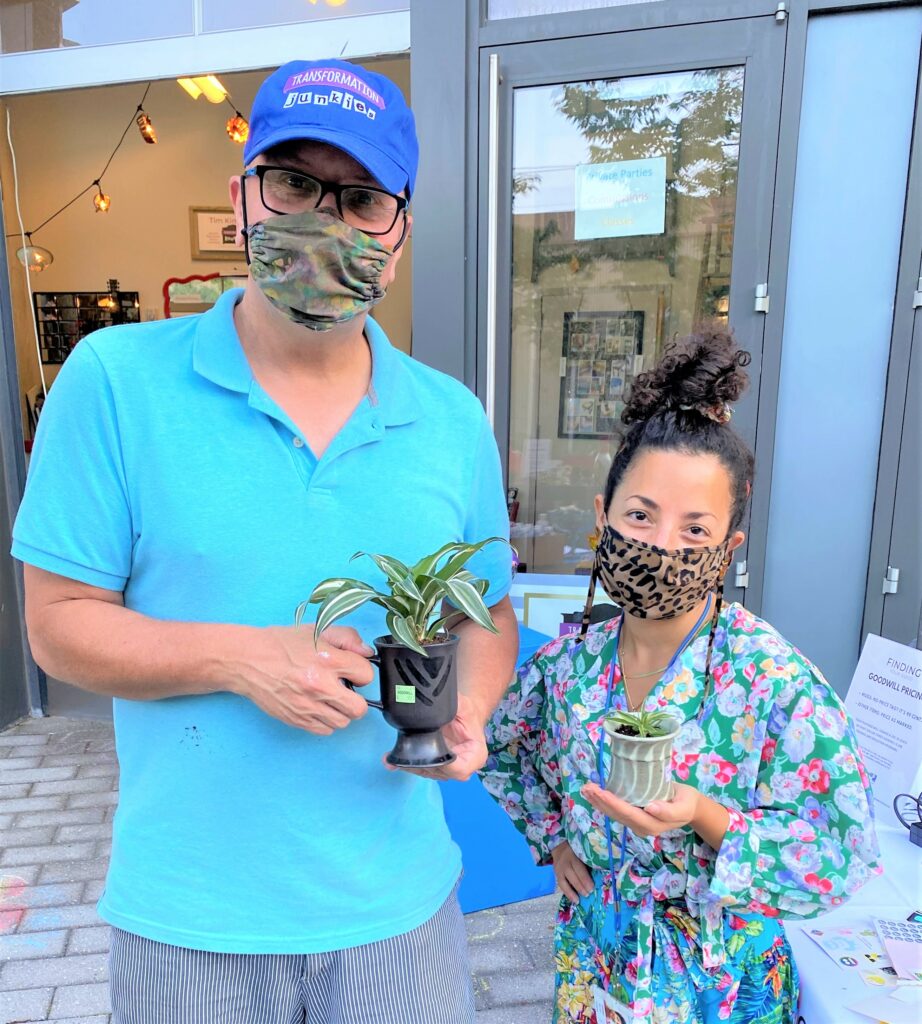 If you do this with your school or religious group, consider what partners might be near where you are hosting your event.  Is there a local hardware store you might approach for plants and potting soil in exchange for their logo/name being on social media and other promotional efforts associated with the gathering?
2. Collect interesting mugs from Goodwill
One thing is for sure: Goodwill always has a collection of coffee/tea mugs on hand.  For just a dollar (actually $.99!), you will find colorful and unusual mugs that are perfect as planters.  And while there, check out the Housewares Section, too, to see if you might come across other things to be used for plants.  A ceramic teapot is always a crowd-pleaser when transformed into a plant holder.  What do you think about a cookie jar that holds an herb plant instead of Oreos or Fig Newtons?  Love that idea!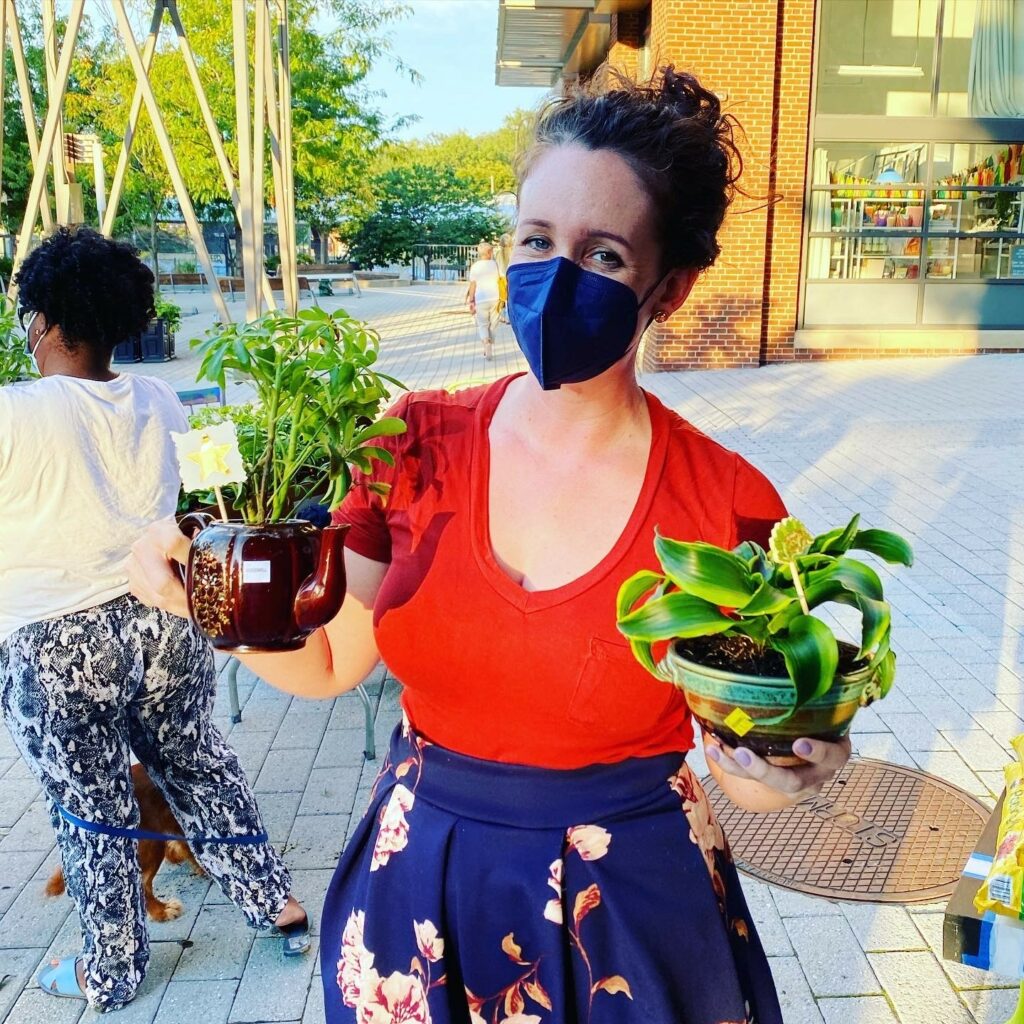 3.     Secure plants, dirt, fun things as embellishments
"A beautiful plant is like having a friend around the house." — Beth Ditto
If you have a group to contribute plants, great! If not, consider reaching out to your neighborhood list serve or Facebook page for plant donations. If you are doing this with family and friends, make it easy by inviting all to bring one or two plants to swap.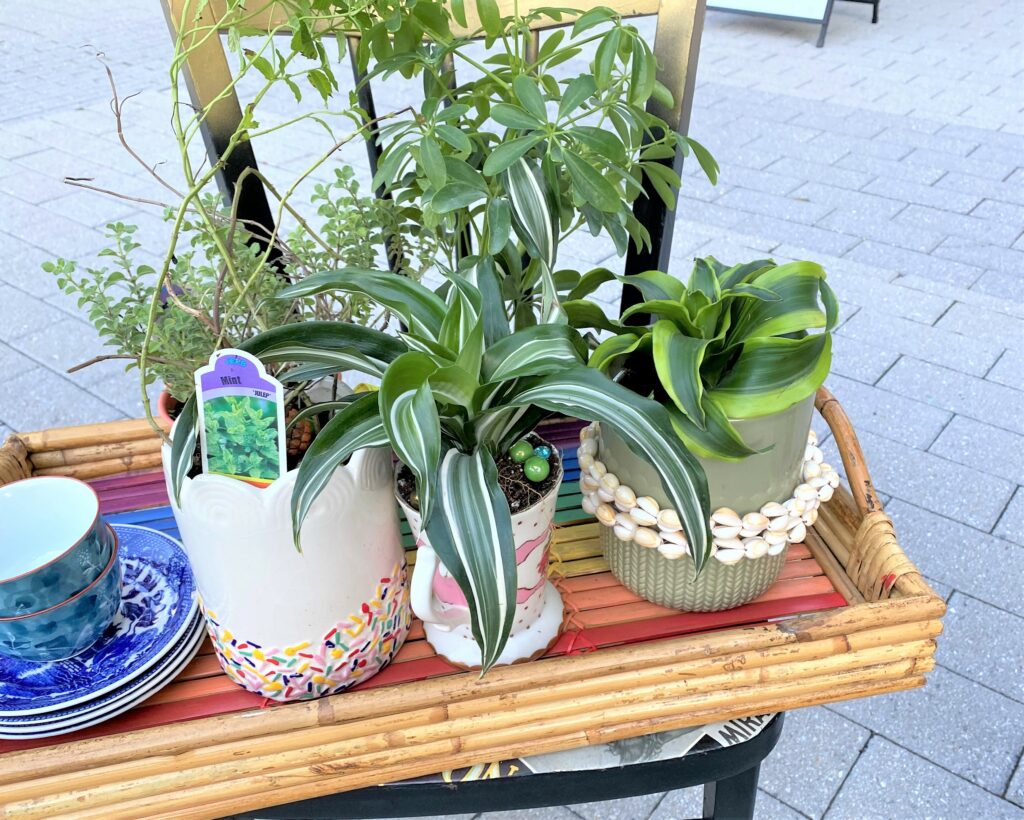 Once you have a good number of plants for the expected number of participants, then pick up a bag or two of potting soil.
And last but not least, check out your arts and crafts stash to see what items can be used to give your potted planter some personality. 
Ribbons, leather laces, stickers affixed to popsicle sticks, marbles and even buttons can be enlisted for this step!   If you don't have many of these options on hand, reach out to friends and family to ask for support and for items they don't want.  We have nothing against hitting the craft store, but if you are able to secure items that no one is using or wants, then even better!
4. Set up to showcase and celebrate
For our DIY Plant Event, Carolyn did an amazing job arranging things and making our space look very friendly and inviting.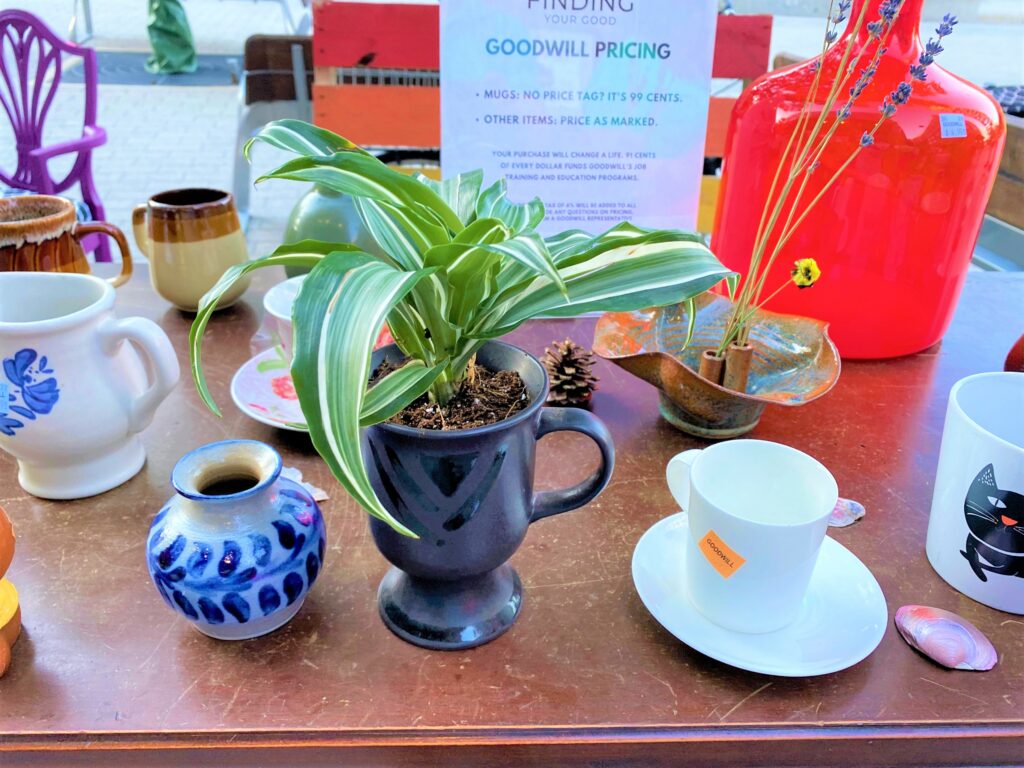 An old dresser with some drawers removed became our station for mugs/containers and other items.  A long table was positioned with plants and a big plastic bin that held the potting soil. 
Another table had crafty items. Our message, as always, is to use what you have!
Given the dirt involved in this project, an outdoor location or garage with its door open is best.  If hosting at your house, your back deck or patio would be great if you have those; if you have a driveway, you could set up work tables there. 
Have a balcony?  Use it so you can be outside while being creative!
5. Come together and build community
We lucked out with a beautiful night as we hosted this event in the plaza outside my studio. 
Once we set up, we put on music and welcomed all who came by.  Some people saw our social media postings, others were in the area and stopped by to see what was happening. No matter how they found us, we were happy to have their presence in the place. 
Everyone had a great time getting their hands a little dirty as they turned the mugs and other items into cool planters.  It was interesting that many people had never potted their own plant before, so I was happy, as an experienced gardener, to lend a hand. 
"Just because you've only got houseplants doesn't mean you don't have the gardening spirit — I look upon myself as an indoor gardener." — Sara Moss-Wolfe
Everyone left with a fun conversation piece that shows love to Mother Nature as well as a new connection with the community. And Carolyn and I left feeling grateful for the chance to inspire the excitement of thrift store shopping and seeing old things in new ways!
We hope we planted this fun idea with you and that you, too, will host your very own DIY Plant Event!  What unique twist will you do for yours to make it all your own?  Share, share, share pics and details of your gathering to inspire others to join in the creative and community fun!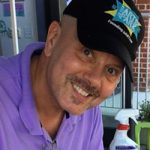 Tim Kime
Artist, Motivational Speaker, Life Coach
Tim Kime is an artist, life coach, connector. He is President of Kime Leadership Associates offering executive coaching, meeting facilitating and motivational speaking. He is also Chief Creative Force of Transformation Junkies which upcycles furniture and other household items into functional works of art. He combined his two passions—unleashing the potential in people and transforming items with the launch of the Art of Possibilities Workshops. These workshops are part upcycling, part dreaming, part goal setting.