Don't tell my mom! I already have a Christmas gift for her that I made from an amazing Goodwill find.
I found this little mirror for $2.99 at the Fairfax, VA Goodwill store. It was a little bit plain and a little bit scraped up. But I knew that with a little bit of paint, I could transform it into the perfect thing for my mom's home.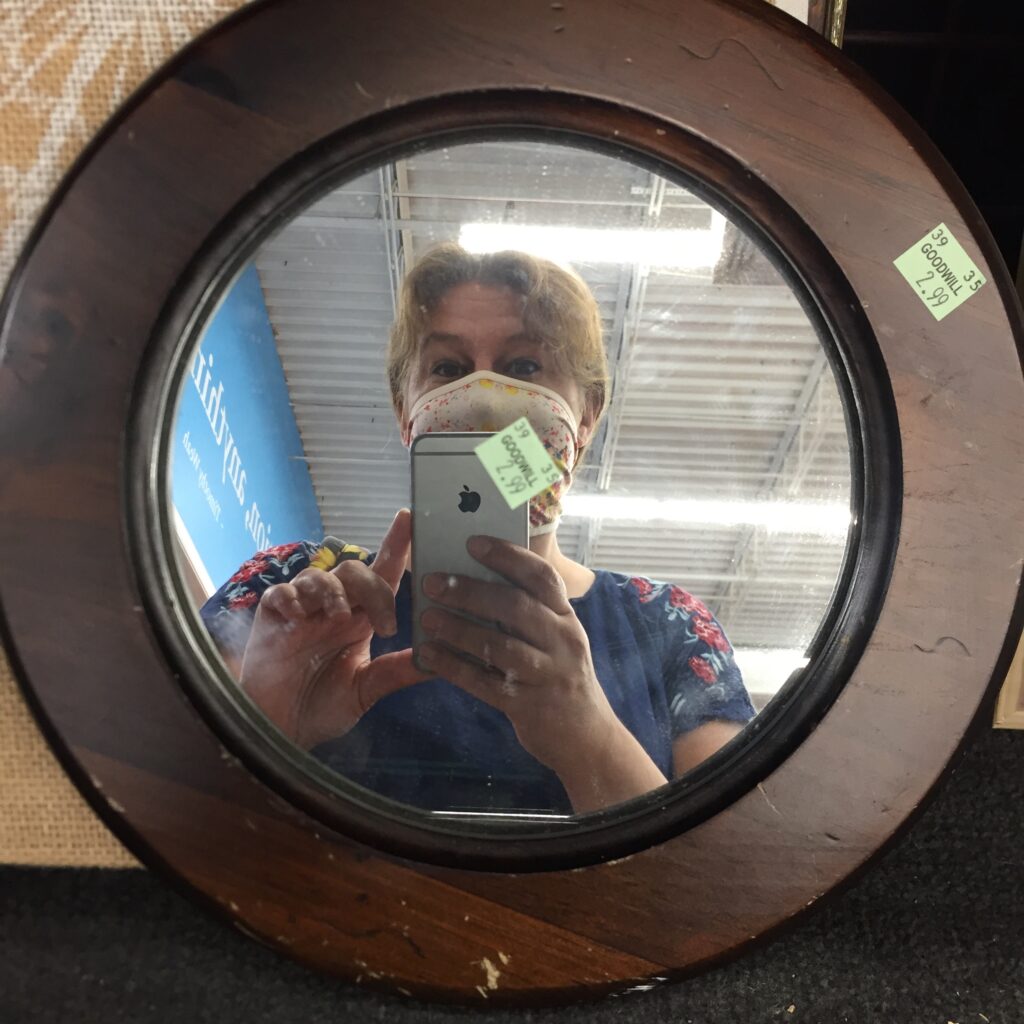 I started by painting the mirror a soft cream color to match my mom's décor. Painting is an easy and inexpensive way to personalize just about anything to create a one-of-a-kind perfect gift for someone special.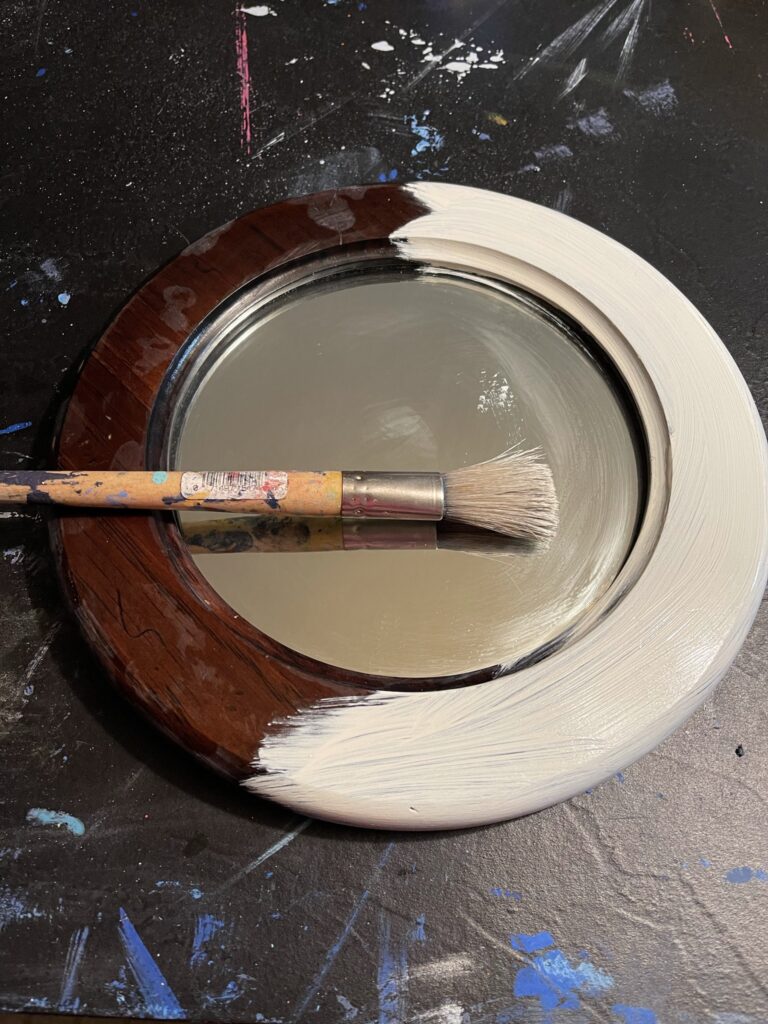 The fresh color updated the mirror and camouflaged the damage, but it was still looking a little bit plain. My mom's style is a little bit fancy. So I glued on a few floral appliques to the mirror frame.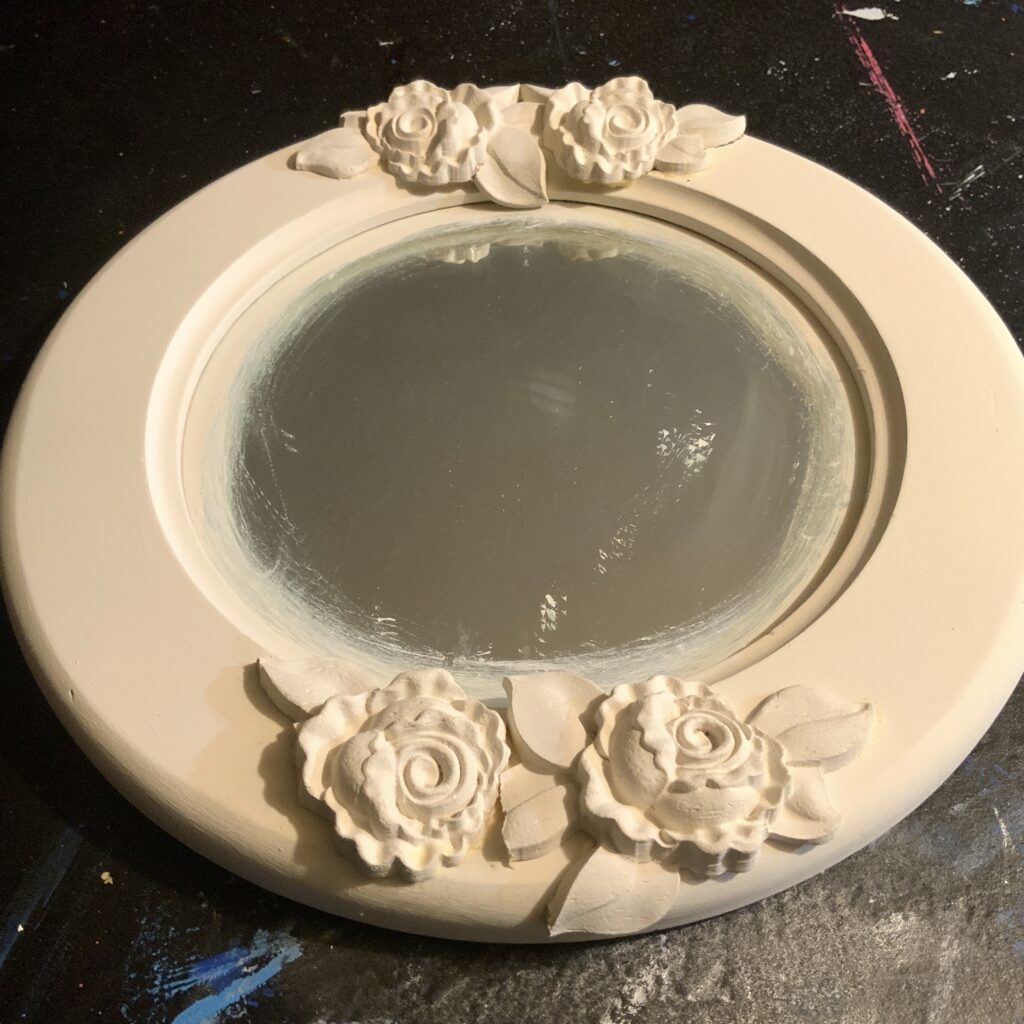 Still not fancy enough for my mom! But that's OK. I wasn't finished yet!
I used a combination of black furniture wax and gold gilding wax to create a vintage patina on the mirror. Accentuating the details is one way to turn your DIY project into a work of art that will wow the recipient of your gift.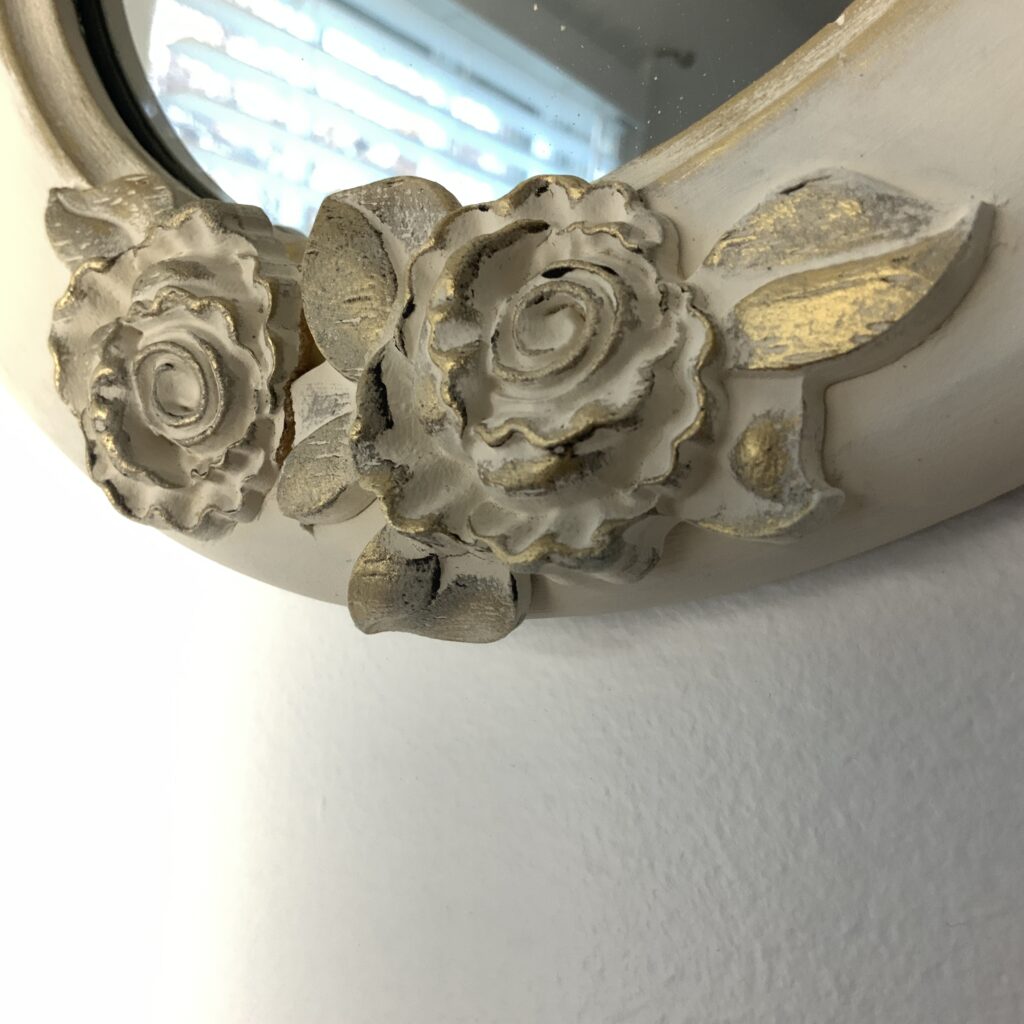 Applying the wax is easy. I simply wrapped a rag around my finger and dipped it into the wax. Then rubbed it over the high points on the applique and around the edges of the mirror. It will stick where it wants to and that's just perfect. You don't want to cover the entire thing, just the edges. Then I used the clean part of the rag to wipe off a little bit of the wax.
Wax on, wax off. Just like the Karate Kid!
You can repeat this process, layering the wax until you love how it looks. If you don't have furniture wax, you can also use craft paint. Gently brush just a little bit over the details to highlight them, wiping off any area where it looks too heavy.
For this vintage look, I applied the black wax first to make the flowers a little bit grungy. Here you can see the difference between the plain flowers on top and the highlighted flowers on the bottom.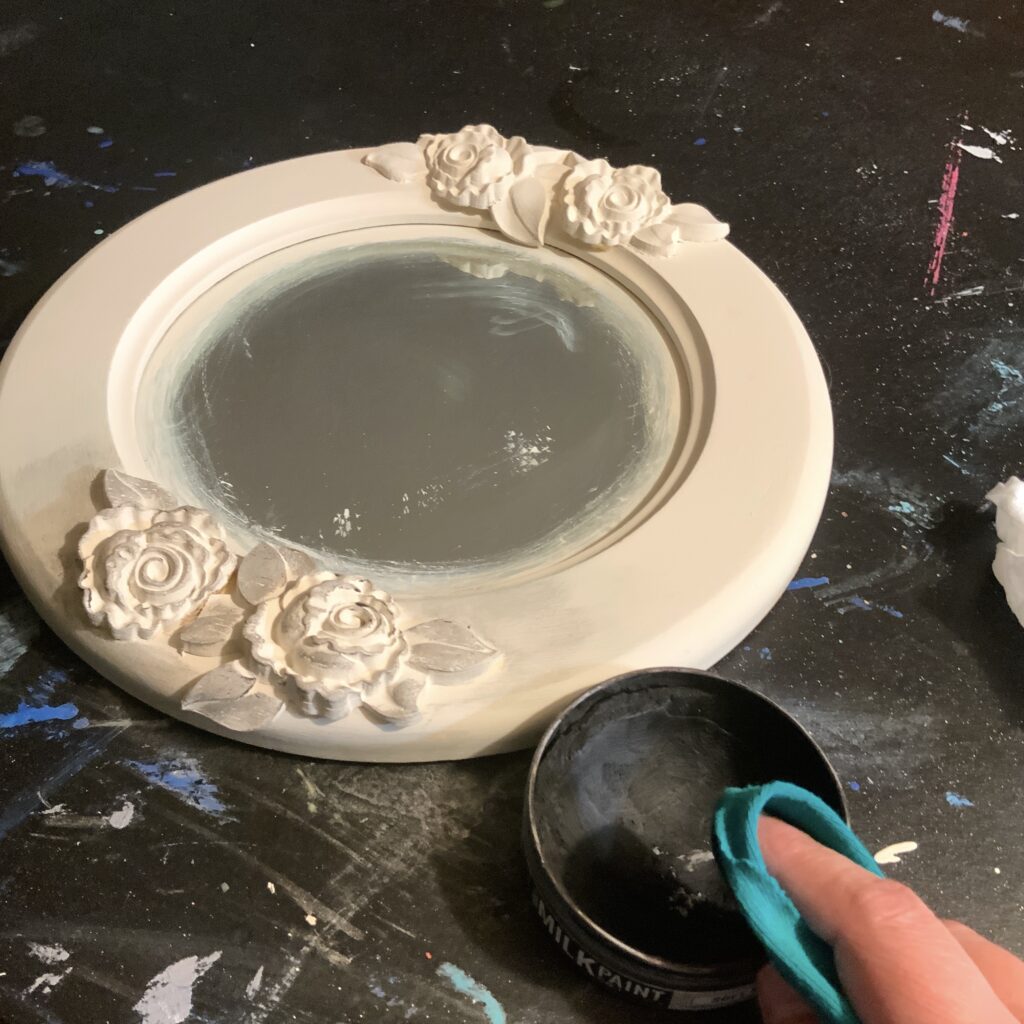 Then I used the same method to apply the gold wax. Again, you can do this with gold craft paint for a similar effect.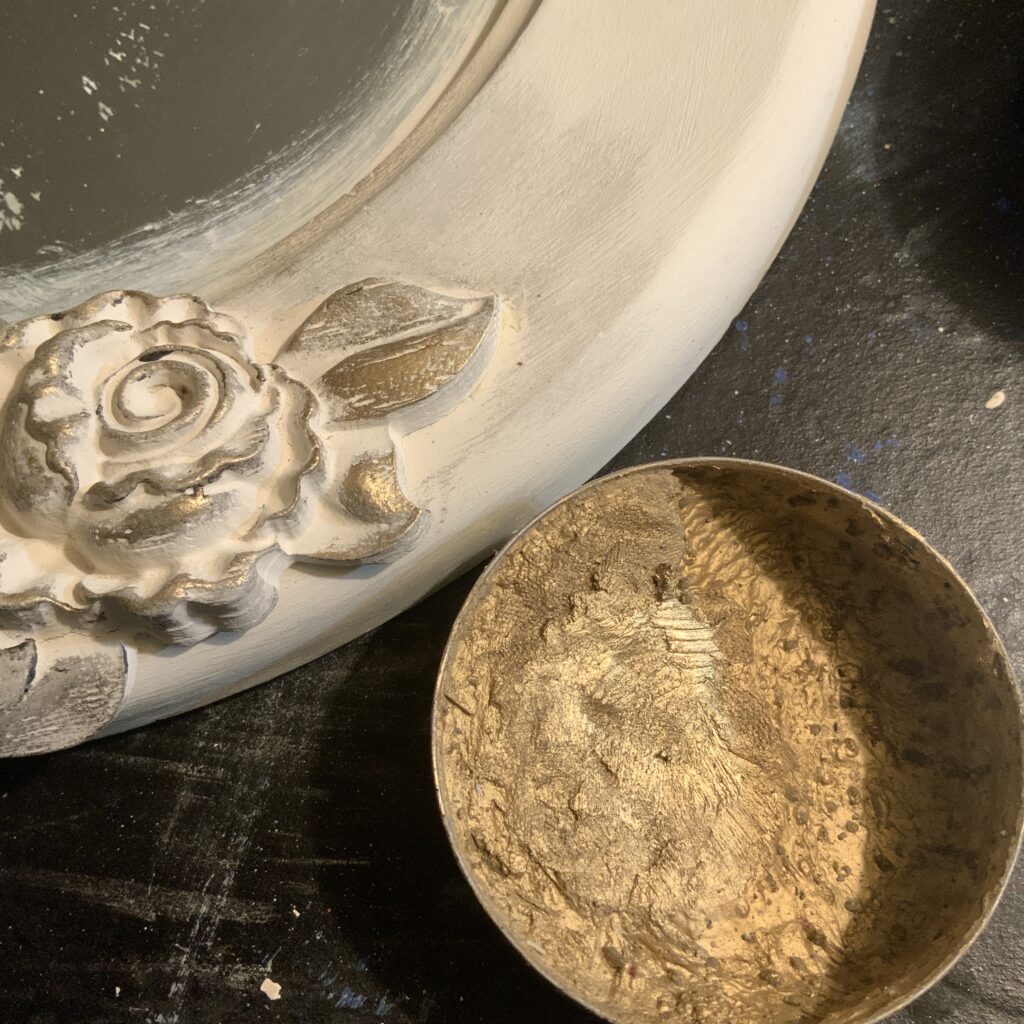 I originally added black wax around the appliques on either side, but then I decided I didn't like it. No worries. If the wax is uneven or you just don't like it, you can always let it dry and paint over it. That's what I did to soften the black edges just a little bit.
I love how the fancy mirror turned out!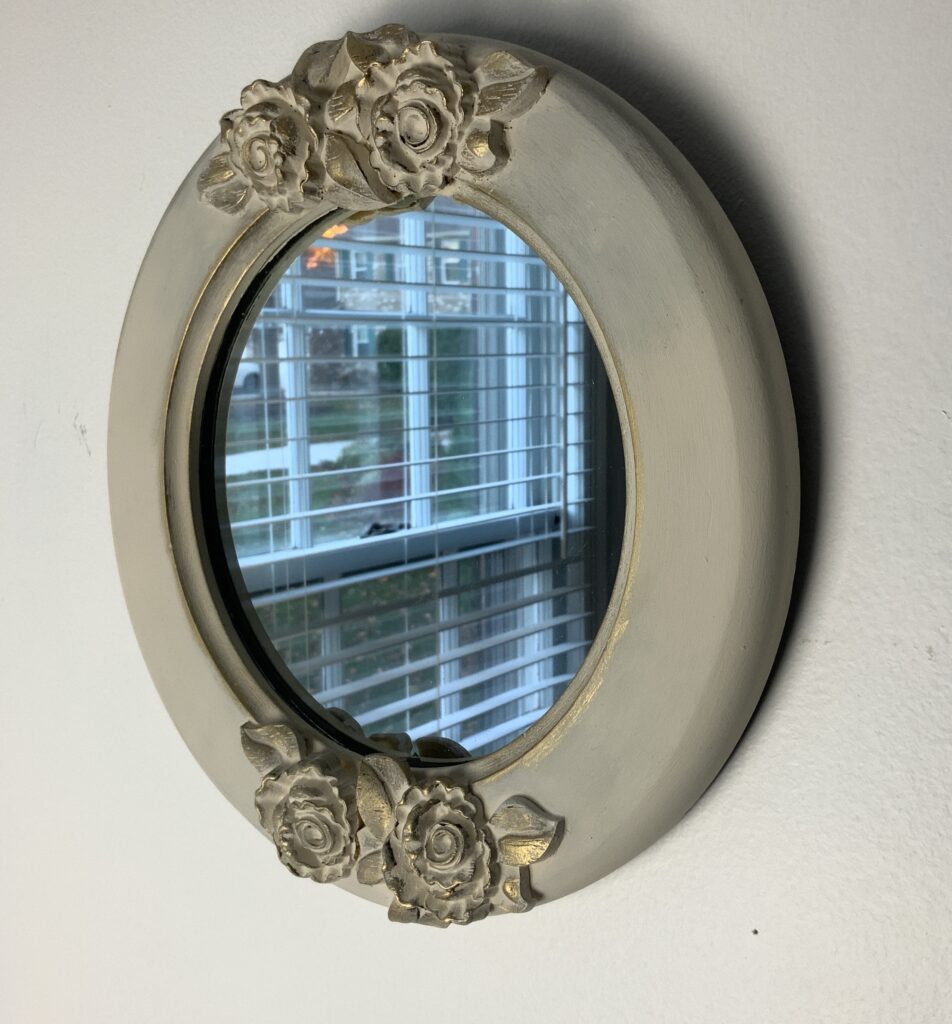 I hope my mom loves it too!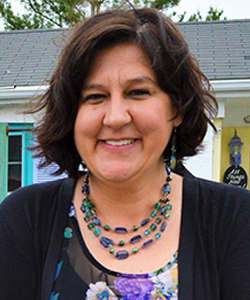 Courtney Mickalonis
Courtney Mickalonis is an artist, teacher, and treasure hunter at All Things New Again, a furniture and paint boutique in Leesburg, VA. She finds old furniture that nobody loves anymore and makes it beautiful—and useful—again. Courtney teaches a monthly Learn How to Paint Furniture class at their Leesburg studio and hosts The Furniture Painting Friday Show every Friday at 12 noon on the All Things New Again Facebook page.