As you prepare for your Halloween parties and events, here's a project that is sure to send shivers up your spine! Why? Because it's easy and fun when you use black spray paint, red craft paint, and a hot glue gun to give items some gore.  
You'll have a bloody good time upcycling mugs and candle holders from boring to "Boo-tiful" following these simple steps. Ghouls and goblins of all ages will enjoy this project, as will your party guests & trick-or-treaters, too!
Items needed:
· Tall candle holders
· Coffee mugs
· Black spray paint, satin finish
· Red craft paint
· Hot glue gun & lots of glue sticks
· Drop cloth
· Tapered candles
· Dollar store Halloween accessories
1. Scamper on over to Goodwill today
Do zombies scramble, stagger or walk?  Whichever way, follow their persistent movement and stop by Goodwill pronto to scare up some great finds for this project.   Goodwill always has an extensive collection of coffee mugs for less than a dollar or two, so they won't frighten your budget at all.   
Don't worry about the color or designs on them, rather focus on their shape and any interesting details. One mug had a scalloped shape while another had a fancy handle—which I thought would look gothic when painted. The third had a hammered texture that I thought would look interesting, too. Which mugs have you seen at Goodwill that the Mummy might find appealing? (or should I say a-peel-ing?)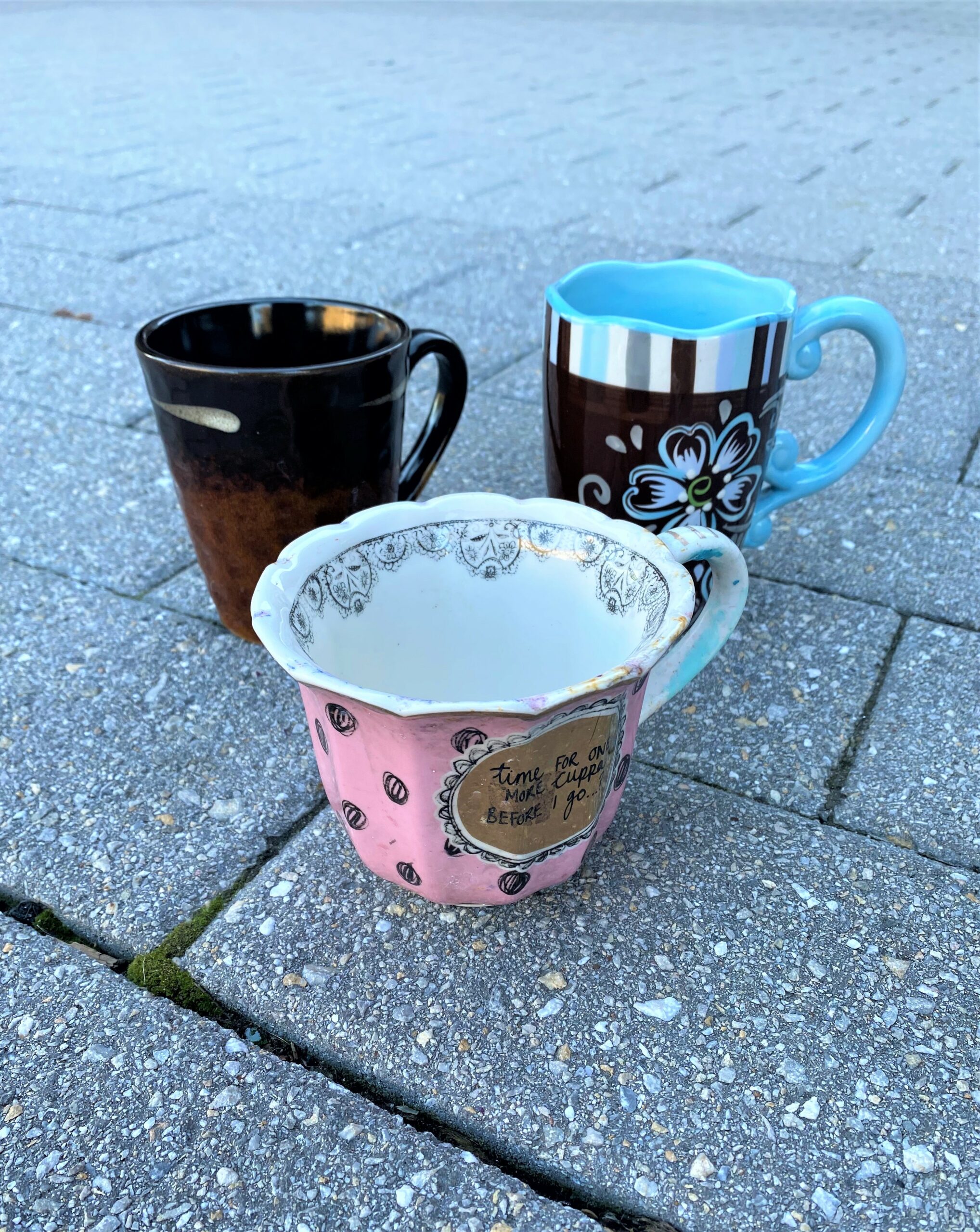 Look in the Housewares section for a trio of tall candle holders. Again, ignore current colors and focus on shapes. The three scooped up for this project have an old world, Victorian feel to them which reminders me of Dracula's castle back in the day.
And while you are at Goodwill, look for tall, tapered candles and Halloween decorations. These usually go right away this time of year so if you see them, grab them!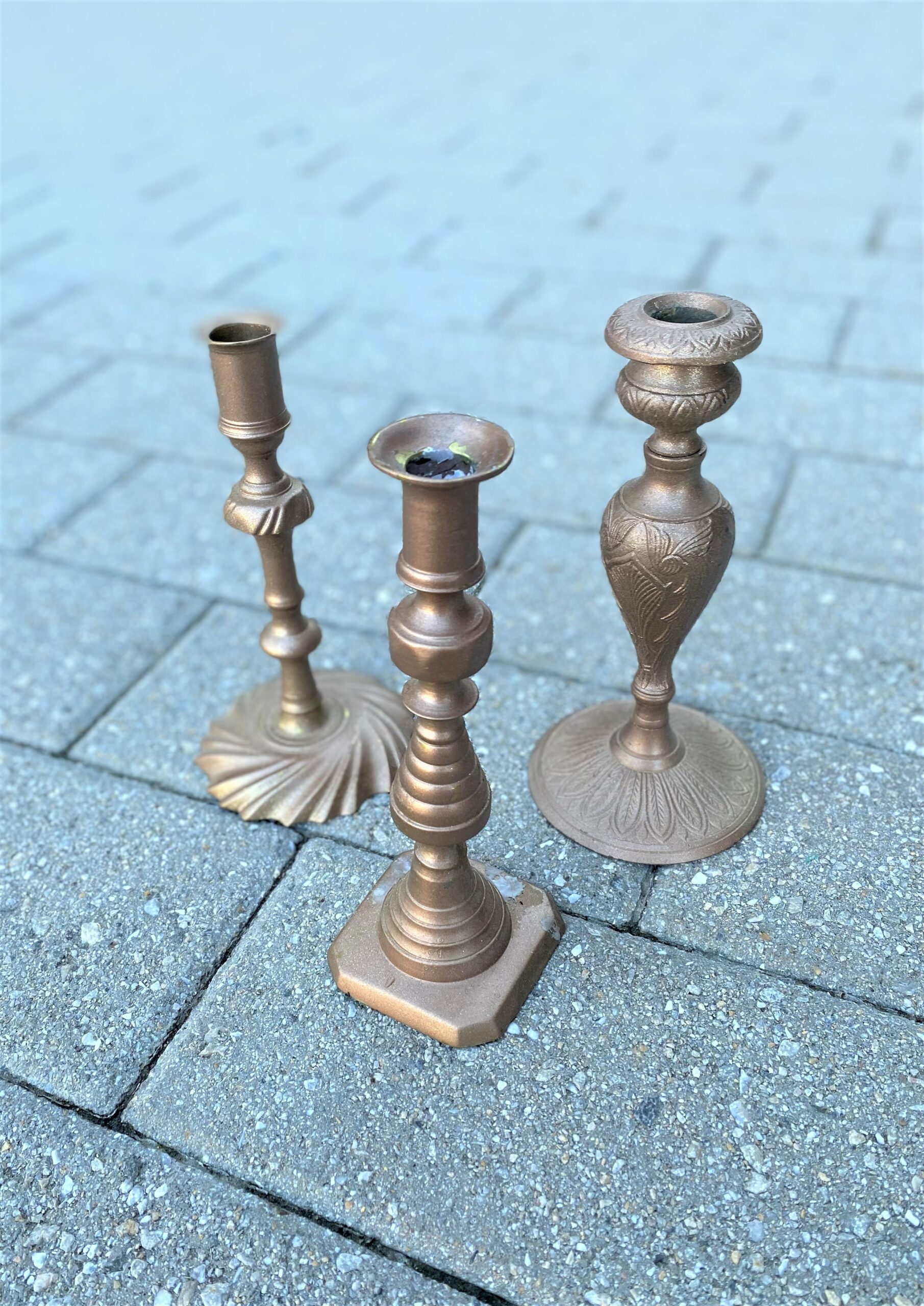 2. Use your glue gun to make your pieces bleed
Carefully apply hot, melted glue along the rim of your mug and apply it along the sides.  You want it to add a hefty amount, so it oozes and drips.  You may want to hold the mug on its side as you do so.  The goal is to make it look like a liquid has overflowed down the side of each mug. 
Modeling the same approach as with the mugs, drip hot glue on your candle holder. 

Start at the top the way a liquid would drip and flow down. 
Tip it over slightly and add lots of glue along the side with drips on the bottom.  Make it look as organic as possible.  
Allow to dry completely. 
Caution!
Please be super careful with this step, especially if little ones are on hand to help. The hot glue and the gun can burn fingers so safety first. We want this project to be full of the good kind of scares!
3. Spray on the spookiness
Place your glue-covered mugs and candle holders on a drop cloth outside if possible. 
Spray on a light layer or two of black spray paint in a satin finish.  Work to get all sides and edges. 
Let dry and flip them over. Usually, folks are encouraged to use a light touch and several layers to avoid drips.  However, drips are fine for this project, so no worries.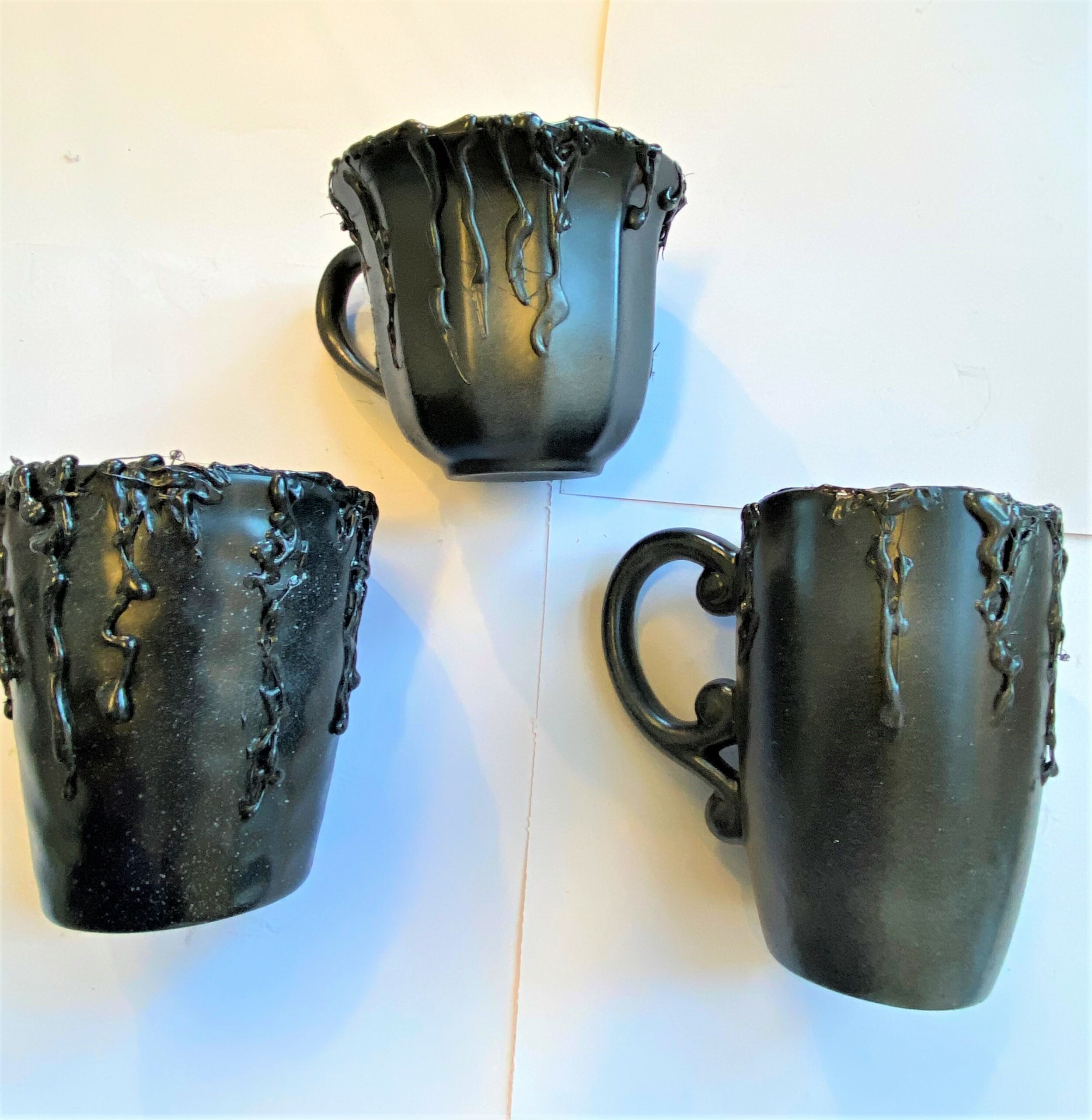 If you have gray spray paint, consider giving your pieces a light "spritz" of gray to add visual interest and make each item look older and ghastlier. If you spray on a little more gray than you like, simply spritz on more black to tone it down.
4. Bring out the blood—the blood red craft paint, that is!
Return to your mugs and candle holders once their spray paint job is dried and can be handled.  
Use deep red craft paint and a tiny detail paintbrush to apply paint on top of the hot glue drips. 
Carefully get the side edges, too. 
You may want to brush on a coat or two to make your "blood" boil. 
This part takes a little bit of time and is so exciting as you see the blood coming to life, so to speak.  
Let your black and blood-covered mugs and candle holders dry well.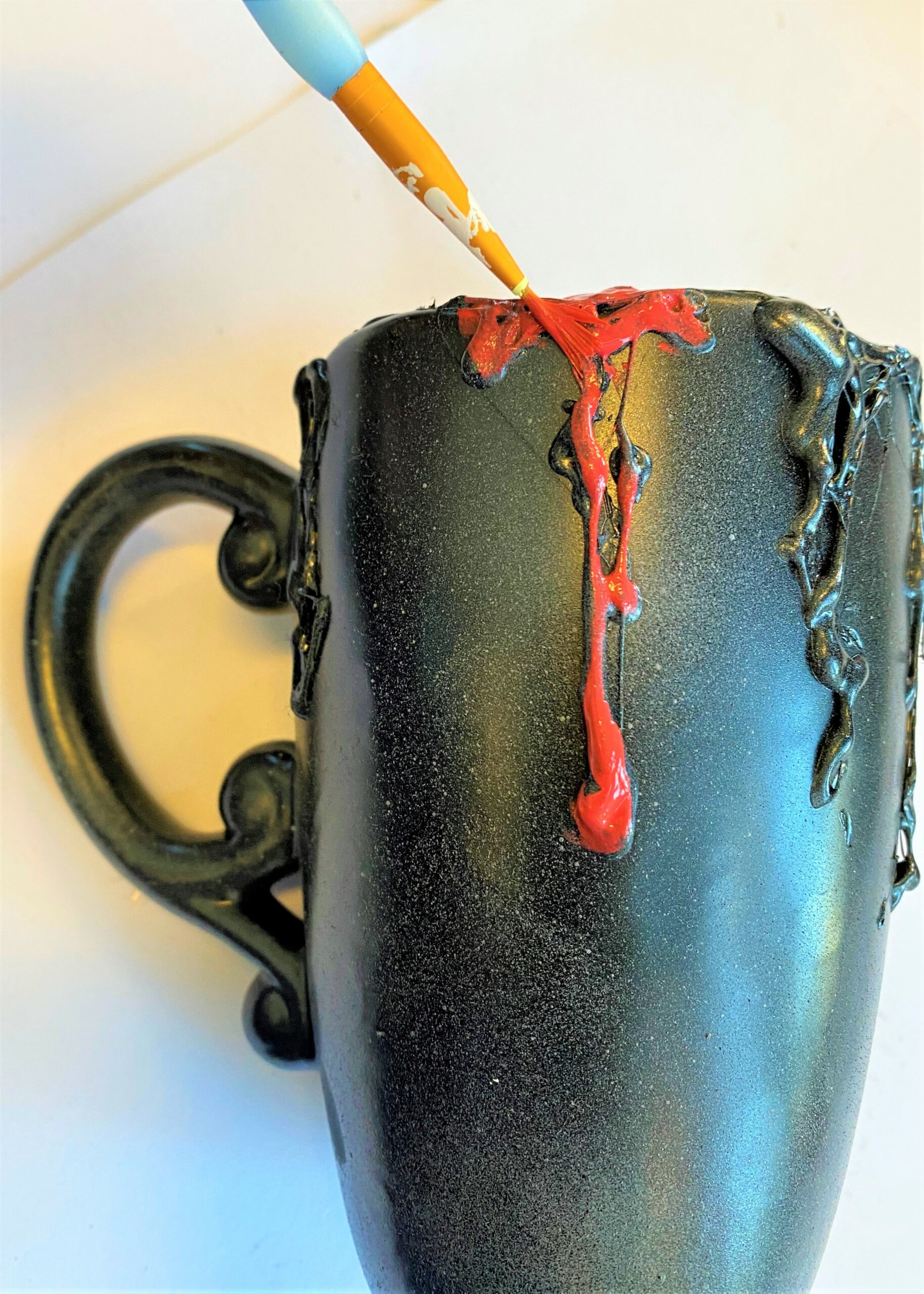 5. Create a creepy vignette with scary accessories
Set the stage for a frighteningly fun & festive Halloween season. 
Use a white, black, or red tablecloth or flat bedsheet on your table if you have one.  I didn't, so I used my drop cloth because it was made of canvas and already had black.  It was already old and rather scary!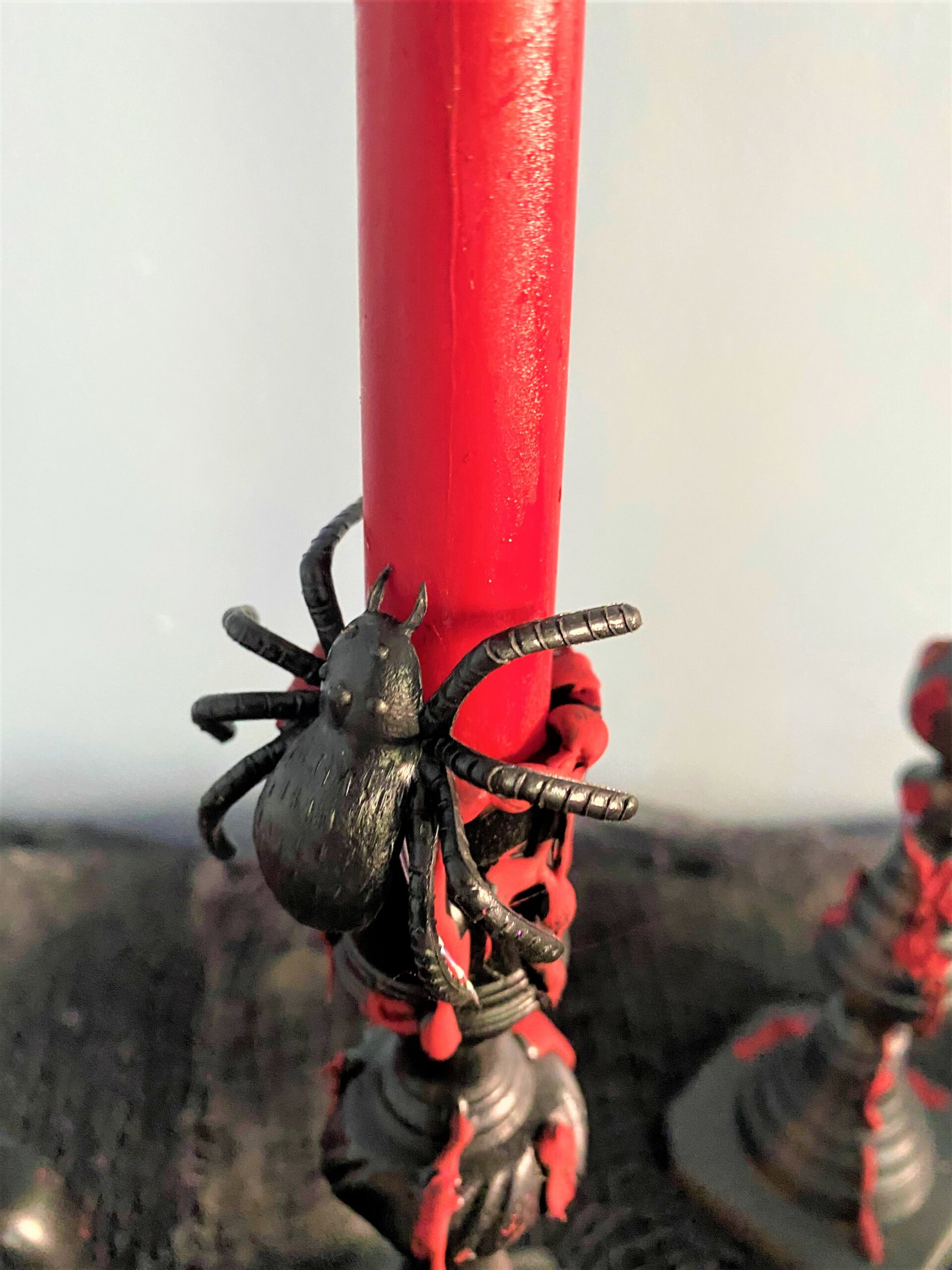 On top of your tablecloth, add a string spider's web found at most dollar stores this time of year. Place your tall candle holders on next and insert a red candle in them (I painted white dollar store candles with red spray paint). Position your bloody mugs around them. Use your glue gun to add plastic spiders, skulls and skeletons next. Place a set of skeleton arms under the web so it looks like someone is trying to escape from beyond the grave. Yikes!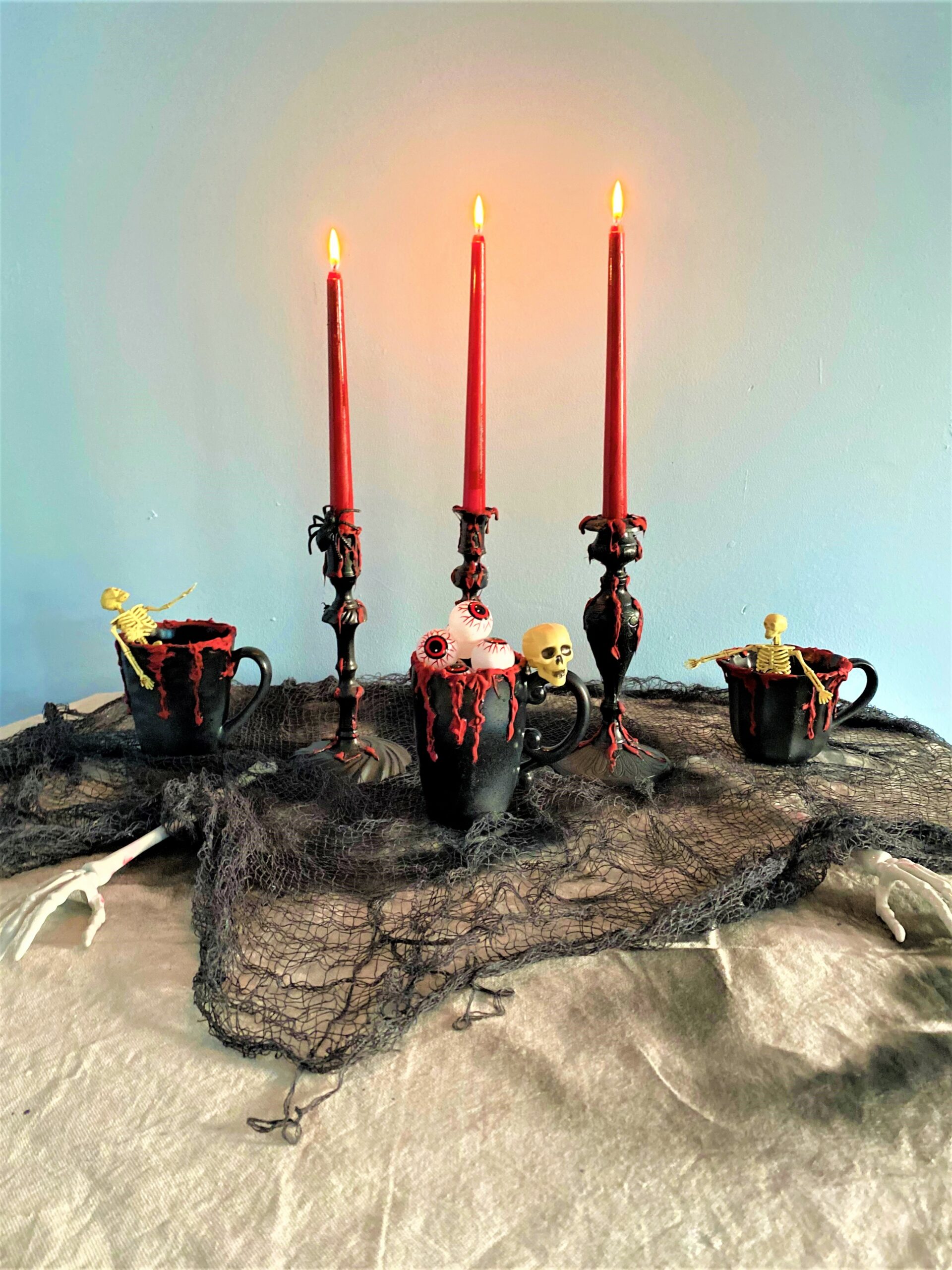 You are now ready to welcome the spirits and the spirit of the season! Invite all the ghosts, monsters and witches you know (along with the humans, too!) over to have fun together and to marvel at your dark and gruesome DIY projects!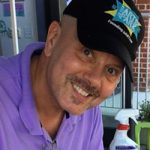 Tim Kime
Artist, Motivational Speaker, Life Coach
Tim Kime is an artist, life coach, and connector. He is the President of Kime Leadership Associates, offering executive coaching, meeting facilitating, and motivational speaking. He is also Chief Creative Force of Transformation Junkies, which upcycles furniture and other household items into functional works of art. He combined his two passions—unleashing the potential in people and transforming items with the launch of the Art of Possibilities Workshops. These workshops are part upcycling, part dreaming, and part goal setting.