My superpower is finding old furniture that nobody loves anymore and making it beautiful—and useful—again. Goodwill is my favorite place to find furniture. I love that instead of throwing it away to take up space in a landfill, the prior owners took the time to donate it so somebody else can have the chance to enjoy it.
Purchasing pre-loved furniture and home décor is a more sustainable way of decorating your home. I also love the challenge of taking something discarded because it is old and outdated, and updating it into the perfect style for someone new.
I found this vintage table at Goodwill a few years ago.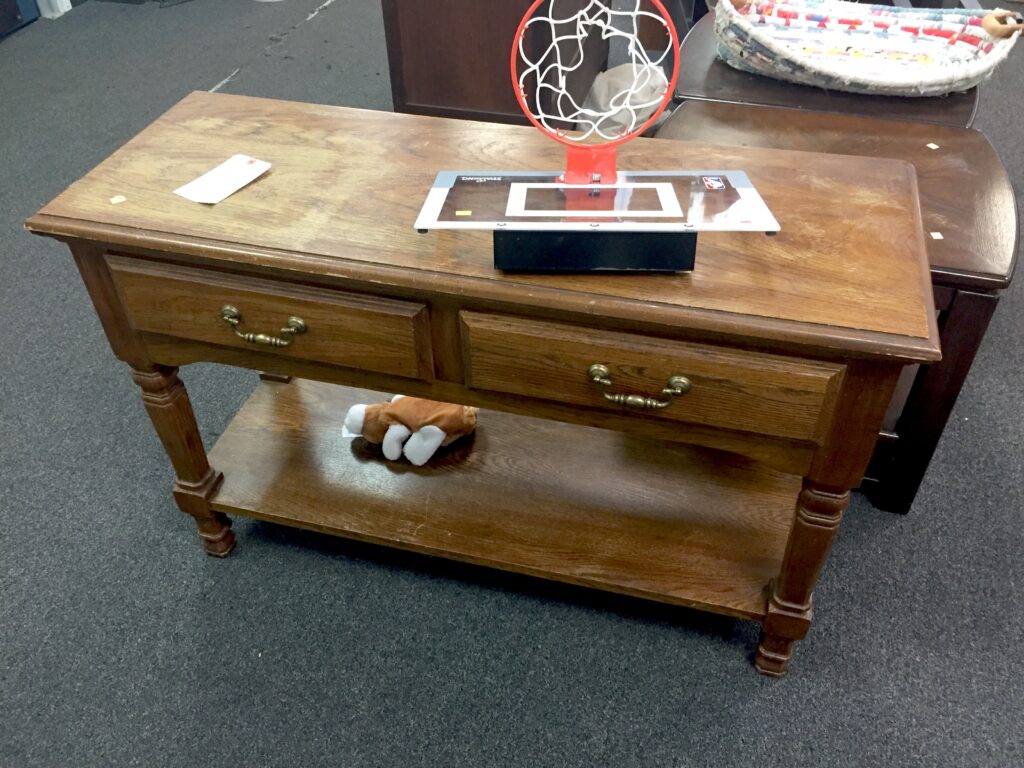 As you can see from the "before shot", it was a little rough. It had lots of scratches and the finish on the tabletop was worn away from years of use. But I looked beyond that cosmetic damage and saw a sturdy, functional table with beautiful wood grain and really cool legs with lots of details. That's my kind of table!
I bought the table, sanded away the scratches and old finish, and stained the top to accentuate that gorgeous wood grain. Then I painted the base a rich olive green color that was on trend at the time. I accentuated the details on the legs with gold gilding wax and, honestly, I thought it looked beautiful. I put the new and improved table for sale in my mom's shop.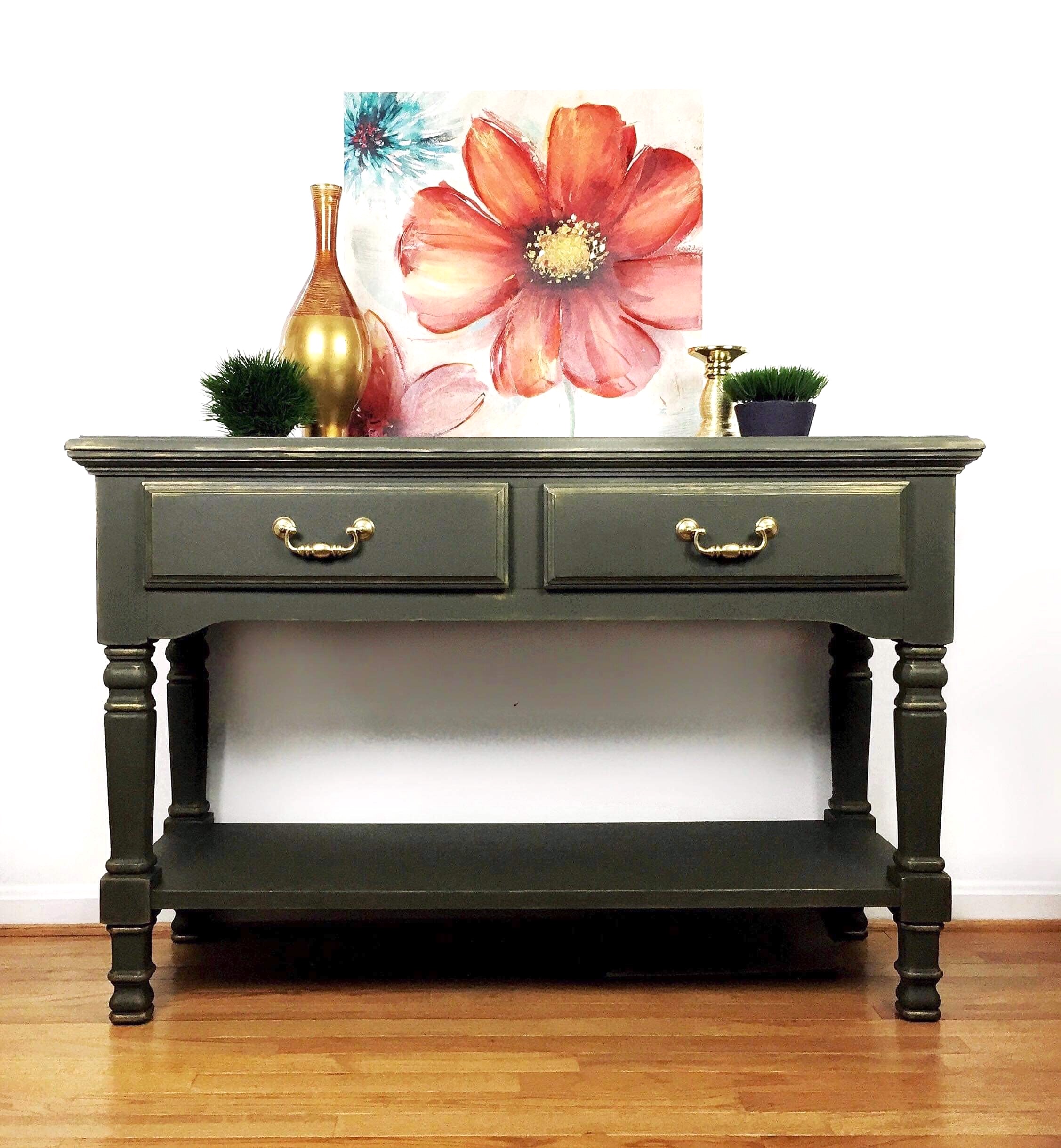 A lot of people said they liked it! … But nobody bought it.
My little green table never found its perfect new home.
So while my mom's store was closed for a few months in 2020 during the pandemic, I took the table home and gave it another makeover. Maybe the green just wasn't the right color. Maybe I should make it more neutral to appeal to a wider audience. Surely, a cute little farmhouse-style table would sell right away. Right?
I repainted the table gray, distressed around the edges and replaced the big gold handles with new wooden handles stained to match the tabletop and the new rustic style.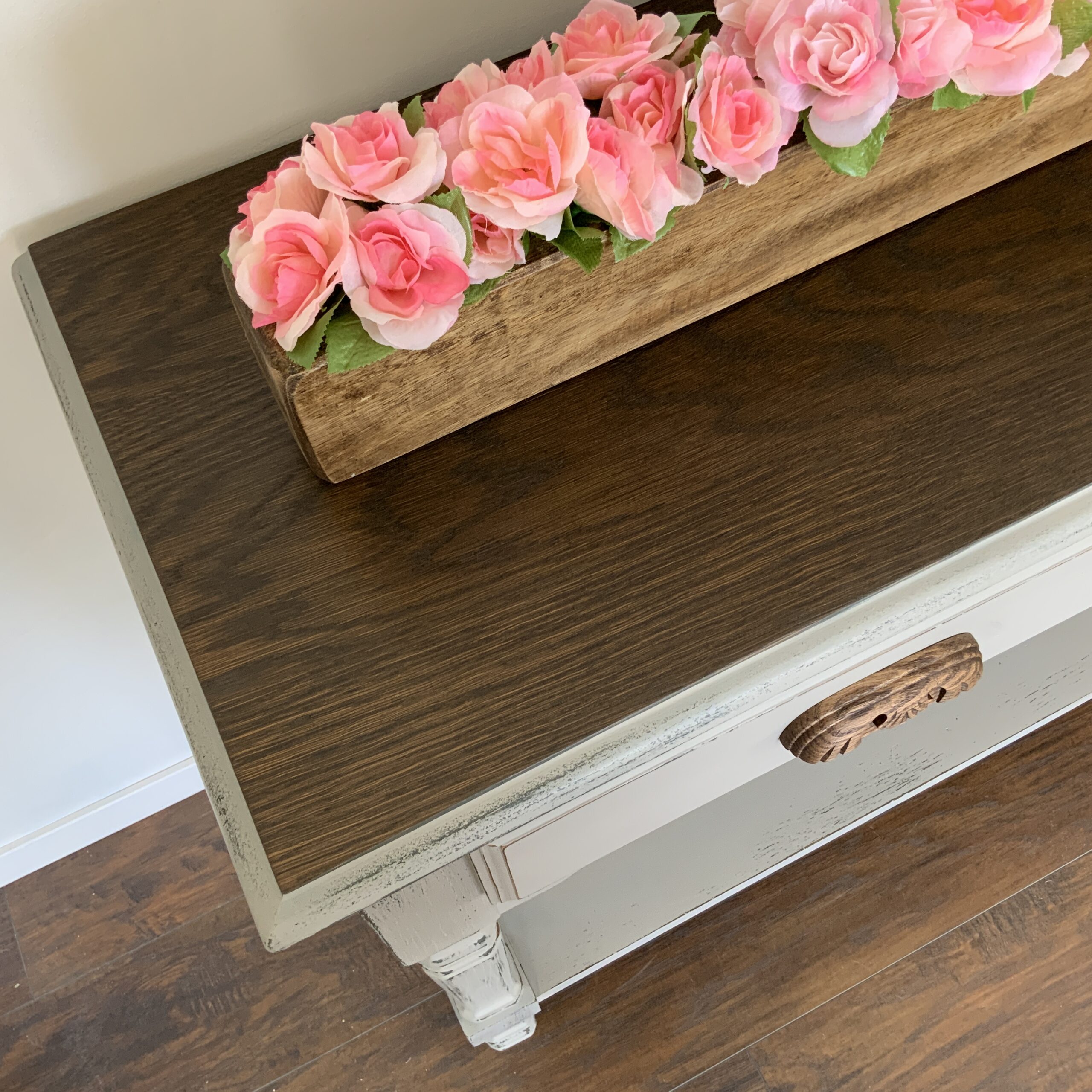 I got a lot of nice complements from customers about this table, but again, nobody bought it. In fact, it was one of the few items of furniture left when my mom sold her store and retired earlier this year.
I felt kind of bad that nobody wanted to buy this cute little table. Then it hit me! The reason this table never sold is because it is perfect for … ME!
The size is just right for a little corner in my entryway at home. And the drawers are perfect for holding the dog's leash and empty baggies out-of-sight to grab as we are heading out the door for a walk.
I realized I had been trying so hard to paint this table to appeal to the perfect person, and the perfect person for it was right here all along. (My superpower was a little short-sighted on this one!)
The only issue now was the style. Gray and distressed is nice. It's just not me.
Finally, I repainted the table one last time. This time I chose a dark purple color that matches one of the mosaic tiles in my entryway floor. I like that the purple is a little unexpected, especially right there as you walk into my home. I kept the tabletop stained because I really am in love with that wood grain. And I added wax in a shade brighter purple around the edges of the drawers and details of the legs.
Now it's perfect. For me! It might not be everyone's style, but that's OK. I personalized it to fit my space and my style, and I'm going to enjoy it here in its new home.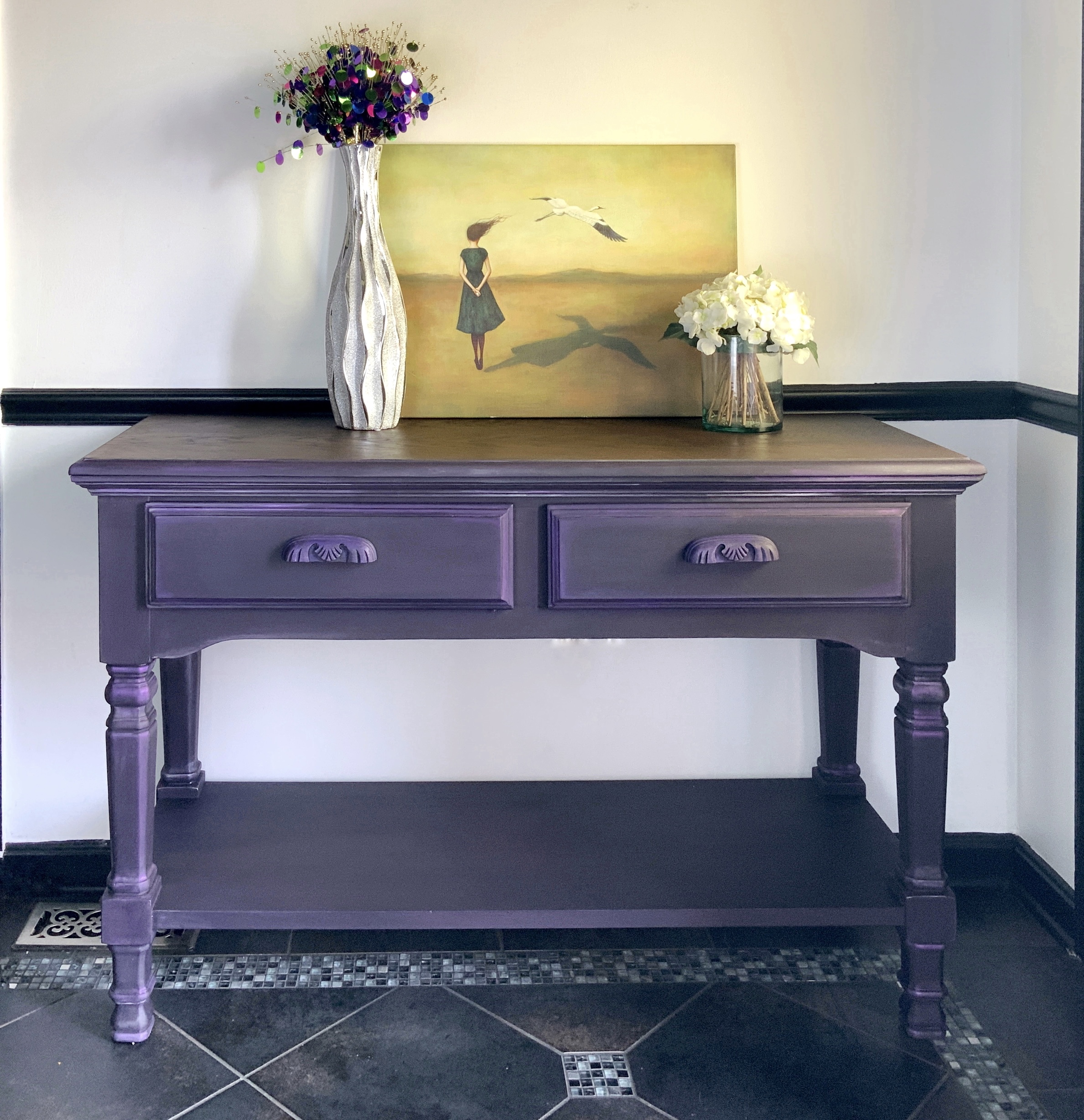 P.S.—That artwork also came from Goodwill and only cost $5.99. I bought it because I really liked it, even though I didn't have a spot for it in my home. Now I do! Everything worked out perfectly.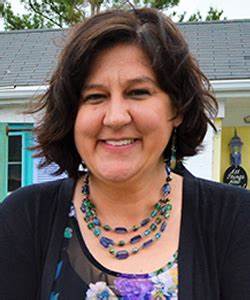 Carolyn Becker
Courtney Mickalonis is an artist, teacher, and blogger at u003ca href=u0022http://www.allthingsnewagain.net/u0022u003eAll Things New Againu003c/au003e, a furniture and paint boutique in Leesburg, VA. She finds old furniture that nobody loves anymore and makes it beautiful—and useful—again. Courtney teaches furniture painting classes at their Leesburg studio and hosts The Furniture Painting Friday Show live every Friday at 8 p.m. on the u003ca href=u0022http://www.facebook.com/AllThingsNewAgainu0022u003eAll Things New Again Facebook pageu003c/au003e.