In almost every blog post that I write, I shout from the rooftops about why you should thrift your clothing and furniture pieces instead of buying new ones. But what about the other necessities in life? What about craft and cleaning supplies? Believe it or not, those can be thrifted as well! You just have to be attentive and add these types of items to your thrift shopping lists.
If you're a frugal individual like me, you'll try and save a buck on anything, anywhere. These dollars saved that truly do add up can go towards other more important things like trips, gifts and achieving your future dreams.
So why pay full price for everyday essentials, when you could possibly buy them (name brand at that!), for close to nothing?!
Here are 5 categories of items that I finally added to my thrift shopping searches. When I buy these types of items secondhand, I can actually see the money in my bank account adding up. Plus, I make fewer trips to big box stores, losing the temptation of making impulse purchases.
Craft Supplies & Gift Wrap
Before you go to a big box store to purchase supplies for your next creative endeavor, consider stopping at Goodwill first.
In the home goods area, you'll be surprised to find the amount of art supplies that are offered on a daily basis.
Lately, I've been into making jewelry, so I was especially excited to find the wooden bangles – below. I've never painted on this type of canvas before, but for under $1 a bracelet, I had to bring these home with me. I wonder how they'll turn out!
Also below, you'll see a photo of gift bags. I 10000% urge you to buy party supplies and gift wrap at Goodwill. They usually only cost a $1 and will save you hundreds in the long-run. It's been years since I've purchased brand new gift bags.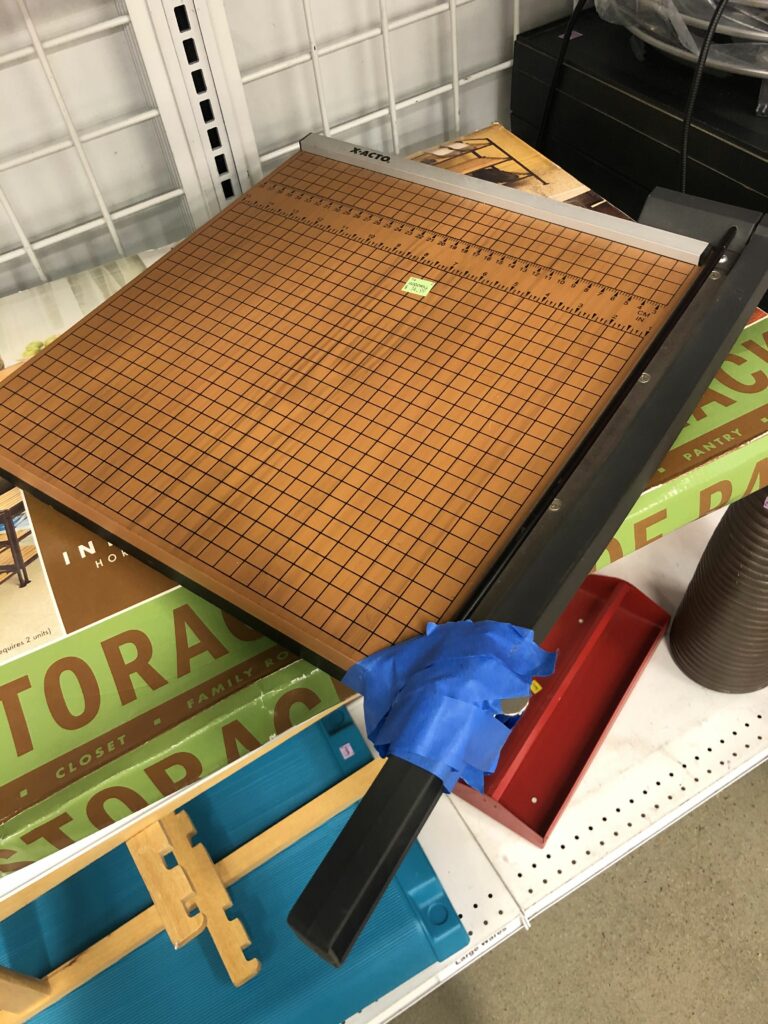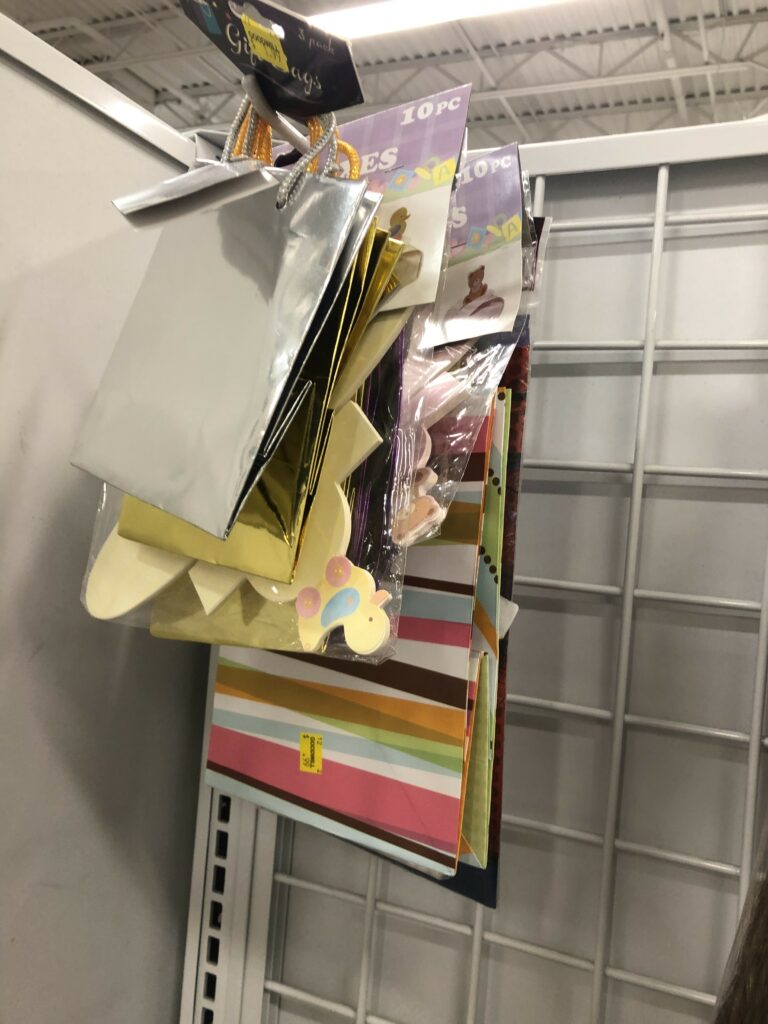 2. A Baker's Paradise – Baking Supplies!
I am the worst cook and baker, but maybe if I practiced a little bit, my lack of skills will improve!? The biggest barrier that I have to try out baking is buying supplies that I am afraid I'll waste or ruin. That's where Goodwill comes in.
On my latest Clinton, MD Goodwill trip, I saw tons of fun new and gently used baking kits for pennies on the dollar. These are incredible resources for someone who is new to baking or is a pro that wants to experiment with new designs.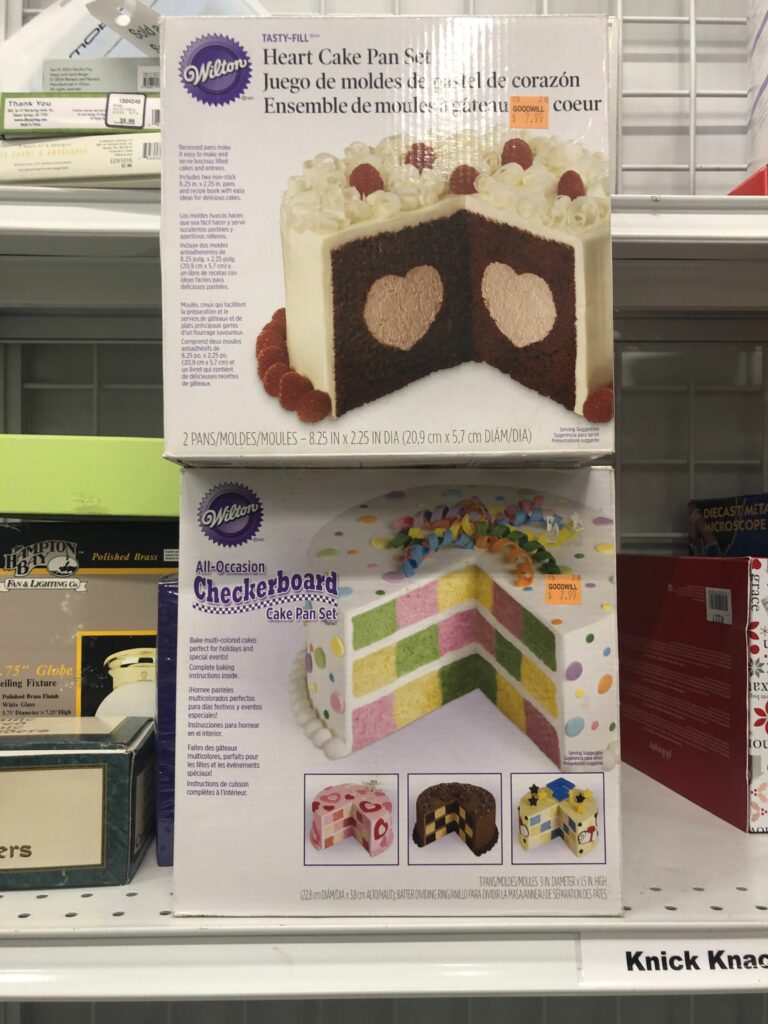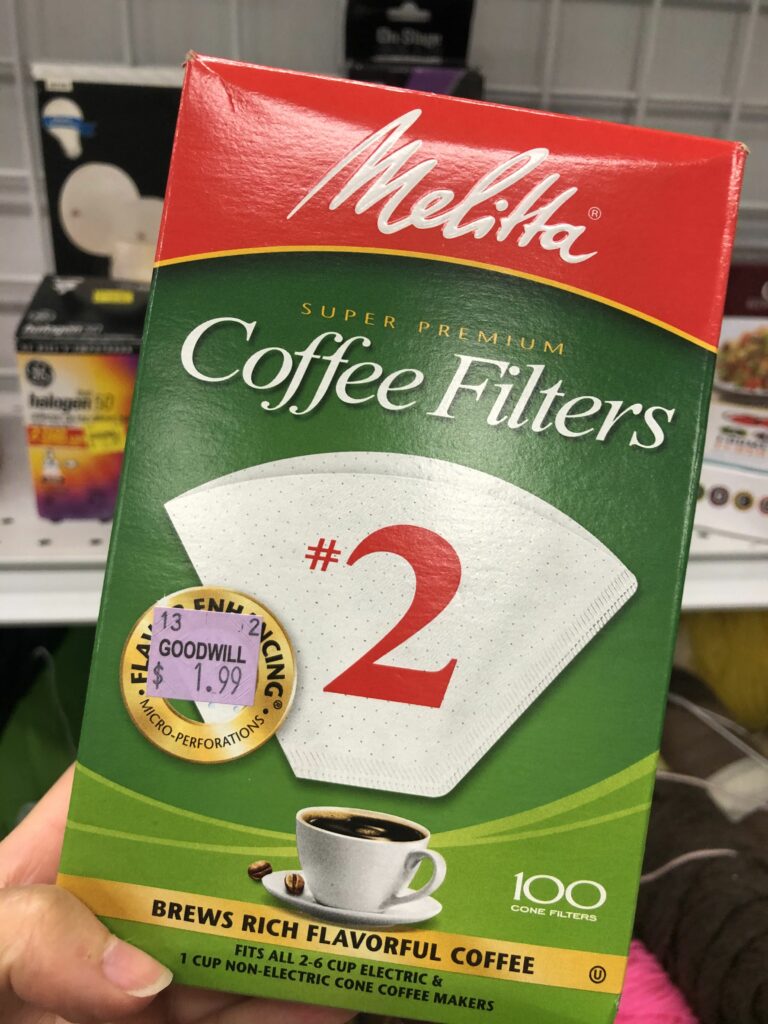 3. Pet Gear
From leashes to doggy outfits, Goodwill has it all. If you're thinking of adding fish to the family, you can even find a fishy home kit (made by a donor), there too! I was truly tempted to bring this all encompassing bundle (below) home with me, even though I have no plans on buying a fish. *Goodwill does not sell fish!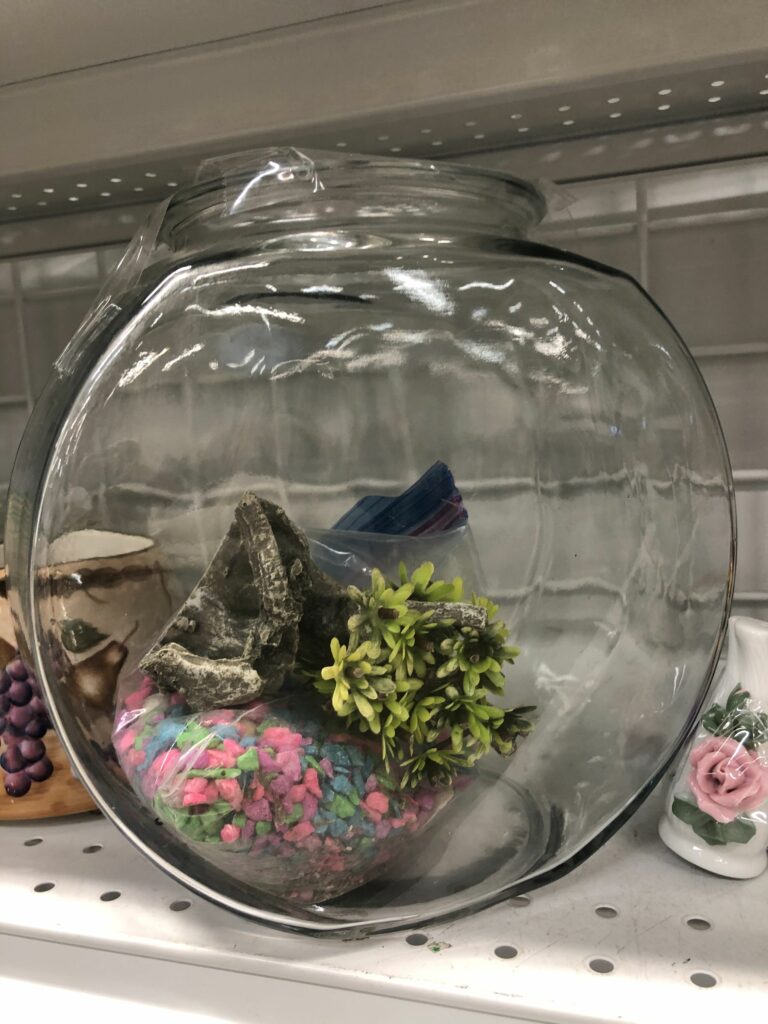 4. Cleaning Supplies
I've seriously saved quite a few dollars by looking for cleaning items at Goodwill. Even when I'm all stocked at home, I purchase these anyway, for you never know when you'll run out. Past home cleaning purchases of mine include brand new sponges and Swiffer pads.
If you're looking for cleaning supplies at Goodwill, take a look in the home goods section. They're there! I swear!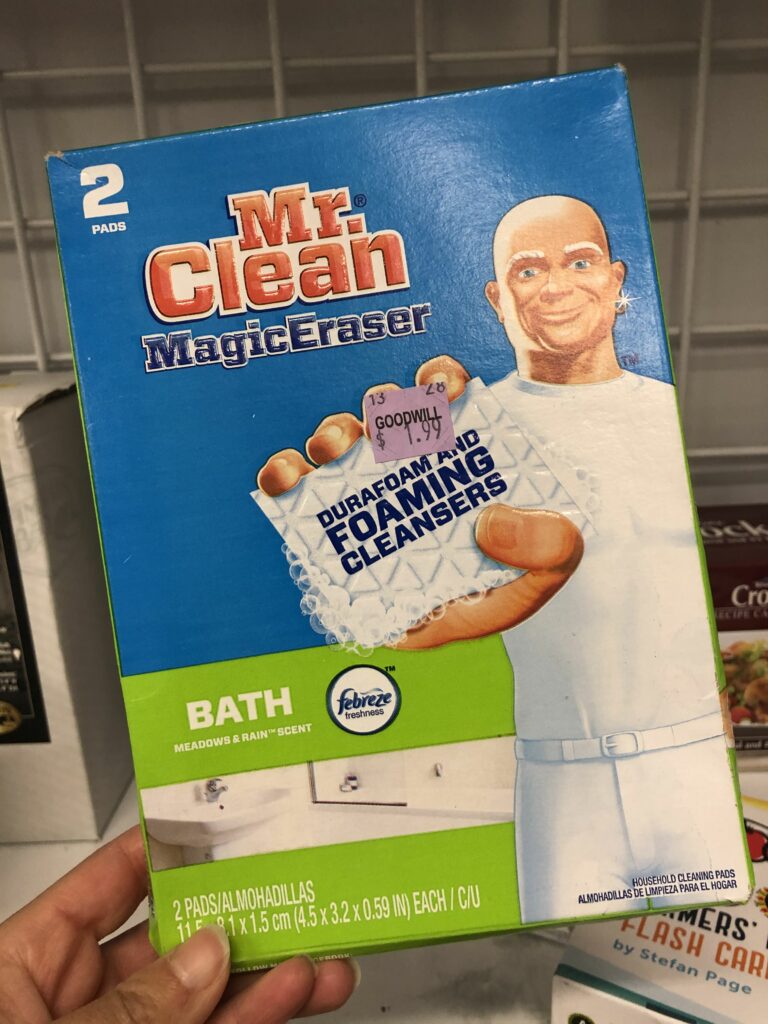 5.) Self-Care Accessories
Below are some self-care items that I've found brand new at Goodwill. I promise you that you'll find them – you just have to look!
Brand new, unexpired lotions
Brand new dental items like toothbrushes and dental floss
Hair ties and clips
Shoelaces
And more!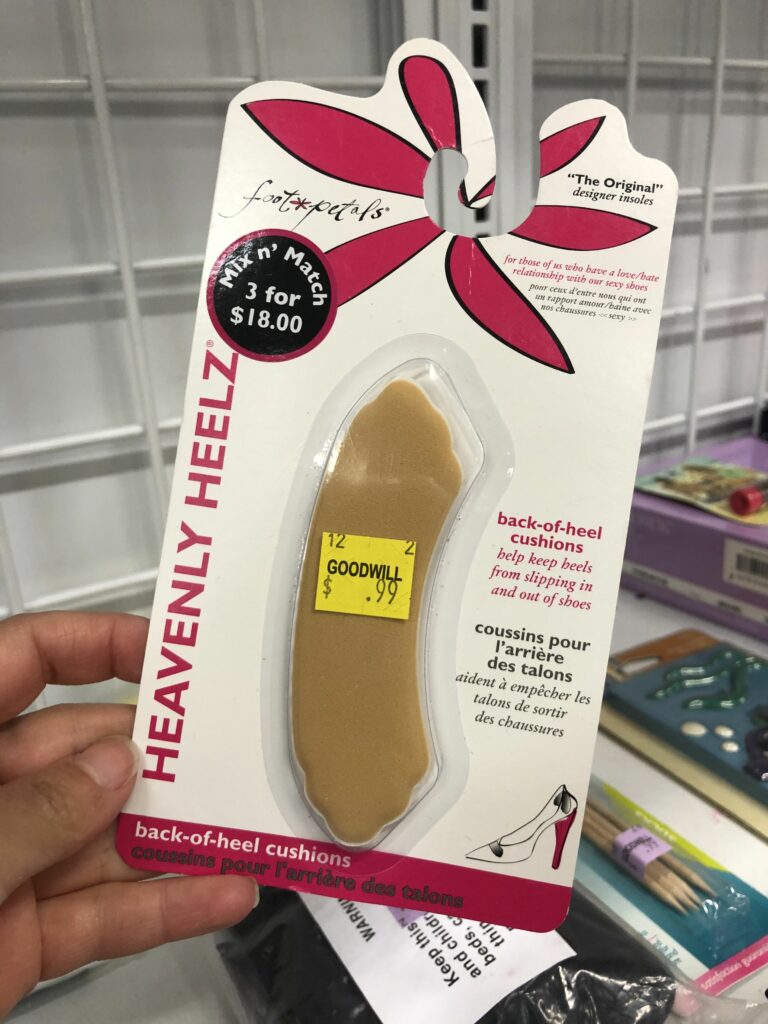 The next time you shop at Goodwill, revisit you thrift shopping list and add these items. You'll not only save some much-needed, you'll also be helping to protect the planet through your sustainable shopping!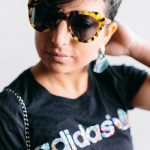 Carolyn Becker
A self-proclaimed thrifty spunky petite fashionista who works in the marketing field by day, and is an artist and thrifter by night. You can find her bragging about her designer Goodwill thrift finds on her Instagram: @petite_punk.