A festive end of Febrrruary to you, my fellow thrifters and thrifty gifters!  Third and last month of Winter, Adar I of 5782, Black History Month!, Month of Imbolc, Chinese/Lunar New Year of the Tiger, Groundhog Day, Valentines Day, and Presidents Day! 
As I've told you before, my family and I love the seashore.  And it's one of our favorite thrifting themes.  We have many thrifted shore things in our home. And many more on our wish lists.  Probably more than we could ever fit in here.  But not for lack of trying.
And today, Goodwill of Greater Washington's Shop Goodwill site had 12 shore-themed items!  So, let's take a virtual visit to – and thrifty tour of – some seashores.  We'll begin, of course, by putting on some jewelry.  
This sterling pendant in the shape of a seashell was trying to hide from us in a lot of beautiful stone beads – we sea you!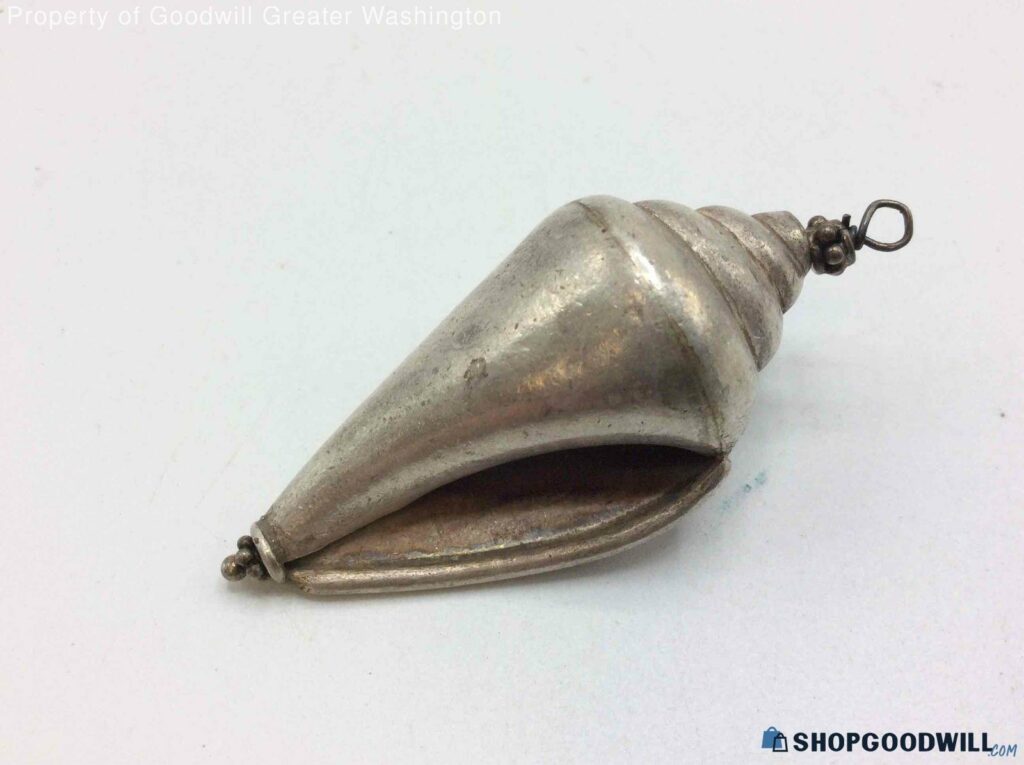 https://shopgoodwill.com/item/139265975 – 1 lb. Semi-Precious Gemstone Jewelry Crafting Lot
This lot of six pendants includes a wire-wrapped piece of blue sea glass and a sterling sand dollar.  I love sea glass and have a thrifted collection of sea glass jewelry.  And sand dollars are one of my spouse's favorite symbols of the shore.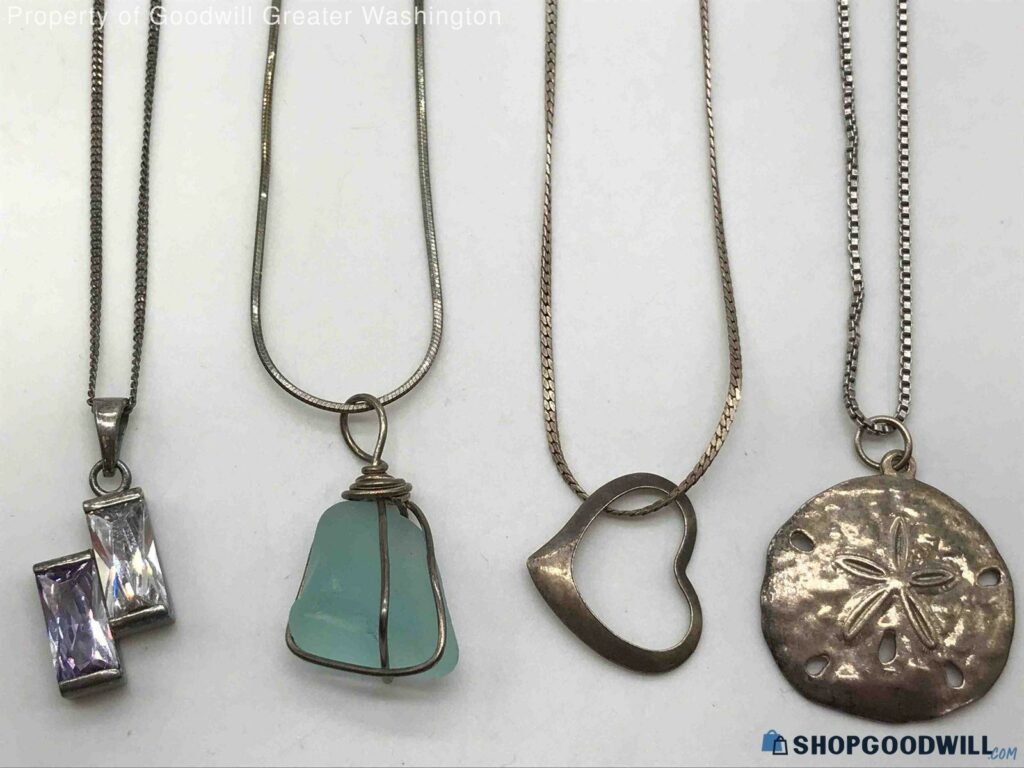 https://shopgoodwill.com/item/139370216 – .925 Silver CZ Sea Glass Assorted Necklace Chain Pendant Jewelry Lot
This big lot of brooches includes one in the form of two dolphins, one silver and one gold. I went most of my life without seeing dolphins in person, and without expecting to. But when my spouse and I visited Virginia Beach, we could see them from the hotel and beach! And how much more so from the tour boats.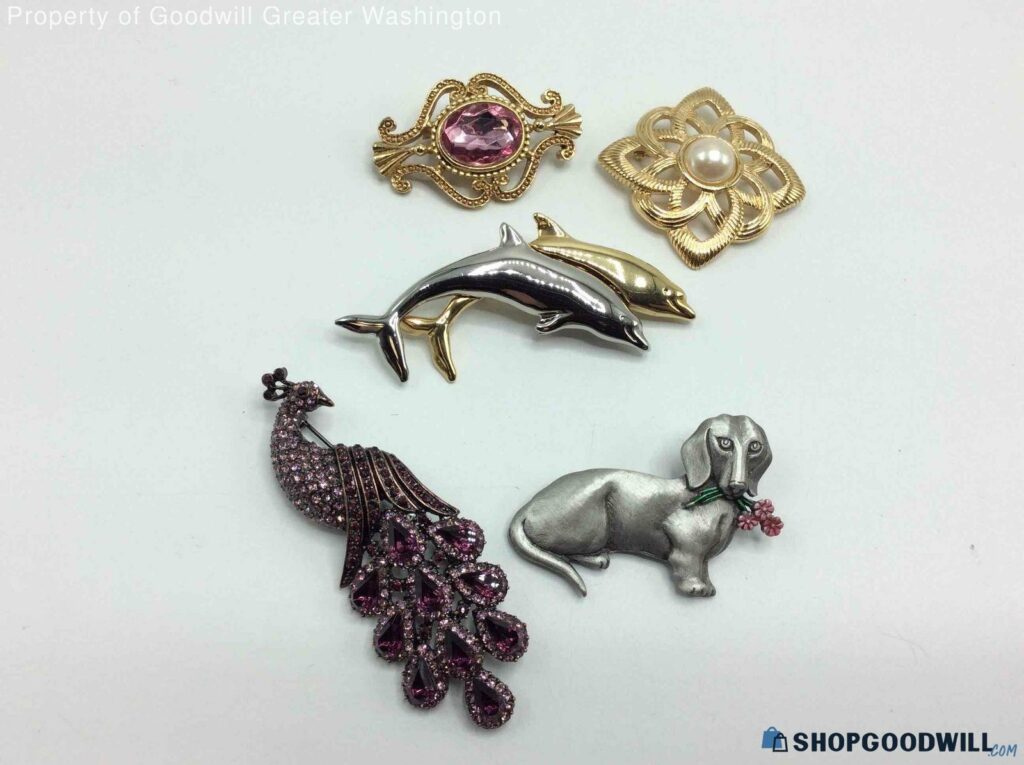 https://shopgoodwill.com/item/139140535 – 1 lb. Mixed Metal Assorted Bulk Brooch Pin Lot
This jewelry lot includes a goldtone bracelet with a compass rose charm by Alex And Ani. I actually have three of their shore-themed bracelets, all thrifted from Shop Goodwill. They're so, well, charming.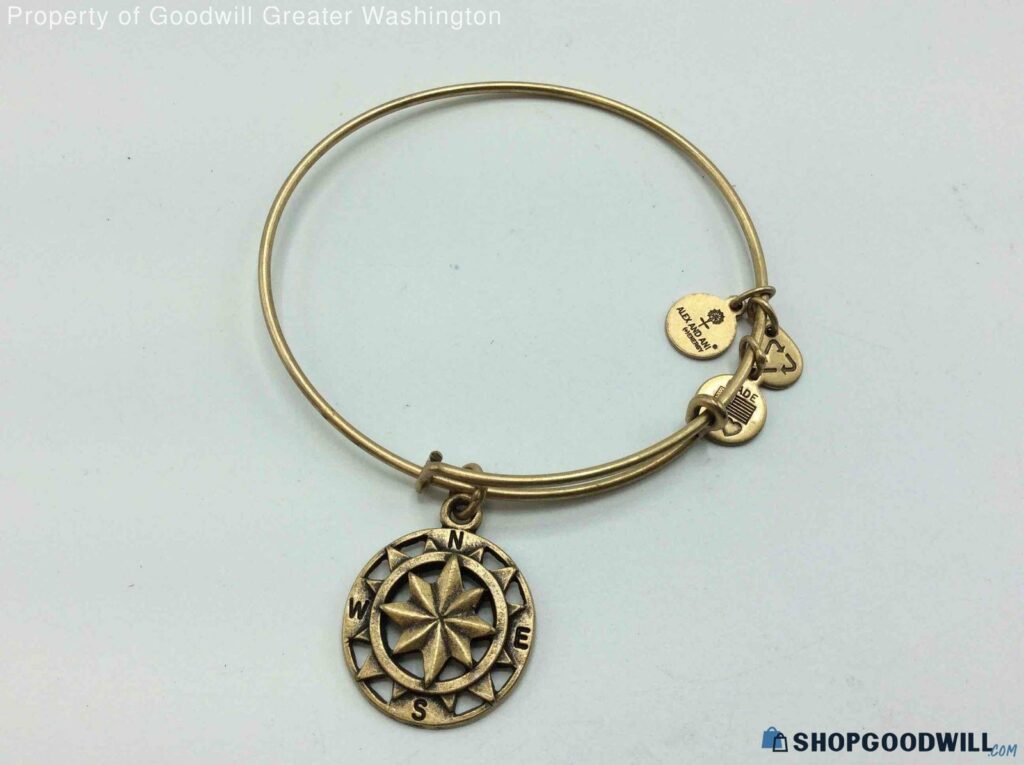 https://shopgoodwill.com/item/139362278 – Gold Plated Faux Gemstone Assorted Jewelry Lot
Now that we have our jewelry on, it's time for some shore-themed shoes. This pair says "mermaid" to me!  And as a mertrans / merenby, I should know.  These are high-top Converse, in an amazing iridescent fabric that looks like fantasy scales.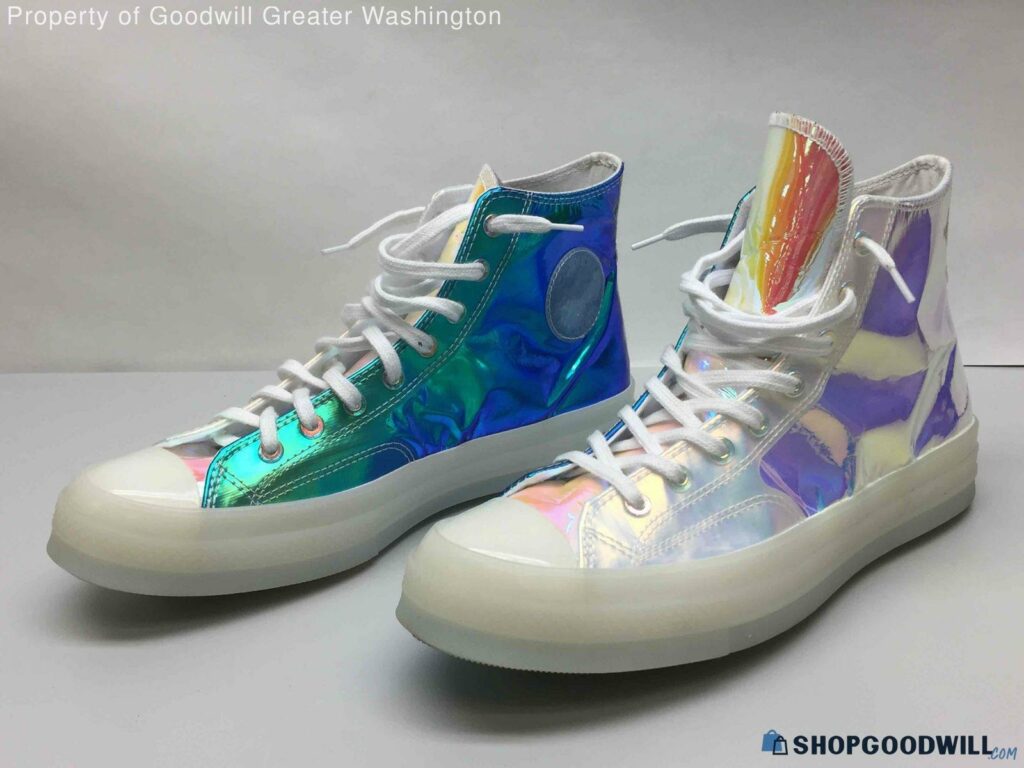 https://shopgoodwill.com/item/139152249 – Converse Multicolor Unisex Shoes In Box Men Size 10 Women Size 12
Speaking of mermaids, here are a couple of traveling companions and tour guides for us. Rebecca Duffy's artwork "Dance With Fish" – two mermaids in a synchronized underwater dance, with seaweed waving below and fish swimming above.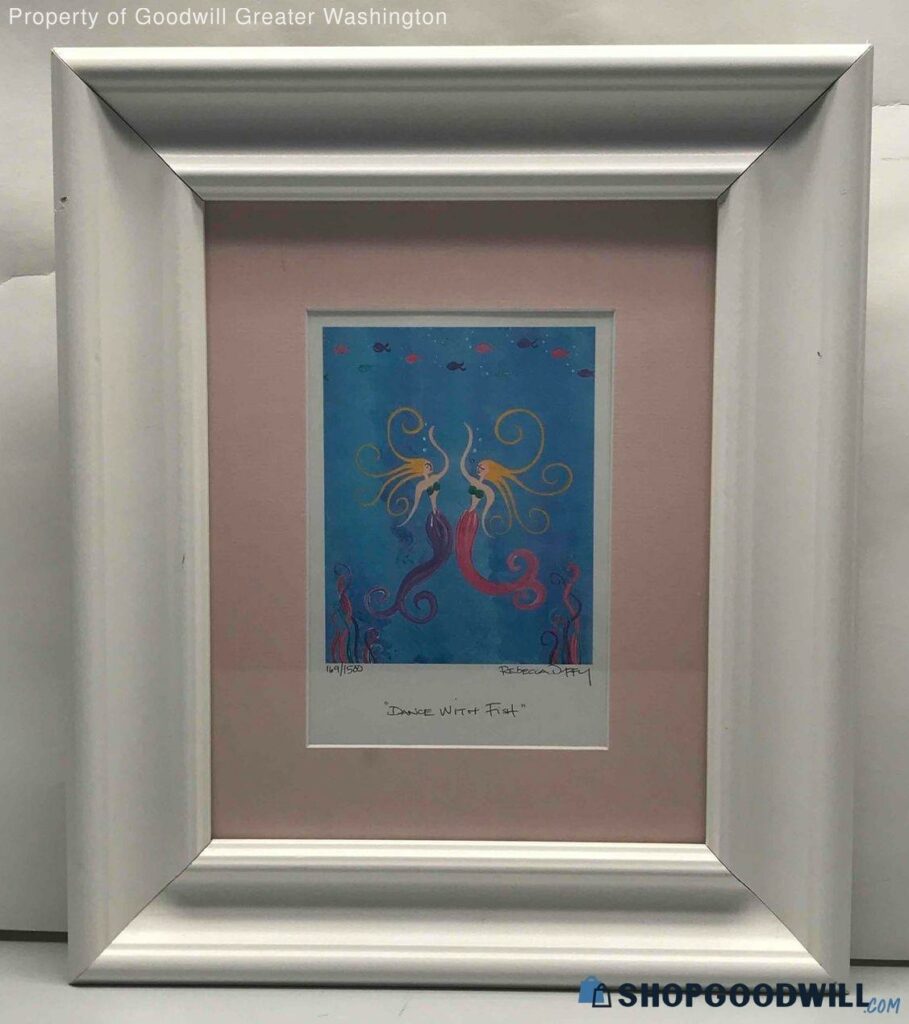 https://shopgoodwill.com/item/139152181 – 169/500 Signed By Rebecca Duffy Dance With Fish w/ Medmaids 13.5×11.5
Here's a third companion and guide.  A seashore-themed Santa by Jim Shore.  I love his work, and have several of his pieces on my wish list.  Too soon for Santa?  Too late?  If you like to thrift your Chrismukkah decor and gifts, you know it's always the right time.  Keep an eye out all year, and when you see something, buy it.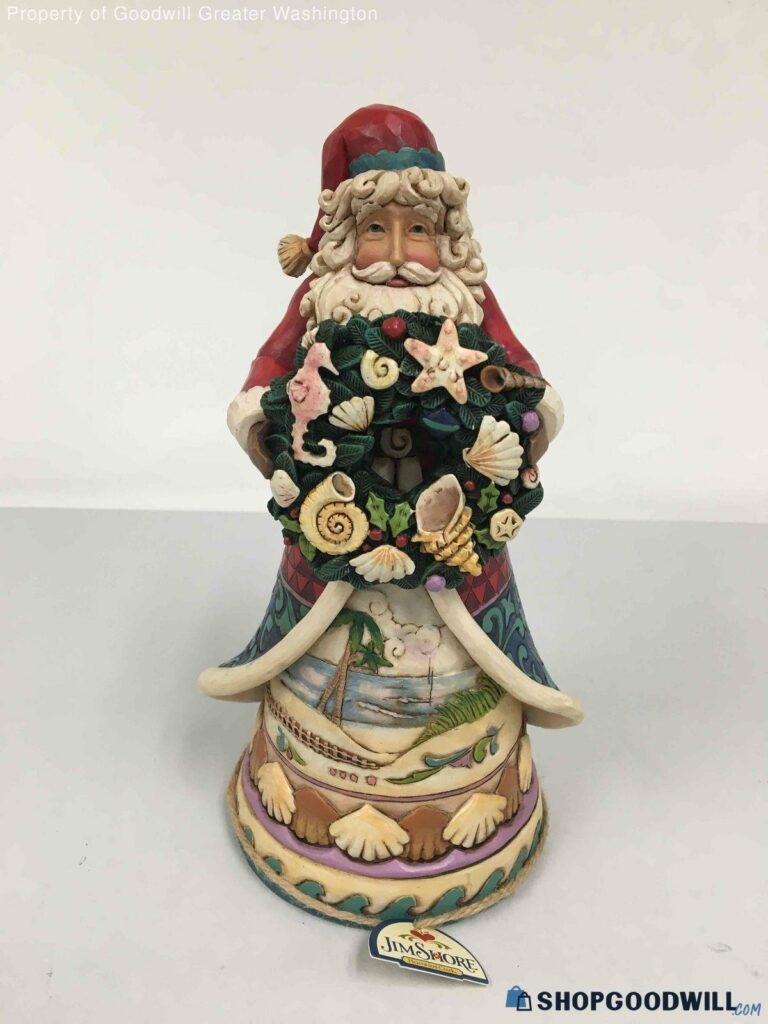 https://shopgoodwill.com/item/139139674 – Jim Shore Santa Clause Figurine
We're almost ready to start schlepping.  But, we need a bag, for stylish and practical reasons.  No schlep to the shore is complete without picking up some seashells, sea glass, and other souvenirs.  Here is a gold-tone belt buckle in the form of a creel [https://en.wikipedia.org/wiki/Creel_(basket)] with a faux scrimshaw [https://en.wikipedia.org/wiki/Scrimshaw] decoration depicting a lighthouse.  Having lived in the Boston area until 2014, I am very familiar with and fond of these and had a handbag-style one as a child.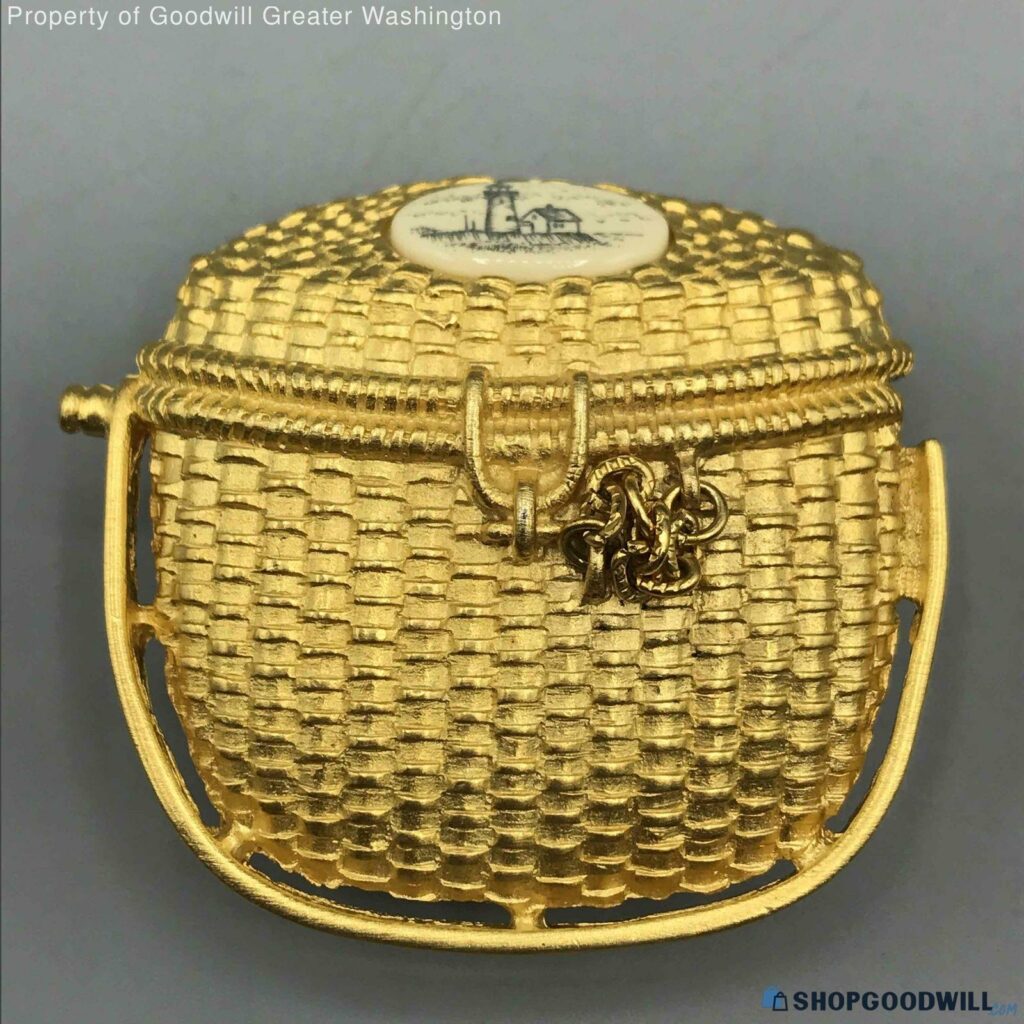 https://shopgoodwill.com/item/139369588 – Gold Tone Assorted Taurus Basket Belt Buckle Lot
And now, we're off! First to Rockport, Massachusetts, which I've visited a few times in real life. This artwork, "The Motif", depicts Motif #1 [https://en.wikipedia.org/wiki/Motif_Number_1], the very famous replica of a big red 1800s fishing shack, decorated with buoys. It's seen here surrounded by a few folks on their fishing boats, in the water around the Motif's Bradley Wharf.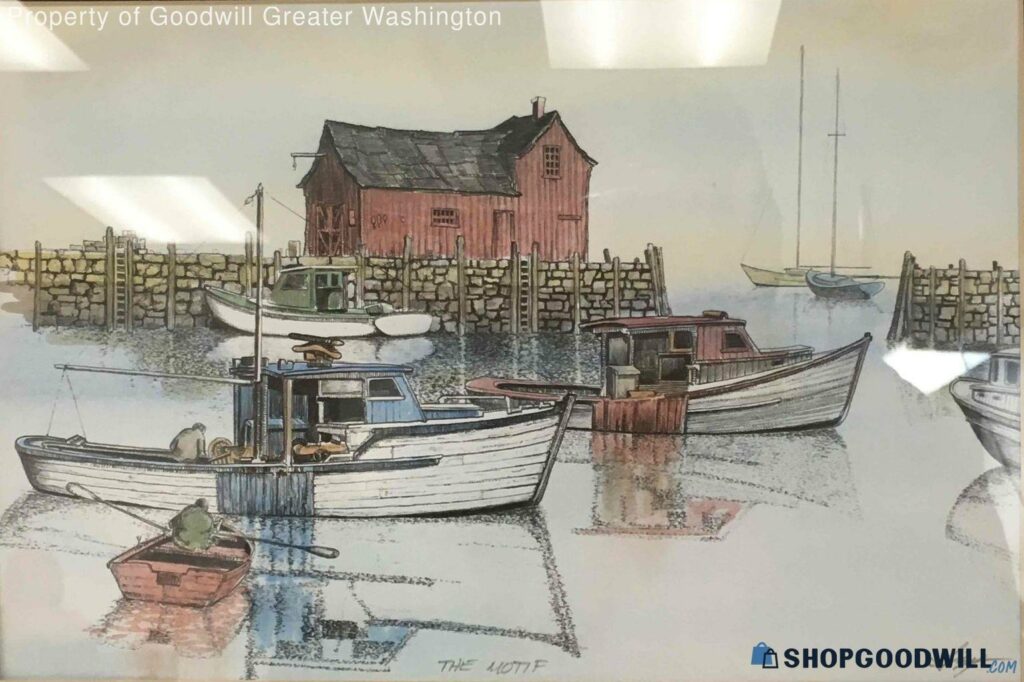 https://shopgoodwill.com/item/139364861 – Signed The Motif Men On Boats At The Boathouse Print 8×12″
Our next stop is an unknown beach, seen here sometime in the late 1800s or very early 1900s. Women, children, and maybe some others are enjoying themselves under and around beach umbrellas and parasols, with small white sailboats far out on the water, and land in the distance.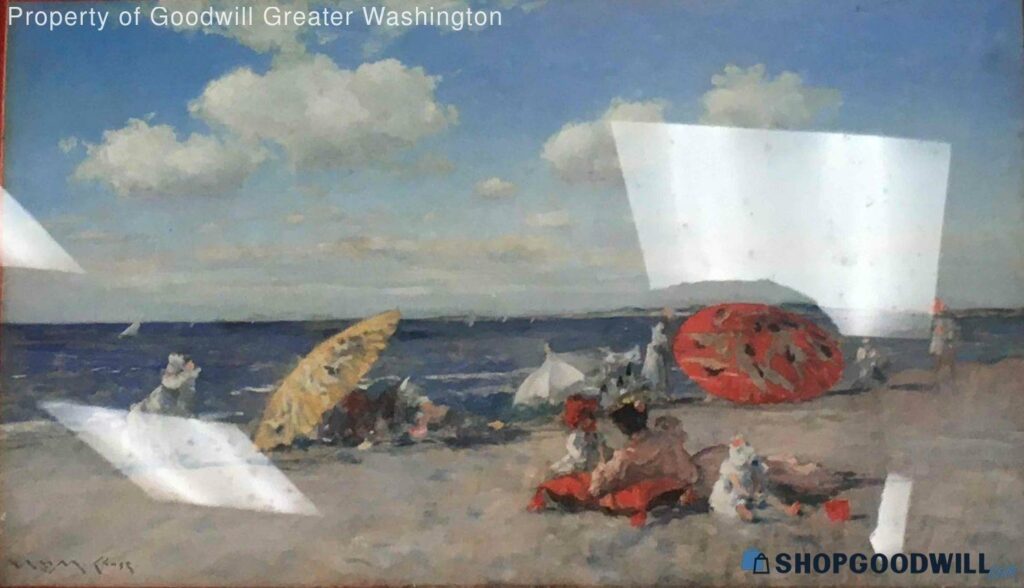 https://shopgoodwill.com/item/139364876 – Umbrellas Dog Day At The Beach Under Blue Sky Print 7×12″
Our third shore is a tropical one, complete with a breaking wave, many palm trees, and two leaping dolphins.
This painting has some nicely textured parts – including real sand mixed into the paint on the beach.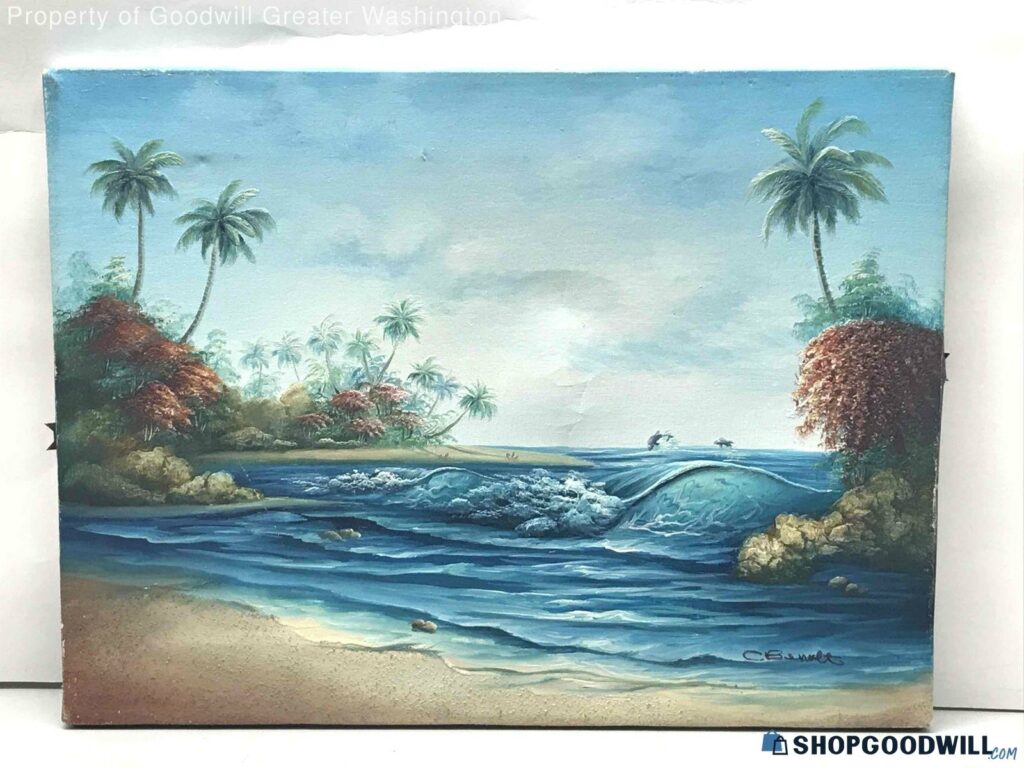 https://shopgoodwill.com/item/139283480 – Signed By C. Benolt Beach Shore Painting 12×16
Our fourth and final destination may be in Greece. We are standing in the courtyard of a bright white building, looking through the space between walls to the beach, water and a mountain. On our left is a plant with orange flowers in a big pot; on our right, a tree with many brilliant red blossoms in a raised bed, leaning over us to provide a canopy. A good place to rest and refresh ourselves.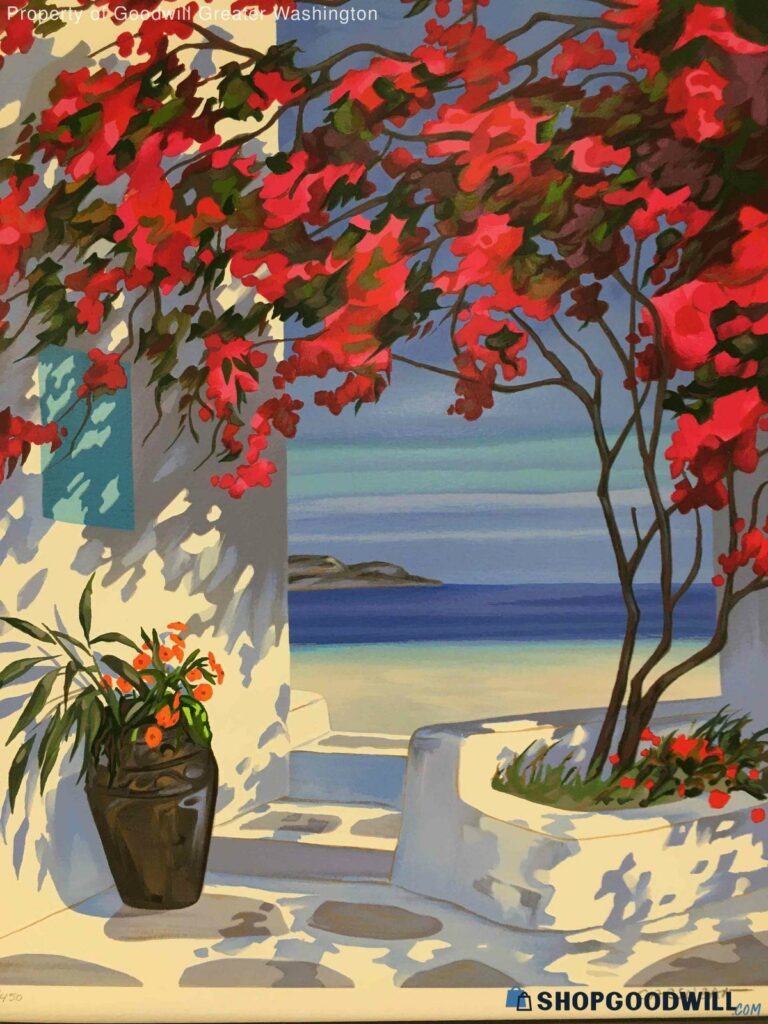 https://shopgoodwill.com/item/139265138 – Signed Carsuzan Potted Flowers At The Beach Print 357/450 15×18″
Regretfully, I now return you to your regularly scheduled Winter. But, Spring starts next month! So I'll meet you back here in March, for a look at more of my fabulous frugal finds.
About our fabulous guest blogger: