Mirrors are one of those things you can usually always find at Goodwill.
And that's a good thing because I am a little bit obsessed with pretty thrifted mirrors.
Sometimes, I find mirrors that are just perfect as is — like these happy little sunshine mirrors currently hanging in my living room.
Other times, I like the shape of the mirror but not the style. So I paint them to match my home perfectly.
And sometimes a new paint color isn't enough. So I add a little more bling like this fancy mirror I gave to my mom last Christmas.
I found this mirror for only $2.99 at the Hayfield, Va. Goodwill store. 
I really liked the size and the shape, but to be honest, there's only so much wall space in a home for pretty thrifted mirrors. I started questioning whether my Goodwill mirror obsession had gone too far.
Did I really need to hang up another mirror?
No … that answer was pretty clear.
But then I asked myself a few other questions.
What if I didn't hang it on the wall?
What if I removed the hangar altogether and upcycled it into a tray?
And what if I added knobs from an old dresser to the bottom to give my new tray little feet?
I took the mirror home and did all of that. And I also painted it to match my decor better.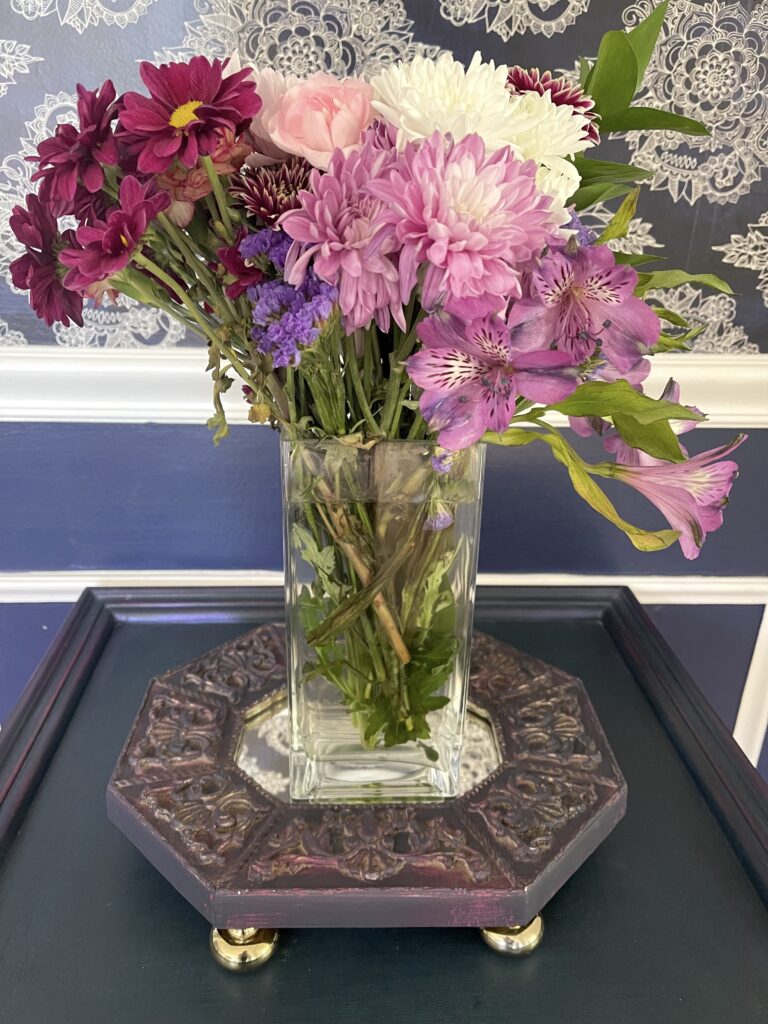 I started with a coat of hot pink paint. (Yes. Hot pink matches my decor.)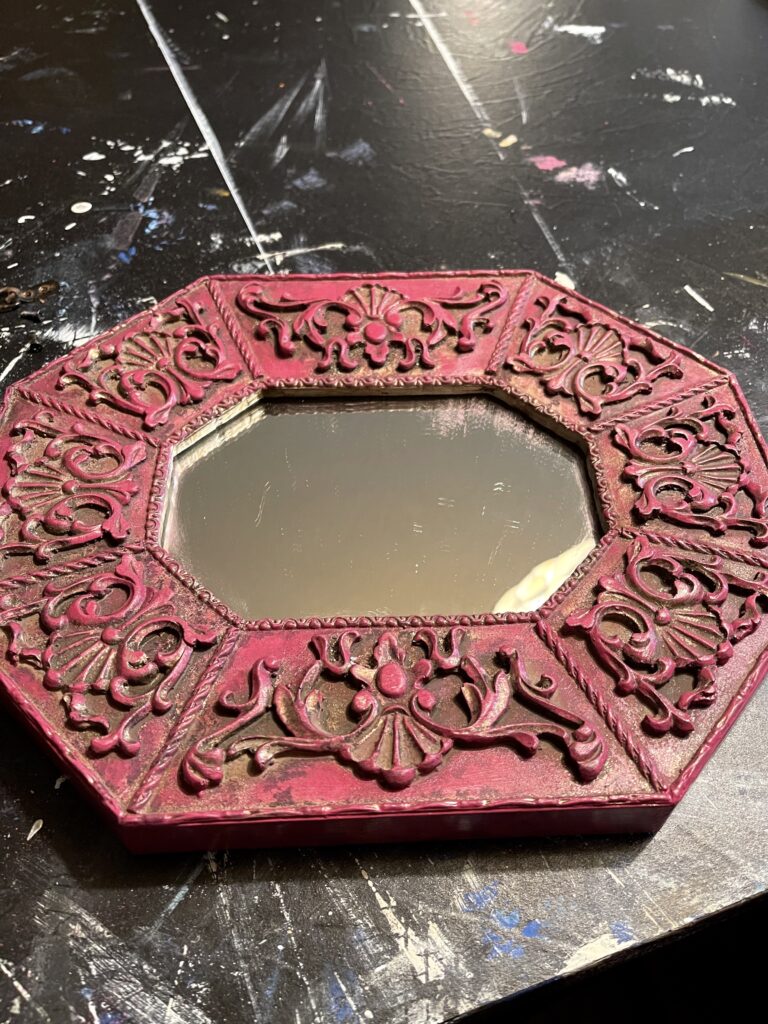 After that dried, I added navy blue. With both colors, I dabbed on a small amount of paint from the lid and then pounced it onto a paper towel to remove the excess.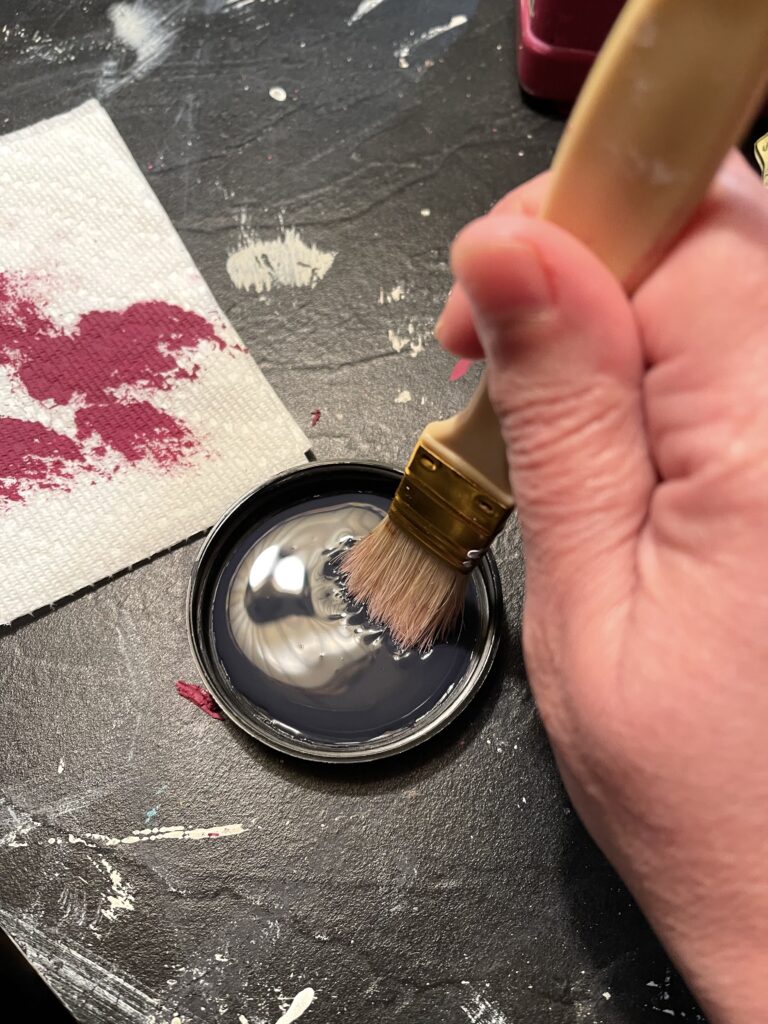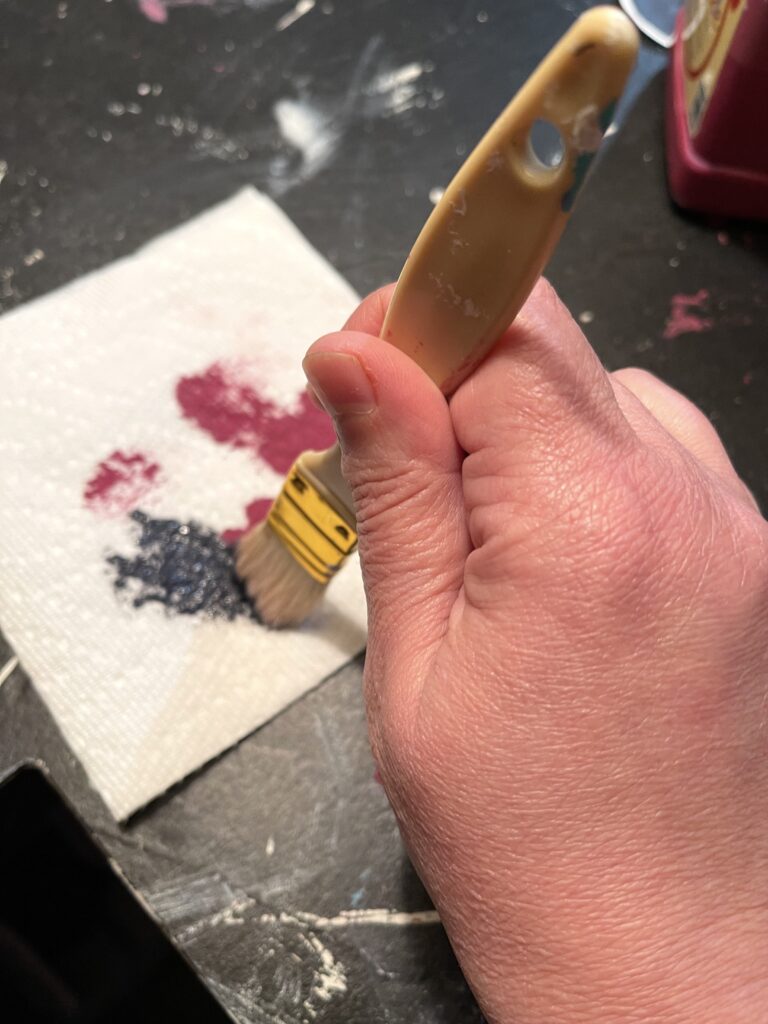 Then I lightly "feather dusted" with my paintbrush, so I didn't cover the entire surface. I just wanted to hit the high points of the design and allow some of the original patina to remain showing. I like painting this way. It uses very little paint and it gives layers of color and dimension to the objects I'm painting.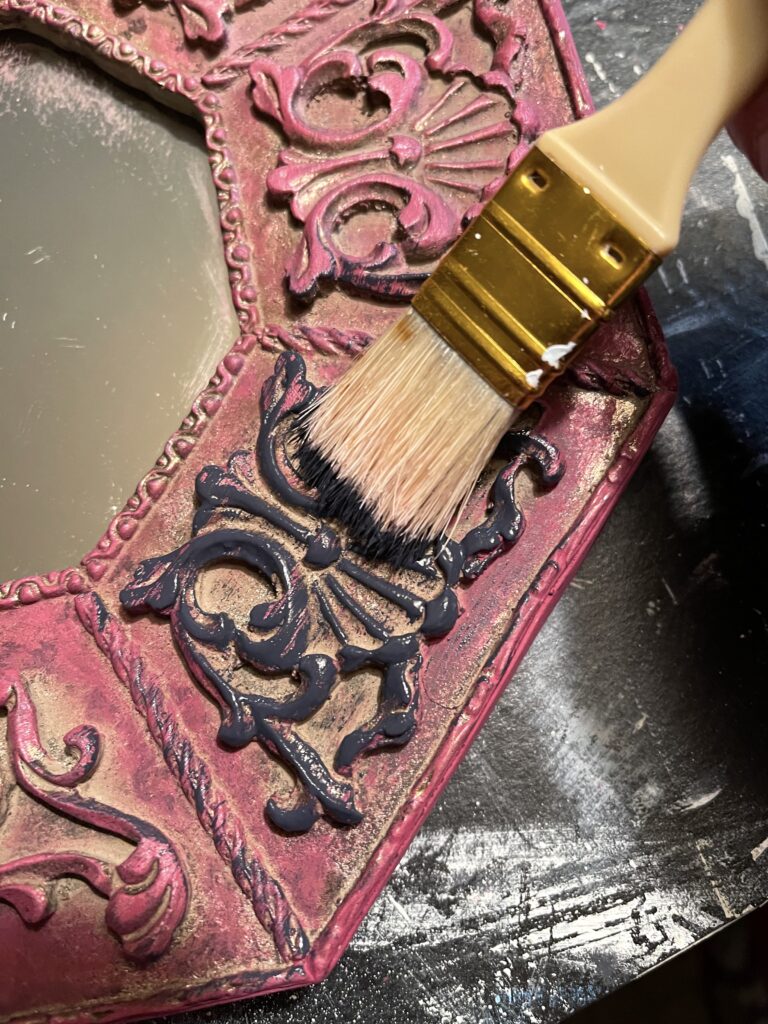 Finally, I rubbed away paint in some spots with a damp rag to allow more of the pink paint and patina to shine through. Sometimes I rub away too much. Then I just come back and "feather dust" more paint back onto it. I go back and forth until I love how it looks.
I have a stash of dresser knobs leftover from many of the furniture projects I've painted over the years. I found a set of four gold knobs that were a good size for the mirror tray (and shiny enough to see your reflection in them!). I glued them to the bottom with E-6000 craft glue and set a stack of books on top of it while the glue set up.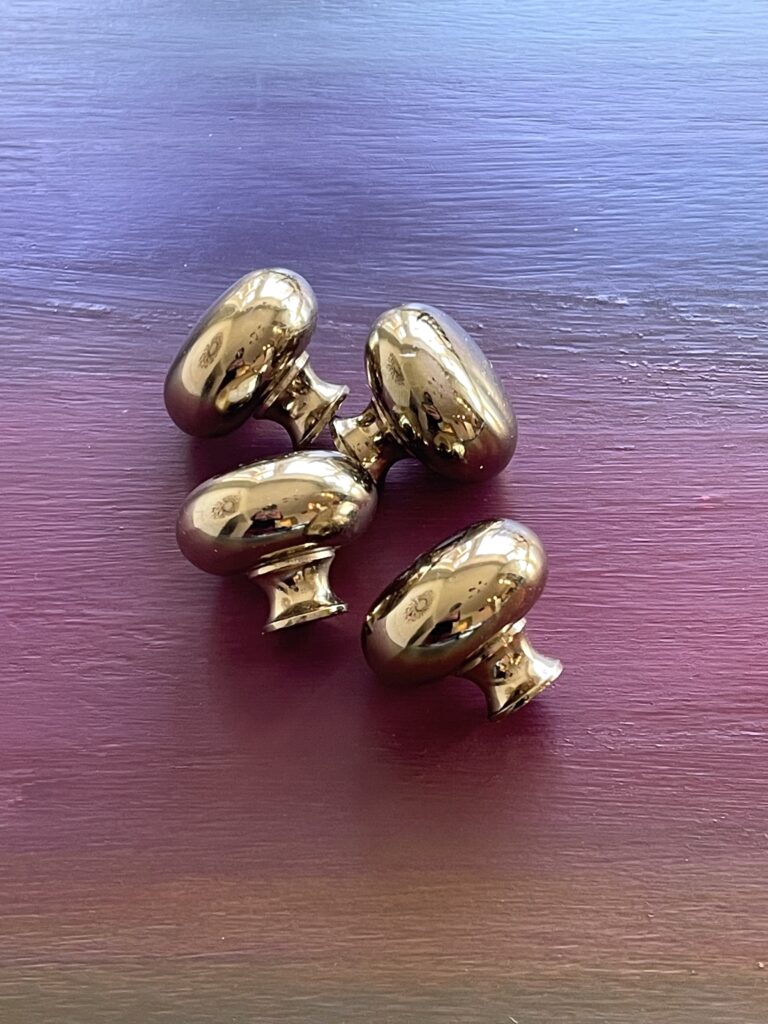 I love my new little tray!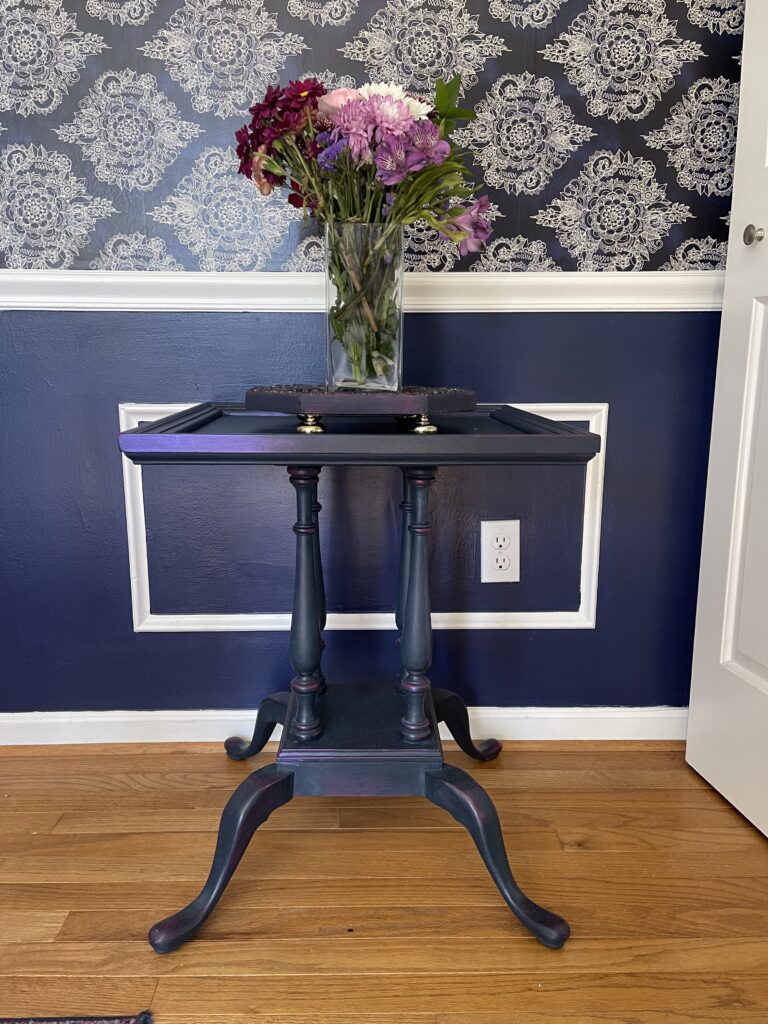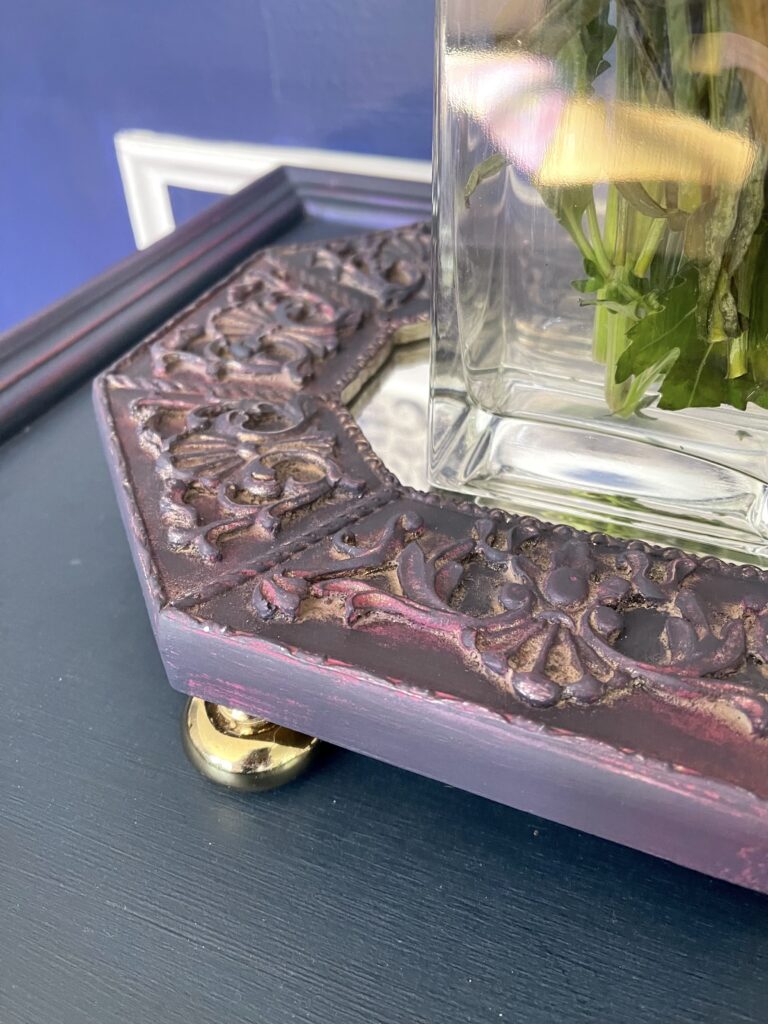 I love how the mirror on the bottom reflects the objects on the tray. I love how the gold "feet" match the little bits of patina in the frame. I love that instead of throwing the mirror away to take up space in a landfill, somebody decided to donate it to Goodwill for me to enjoy.
And I love that the money I spend on amazing items at Goodwill goes directly to helping people in our community create better lives by providing them free education and career opportunities.
Who knew one little Goodwill mirror obsession could do all of that?