About our fabulous guest blogger:
A marvelous March 2023 to you, my fellow gifted thrifters and thrifty gifters!
First month of Spring, Adar and Nisan, Women's and Irish American Month! Month of Lent, Women's Day, Daylight Saving Time, Purim, Pi(e) Day, the Ides Of March, Saint Patrick's Day, the Spring Equinox, Maryland Day, and the Trans Day Of Visibility (TDOV)!
Thrifted any marvels lately? Don't forget to tag Goodwill of Greater Washington and Finding Your Good on Facebook, Twitter, and Instagram.
I wasn't sure what I wanted to talk to you about this month, in this time between Purim and Pesach (Passover; I also call this season Peaster / Eastover, as my family and I are interfaith). But as usual, Goodwill gave me a sign. DC Goodwill alone has listed TWELVE hamsa jewelry items on Shop Goodwill since the Fall! And I'm sure they had some great hamsa items offline as well, in their large and ever-growing group of stores.
But what is a hamsa? A special ancient symbol of a hand, which Judaism shares with some North African and Middle Eastern cultures – also known there as the Hand Of Fatima, as in Mohammed's daughter. Hamsas have mostly been used as amulets, to protect against the evil eye (which is why you will often see an eye on/in a hamsa) and other negative influences. And they remain especially popular as a jewelry motif. The name is taken from the Arabic word for "five" (similar to the Hebrew one), as in the five fingers. And did you know a hamsa emoji was added to social media last year?
The hamsa is one of my favorite Jewish symbols, and I have the beginnings of a collection, including a brass wall hanging that was my great aunt's, and a bracelet I thrifted from Shop Goodwill. (I also have 25 photos of hamsa items downloaded from the Judaica Thrifting Facebook Group!) Alas, they don't seem to ward off memory problems, as I forgot to photograph them for this post. Nu, a good excuse for another hamsa post at some point. Regardless, I think many of us feel the need for more protection from the many dangers of 2023.
As always, when considering cultural items, especially from minority cultures, be mindful of cultural appropriation.  If you aren't a member of or don't have a meaningful connection to the culture in question, it may not be appropriate to own that item.  Especially if you intend to wear or otherwise display it outside of your home.
Now, let's look at my hamsa finds, in chronological order (by auction ending date). First up, a beautiful open work pendant in sterling.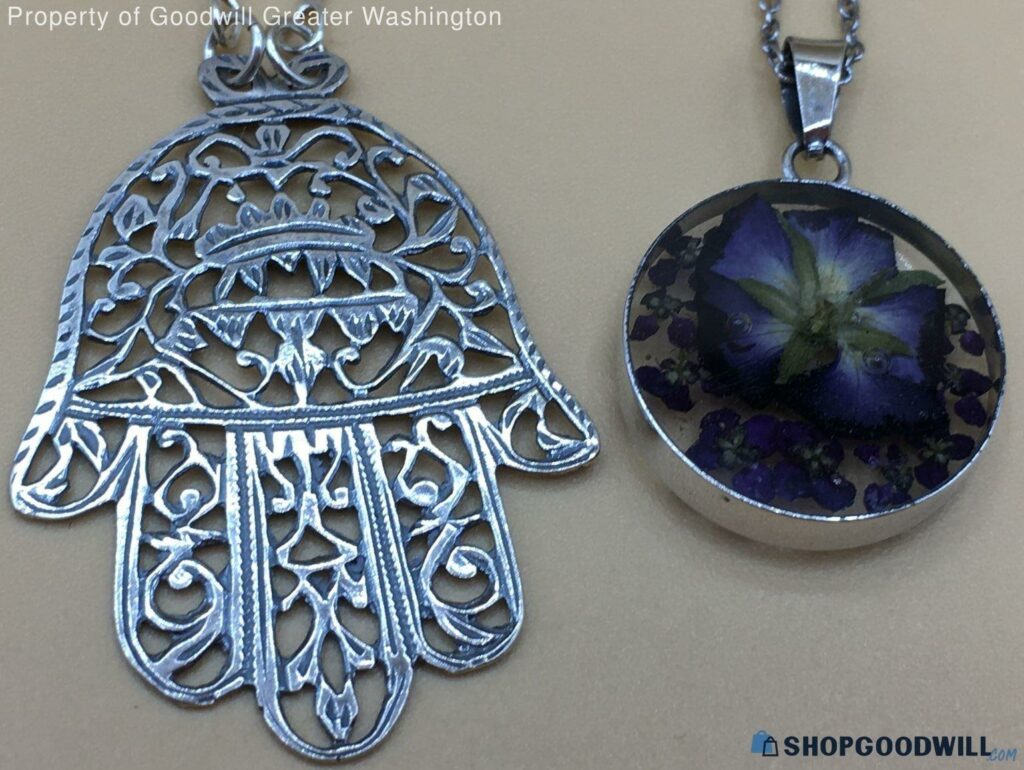 https://shopgoodwill.com/item/151375176
.925 Silver Thin Snake Box Chain Hamsa Flower Glass Encased Pendant Necklace Lot 
Next, TWO hamsa pendants in one lot – one in sterling with a Magen David (my favorite Jewish symbol), and one in opal. Plus two other Jewish pendants!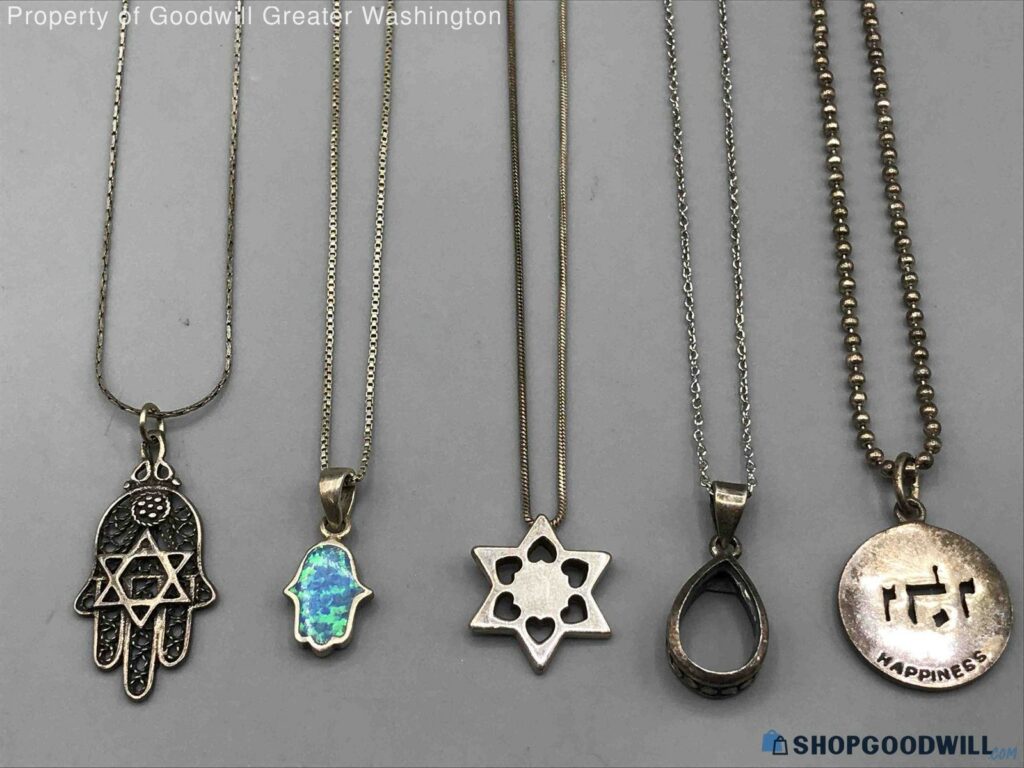 https://shopgoodwill.com/item/153711784
Sterling Silver Teardrop Star Hamsa Hand Pendant Charm Chain Necklace Jewelry 
A sterling pendant set with an Arabic coin. (And check out those cool Goddess-y earrings, too.)
https://shopgoodwill.com/item/154018629
.925 Silver Onyx Heart Blue Crystal Glass Assorted Jewelry Lot 36g 
A lovely gold-plated pendant set with a green stone.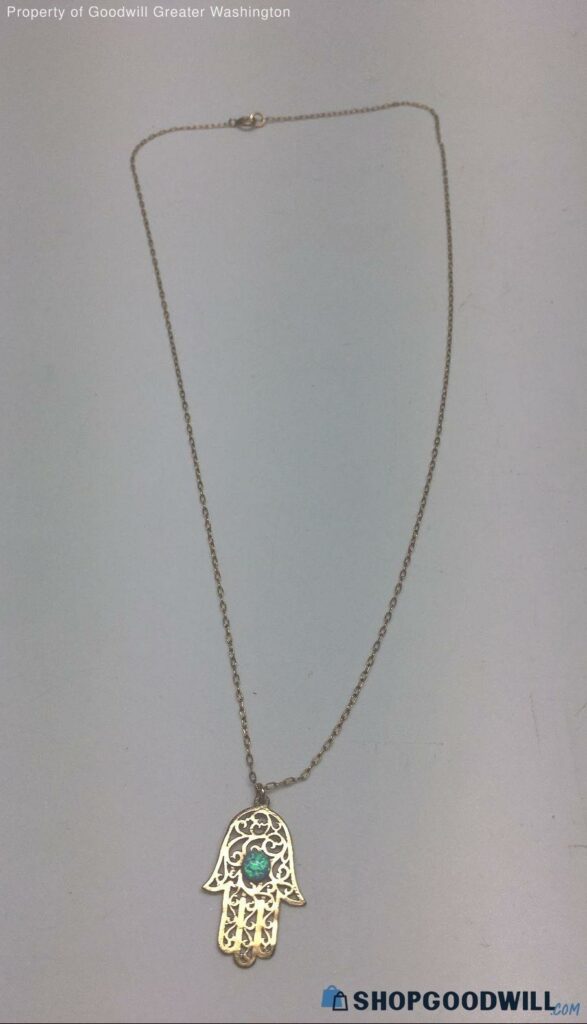 https://shopgoodwill.com/item/155254724
Gold Plated Non Precious Stone Jewelry Lot
A relatively simple but pretty little pendant in gold filigree.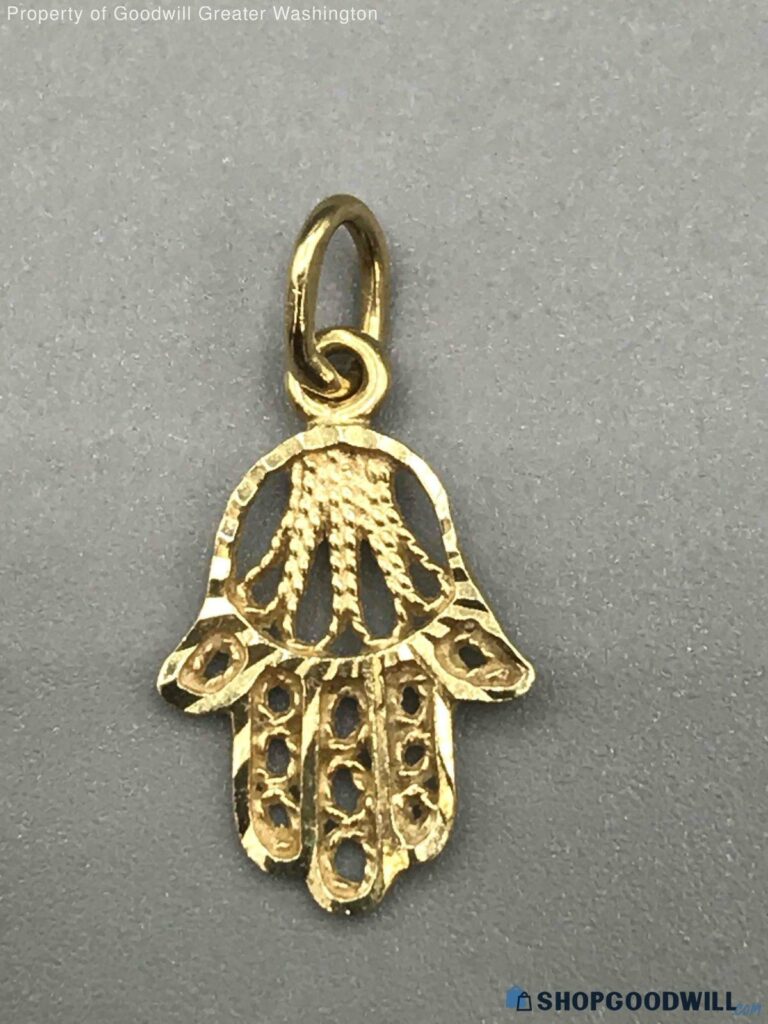 https://shopgoodwill.com/item/155252360
750 18k Yellow Gold Filigree Lace Hamsa Hand 5/8″ Charm Pendant 0.5g
A fabulous necklace in two-tone metal, green agate beads, and rhinestones. (Which actually rather reminds me of a rosary.)
https://shopgoodwill.com/item/155428503
.925 Silver Gold Tone Hamsa 4mm Green Agate Ball Beaded Station 10″ Necklace 14g 
Another sterling pendant that includes a Magen David. And that lion in the lot could be a Judean one.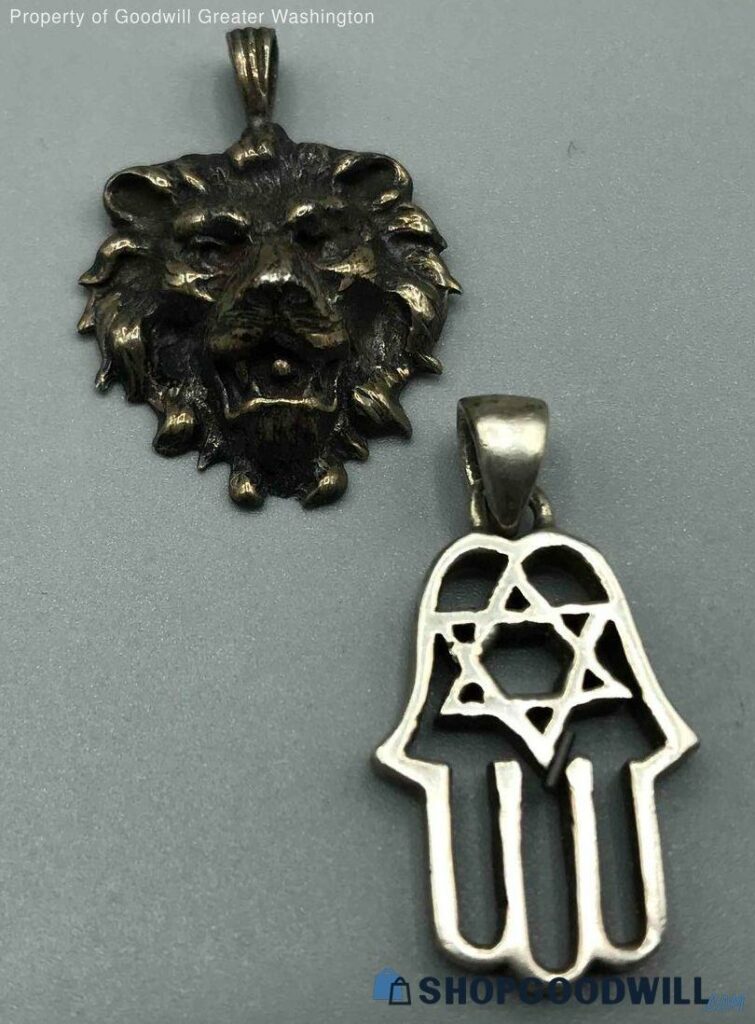 https://shopgoodwill.com/item/157911464
.925 Silver CZ Jerusalem Cross Star Of David Hamsa Hand Lion Head Pendant Lot
A pendant set with cubic zirconia and a blue eye (to protect against the evil eye).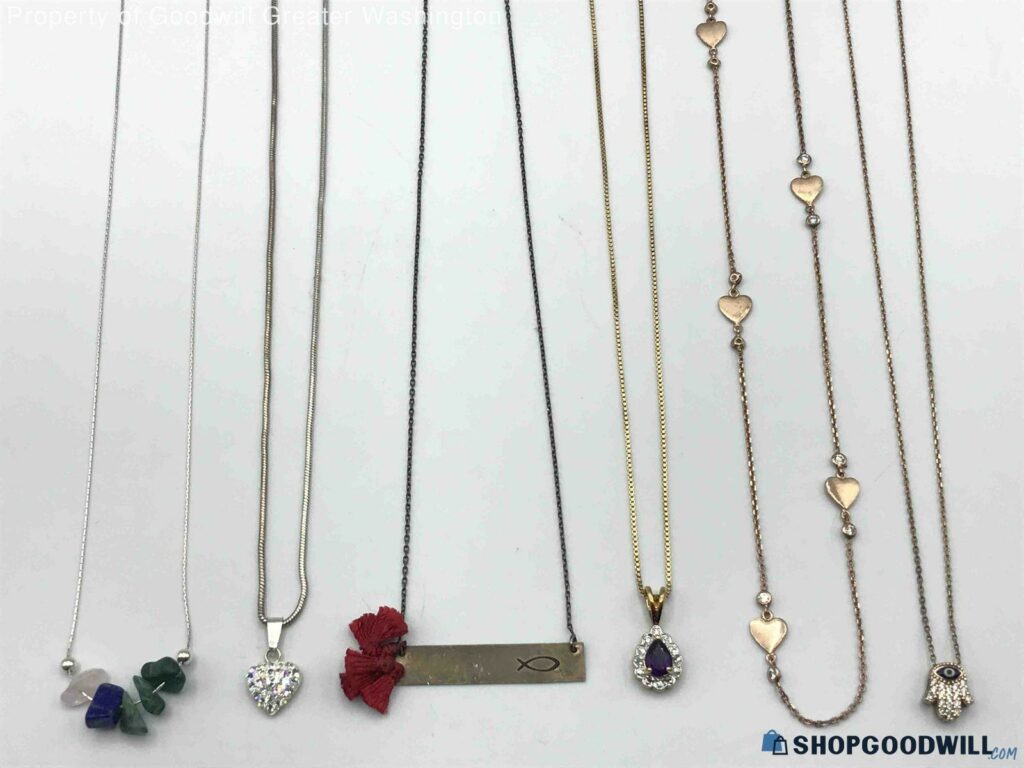 https://shopgoodwill.com/item/158703449
Sterling Silver CZ Amethyst Lapis Fish Heart Teardrop Chain Necklace Jewelry 21g
A very big, beautiful pendant in sterling – etched with a fish on the back.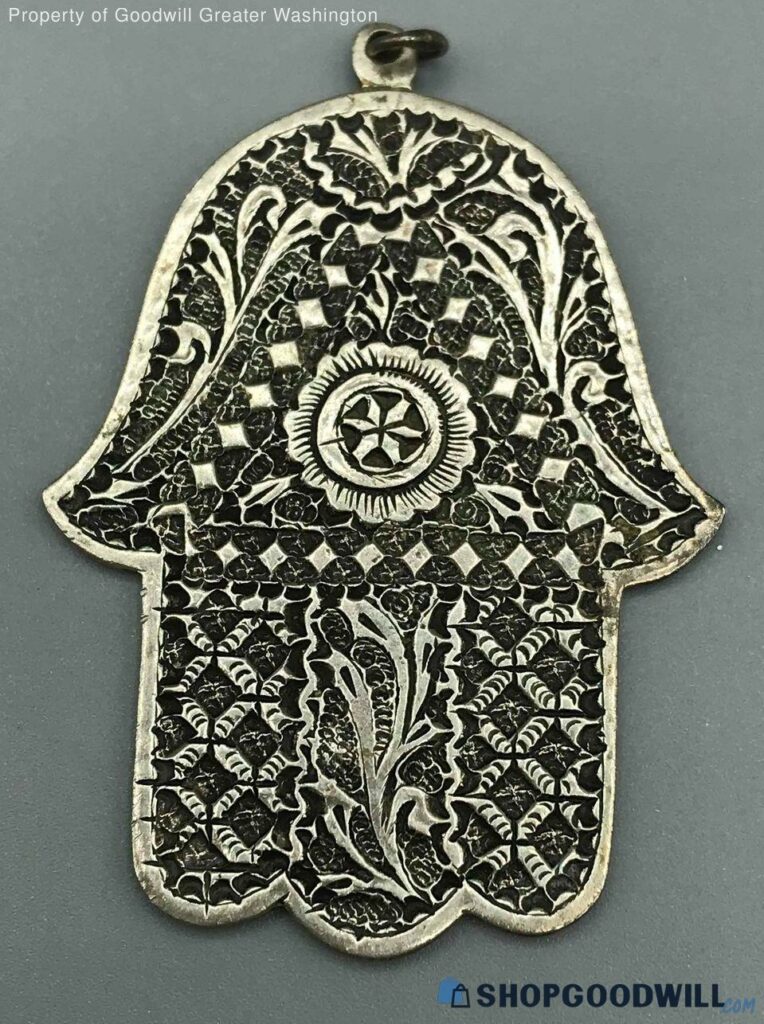 https://shopgoodwill.com/item/158963254
.950 Silver Hand Of Fatima Textured Elaborate Etched 51x38mm Pendant 17.6g
A pendant that's an opal bead. (And how charming is that teapot necklace?)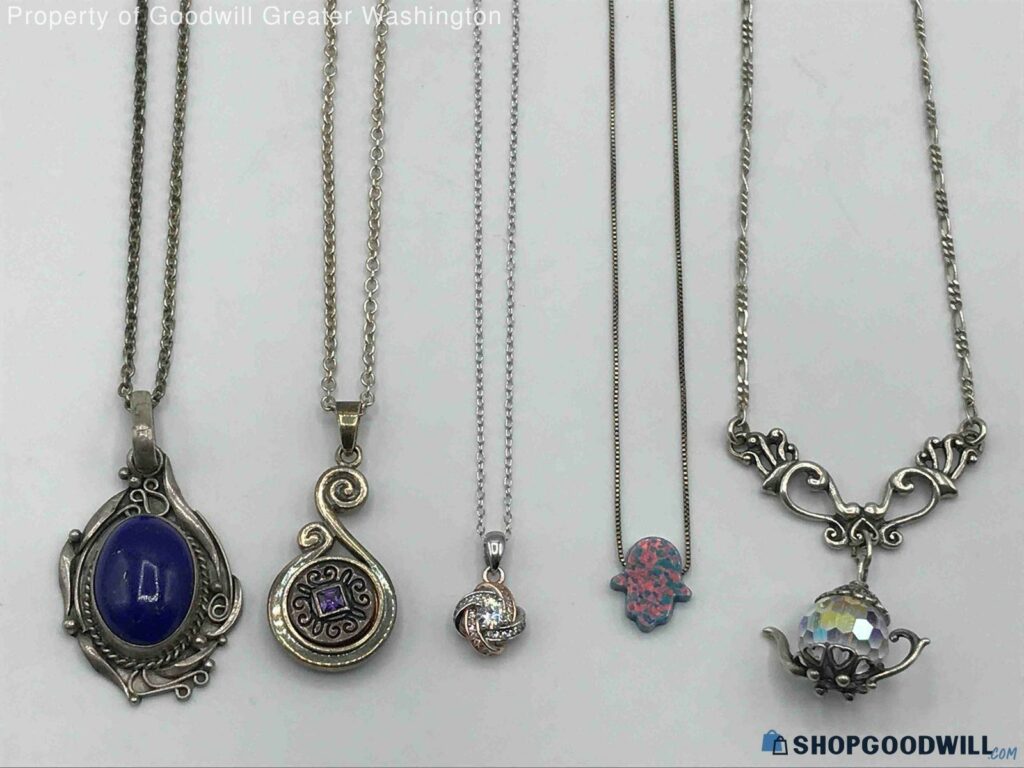 https://shopgoodwill.com/item/160550007
Sterling Silver Lapis Glass Tea Pot Hand Twist Knot Pendant Chain Necklace 39g
A sterling ring in filigree – made in Turkey.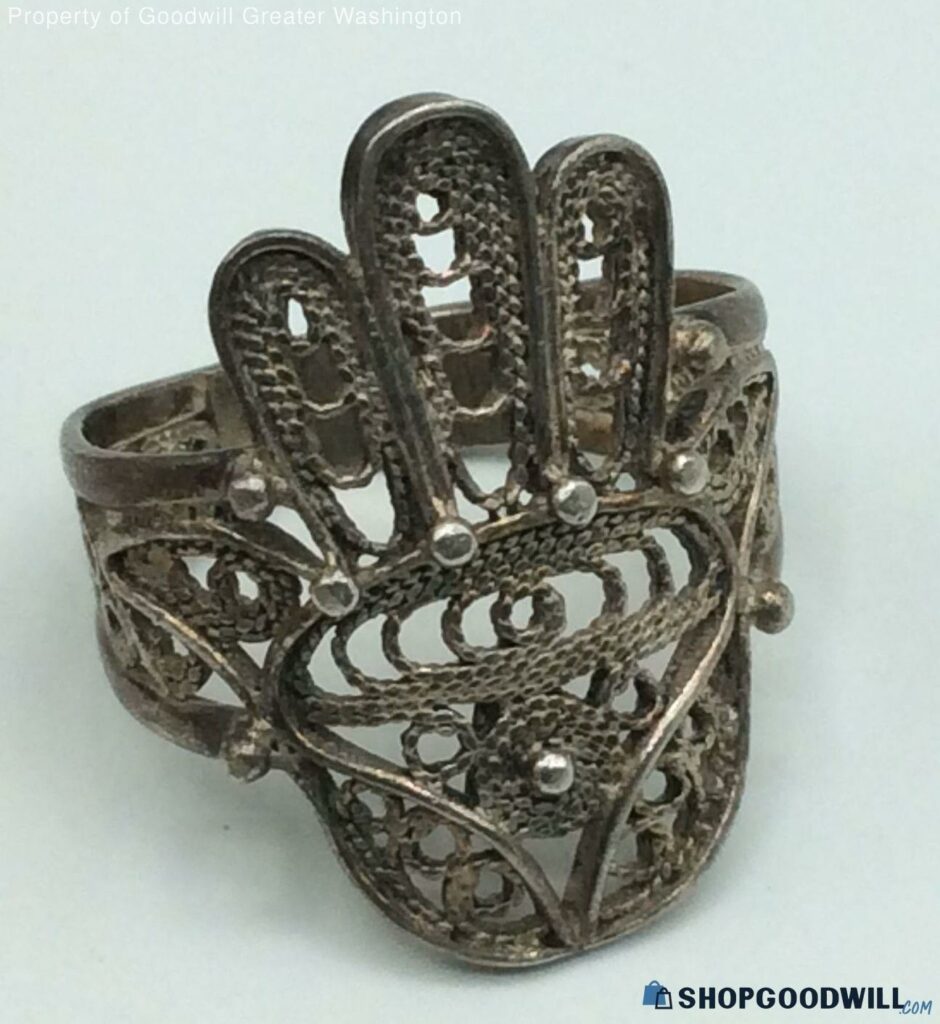 https://shopgoodwill.com/item/160551718
.925 Silver Large Filigree Unique Hand Of God Hamsa Ring Size 6 3.5g
A great pair of earrings in sterling filigree set with hematite cabochons. (And the elephant earrings in this lot have moving heads.)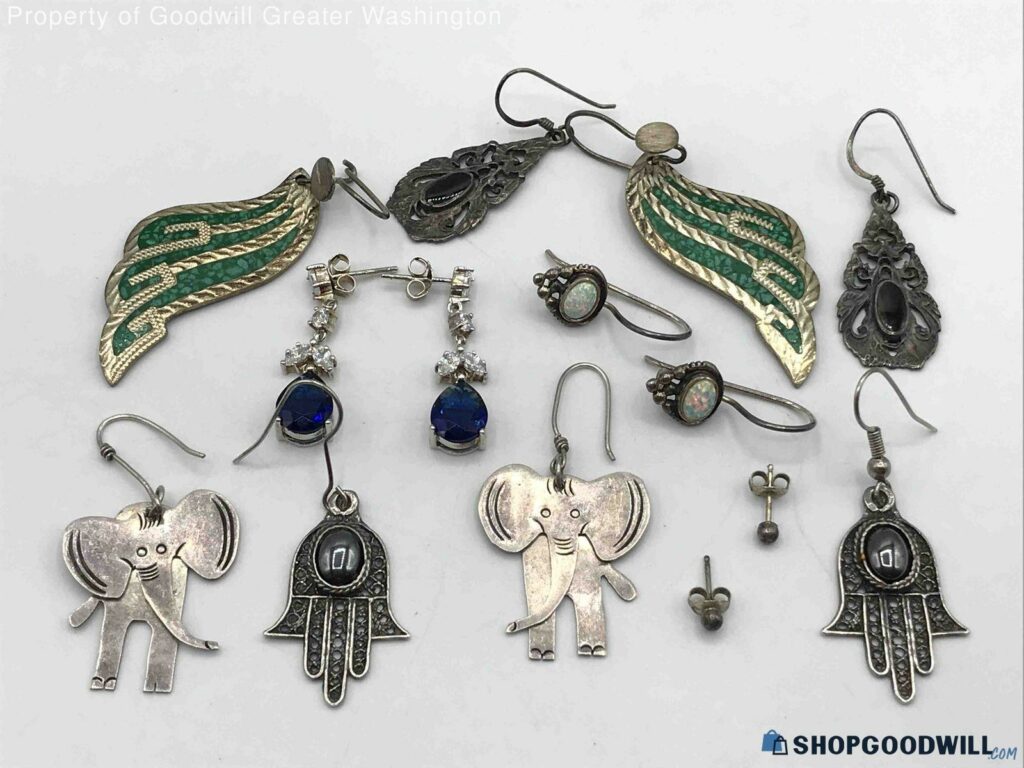 https://shopgoodwill.com/item/162071539
Sterling Silver Hematite Opal Glass Hand Elephant Ball Stud Drop Dangle Earrings 
Nu, as always, todah rabah (many thanks) for meeting me here this month. Give yourselves a hand! Seriously, though. And mark your calendar for next month, when I'll be showing and telling you about more of my online and/or offline Goodwill finds.