My house has two front doors. This is great when you are moving big pieces of furniture in and out, but not-so-great when you have to buy two wreaths. That can get pricey!
Thanks to Goodwill, I now have an entryway that is festive, affordable and sustainable.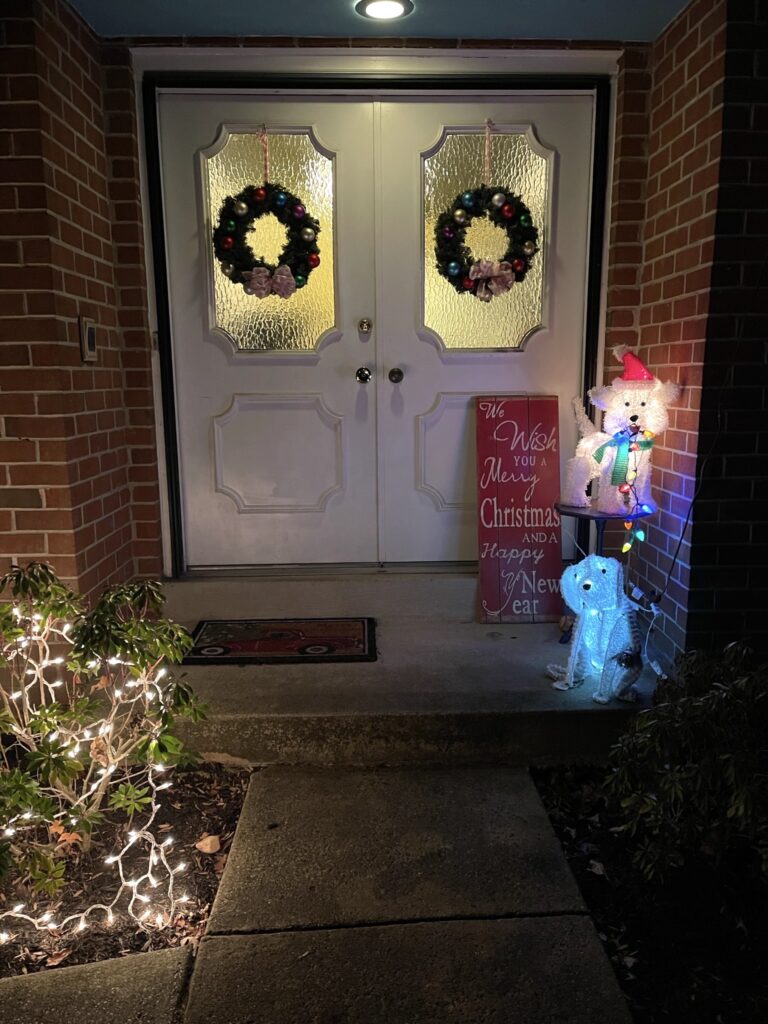 Goodwill is my favorite place to purchase home décor and I often find amazing deals on holiday items, like this huge inflatable skeleton for Halloween. I lucked out on a trip to the Fairfax, VA Goodwill shortly after Christmas last year. They had two matching wreaths for only $5 each!
I love getting a good deal on Christmas decorations (even if I have to wait a year to put them up!) But I also love the sustainability of thrifting items like this. Somebody else previously enjoyed these wreaths. Maybe they got new ones. Maybe they moved. For whatever reason, they didn't want or need the wreaths anymore. They could have thrown them away, but instead of taking up space in a landfill, the wreaths are hanging on my doors now.
And they look really nice.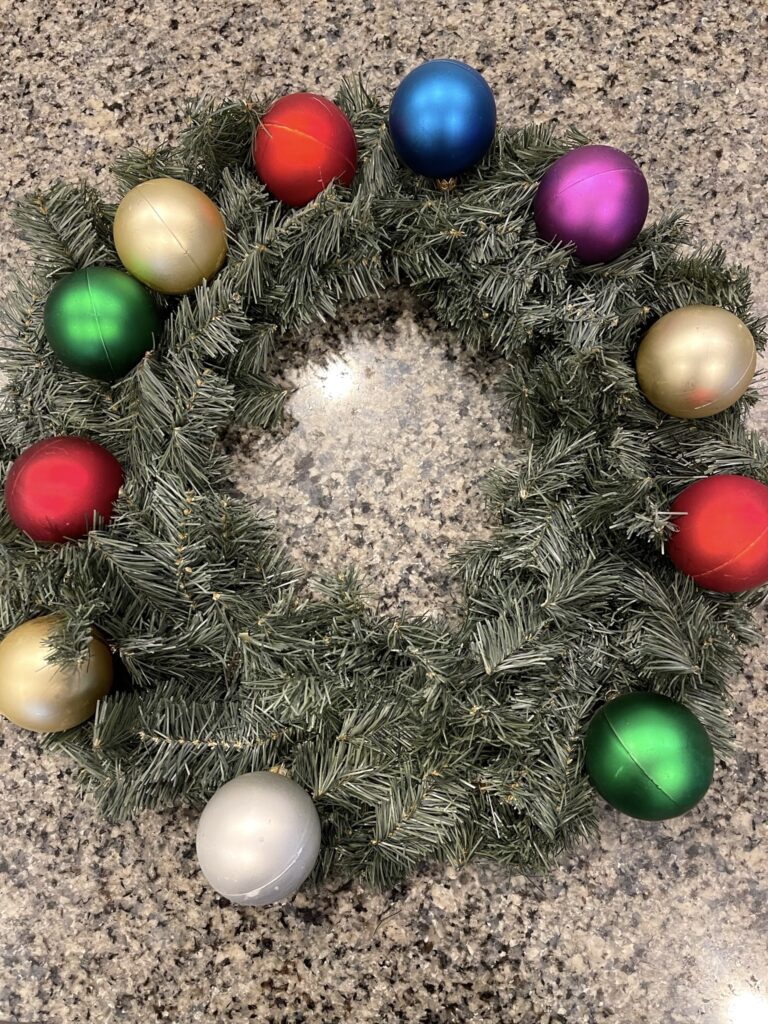 There was one slight issue with one of the wreaths. There was a bit of a bare spot where it looked like an ornament or two fell off. (Maybe that's why they didn't want them anymore!) Not a problem for me. One option was to fill in the bare spot with other ornaments. Then I found some holiday ribbon and decided to craft bows to jazz up the wreaths instead.
Making a bow is easy. This method works best if you use a wider ribbon with wire inside to hold the shape. Start by folding one end down to make a small loop.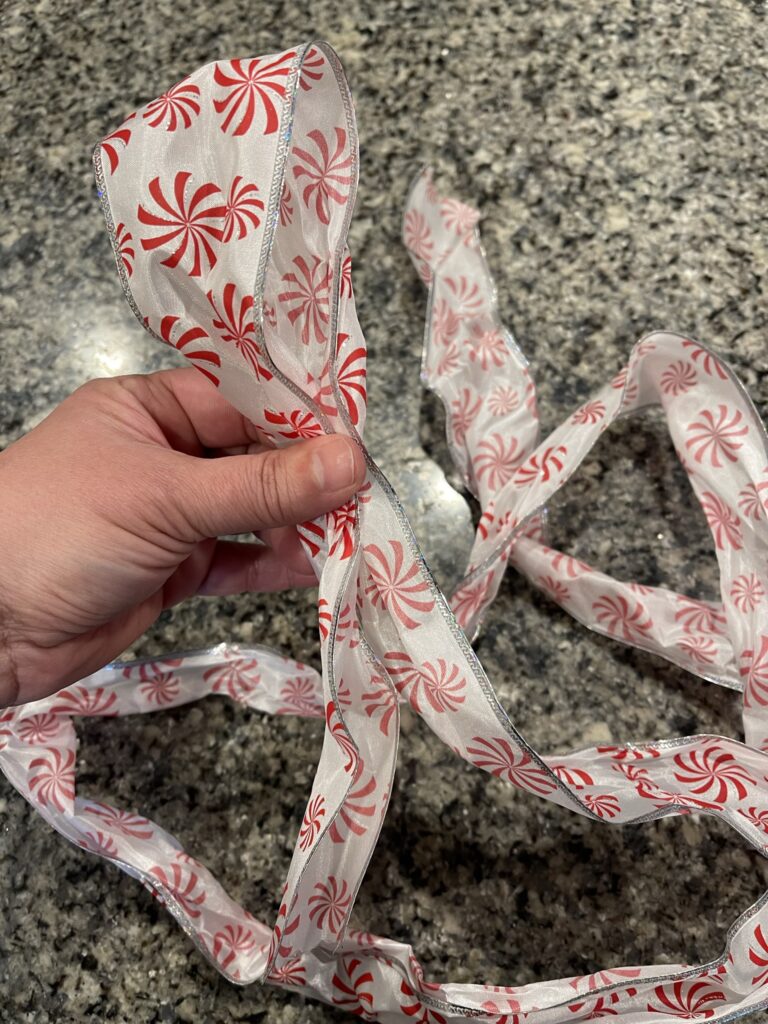 Hold that loop closed with one hand while you wrap another bit of ribbon around the other side to form a second loop. Now your hand is in the middle, like it is pinching the center of a figure 8. The loops should be about the same size.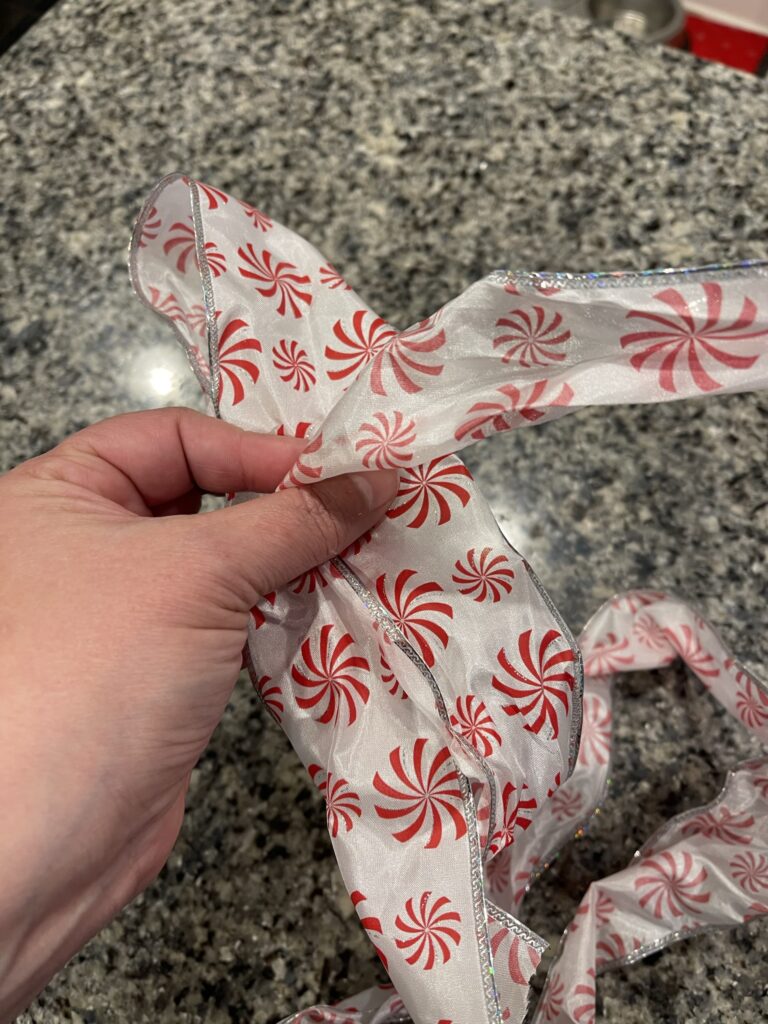 Next, keep wrapping the ribbon around in loops, holding it down in the middle until you have used up the entire strand of ribbon. My peppermint design was only printed on one side of the ribbon so I had to twist a few of my loops around so the design showed. You may also need to adjust it a bit to make both sides even.
It should look something like this.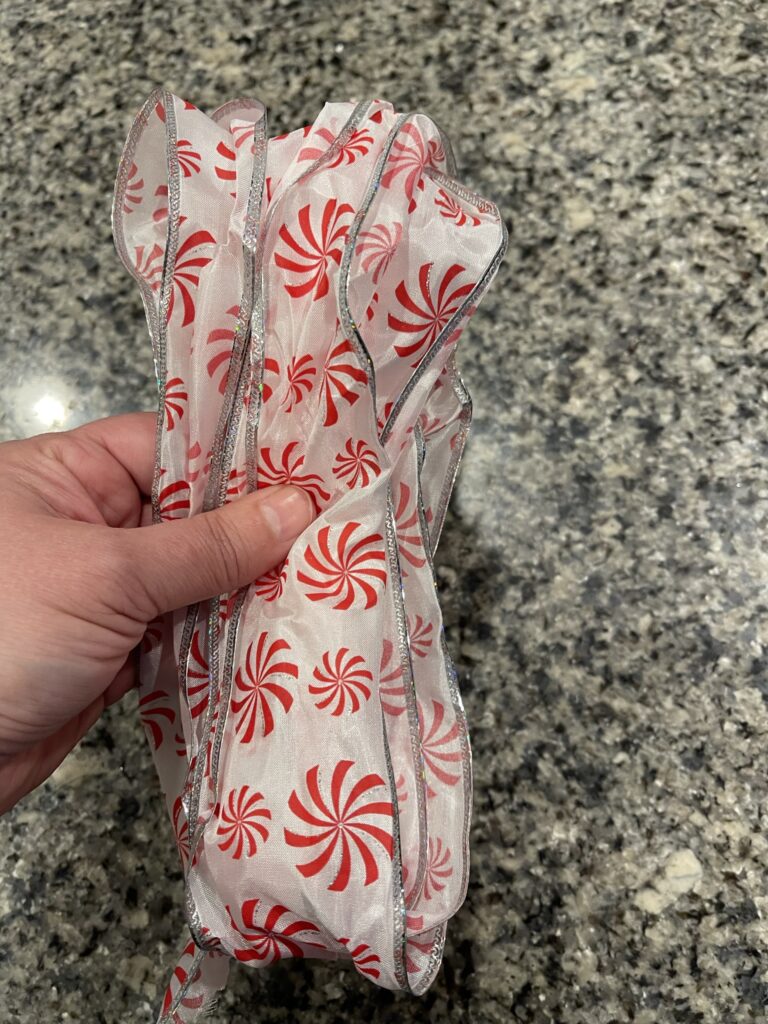 I wrapped a twist-tie around the middle to secure the bow. I also wrapped a smaller section of twist-tie around the first one so I had something to attach to the wreath. Then I just played around with the loops, fluffing and adjusting and twisting them until I liked how the bows looked.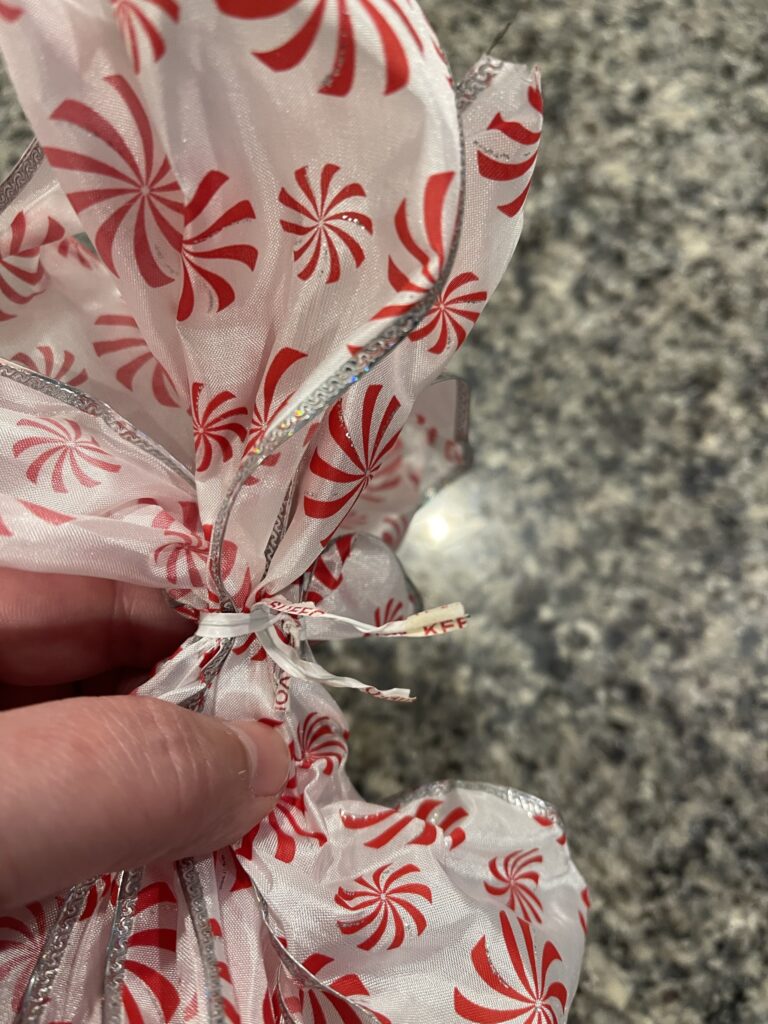 Here they are: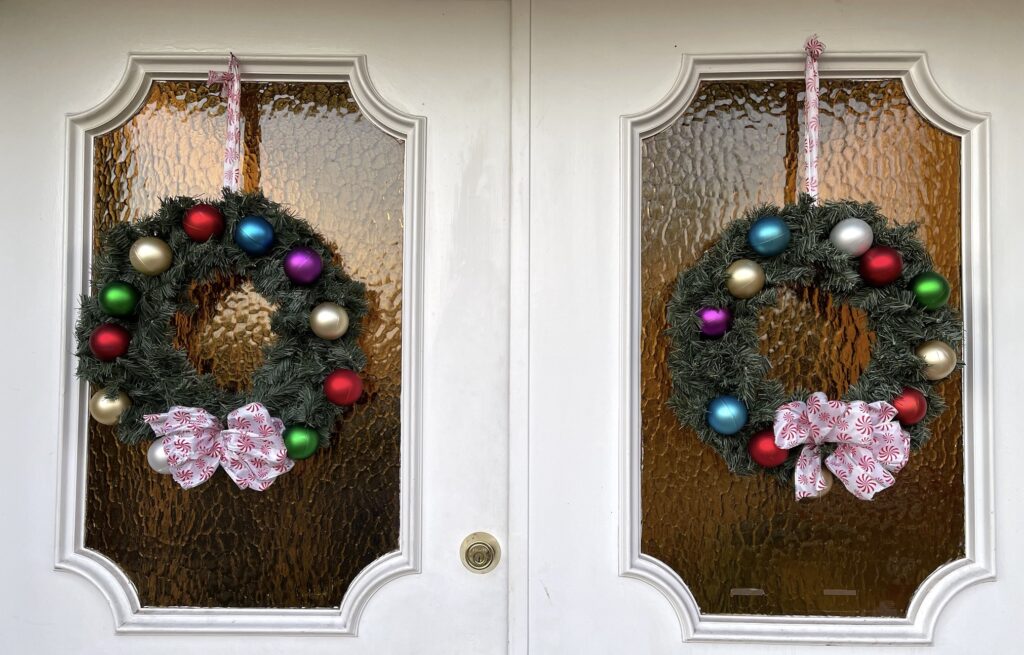 Happy Holidays!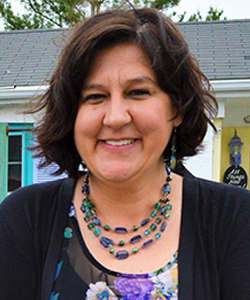 Courtney Mickalonis
Courtney Mickalonis is an artist, teacher, and treasure hunter at All Things New Again, a furniture and paint boutique in Leesburg, VA. She finds old furniture that nobody loves anymore and makes it beautiful—and useful—again. Courtney teaches a monthly Learn How to Paint Furniture class at their Leesburg studio and hosts The Furniture Painting Friday Show every Friday at 12 noon on the All Things New Again Facebook page.