Dear readers, I hope you all had a wonderful Thanksgiving and holiday weekend filled with fun, family, friends and festivities!
For this Thanksgiving, all of my close family relatives got together for an evening of food and shenanigans.
To keep it family-friendly and a little bit funky, I wore a Thanksgiving outfit that involved lots of pattern and texture mixing. I also kept it quite modest….almost like an office outfit. I didn't want to dress inappropriately around my grandparents.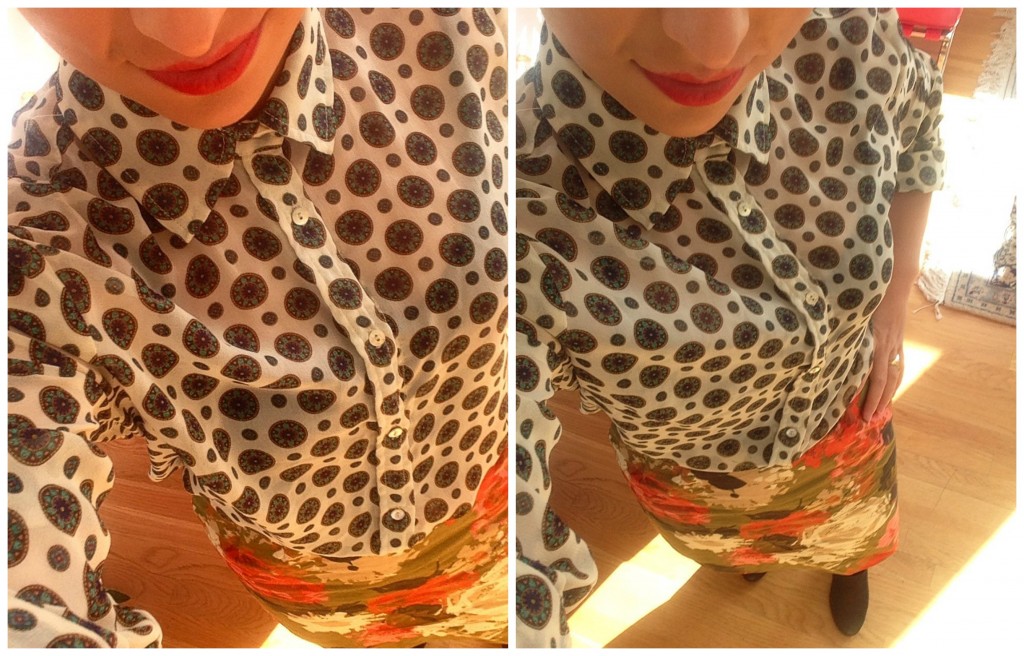 This Thanksgiving outfit consisted of my new favorite top from the just opened Alexandria store. It's a soft silky Zara button-up with a unique circular eye-catching pattern that is still conservative.
I've been in love with button-up tops since the beginning of time. They come in all different patterns and cuts. But my favorite component about them is that they're modest yet can be super preppy or very edgy….depending on the cut, pattern or material.
I like to wear these blouses all buttoned to the top because it elongates my torso for a short person like me. I also like to rock them with skirts. It feels very office appropriate and classy.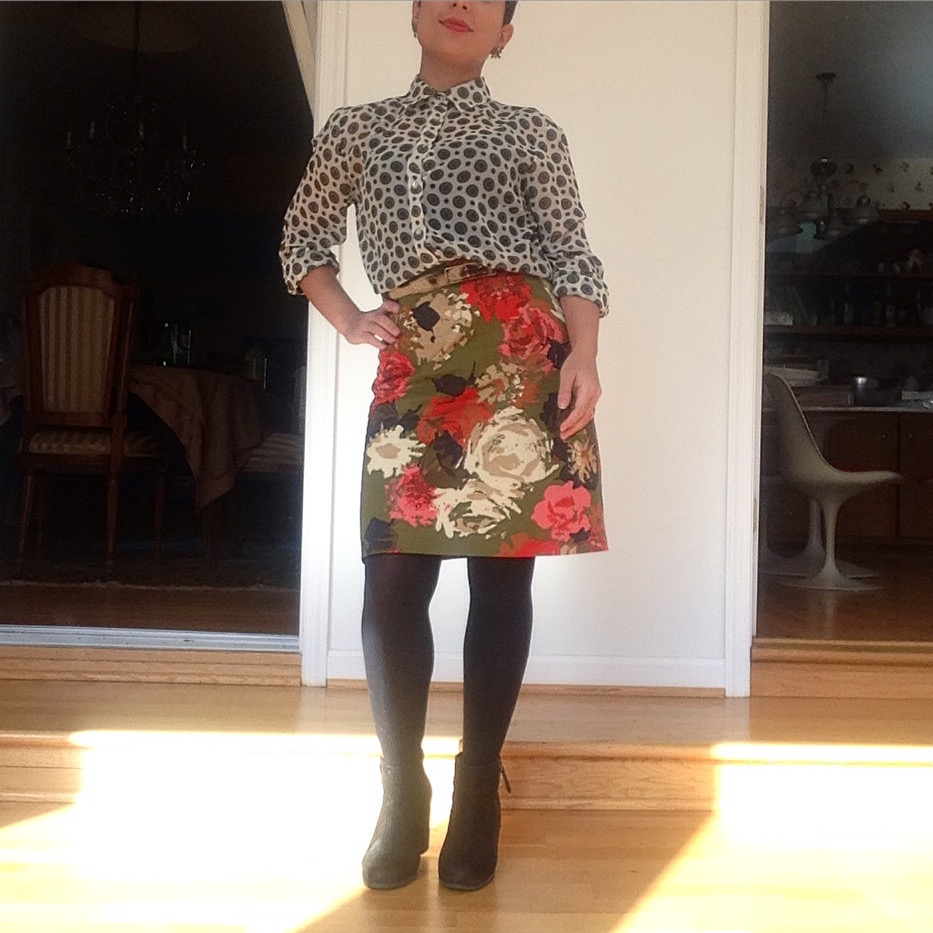 I wore this funky top with one my my favorite 70's vintage skirts with a Thanksgiving and floral color scheme.  Although it's not from Goodwill, I've seen similar ones like it there for under $5. The pencil-skirt will always be a timeless classic cut that can be paired with most anything.
Although I know that Thanksgiving would be filled with food and a skirt might be constricting, this one surprisingly was not. It fit just right and left room for yummy food!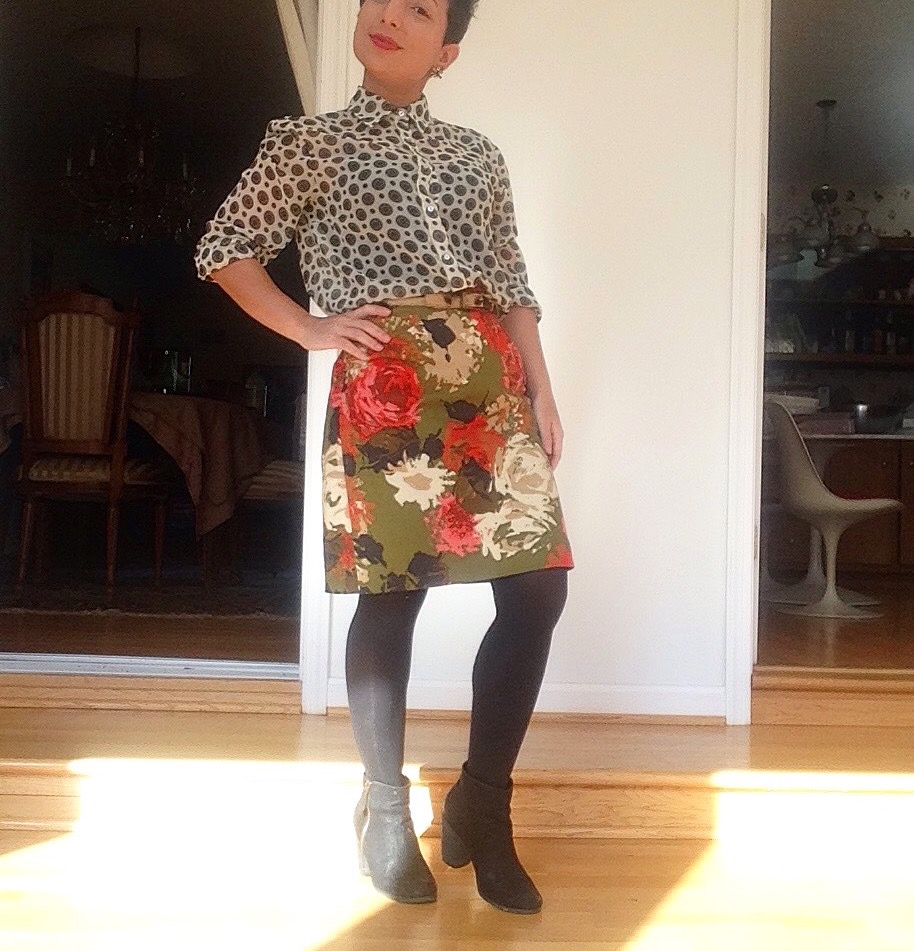 I decided to pair this patterned top and skirt together because the colors complemented one another. The greens in the top tied into the greens in the skirt go well together. Same goes for the cream and white background of the top — it pairs super nicely with the shade echoed in the skirt.
While my skirt was not from Goodwill, my tights were! I always buy my tights (new in the packaging) from Goodwill for under $1. Every girl always needs tights and they usually retail for at least $5. So next time you hit Goodwill, search for their stockings area. I've found soo many great pairs.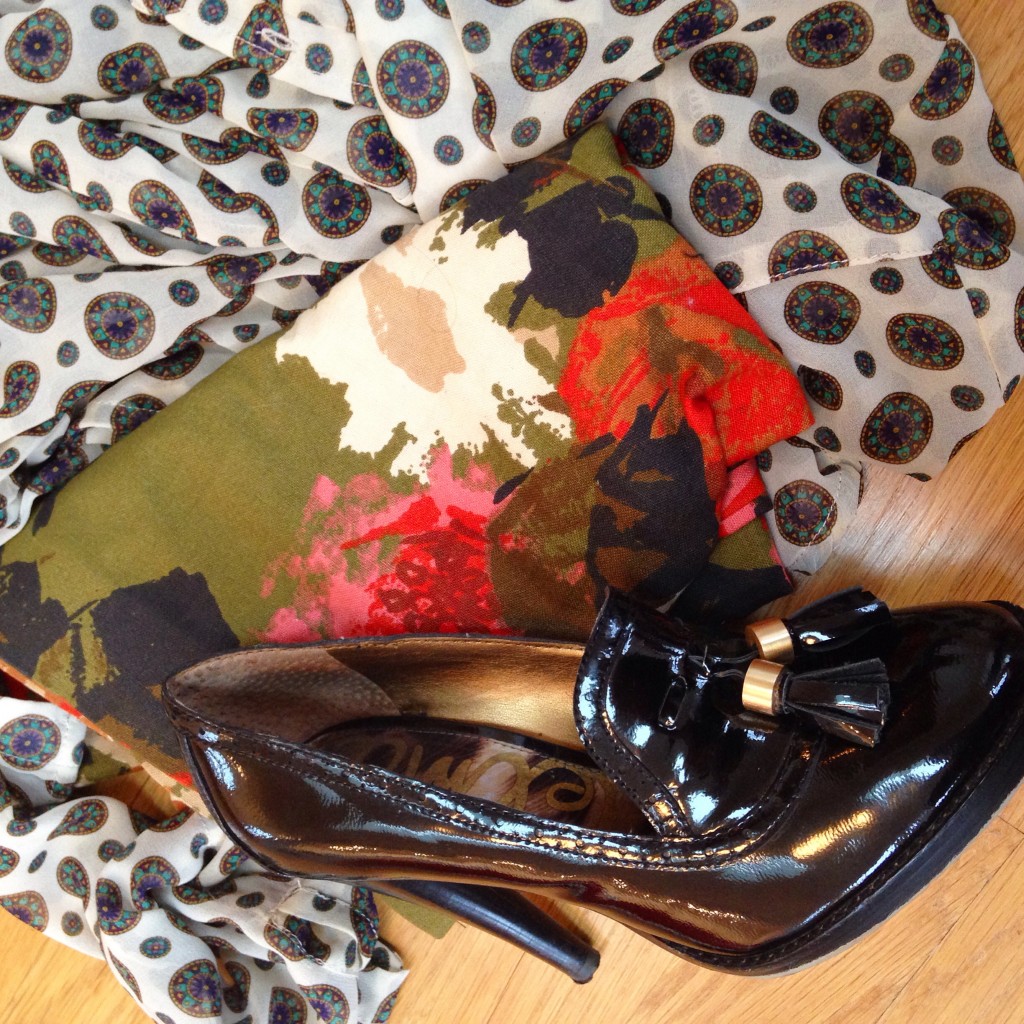 On Thanksgiving, I wore my black booties but on Black Friday I found a pair of patent leather heeled Sam Edelman's for under $10 at our Gaithersburg store! These would have gone well with the outfit as well.
A good heeled loafer type shoe is both sexy yet sophisticated for the office or a family event. Do you own a pair of these, fashionistas?
I hope everyone had a wonderful Thanksgiving! How did you keep it classy and comfy for your holiday?