Fashionistas, with today's five under $5, I wanted to flashback to a look I wore a few weeks ago. I think it will be a good way to properly say goodbye to this summer and give us one last reminder DC summers aren't always so bad. 😉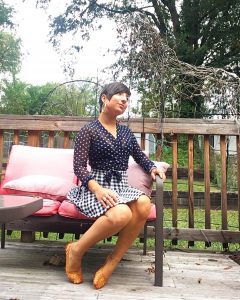 While out running errands, watching movies with friends, and eating yummy pizza I decided to style a pattern-mixing look that was just right for the heat without being too revealing or skin-baring. I also wanted to wear something more on the neutral side to still call attention to the approaching fall season (my favorite season of the year!).
For today's I outfit I'm showcasing five items from Goodwill under $5 you wouldn't think would normally be so affordably priced.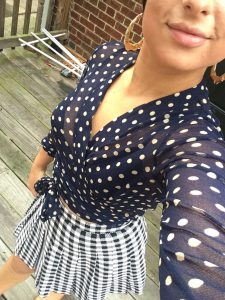 1.) A sheer polka-dotted top by an Italian designer Fuzzi
During a sale I found this sheer long-sleeved top, colored with navy blue and taupe polka dots, by Italian high-end designer, Fuzzi.
Although this gem has a unique cut and print, I found I can match it easily with a lot of clothing items due to the neutral color palette.
Originally, a top like this would retail for $150+ at high end retailers.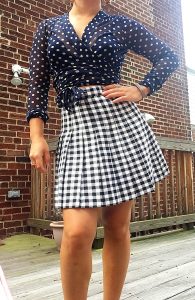 2.) Vintage Houndstooth Black and White skirt
Because the top had neutral colors, I thought it made sense to pair it with other neutrals like black and white!
I'm honestly not sure how I got this pattern-mix to work so well, but I'm glad it was a smashing success! The day I wore this outfit I received compliment after compliment.
My theory as to why it works is because the patterns in the look are on the smaller side and move in different directions.
Wanna know how I put these two patterns together? They were just sitting next to one another in my closet!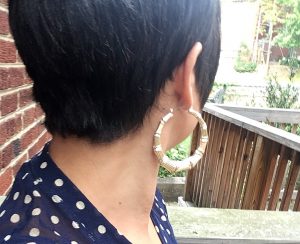 3.) Gold Door-Knocker Bone Hoops
What fashionista doesn't love a pair of hoops? Lately, I've been in a big Salt n' Peppa, TLC jewelry phase, wearing lots of statement gold toned earrings. So when I saw these in the glass case at Goodwill I knew I had to have them.
Hoops usually work with any look you put together – that's why I decided to rock them on this day. I felt they added some sass to my look.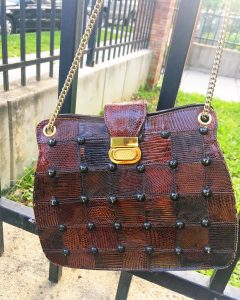 4.) Vintage bag
A look is not complete without the handbag! I'm proud of this brown and gold, 60's, purse I found for under $5! You'll see me styling it with many looks this fall.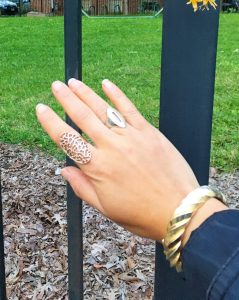 5.) Stacked Rings
It's so easy to find affordabale jewlery at Goodwill. These rings are versatile enough to wear with most of my styled looks. But if I'm looking to switch things up I know there's such a great variety at Goodwill.
What Goodwill look did you wear to say a proper farewell to summer, fashionistas?